A Summer Charcuterie Board is the perfect make ahead no cook summer appetizer. Made with only nine ingredients, this colorful and seasonal cheese board has fresh fruit, cured meats and plenty of cheese. Serve this unique charcuterie board next time you're entertaining loved ones or for a light dinner. It's great to bring to an event since it is easy to transport.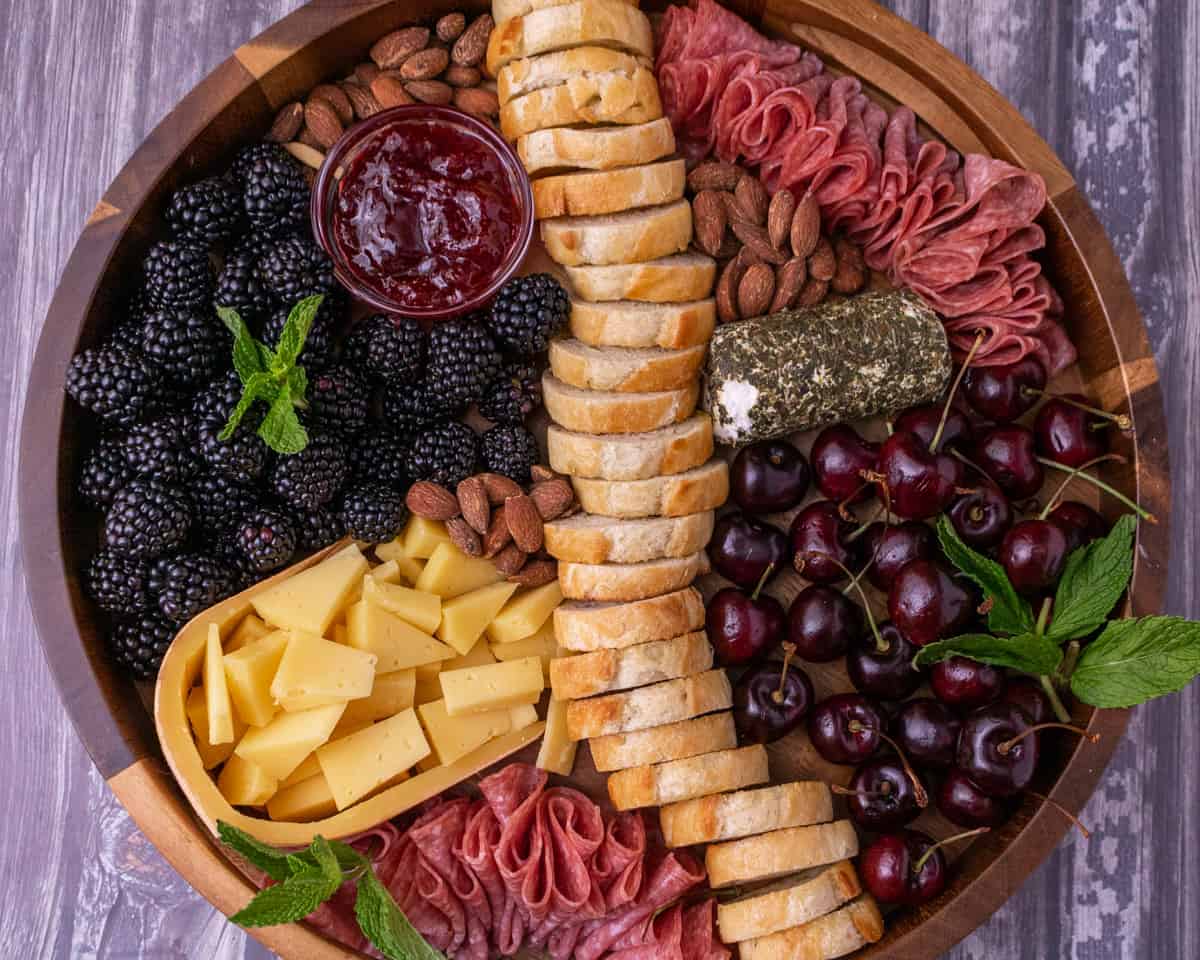 Jump to:
Tips and Tricks
What do you serve with a summer inspired cheese platter? This board was created to be light, refreshing and inspired by seasonal flavors. It goes great as an appetizer for a picnic with some wine or sandwiches.
Another option is to serve it alongside grilled or smoked meats and vegetables at a family or holiday outdoor party. Serve it alongside summer seafood down at the beach or hosting friends for a patio dinner party.
What do you drink with this summer cheese plate? Anything light and fruity would go great with this platter. Some sparkling water with a strawberry syrup, a sweet or fruity wine like rose, any light or fruity beer or a classic cocktail like a mojito.
How many people does this serve? As a primary appetizer, this will comfortably serve four to six people. If you've got a lot of other food I'd say it serves 8-12 people. I recommend making it small and refreshing it if you plan on leaving it out for a while in the summer heat.
How do you store an assembled charcuterie board? If you have room in your fridge, you can store the whole board without the bread and almonds, covered with plastic wrap, beeswax wraps (affiliate link) or tin foil.
Store the sliced baguettes and almonds at room temperature and add right before you serve. You can store this overnight in the fridge and up to 48 hours, although the mint might need to be refreshed.
Can you leave this out in the heat? I recommend keeping most ingredients in the fridge until you're ready to serve it. Place it out as an appetizer and only leave it out while people are eating; about an hour.
It's best to keep it in a shady area and not in direct sun. Another great idea is to prep all the ingredients but keep the reserves in the fridge. Refresh ingredients from the fridge as they get eaten.
What do you do with leftovers? You can use the cheese in a variety of ways, goat cheese is great in sandwiches, in creamy pesto pasta or in eggs. The alpine cheese will melt well and can be used in mac and cheese, omelets or even on burgers.
Another option is to make yourself a small DIY adult lunchable for lunch the next day! The fruit and jam can be used in smoothies or made into a compote for pancakes.
Use the mint for mojitos. I like to snack on almonds but you can add them to a salad. Leftover baguette is great for croutons or breadcrumbs.
Finally, the salami can be put on a salad, added to a pizza or eaten in a sandwich. The options are limitless but I often just eat a smaller version of the charcuterie board the next day.
How do you store leftovers from a cheese board? Store any leftover cheese in an airtight container in the fridge. Store all fruit together in an airtight container in the fridge. Salami can be put in a reusable sealed container in the fridge.
If you have leftover jam, store that in a sealed container in the fridge. Almonds and baguettes should be stored in airtight containers on the counter. It is hard to store already picked mint, so I'd either use it in a mojito or toss it.
Ingredients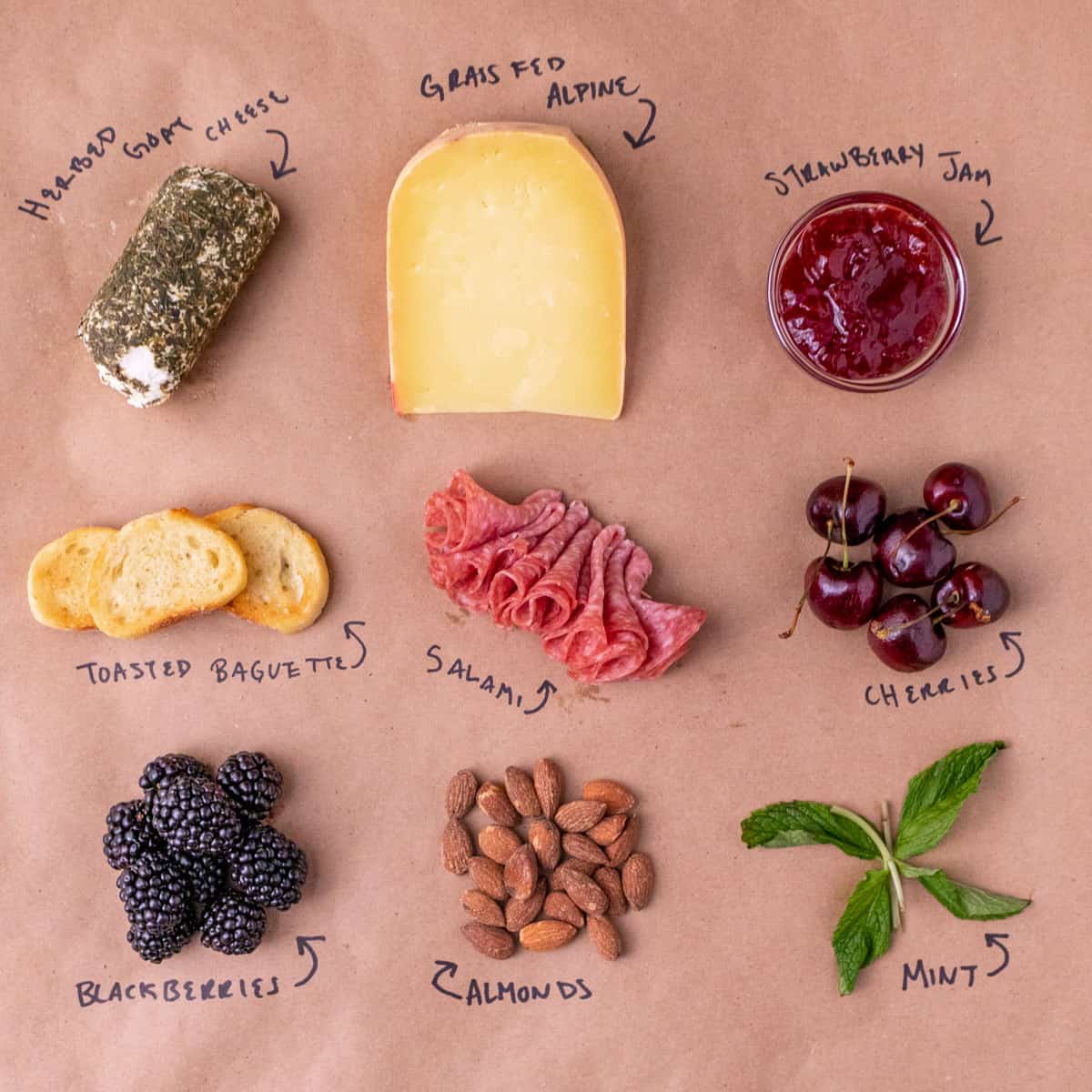 Herbed goat cheese - Use a fresh spreadable goat cheese
Alpine cheese - A semi firm cheese with nutty and grass notes
Strawberry jam - Goes great with baguettes and goat cheese
Toasted baguettes - Provides a vessel to eat cheese and some extra crunch
Salami - A salty, meaty addition
Cherries - Seasonal fruit that is easy to eat
Blackberries - Adds some tart/sweet flavor to the board
Almonds - Adds a crunch and compliments the alpine cheese
Mint - It's pretty and smells like summer
See recipe card below for specific quantities.
What is alpine cheese? Alpine cheese is a style of cheese typically made in the Alps region in Europe, although they can be made outside of Europe in a similar style.
Cheeses include swiss cheese, gruyere, comte or emmental. The cheese I used was Pleasant Ridge Reserve (affiliate link), made in Wisconsin, USA only made in the summer months from grass fed cows. This can be hard to find, so any grass fed cheese OR alpine style will work well here.
Method
How do you make a summer charcuterie board? Like any cheese platter, it will taste good no matter how you arrange it. Below is a simple guide to get you started but feel free to add your own unique style and twists.
Turn on your broiler and place a rack on the top shelf. While it is warming, slice the baguette into ¼ inch pieces and place in a single layer on a sheet tray. Lightly spray with oil and toast for one to two minutes until lightly toasted. Remove from the oven and set aside.
Next, place the herb crusted goat cheese on board, somewhere slightly off center but not directly against the edge.
Optionally, but adds visual interest if your alpine cheese has it, cut the cheese out of the rind and save the rind. If not, just cube/triangle up the alpine cheese. Place the rind opposite of the goat cheese and add cut up cheese inside the rind.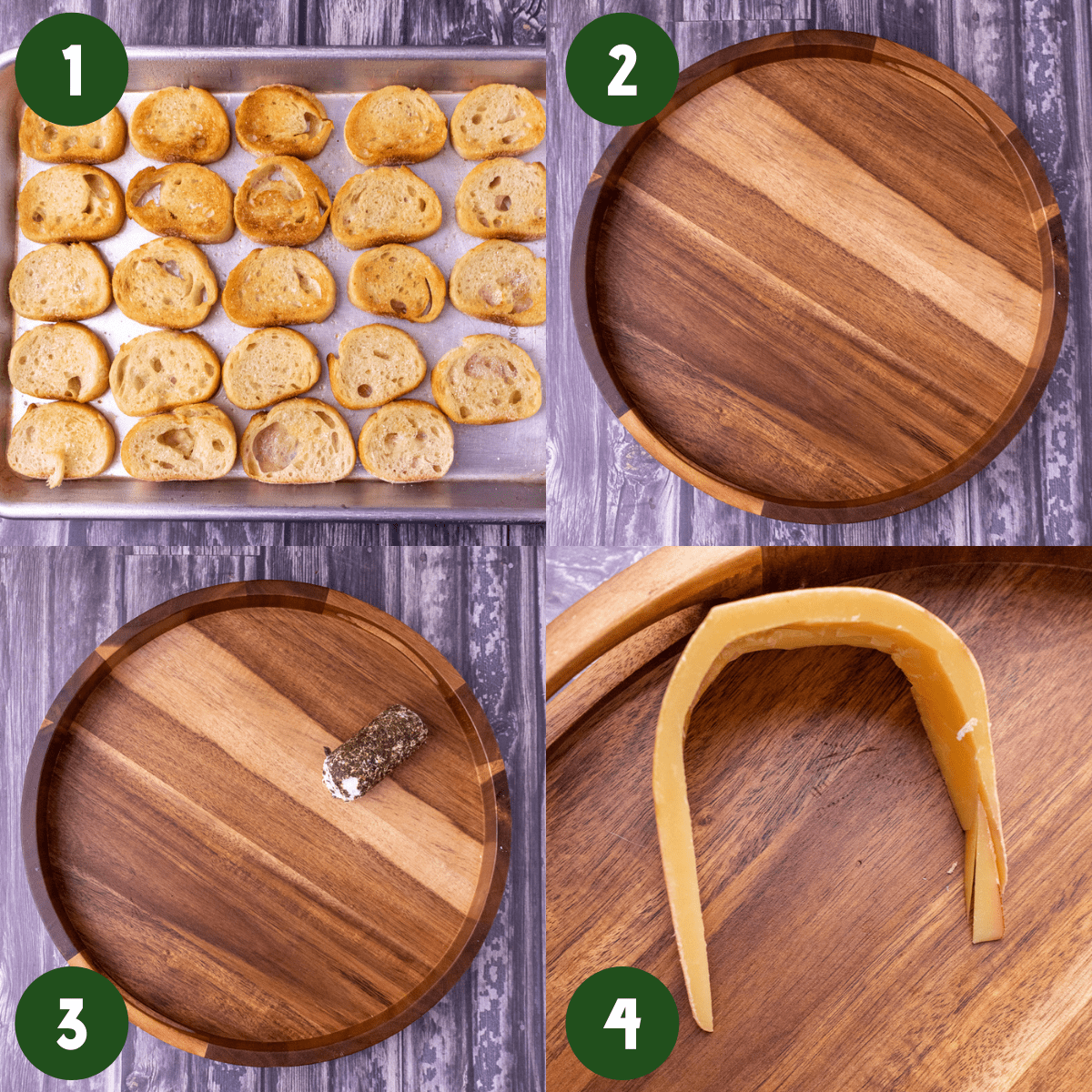 If the cheeses are at 12 and 6 oclock on a clock, place the jam in a small bowl at either 3 or 9 oclock.
Stack up your bread and arrange it down the middle of the board. You can make it all fit by adding a curve or two into the bread arrangement. If you are making this ahead of time, leave a spot for the bread but don't put it on the board if it's going into the refrigerator.
Take a piece of salami and fold it over twice. Continue to do this until you've folded about half the salami and with the edges facing up, add to the board near the goat cheese. Finish folding the rest and add it near the alpine cheese.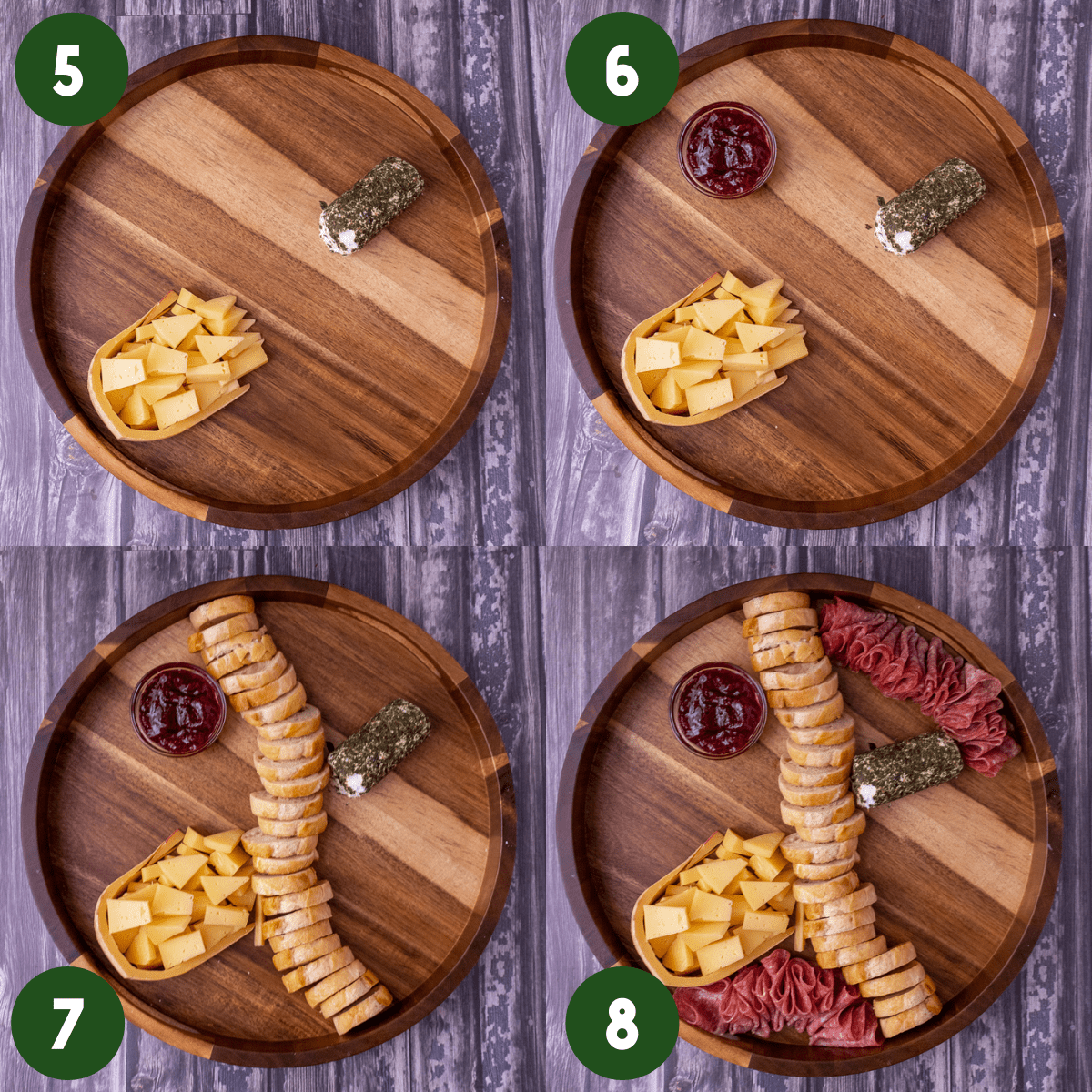 Between the goat cheese and the baguettes, add in the cherries. This will fill a large portion of your board or you can replenish as they get eaten. On the opposite side of the baguettes, add in the blackberries.
Add the almonds to any areas that need to be filled. If you've filled your board, move around some of the fruit to make room for the almonds. Leave these off if you're making the board ahead of time and storing in the fridge.
Garnish with mint for some color and fragrance.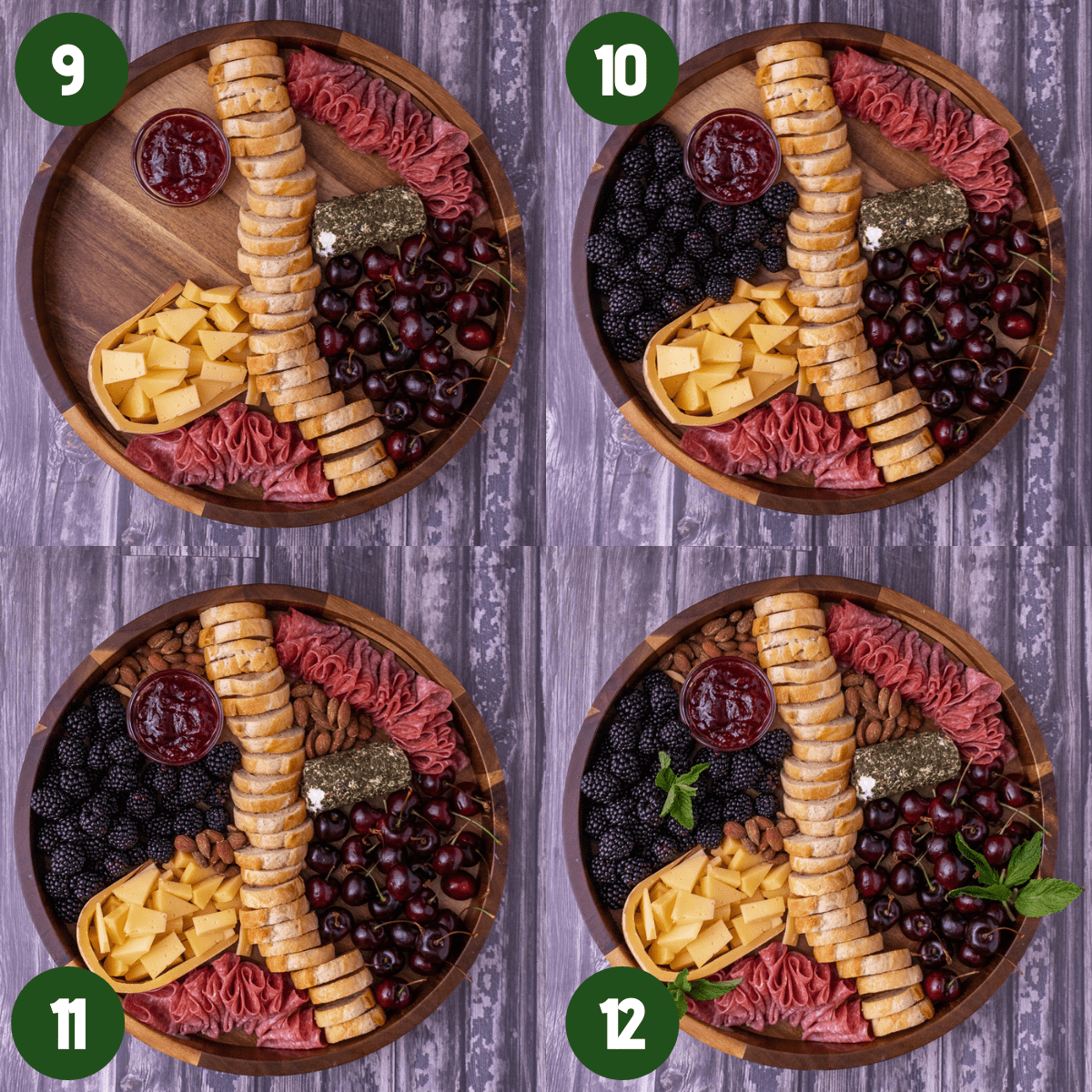 How do you fold salami? Simply take a piece of salami and fold it in half once and then again. I continue to fold until I have a fair amount and then place it on the board.
It's an optional step but it looks great and makes it easy to grab a piece. It's a personal pet peeve of mine when ingredients on a cheese board are hard to pick up.
How do you toast baguettes? This is another optional step but it definitely brings the platter up a notch. To do this, just slice the baguette into quarter inch slices and place on a sheet tray.
Lightly spray the baguette with oil and place under the broiler for one to two minutes until lightly toasted. The bread should be slightly crunchy but not crouton hard.
Hint: Leave baguettes and almonds off the board if prepping ahead of time and storing in the fridge. Add right before serving to maintain their texture.
Substitutions
What substitutions can you make? These are suggestions in case you can't find any of the ingredients or want to try something different. Remember this is no wrong way to make a cheese board.
Goat cheese substitute: bite sized fresh mozzarella balls
Alpine cheese substitute: try to look for a grass fed semi firm cheese or anything nutty
Strawberry jam substitute: any fruit jam like fig jam or raspberry jam
Toasted baguettes substitute: hearty whole grain crackers
Salami substitute: prosciutto, cut up smoked sausage or any cured meat
Cherry substitute: any fresh summer fruit that looks good that day at the market
Blackberry substitute: any fresh summer berries like raspberries, strawberries, blueberries
Almond substitute: cashews or shelled pistachios
Mint substitute: parsley (basil will wilt quickly)
Variations
This charcuterie board was inspired by summer produce, but if you need more inspiration, check out a few of my other popular boards with easy to find ingredients.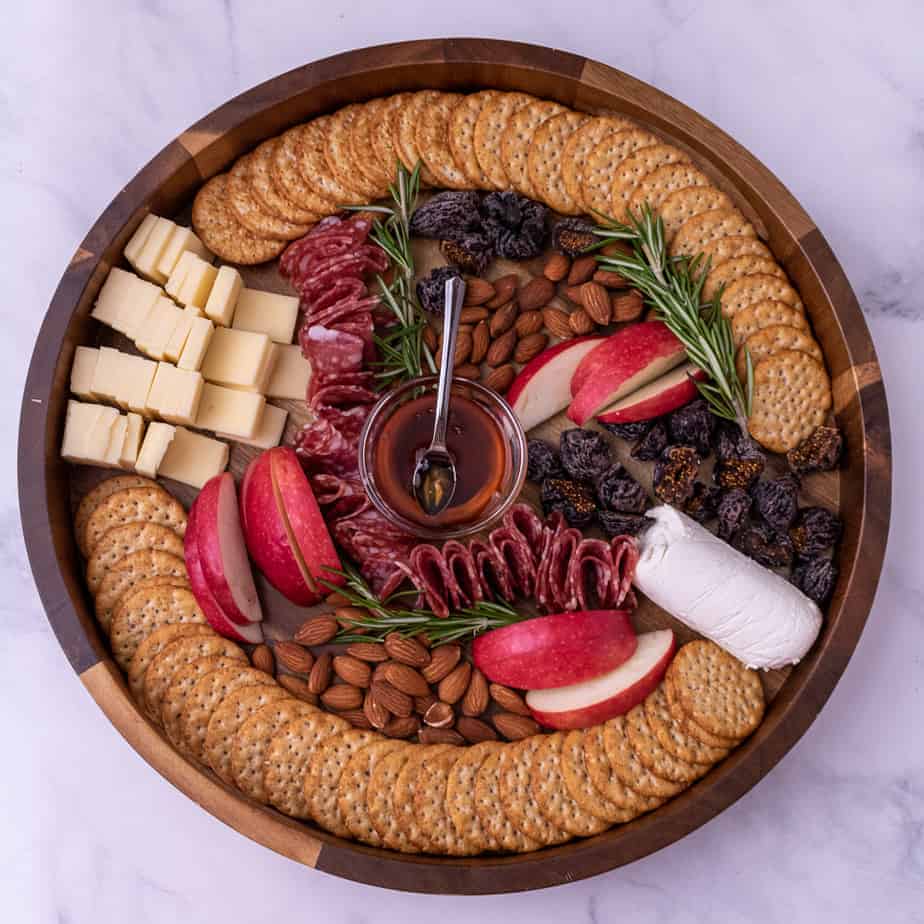 Equipment
What is the best board to use to make a cheese plate? The best board to use is one that you already have. In the photos, I used a round wooden board but you can also use a marble round board (affiliate link).
If you don't have a large circular board, feel free to use a large baking sheet tray with a lip (affiliate link). It'll be easy to clean, the perfect size for a summer charcuterie board and super convenient to travel with.
Top Tip
If the weather is hot, prep ingredients ahead of time and keep in the fridge until right before serving to keep ingredients fresh.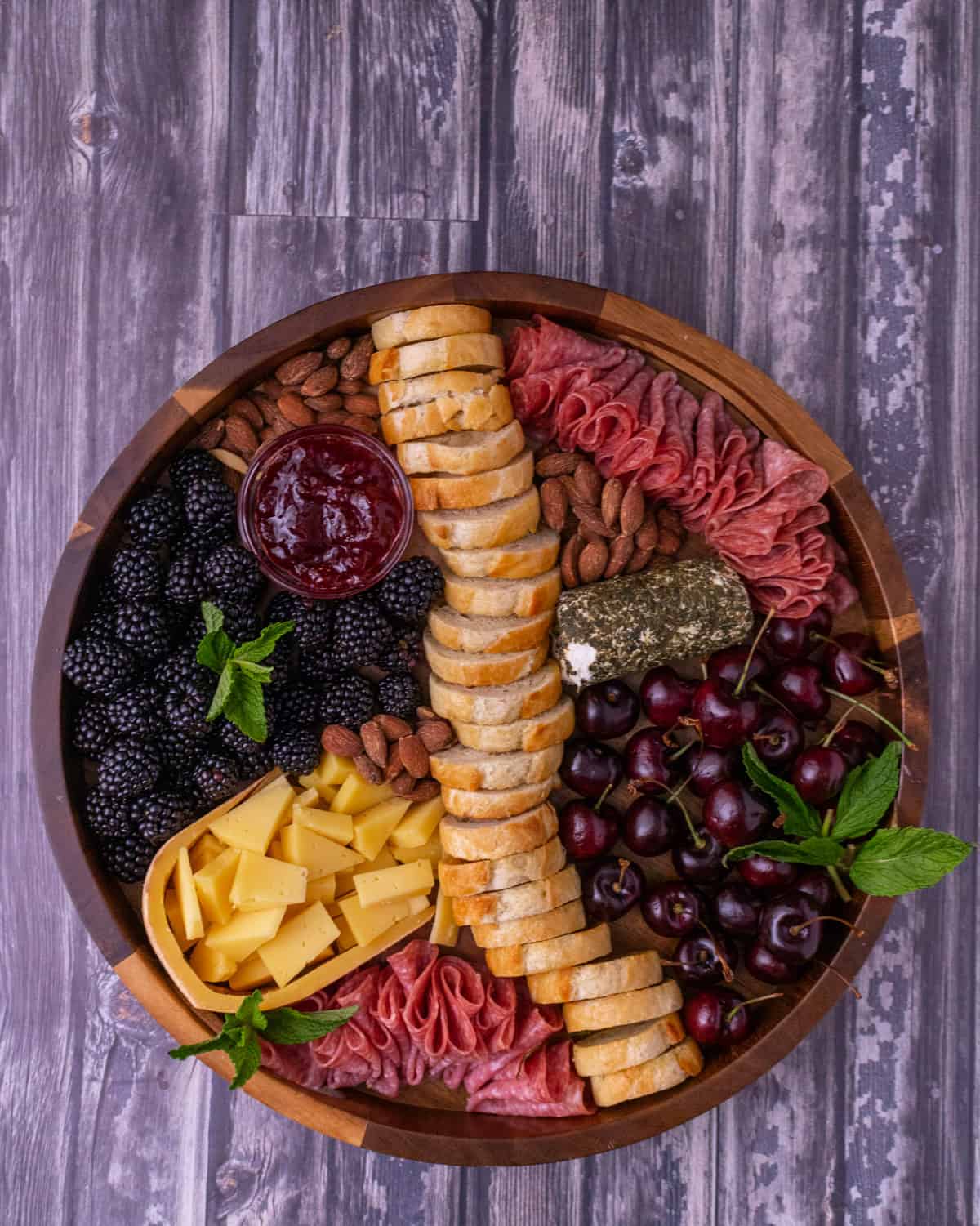 Holiday and Themed Cheese Boards
Check out more holiday and seasonal cheese boards!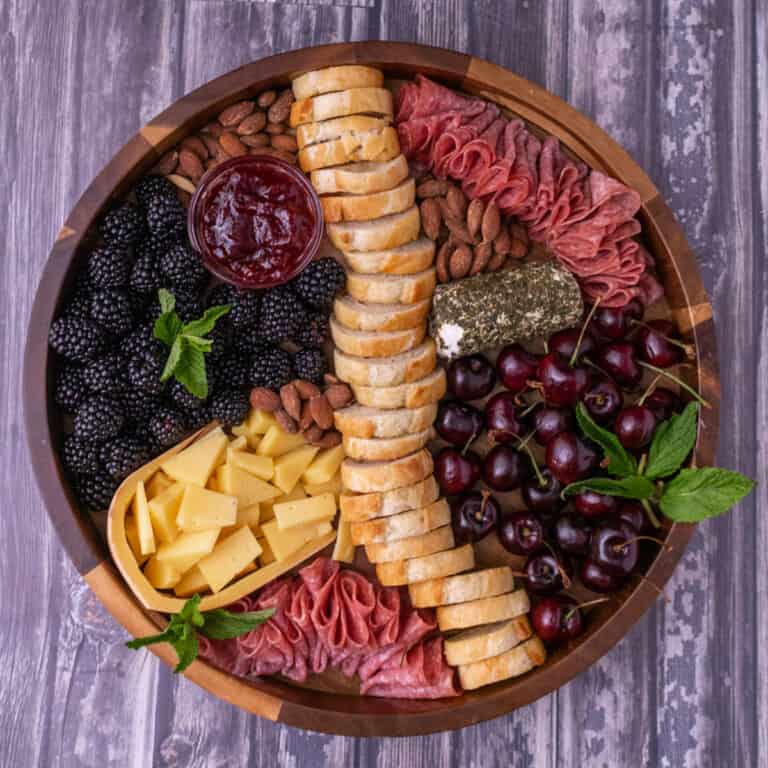 Summer Charcuterie Board
The best no cook summer appetizer for when you're entertaining or want a light dinner is the Summer Charcuterie Board. This cheese board can be made ahead of time, uses seasonal fruit and as a bonus it travels well.
Print
Pin
Save
Saved!
Ingredients
8

oz

baguette

Oil spray

4

oz

fresh goat cheese with herbs

8

oz

grass fed alpine cheese

¼

cup

strawberry jam

½

lb

salami

folded

½

lb

fresh cherries

12

oz

fresh blackberries

2-3

oz

almonds

2-3

sprigs of fresh mint
Instructions
Turn your broiler on high and move an oven rack to the highest shelf. Cut baguettes into ¼ inch pieces and place in a single layer on a sheet tray. Lightly spray with oil and toast under the broiler for 1-2 minutes until lightly toasted on one side. Remove from the oven and set aside to cool.

Place the goat cheese off center toward the edge of the platter.

If your alpine cheese has a rind, cut the cheese out carefully and keep the outer edge of the rind. Cut the cheese up into small bite size pieces like cubes or triangles. Add the rind to the cheese platter opposite of the goat cheese. Add cut cheese to the inside of the rind. If your cheese doesn't have a rind, just cut into small bite size pieces and place them together.

Put the jam in a small bowl and place between the two cheeses, off center on the board.

Arrange the bread down the middle of the board by stacking the pieces together. If you need to, add a curve to the row of bread to be able to fit more.

Take the first half of the salami and piece by piece fold it in half once and then in half again. Add this row of salami to the board with the edges facing up near the goat cheese. Repeat with the second half of the salami and place near the alpine cheese.

Between the goat cheese and the baguettes, add the cherries. Leave the stems on the cherries to make them easy to pick up.

On the opposite side of the baguette, add the blackberries.

Fill in any holes or sparse spots with almonds.

Garnish the board with mint and serve.
Notes
All amounts are approximations, use as much or as little as you want or can fit on your board. You can always lay some out and then add more as necessary to keep it fresh.
It's best to put this recipe out for only 1-2 hours depending on summer heat and keep it in the shade.
If you can't find the herb crusted goat cheese, any fresh chevre (goat cheese) will work just as well.
Any alpine or grass fed cheese will work for the board.
Store leftover fruit, jam, cheese and meats separately in airtight containers in the fridge.
Store leftover baguettes and almonds separately in an airtight container on the counter.
Join our Discord Server!
Chat about the monthly theme, get recipe troubleshooting and post what you made for dinner and engage with the community!
Originally published April 19, 2020. Reposted with new tips and tricks on April 19, 2021. Updated with more clarity and better tips on April 3, 2022.