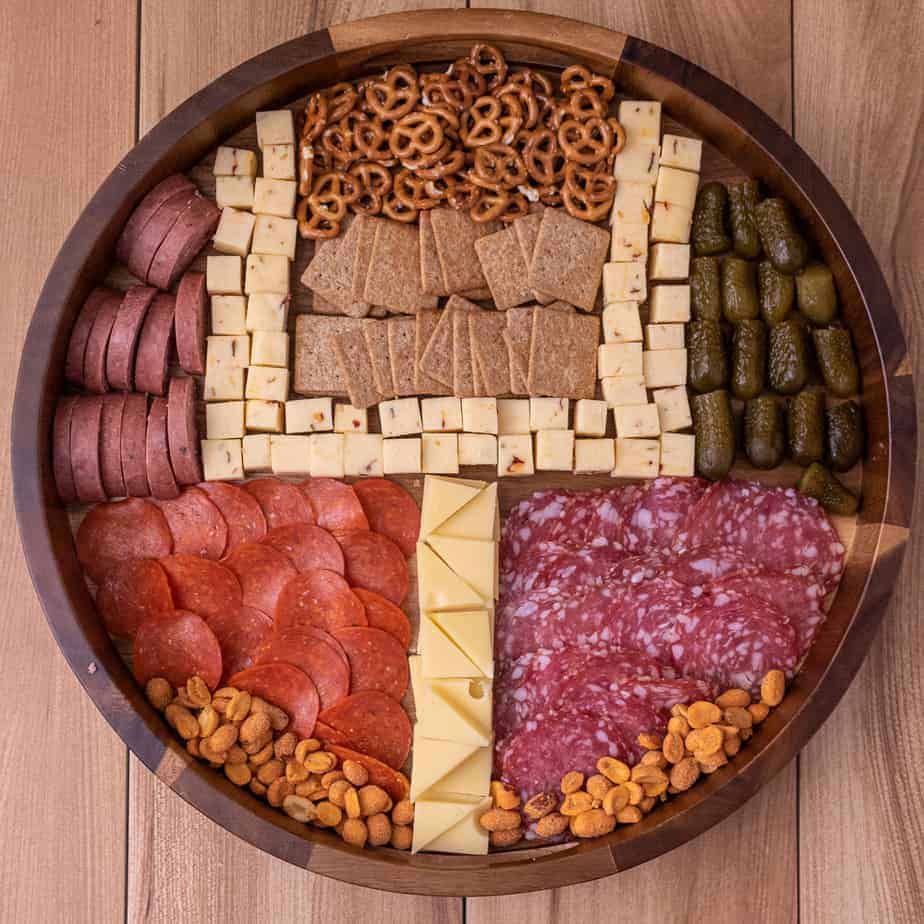 Beginners Guide to a Game Day Cheese Board
The big game is one of the biggest sports days of the year and it's a great reason to throw a party and have a ton of delicious food with your friends. Even if you're not a huge fan of football, you're probably a fan of cheese and appetizers. Whether you're hosting and want an easy and festive football themed charcuterie board appetizer or you've been asked to bring a make ahead appetizer that travels well and is an easy finger food, this Football Charcuterie Board is the perfect recipe.

The inspiration behind this recipe is that most football food should be simple, delicious and hearty. This isn't the time and place for 5 different types of fruit and a bunch of weird crackers. People want simple, approachable and hearty ingredients. This is a cheese and meat forward cheese board but is lightened up a bit with a spicy cheese, spicy peanuts and the acid from the pickles. Plus it's in the shape of a field goal! The ultimate big game day appetizer to cheer on any team in the big game.
Tips and Tricks
How many people does this serve? If you're having a lot of other appetizers, this cheese platter can easily serve 10-12 people. If it is one of the main options, probably about 6-8 people.
How do you store a cheese plate? After the party, it is best to store meats and cheeses together in an airtight container in the fridge. Pickles should be stored separately in an airtight container to avoid making anything wet or mushy. Finally, store the crackers, pretzels and peanuts together in an airtight container on the counter.
Can you make this football themed cheese board ahead of time? One of the best things about this appetizer is that it can be easily made the night before and finished right before guests arrive. It can also be made ahead of time and brought to the host's house. Just wrap it up and transport carefully.
What's the best board to use to make a cheese board? The best board to use is one that you already have. I used a circular board I got from Target. I like this board because it has a lip, making it easy to travel with and the handles make it easy to carry. If you don't have a large circular board, feel free to use a large baking sheet tray with a lip. It'll be easy to clean, the perfect size for a football charcuterie board and super convenient to travel with. I've used it for a lot of different boards and appetizers, it definitely is re-usable.
Ingredients
What type of pickles do you use? I use petite gherkins which are the perfect size and are a little sweet. You can definitely use whatever is your favorite pickle. I added pickles because they are a nice contrast to the rich meats and cheese.
What kind of spicy nuts did you use? I used buffalo flavored peanuts but you can use any type of spicy nuts. I added spicy nuts to brighten up the flavors on the cheese board.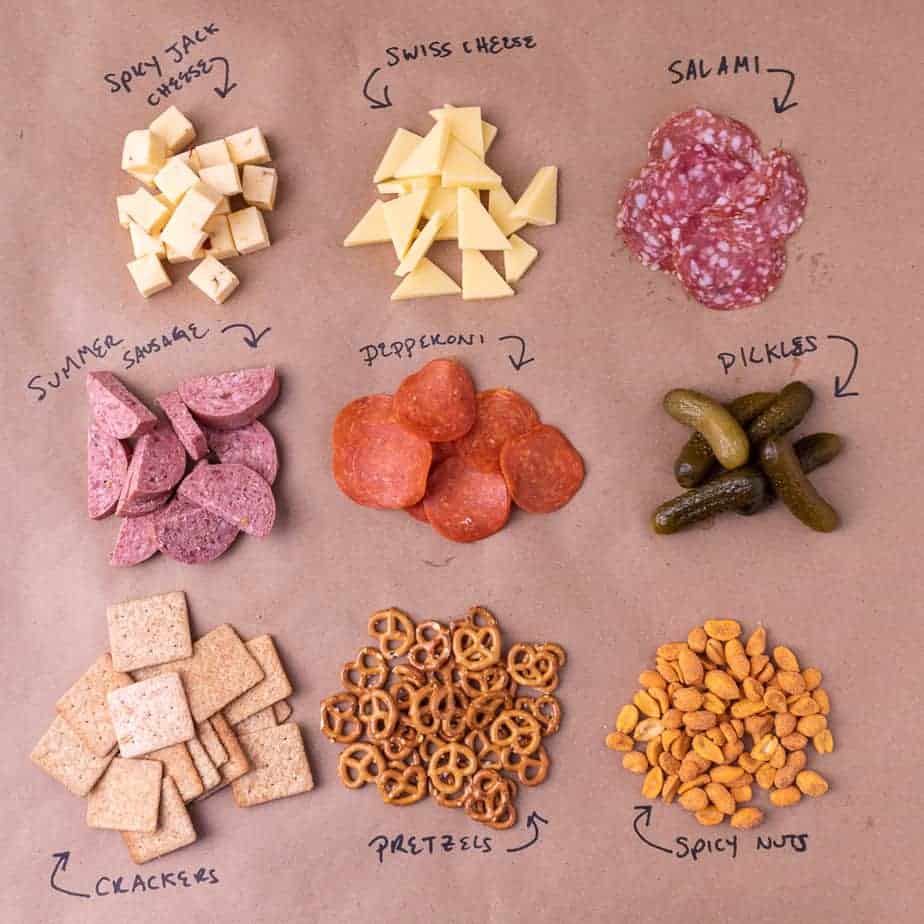 How do you plan for a charcuterie board? It can be overwhelming trying to pick what you want to add to your cheese and charcuterie board. A great way to organize yourself is with these printable cheese board shopping lists. You can buy the four templates that are both editable PDFs as well as printables if you like a physical copy.
Substitutions
What substitutions can you make for this game day cheese board? You can absolutely make substitutions to the ingredients I've listed. Use what you can find, what you love and what works together for you. I've included some substitutions that I'd recommend.
Spicy jack cheese substitute: Smoked gouda or something flavorful
Swiss cheese substitute: young cheddar
Salami substitute: sweet or spicy capocollo
Summer sausage substitute: Italian sausage cooked and cooled
Pepperoni substitute: prosciutto or another cured meat
Pickles substitute: olives
Crackers substitute: wavy potato chips
Pretzels substitute: cheese puffs
Spicy peanut substitute: any spicy nut will do or a regular roasted peanut
Method
How do assemble a Football Charcuterie Board? There is no wrong way to set up a cheese plate. I've included step by step photos below to help guide you but as long as it all fits on the board, you're doing well.
Start by cutting the spicy jack cheese into small (½ inch) cubes and set aside. Next cut the swiss cheese into thin long rectangles. Cut each rectangle into a square and each square in half into triangles.

Next, make the top of the field goal (the uprights) with one type of cheese (I started with the spicy jack cheese in cubes) and outline the field goal. I ended up doing each line as 2 cubes of cheese but this will depend on how much cheese and how big your board is. You can always add more later.
Making squares out of triangles, I made the goal post go straight down using the swiss cheese. Again, I ended up doing two layers of cheese to make it fit properly, but this will depend on how big your cheese platter is and how much you bought.
Once you have the outline made, it's a lot easier and less precise. Add in small slices of salami to the right of the post and below the part made by the spicy jack cheese. I did it in overlapping rows to fit enough in there.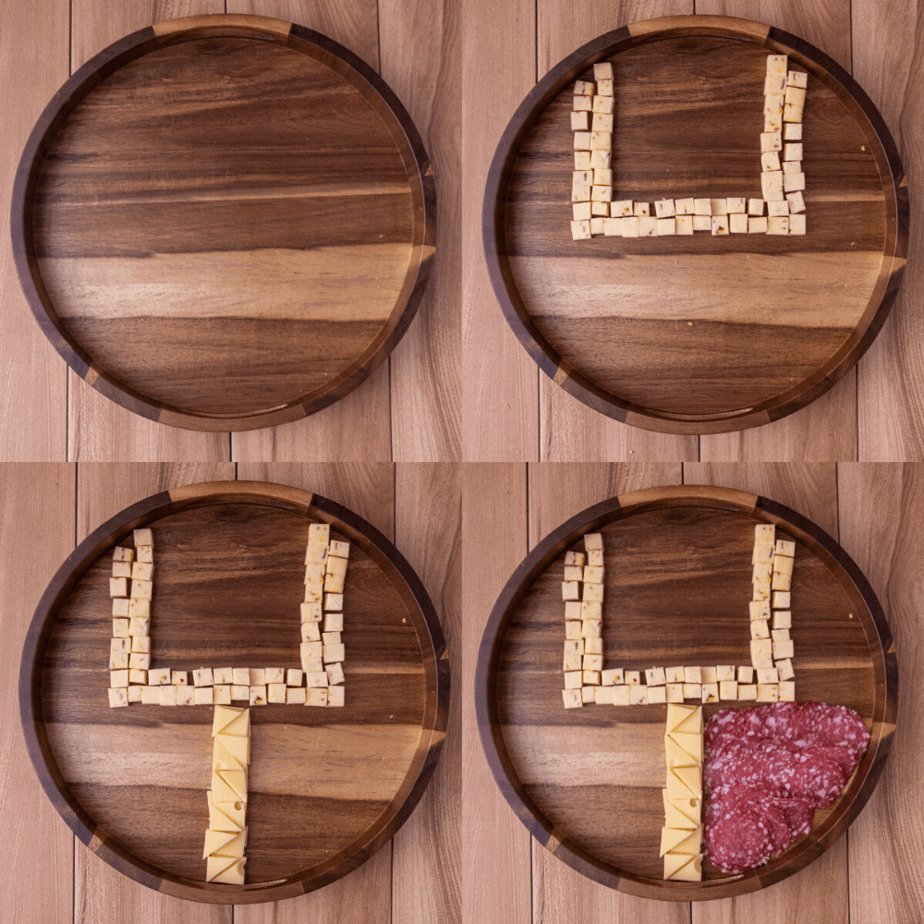 I did the same thing with the pepperoni on the opposite side of the goal post and salami. Again, I didn't add it above the spicy jack cheese.
Cut slices off the summer sausage, remove the casing and cut in half to form half moons. Above the pepperoni but on the outside of the field goal add the summer sausage to fit in that space.
Cut the pickles to fit easily into the opposite side of the board from the summer sausage. I used small gherkins so I cut them in half. Pickles cut into spears could be cut smaller and fit in there as well.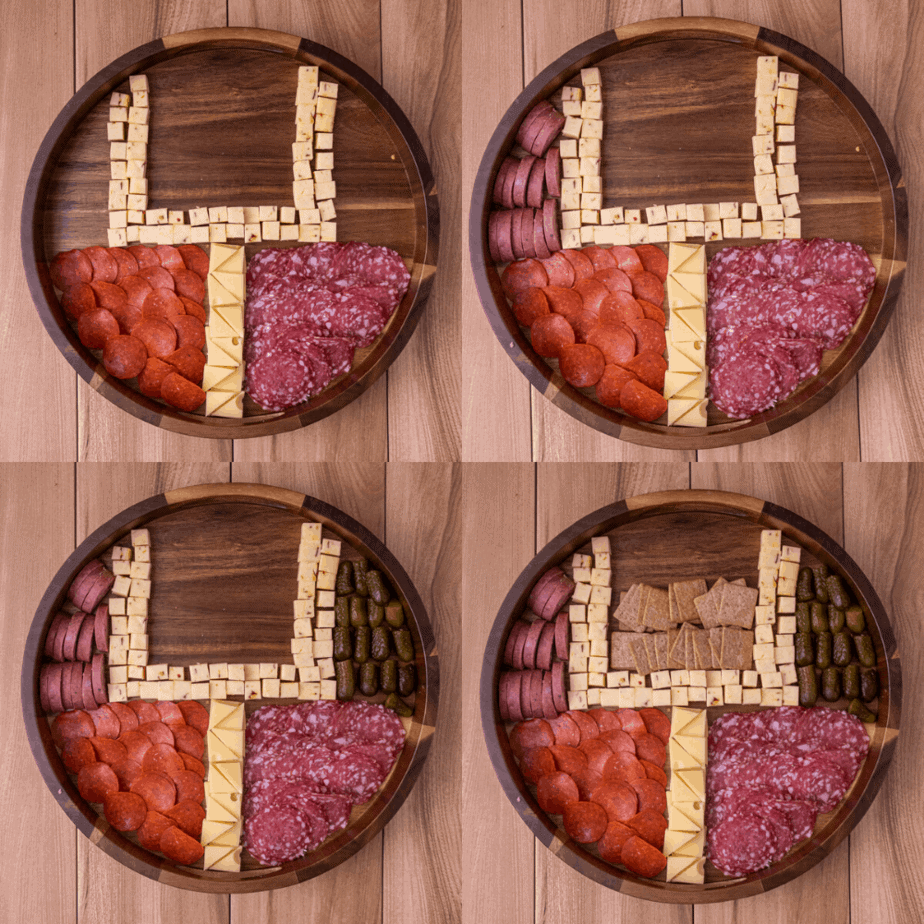 Between the goal posts, add one layer of crackers and another layer of pretzels to fill up the space.
Finally, add in the spicy nuts at the base of it all.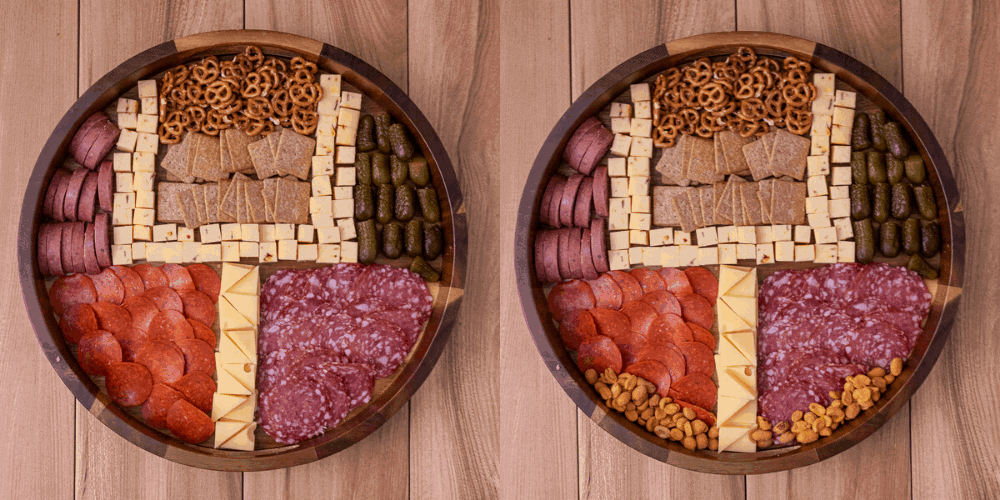 How do you cut the swiss cheese? You want to cut it into manageable pieces so I stared with a thin rectangle and then cut that in half to form a square. I then cut that on the diagonal to get small triangles. I did this so they fit on the board and also so that there would be plenty of cheese for everyone.
Serving Suggestions
What do you serve with a cheese platter at a football game party? There are plenty of delicious finger foods to serve with a cheese board at a Big Game party. Check out these 12 Game Day appetizers that includes both finger foods and party dips like wings, stromboli and buffalo chicken dip.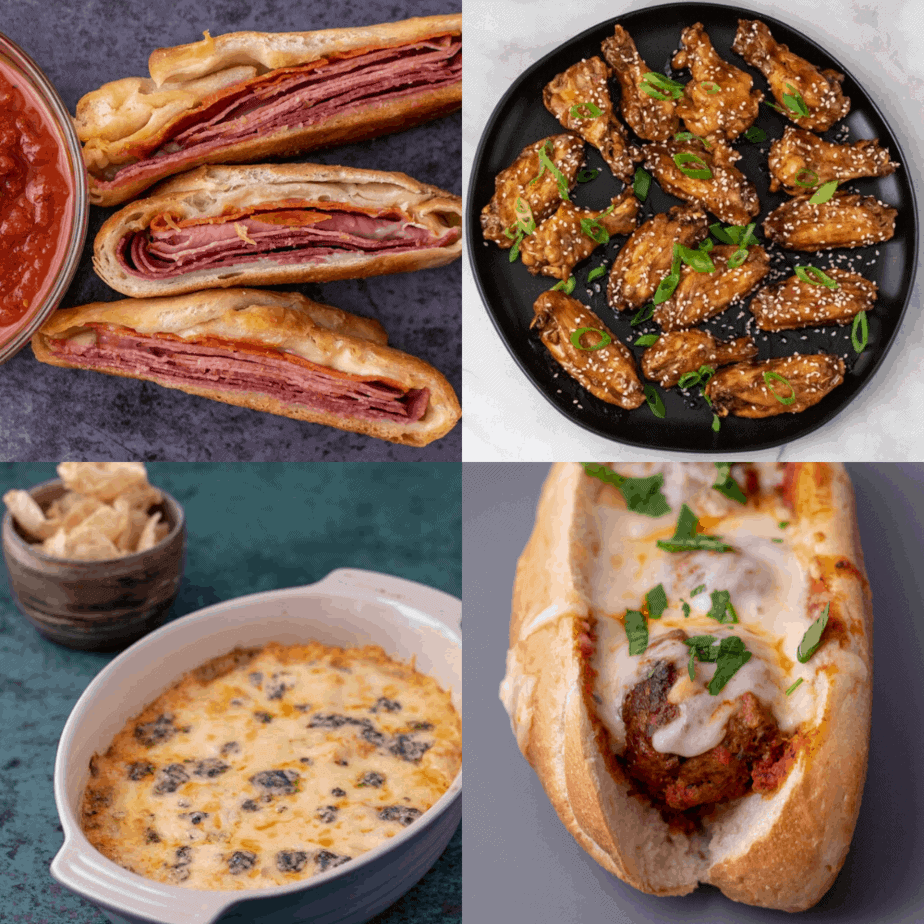 You May Also Like
Holiday Cheese Boards
Check out more holiday and seasonal cheese boards!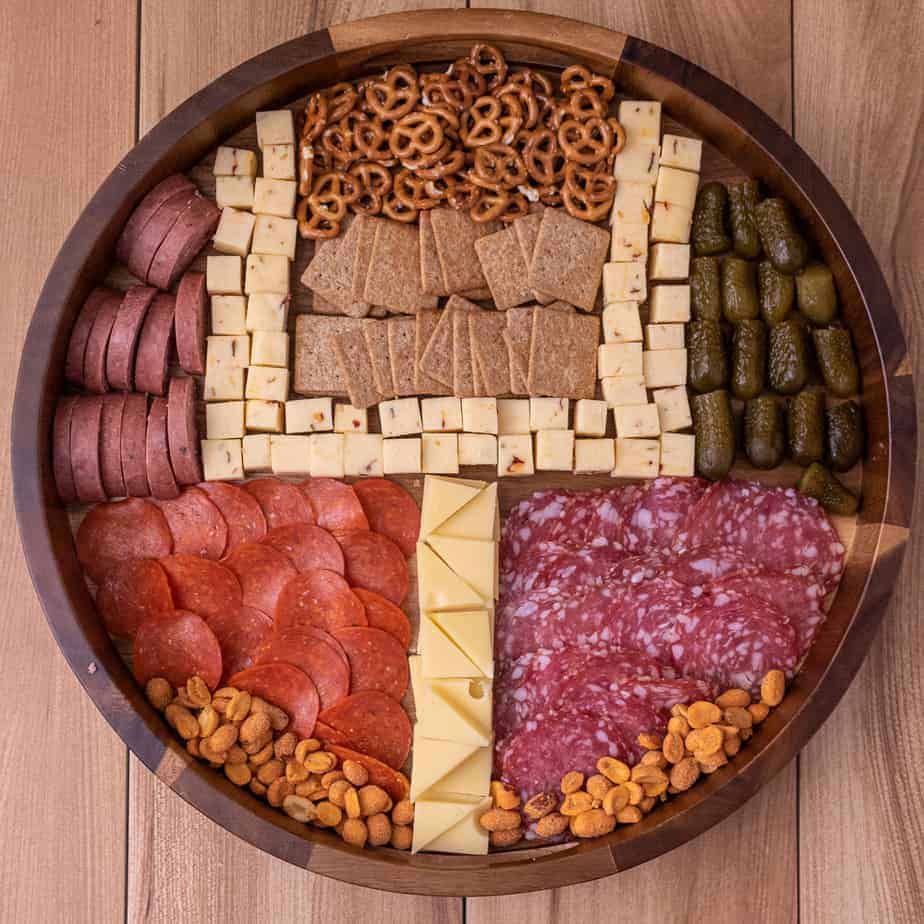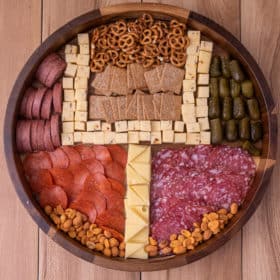 Football Charcuterie Board
Make the Football Charcuterie Board for your next football watching party. Whether it's the big game or just a normal game day, this is a crowd pleasing, easy to make appetizer that everyone with love, perfect for college or professional football. Root for your favorite team with a delicious meat and cheese platter.
Print
Pin
Save
Saved!
Ingredients
8

oz

cubed spicy jack cheese

4

oz

swiss cheese

2

oz

sliced salami

2

oz

sliced pepperoni

4-6

oz

sliced summer sausage

½

cup

of pickles

bite sized pieces

1

cup

of crackers

1

cup

of mini pretzels

½

cup

spicy peanuts
Instructions
Cut spicy jack cheese into approximated ½ inch cubes. Cut swiss cheese into rectangles and then into square and then into triangles.

On the cheese board, use the cubes of spicy jack cheese to make the upright portion of the field goal posts. Use the spicy jack cheese to make 1-2 rows for each portion.

Use the triangles of swiss cheese to form squares and make the post for the field goal post. Again, you can double up the amount of cheese to make it all fit.

To the right of the post (swiss cheese part) add salami slices in rows and fill in that area.

Do the same with the pepperoni on the other side of the board. Add pepperoni slices in rows and fill in that area.

Slice summer sausage into coins and remove the casing. Cut each piece in half to make a half moon and add to the cheese board above the pepperoni and to the left of the uprights (made of spicy jack cheese).

Slice pickles into bite sized pieces and add to the opposite side from the summer sausage.

Between the uprights, add in one layer of crackers and fill in the remaining area with small bite sized pretzels.

FInally, add the spicy peanuts along the bottom of the board.
Notes and Accommodations
These amounts will serve 10-12 people at a football party with other appetizers or 6-8 people with this as a main appetizer.
I used petite gherkins for the pickles. Use your favorite pickle just be sure to cut it to bite sized pieces.
Store all leftover cheese and meat together in the fridge in an airtight container.
Store leftover pickles in an airtight container in the fridge.
Store leftovers crackers, pretzels and peanuts in an airtight container on the counter.
Originally published January 7, 2020. Republish with new information and clarity on January 5, 2021.