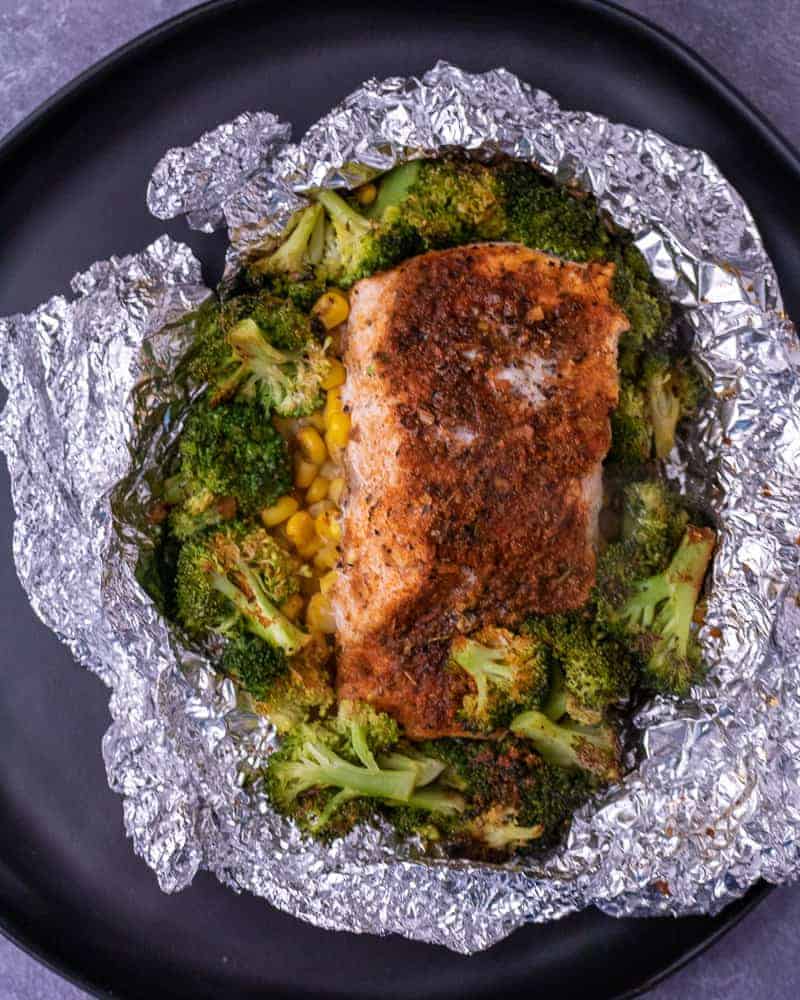 Tips and Tricks
Can you put aluminum foil in the air fryer? Yes! Absolutely. You just want to make sure the aluminum foil isn't interrupting the air flow too much. The use of tin foil in the air fryer in this recipe keeps the salmon juicy and the vegetables flavorful and moist. It also makes cleaning up super simple.
What do you serve with cajun salmon? This recipe has the sides built right in! Inside the foil packets are corn and broccoli. You could also make a side of rice if you need to bulk this up more and serve the salmon and vegetables over the rice.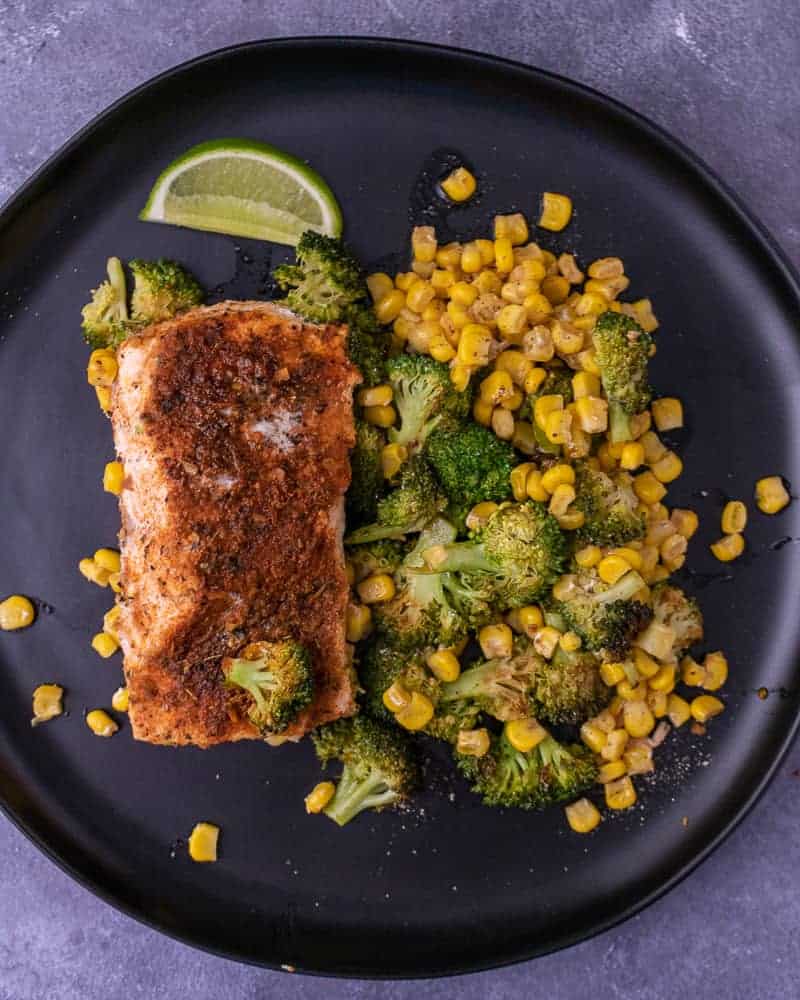 Method
How do you make air fryer cajun salmon foil packets? Preheat your air fryer to 400 F. Take a large piece of aluminum foil and in the center place the corn (photos 1 and 2). On top of the corn, add the filet of salmon (photo 3). Arrange the broccoli florets around the edge of the salmon and corn and sprinkle the whole thing with cajun seasoning (photos 4 and 5). The salmon should be well seasoned with cajun seasoning. If your seasoning doesn't have salt, add it here. Finally, add cubed up pieces of butter or olive oil over the broccoli (photo 6). Fold up the foil packets to ensure no juice or steam escapes and place in the air fryer for 15-20 minutes until salmon is 145 F internally or flakes easily with a fork. Serve on a plate with a squeeze of fresh lime or directly out of the foil packets for less dishes!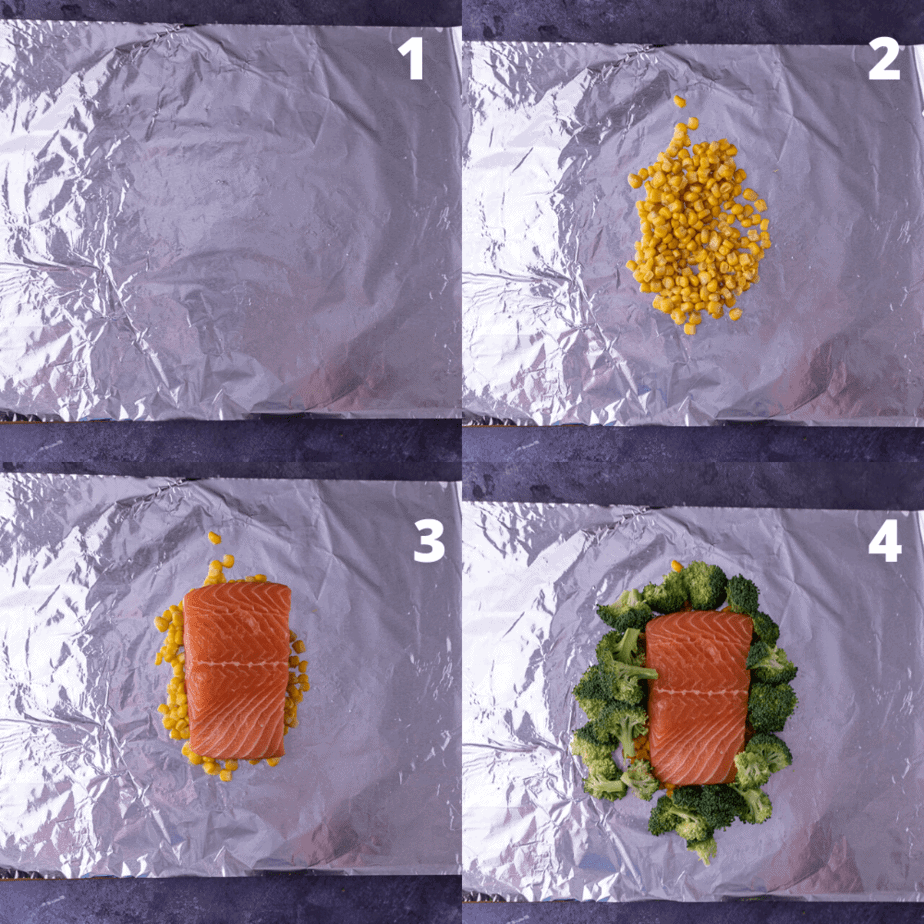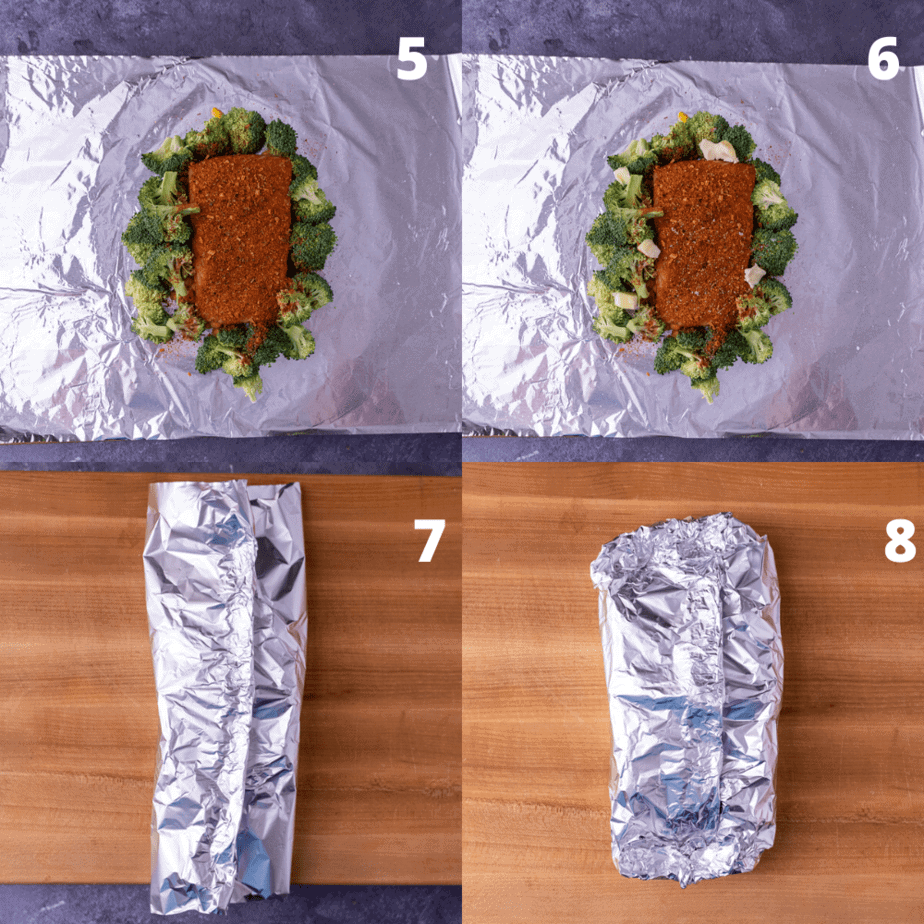 How do you fold foil packets for the air fryer? I start with the large piece of foil on a cutting board or other flat surface. I add the salmon and vegetables to the center and then fold up the sides together and fold down. Next, secure the top and bottom sides but folding them toward the salmon and vegetables. Make sure that no juice or steam can escape. You want to fold these tightly so they fit easily into the air fryer. (Refer above to photos 7 and 8)
How do you know when the salmon is done cooking? There are two ways to ensure your salmon is cooked, one is by using a fork to check to see if the salmon easily flakes. Another way is with a meat thermometer and checking to make sure the internal temperature is at least 145F. How long it takes the salmon to cook depends on your air fryer and the thickness of your salmon.
What temperature do you cook the salmon to? I like to cook my salmon to 145 F internally, checked with a meat thermometer. You can eat your salmon on the rarer side(130-135 F for a medium rare) or more well done (165 F).
How many salmon foil packets can you make at the same time? I like to do one single layer, with two packets side by side. If you need to make more, I'd recommend doing it in batches unless you have a larger air fryer, I only have a three quart.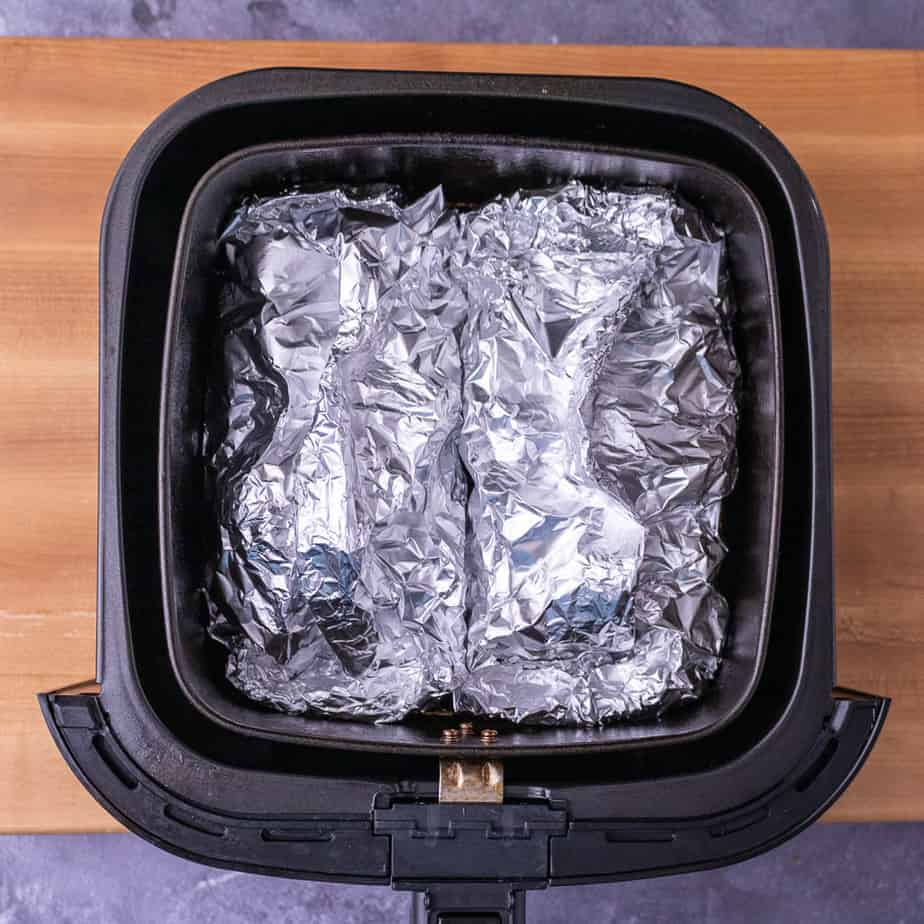 Ingredients
What cajun seasoning do you use? My favorite is McCormick Gourmet Cajun Seasoning, it's in a green bottle. Too many of them are very salty and have salt as the first ingredient. Avoid those ones. You can make your own as well, I've just never found one I've been in love with.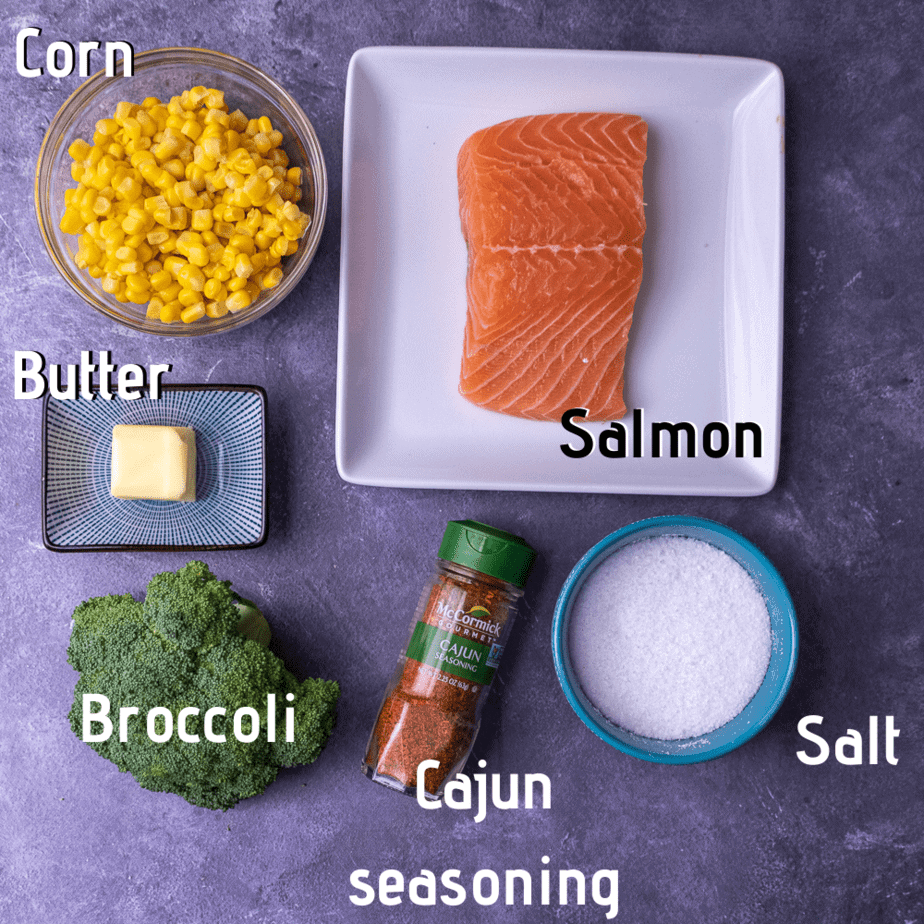 Substitutions
What vegetables can you substitute in for this recipe? Ideally, you can substitute any vegetable you want with cajun salmon. However, if you want to cook it in the foil packet you have to make sure it cooks through. You want a hearty vegetable but not one that will take too long to cook. Some ideas are asparagus, onions, mushrooms, diced bell peppers, halved baby yukon gold potatoes or onions. You may have to experiment with how large to cut the vegetables so they don't turn to mush but also aren't still raw.
Can you use frozen vegetables? Yes! Frozen corn or broccoli can be used interchangeably in this recipe.
You May Also Like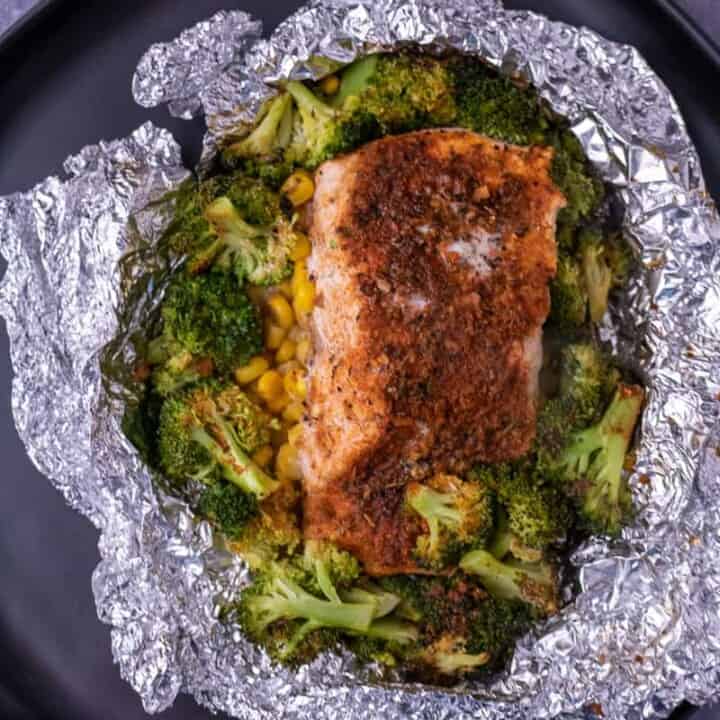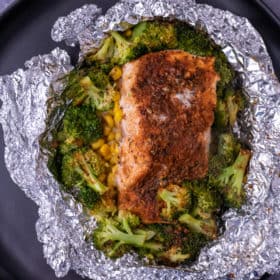 Air Fryer Cajun Salmon Foil Packets
Air Fryer Cajun Salmon Foil Packets are an easy and quick weeknight air fryer recipe. This low carb seafood recipe with broccoli and corn is done in less than 30 minutes and has very little clean up, perfect for a weeknight dinner
Print
Pin
Save
Saved!
Ingredients
1

cup

canned corn

divided

2

six oz fresh salmon filets

2

cups

chopped broccoli

divided

4

teaspoons

cajun seasoning

divided

1

tablespoon

unsalted butter

divided

Kosher salt to taste

Lime wedges

optional
Instructions
Preheat the air fryer to 400 F.

Tear off 2 sheets of aluminum foil about 16-18 inches long and place on a flat surface.

In the center of 1 sheet of aluminum foil put ½ cup canned corn.

On top of the corn, add 1 piece of salmon. Around the salmon put 1 cup of chopped broccoli.

Using about 2 teaspoons of cajun seasoning, liberally season the salmon and broccoli.

Cut ½ tablespoon of butter into 4-6 small pieces and dot it among the broccoli. Sprinkle broccoli lightly with salt.

Repeat with the second piece of salmon.

Fold the foil packets up to keep juicy and steam inside. Place both packets in the air fryer basket and cook for 15-20 minutes until salmon is 145 F internally or flakey to touch. Broccoli should be fork tender.

Remove from the foil packets and serve with fresh lime wedges.
Notes and Accommodations
Timing will vary depending on how thick cut your salmon is and your air fryer.
Try to buy evenly cut pieces of salmon.
Keep salmon packets in a single layer and do not over crowd the basket.