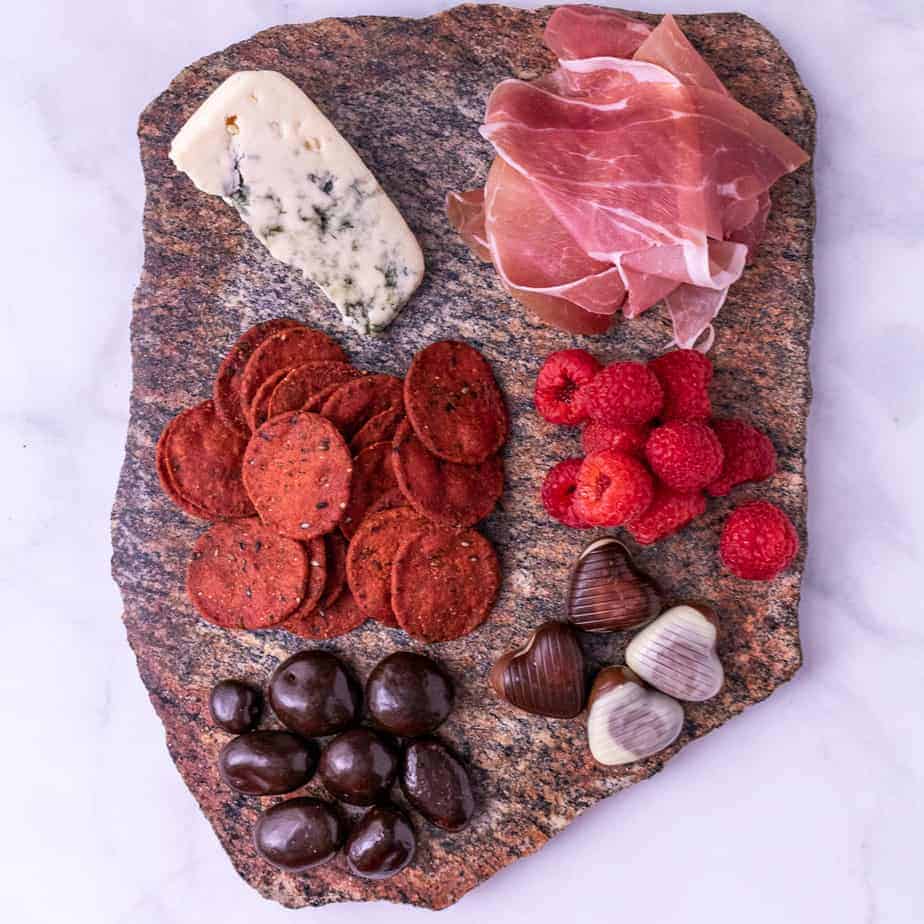 Tips and Tricks
Is this Valentine's Day charcuterie board an appetizer or a dessert? This cheese platter can be either an appetizer or a dessert. The Valentine's Day charcuterie board has both savory and sweet components and is small and light enough to be either part of your romantic dinner. I like that this can be an easy appetizer for two to snack on while dinner cooks just as easily as it can be an easy dessert for two while sipping wine. After cooking dinner, you want an easy dessert to end the evening on a high note.
How much cheese do you serve for just two people? For a lighter appetizer or dessert for two, you can serve between 2-2.5 oz of blue cheese or another cheese of your choosing. If you're looking for this to be a fancy date night dinner, you could add another 2 oz of another cheese that goes well with chocolate and fruit like comte or medium aged gouda.
How do you store leftovers? If you have leftover blue cheese, prosciutto and raspberries they can be stored in separate airtight containers in the fridge. The chocolate covered fruit and hearts can be stored together in an airtight container on the counter. Finally, store the beet crackers in another airtight container on the counter.
How do you plan for a charcuterie board? It can be overwhelming trying to pick what you want to add to your cheese and charcuterie board. A great way to organize yourself is with these printable cheese board shopping lists. You can buy the four templates that are both editable PDFs as well as printables if you like a physical copy.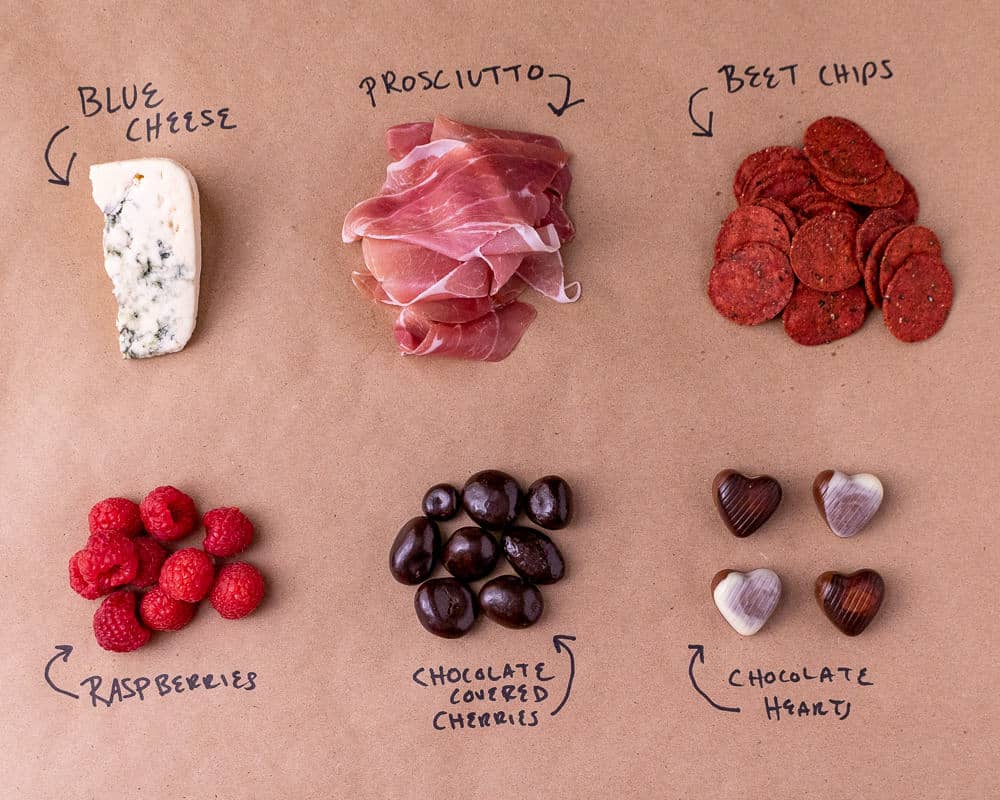 Method
How do you build a Valentine's Day cheese board for two? This is a very simple cheese plate to build! With only six easy to find ingredients, the hardest part is tearing up the prosciutto without eating it all.
Start by placing a wedge of blue cheese on one edge of the cheese platter or board.
Lightly tear up thin slices of prosciutto into bite size pieces and place in a pile next to the blue cheese.

Pile up the beet crackers or chips below the blue cheese.
Place the fresh raspberries below the prosciutto in a small cluster.
Below the beet crackers place the chocolate covered cherries.

Finally place the chocolate hearts to finish off the cheese board.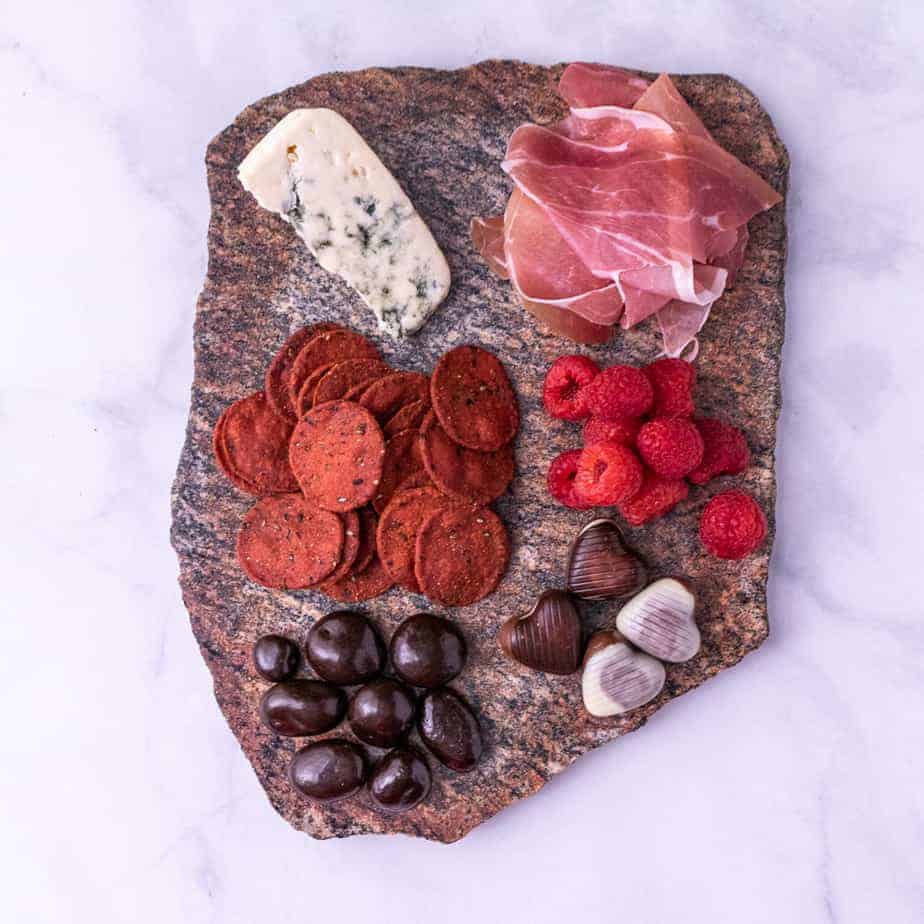 Suggested Pairings
What's the best type of board to use for a small cheese board? Realistically, you can use any small board you have. A small cutting board works, a nice platter, piece of slate or a stone board. The board in the photos is from a local company that repurposes stones from farms into custom pieces. I wouldn't go out of your way to find something you won't use again, unless you're interested in serving cheese plates often. This is a small board that is perfect for two or three people, but a plate or platter would work just as well.
What do you serve with this cheese and chocolate board? If you're serving this light cheese plate as an appetizer or dessert you can serve this with a variety of dinners like Creamy Pesto and Goat Cheese Pasta or Pasta Carbonara. Both of these recipes are easy so you're not spending all night in the kitchen. Personally, I always mess up a fancy dinner whenever I try to make it on Valentine's Day so I like simple and delicious.
What wine goes with this cheese board? There are plenty of wine options to choose from but I'd suggest a Sauternes, or a dessert wine like a Port. Other options are a German Riesling, off dry Chardonnay or Moscato. Experiment and see what you like best and enjoy trying something new with your loved one.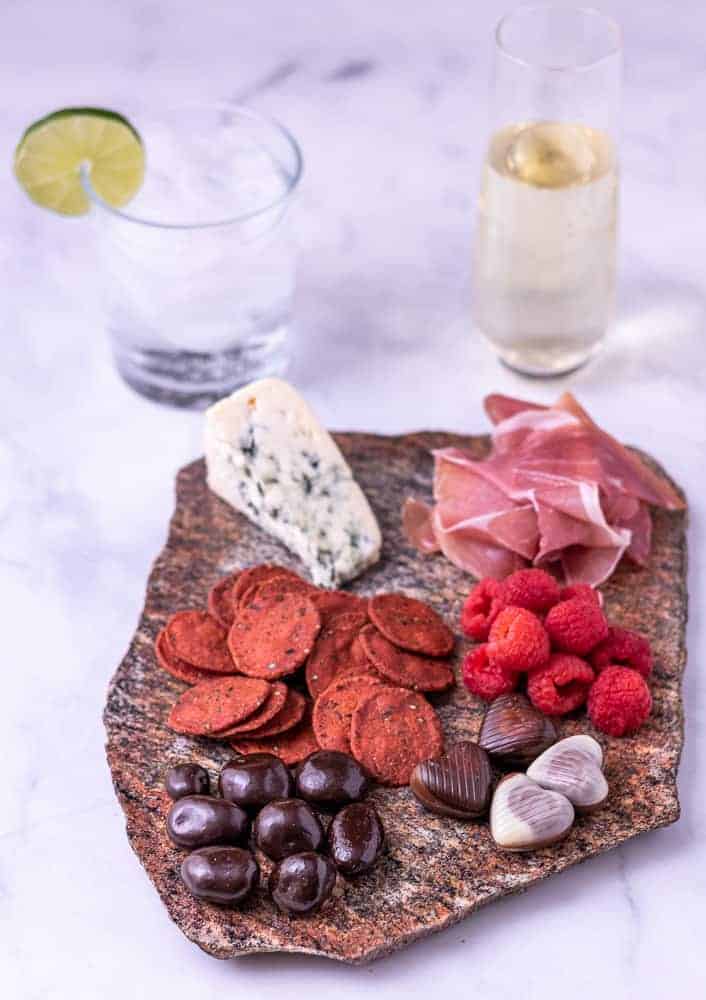 Substitutions
What substitutions can you make? You can absolutely make different substitutions based on availability of ingredients and taste preferences. I've added some ideas below to help.
Blue cheese substitute: Comte
Prosciutto substitute: Salami or sopressata
Beet crackers/chips substitute: Any white or red cracker with a mild flavor
Fresh raspberries substitute: Cherries or strawberries
Chocolate covered cherries substitute: Any chocolate covered fruits like strawberries, raspberries or blueberries
Chocolate shaped hearts substitute: If you can't find chocolate hearts a bar of dark good chocolate will work perfectly
You May Also Like
Holiday Cheese Plates
Check out more holiday and seasonal cheese boards!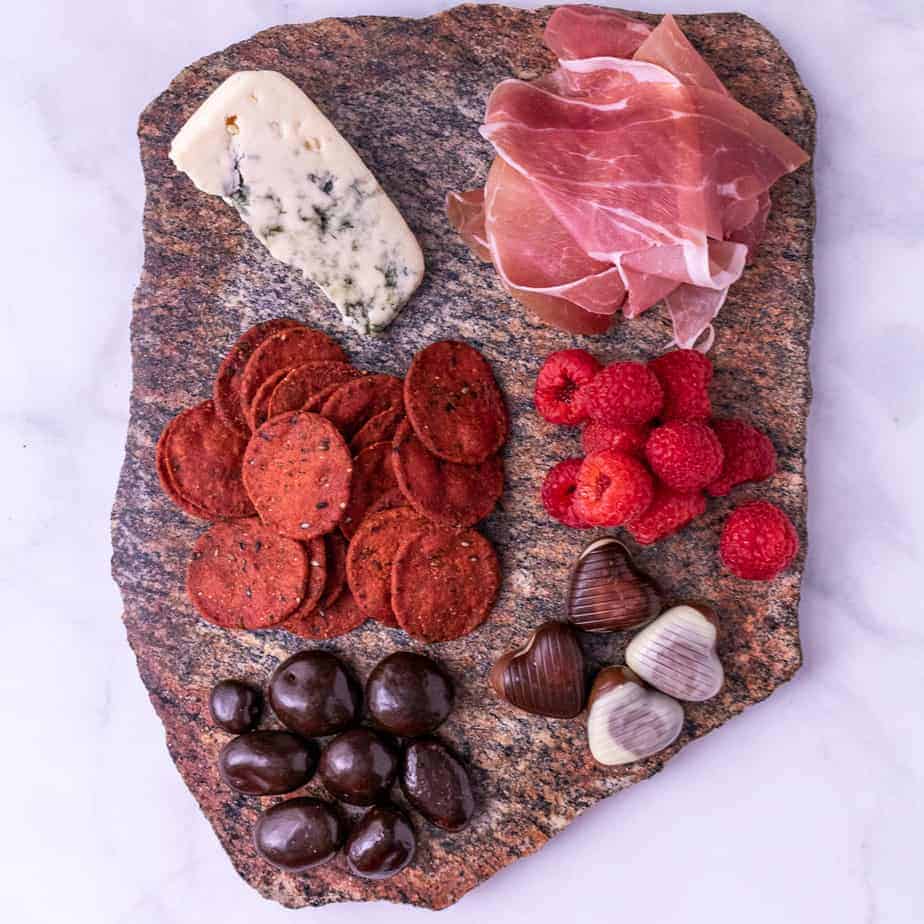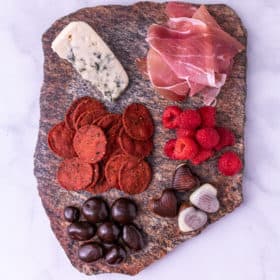 Valentine's Day Charcuterie Board
This is an easy yet fancy Valentine's Day Charcuterie Board for two. A small delicious cheese, fruit and chocolate board perfect as a light appetizer or dessert with your significant other.
Print
Pin
Save
Saved!
Ingredients
2-2.5

oz

blue cheese

2

oz

prosciutto

torn into pieces

1

oz

beet crackers

10

fresh raspberries

6-8

chocolate covered cherries

2-4

chocolate hearts
Instructions
On a small cheese board or platter add a wedge of blue cheese.

Tear a few slices of prosciutto into bite sized pieces and arrange in a small cluster on the board.

Add crackers, fresh fruit and chocolate to the board or platter in small clusters and serve as an appetizer or dessert for two.
Notes and Accommodations
This cheese platter is perfect for either an appetizer or dessert for two.
Store blue cheese, prosciutto and fruit in the fridge in separate containers.
Store crackers and chocolate in airtight container on the counter.
All amounts are approximate and do not need to be exact.
Originally published January 31, 2020. Reposted with new tips and tricks on January 6, 2021.