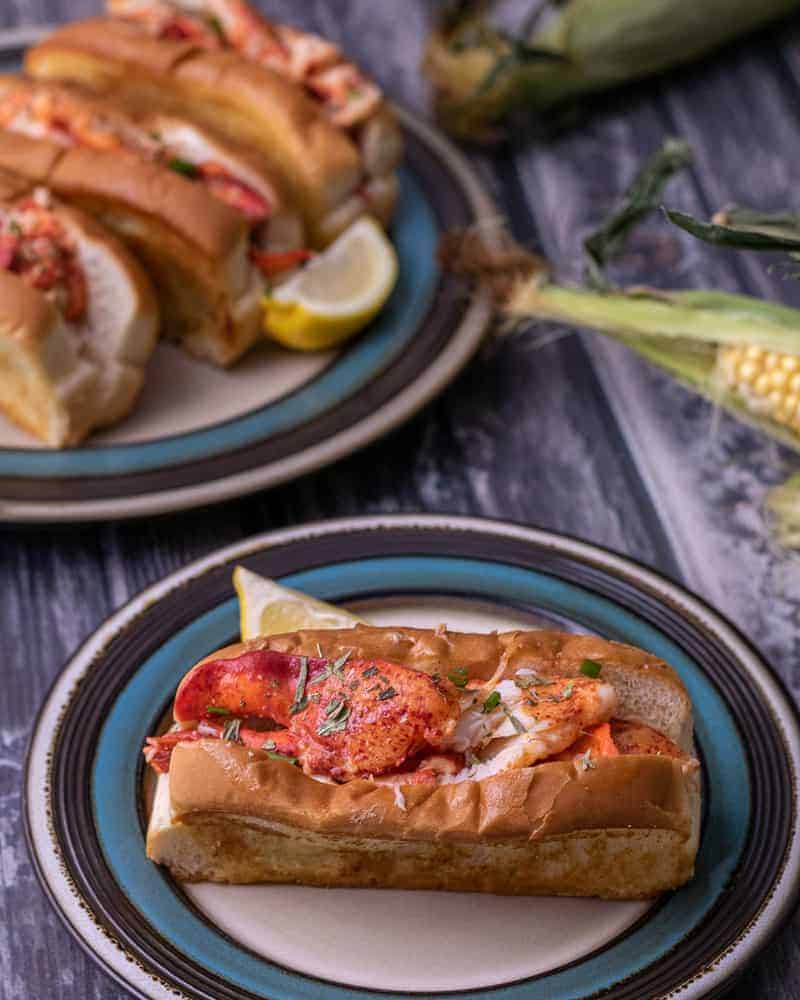 Tips, Tricks and Substitutions
Why doesn't your recipe say how to cook and shell a lobster? Since I live on the East Coast of the US, I have a lot of access to all types of seafood. Therefore, I can get cooked and shelled lobster for about $30/pound. This sounds like a lot but I don't have to go through the hassle of killing the lobster, boiling that much water or making a mess to shell and clean the lobster. Plus I only really use ¾ to 1 pound of lobster anyway. It's expensive, but it's worth it as a treat. If you need help cooking a lobster this is a good reference. If you need help shelling a lobster this is a good reference.
What do you pair with a brown butter lobster roll? In the summer I like to have it with corn on the cob or a fresh side salad. If we're eating these in the winter (we like them on New Years Eve as a special treat) then usually fries or a salad.
What other type of seafood can you use? This is called a lobster roll but if you can't find lobster that day at the market, crab meat will also work.
Ingredients
Does it really matter what kind of bun you use? Yes and No. Your lobster rolls won't be ruined if you can't find a top split bun, but they definitely make the experience better. Top split buns have flatter sides and allow you to get more areas nice and toasty. It can be done on other buns but it isn't as awesome. Another name of these buns is "New England Style."
What type of butter do you use? You should always use unsalted butter because salted butter a) has a longer shelf life and b) has a variable amount of salt when you compare brands. I use Kerrygold butter, which is more expensive but also more flavorful. It really shines in an application like this.
Where do you get cooked and shelled lobster meat? I buy mine at Whole Foods. I also know that a lot of grocery stores will steam/cook your lobster for free/low cost if you ask. If you only have to shell the lobster, that's not too bad. You can definitely buy a chicken lobster and cook and shell it yourself. I just don't like the hassle of shelling a lobster.
How much mayo do you use? Not a lot. I personally don't love a lobster roll swimming in mayo. I want to it to be about the lobster and be able to taste the lobster. However, mayo does have a small place in a lobster roll. I like to spread a very small amount (barely coating) of mayo on the inside. It's less than a teaspoon typically. I do this after the buns are toasted and before the butter is browned.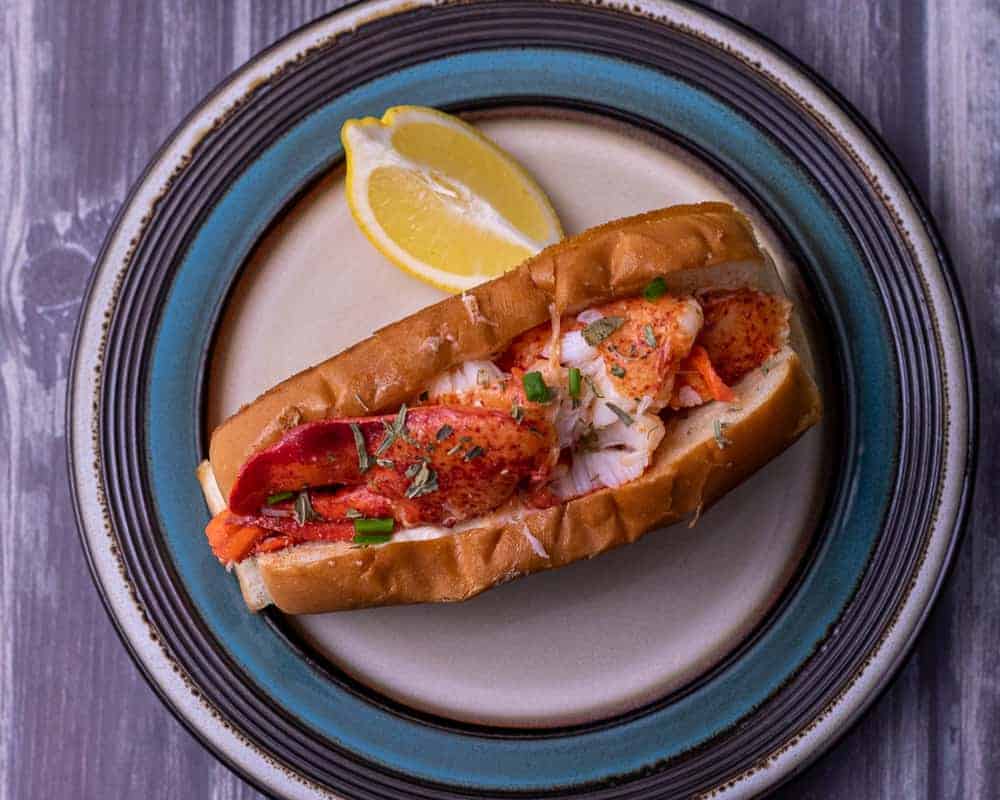 Method
What is mise en place and why does it matter? Mise en place basically means everything prepped and in its place. This is more important in some recipes than others. This matters in this particular recipe because you don't want to be chopping chives and toasting bread while your lobster meat gets cold. It is important to have the meat already cooked and shelled before you begin the whole process. I've written the directions to ensure that steps are done in the proper order so you're not scrambling to toast buns at the wrong time or letting your lobster get cold while you cut lemons.
How do you brown butter? It is important to start with a light colored pan so that you can see the change happen. Add the butter to your pan and melt over medium heat. While the butter melts it will begin to foam. Continually swirl the pan so that the milk solids don't burn. The butter will start out as yellow and turn tan before it turns turns a brown color. It will also smell nutty when it is done cooking. Be sure to keep an eye on it because it can burn very quickly. If it does burn, start over!
Is it totally necessary to brown butter to make this recipe? Absolutely not. I like the depth of flavor that brown butter gives but just melted butter will work just as well. I've had it both ways and both are fantastic.
You May Also Like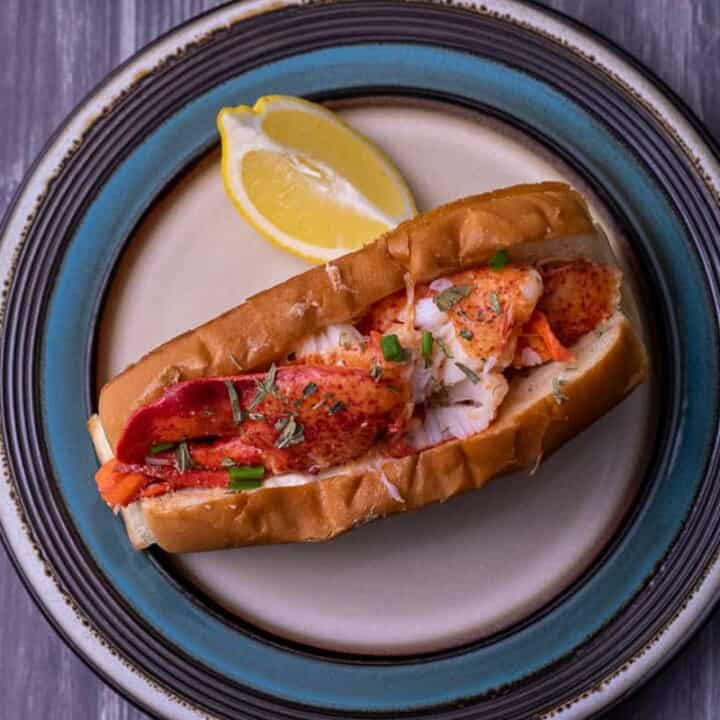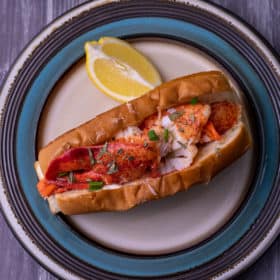 Brown Butter Lobster Rolls
Lobster rolls are a staple in New England during the summer. Brown Butter Lobster Rolls are my take on the traditional lobster roll using brown butter, top split buns and just a hint of mayo. These are best served warm with a drizzle of fresh lemon juice.
Print
Pin
Save
Saved!
Ingredients
4

New England Style buns

top split

5

tablespoons

room temperature unsalted butter

divided

4

teaspoons

mayo

divided

1

pound

cooked and shelled lobster meat

Kosher salt to taste

½

tablespoon

dried oregano or dried tarragon

2

tablespoons

chopped fresh chives

½

fresh lemon
Instructions
Preheat a skillet to medium low heat.

Divide 2 tablespoons of butter into 4 pieces. Split each piece in half and spread evely on each side of the buns.

Toast the buns on both sides for 2-3 minutes until lightly toasted.

While the buns are toasting, quickly chop up the chives and cut up lemon. Set aside.

After the buns are toasted, immediately spread a thin layer of mayo inside each of the buns. Set aside the buns.

Chop up already cooked and shelled lobster meat to bite sized pieces.

Set a light colored medium saucepan over medium heat. Add remaining butter (about 3 tablespoonto the saucepan and allow to melt.

Continuously swirl butter while the butter changes from pale yellow to tan to a golden brown. Once it's golden brown, reduce the heat to medium low and carefully add chopped lobster meat. Stir until coated and warmed through (about 1 minute). Salt lightly.

Working quickly, divide lobster between toasted buns.

Sprinkle with oregano or tarragon anda light drizzle of lemon juice. Finish with freshly chopped chives.

Enjoy immediately.
Notes and Accommodations
Mise en place is important in this recipe. Prep and toast your buns, chop your chives and cut your lemons before you start to brown the butter and warm up the lobster.
Use a good quality butter if possible, I like Kerrygold unsalted butter.
Top split buns are preferable but use what you can find.
If you can't use find lobster, crab meat would be a nice substitute.