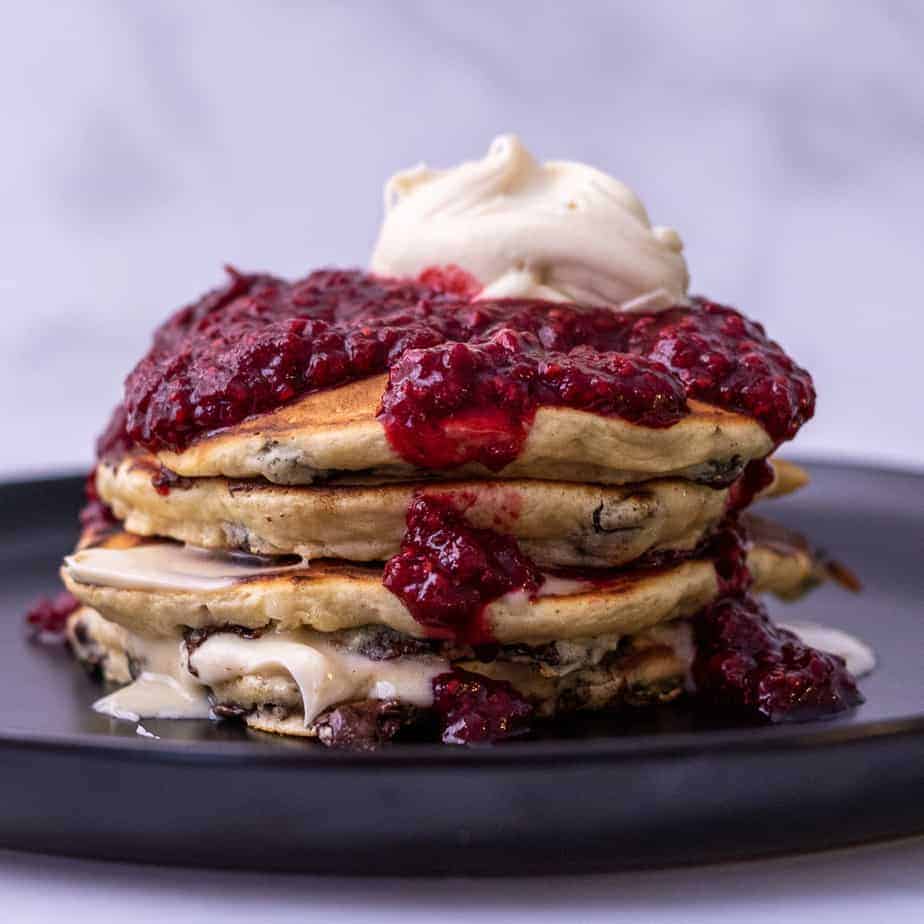 Tips, Tricks and Substitutions
What's your favorite pancake recipe? My favorite pancake recipe is from Erin over at The Speckled Palate. I adapt her pancake recipe from her Strawberry and Chocolate Pancake post but adding chocolate chips into the batter and changing the toppings.
What's a substitute for mascarpone? You can use cream cheese, creme fraiche or English clotted cream.
Can you use boxed pancakes? Homemade, from scratch is always going to taste better than a boxed version. But I've found one boxed version that isn't filled with garbage and doesn't taste like cardboard. Win win! Kodiak Cakes pancakes (I have used both buttermilk or dark chocolate) are really good and you only need to add water to make them. For more protein you can add milk or eggs, but I don't always have milk. I usually keep a box in the house for quick meals.
Ingredients
What is mascarpone and where can I find it? Mascarpone is basically Italian cream cheese. It is a soft spreadable cheese that is rich, milky and a little sweet in flavor. It can be found in the dairy or cheese section of most grocery stores. The brand I usually buy is Belgioioso mascarpone.
What kind of maple syrup do you buy? Seeing as I am in New England, I shop locally and get mine from Vermont typically. If you're not lucky enough to be able to get New England maple syrup, be sure to check the label. Pure maple syrup shouldn't have any other ingredients in it. The colors refer to the flavor and when in the season the maple syrup was harvested. It can be a bit expensive if you're buying a large amount but it's worth it.
Do you have to use frozen raspberries? I use frozen raspberries because they are easy to find and have a longer shelf life. By all means, if you have fresh from the garden or farmers market raspberries use those!
Method
How much pancake batter do you use for one pancake? I use a ¼ measuring cup to scoop out a roughly equal amount of batter for each pancake. It works well because then the pancakes aren't massive and are still easy to flip. It also ensures even cook time.
How do you know when to flip pancakes? I don't make massive pancakes so they don't take a super long time to cook. I know it's done when the sides are starting to look golden brown and there are air bubbles forming on the top of the pancake. Don't be afraid to flip! Just go for it. Making smaller pancakes makes it easier to flip and therefore you don't need a spatula the size of a dinner plate.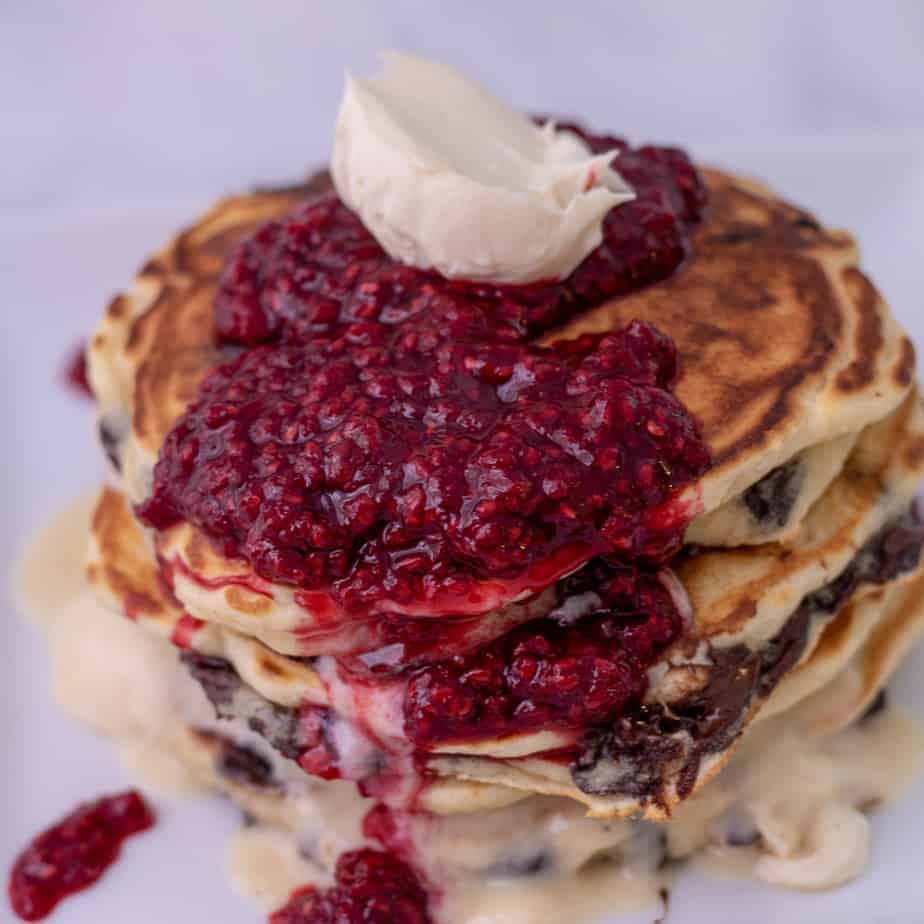 How many pancakes do you make? The recipe from Erin makes about 8 pancakes. To make that same amount of pancakes, I make a 1.5 batch of Kodiak Cakes.
If you're making one pancake at a time in a nonstick skillet, how do you keep the pancakes warm? Heat your oven to 200 F and stick a cookie sheet in there. As you make the pancakes, keep them in the oven until you need them. You want the pancakes to be kept warm but not get soggy so that the mascarpone will melt easily.
What kind of pan do you use to make pancakes? I use a flat top griddle so I can make four to six pancakes all at once. It's an electric cooking top that is great for a crowd. I use it for quesadillas, burgers, french toast, pancakes and grilled cheeses if I'm making a lot. If you don't have a griddle, you will have to do one pancake at a time in a nonstick pan.
You May Also Like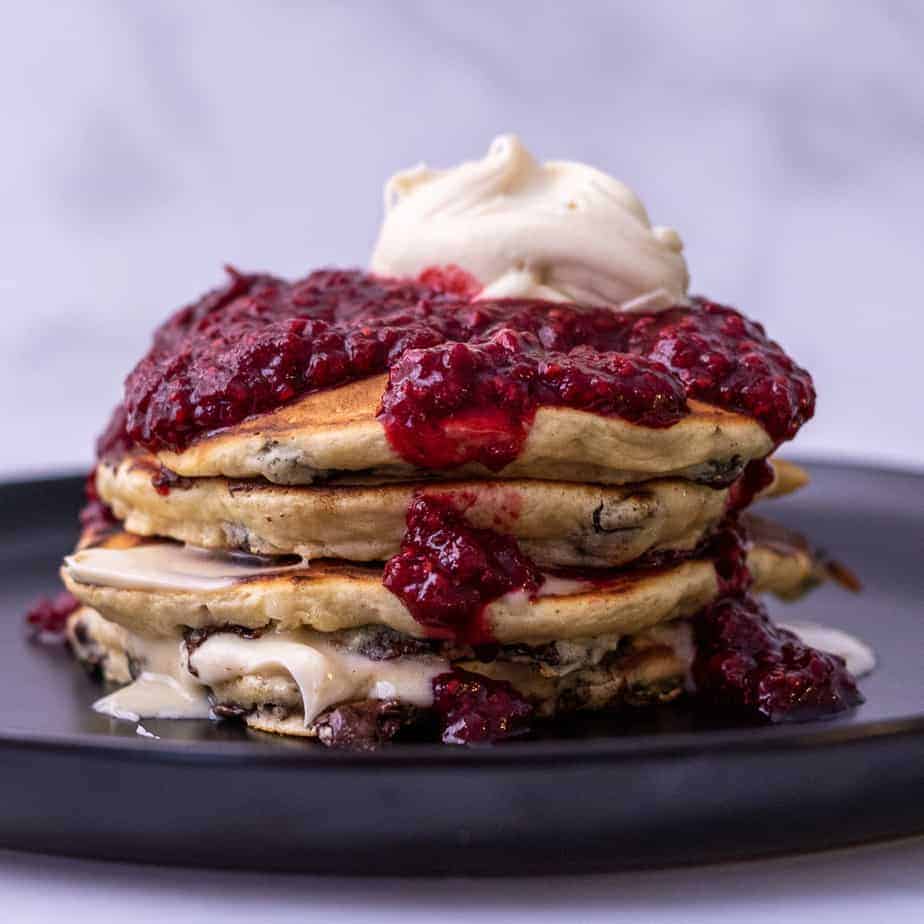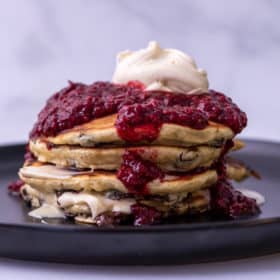 Raspberry, Chocolate and Mascarpone Pancakes
Homemade chocolate chip pancakes topped with whipped mascarpone and raspberry compote are perfect for a weekend breakfast or special occasion. Layering mascarpone and raspberry compote between the pancakes gives you flavorful and moist pancakes in each bite.
Print
Pin
Save
Saved!
Ingredients
Raspberry Compote
12

oz

frozen red raspberries

3-4

tablespoons

maple syrup

to taste

1

teaspoon

vanilla

Juice from ½ lemon

Pinch

of kosher salt
Whipped Mascarpone
6

oz

mascarpone

2-3

tablespoons

maple syrup

to taste
Pancakes
Your favorite pancake recipe

I like this one or Kodiak Cakes

1 ½

cup

dark chocolate chips

divided
Instructions
Raspberry Compote
Place all of the still frozen raspberries into a medium saucepan and turn the heat to medium. Allow the berries to thaw.

Once the berries have thawed, add in the maple syrup (3 tablespoons if you want it less sweet, 4 tablespoons if you want it more sweet), vanilla, lemon juice and salt. Stir well and increase the heat to medium high heat.

Allow the compote to rapidly simmer for 5 minutes, stirring often. Turn down the heat to medium and allow the sauce to reduce for 5-10 minutes more until it passes the spoon test. Taste for seasoning and adjust as necessary. Once satisfied remove from the heat.
Whipped Mascarpone
In a small mixing bowl, mix mascarpone and maple syrup together until smooth. Taste for sweetness. It should be sweet but not overpowering. Set aside.
Pancakes
Follow the directions for your favorite pancake recipe. Once the batter is mixed, add in 1 ¼ cups of the chocolate chips and mix until just combine. Reserve ¼ cup of the dark chocolate chips to top the pancakes.

Preheat the electric griddle to 375 F or a nonstick pan skillet over medium high heat. Spray your surface with oil once heated.

Using a ¼ cup measuring cup, add batter to the griddle or skillet. Allow the pancakes to cook until the edges look like they are starting to brown and bubbles are forming on the surface (2-3 minutes). Confidently flip the pancakes with a rubber spatula and allow to finish cooking for 1-2 minutes.

Set aside pancakes or keep warm in a 200 F oven. Continue until all batter is gone.
Assembly
Place one pancake on the plate and top it with a dollop (about 1 tablespooof mascarpone and immediately place another pancake on top.

Top this pancake with a dollop of raspberry compote and then add another pancake on top of that.

Top the next pancake with mascarpone and another pancake.

The final pancake should have enough raspberry compote to spill over the sides and a large dollop of mascarpone. Top with a few chocolate chips.
Notes
I've used both boxed pancakes (Kodiak Cakes is my favorite brand) or Erin's recipe at The Speckled Palate
The toppings were enough to make one of Erin's batches or 1.5 batches of Kodiak Cakes.
If you have fresh raspberries, those will also work. I find frozen easier to find year round.
I usually add a little more maple syrup into the raspberries and mascarpone but none on top of the pancakes. Do whatever works for you.
I use an electric griddle to make a bunch of pancakes at once. A nonstick skillet will also work, but you'll have to make them one at a time.
If making the pancakes one at a time, keep them warm in a 200 F oven on a sheet tray until ready to assemble.
Layer the pancakes anyway you see fit. I usually do every other mascarpone and raspberry and top the final pancake with both.
Join our Discord Server!
Chat about the monthly theme, get recipe troubleshooting and post what you made for dinner and engage with the community!