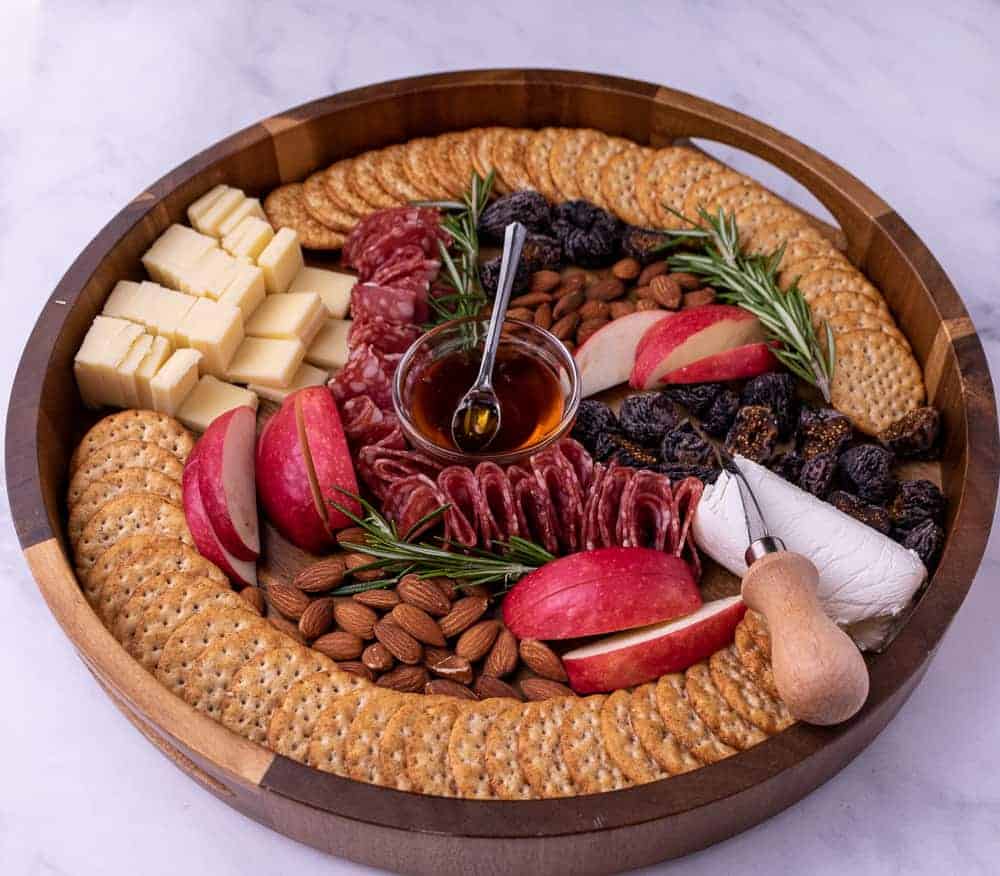 Beginners Guide to Thanksgiving Cheese Plate
Thanksgiving is already a busy day in the kitchen, having a simple but delicious appetizer is a must. I love this charcuterie board because it's made with less than 10 ingredients and they are always easy to find. It takes only about 15 minutes to assemble, making this a truly quick cold appetizer. This is also great to make ahead and store in the fridge. Or even better, assign it to someone else because it travels really well, no heating necessary, the ultimate no cook appetizer.
The ingredients on this board will make the ultimate cheese board for Thanksgiving. They are fall inspired ingredients with seasonal produce and flavors like apples and figs. A charcuterie tray with a range of textures, colors and flavors will make sure that everyone is happy with the selection.
Why make a Thanksgiving charcuterie board? If you're running behind or the turkey isn't quite done yet, no one will care if they have a delicious snack tray to munch on. It offers people a variety to choose from and is easy to make for a small or large Thanksgiving. None of the ingredients should be hard to find so you can stock up e
Tips and Tricks
What's the best board to use to make a cheese plate? The best board to use is one that you already have. I used a circular board I got from Target. I like this board because it has a lip, making it easy to travel with and the handles make it easy to carry. If you don't have a large circular board, feel free to use a large baking sheet tray with a lip. It'll be easy to clean, the perfect size for a larger fall charcuterie board and super convenient to travel with.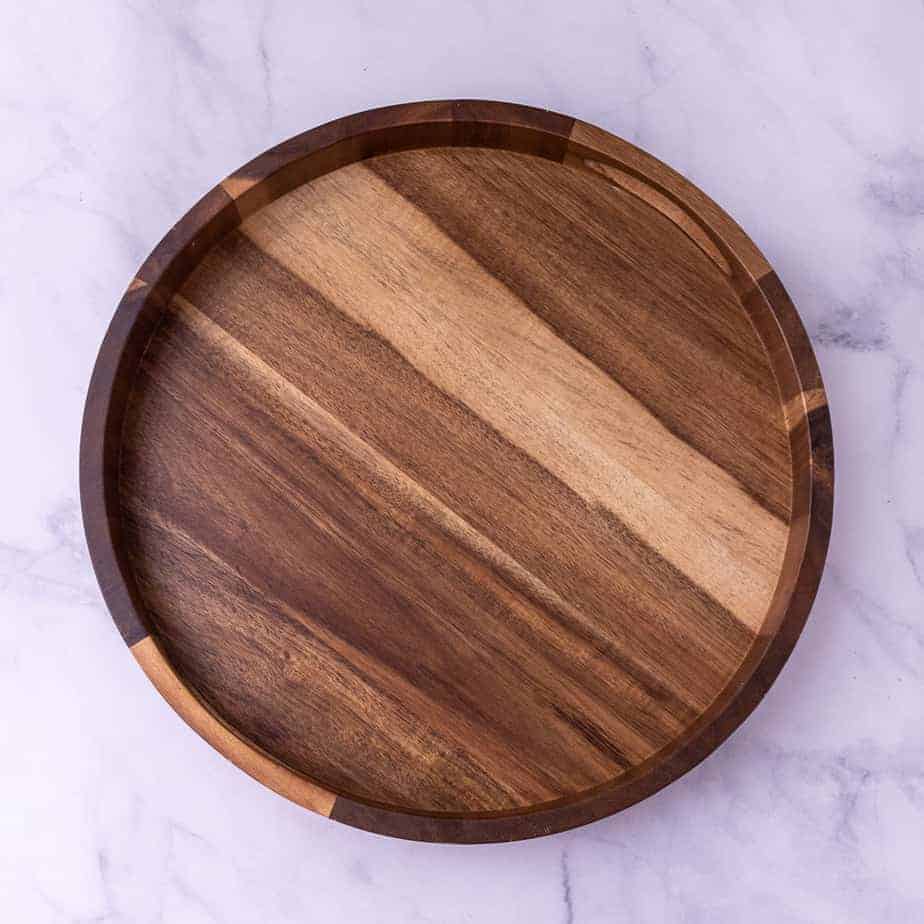 How many people does this serve? This depends on how many people are going to be at your Thanksgiving. Remember that your goal isn't to provide dinner but an appetizer or a snack. If you're buying for four to six people, I'd suggest four to six ounces of cheddar and four ounces of goat cheese. For eight to twelve people I'd buy eight to ten ounces of cheddar and use an eight ounce log of goat cheese.The recipe I've given below is for four to six people.
Can you make this ahead of time? My favorite thing about this appetizer for a holiday is that it can be made ahead of time. I'd recommend cutting up your cheese and fruit a few hours before and stashing them in the fridge. Place apples in an airtight container to avoid oxidation and browning, but they'll still taste great. An hour before people arrive, you can assemble the board and it'll be ready for them. Cheese often taste best after being at room temperature for an hour before eating.
Does this appetizer travel well? Yes! This is a great appetizer to bring to Thanksgiving because it travels so well. A cheese board keeps well and is easy to make a few hours ahead. Bonus is that it gets served at room temperature so no need to bother the host for oven space.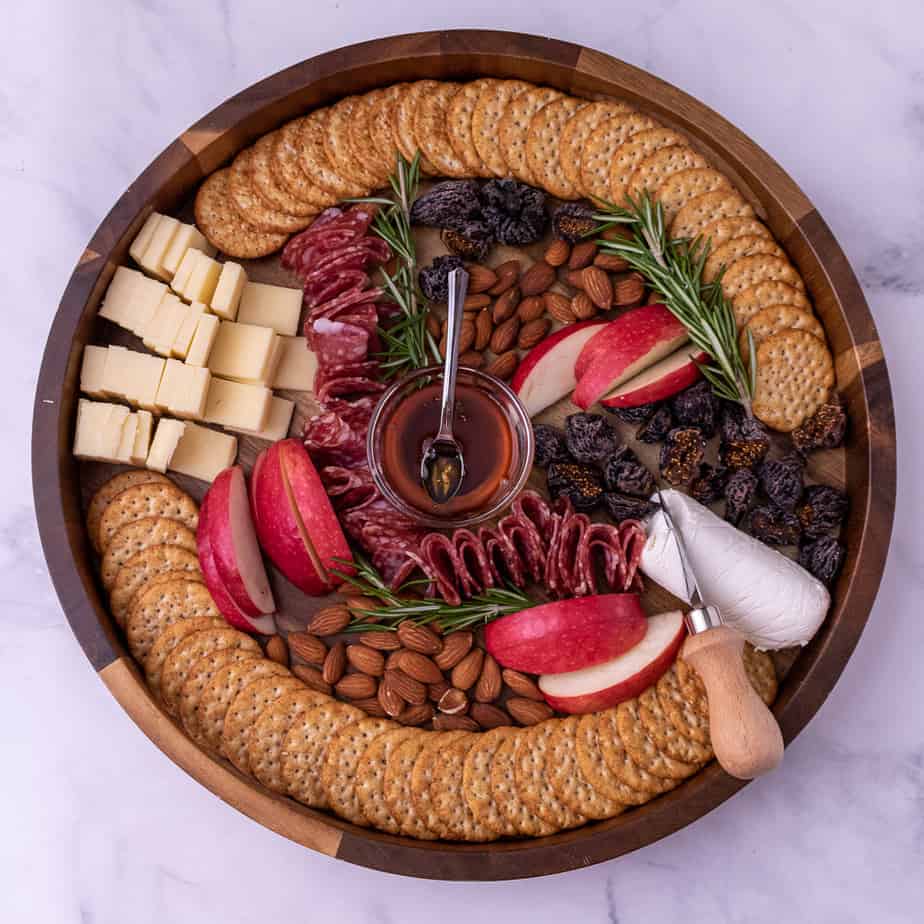 What do you serve with a cheese board? A cheese platter can be a stand alone appetizer or it can be served along other finger foods. Some suggestions are Bacon Wrapped Olives, Harissa Deviled Eggs or Air Fryer Aranchi.
Can you scale this up or down? Absolutely you can scale this up or down. Simply make this on a larger or smaller board and assemble it with the appropriate amount of ingredients. If you don't have a larger board, you can always refill. The ratios are suggestions so you know how much to buy and definitely don't need to be strictly followed.
How to transport a Thanksgiving cheese plate? I wouldn't recommend bringing a cheese plate on a plane but it will travel fine in a car. I like to plate everything at home EXCEPT the honey and bring a few extras like crackers, fresh fruit or salami on the side. Put the bowl where the honey will go, but pour the honey right before serving. I wrap multiple layers or either plastic wrap or tin foil around the platter. Be sure to keep the platter flat. You can fix anything that moves once you arrive and pour the honey.
Ingredients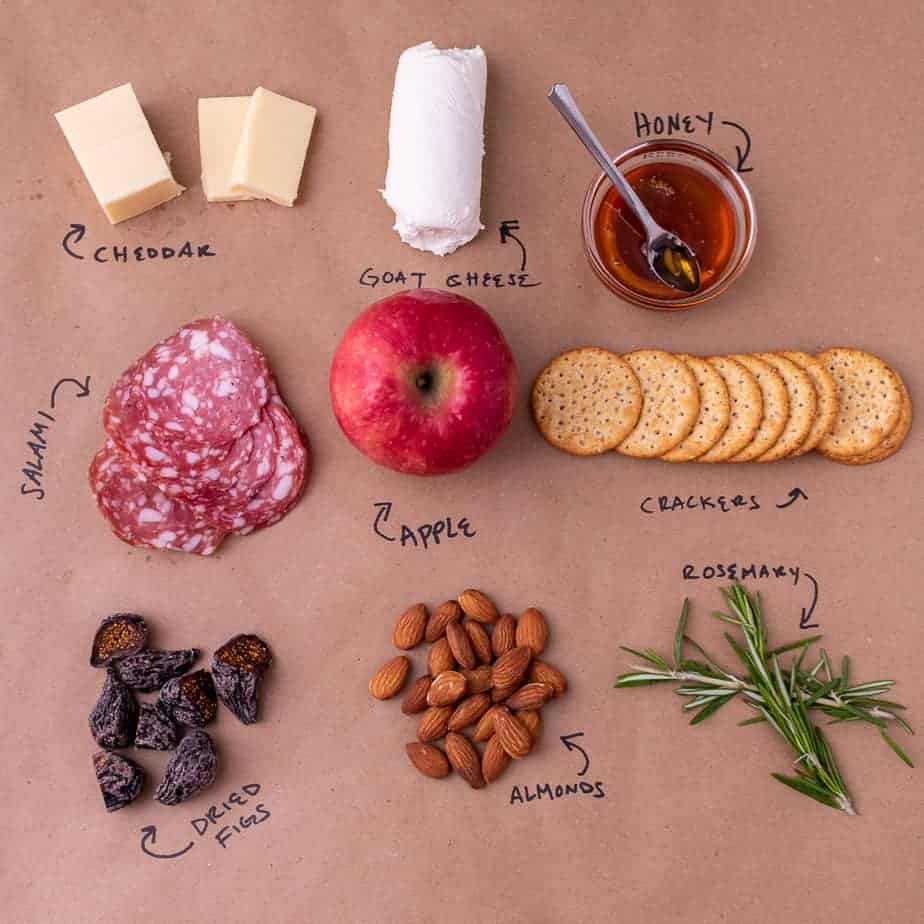 What ingredients do you suggest eating together? Everything on this board can be eaten together in whatever order you want. I've tried to tell people what "goes together" but they just end up eating it however they want. If people ask, you can suggest they pair different textures or different flavors like salty and sweet. Try it all and see your favorites!
How do you store leftovers? If you have leftovers from Thanksgiving, the best way is to store anything that needs to go in the fridge in small containers. Make sure to store cheeses, meats and fresh fruits in the fridge. Crackers, bread, dried fruit and almonds can be stored in an airtight container on the counter.
What ingredient substitutions can I make? Cheese plates are very forgiving! If you don't like an ingredient I posted or can't find it, you can try out these substitutions.
Cheddar substitute: aged gouda, flavored cheddar
Red Apple substitute: fresh grapes
Salami substitute: pepperoni
Almond substitute: cashews
Goat cheese substitute: triple cream brie
Honey substitute: apple butter or jam
Dried figs substitute: dried dates or apricots
Rosemary substitute: fresh sage
Method
There is no wrong way to assemble a charcuterie board as long as most of your ingredients fit on the board. You can always refill! Here are some general guidelines but there are no hard and fast rules.
Start with the cheese and place it at opposite ends of the board. I cut up any cheese that isn't soft and spreadable. Add your honey next in a small bowl in the center. If you're traveling with your cheese board, be sure to just place the bowl and pour the honey when you arrive at Thanksgiving. Next, starting at one cheese and going to the other; add the meat in a row. If you're using deli sized salami, cut each piece in half and fold twice. If you're using small sliced salami fold in half twice.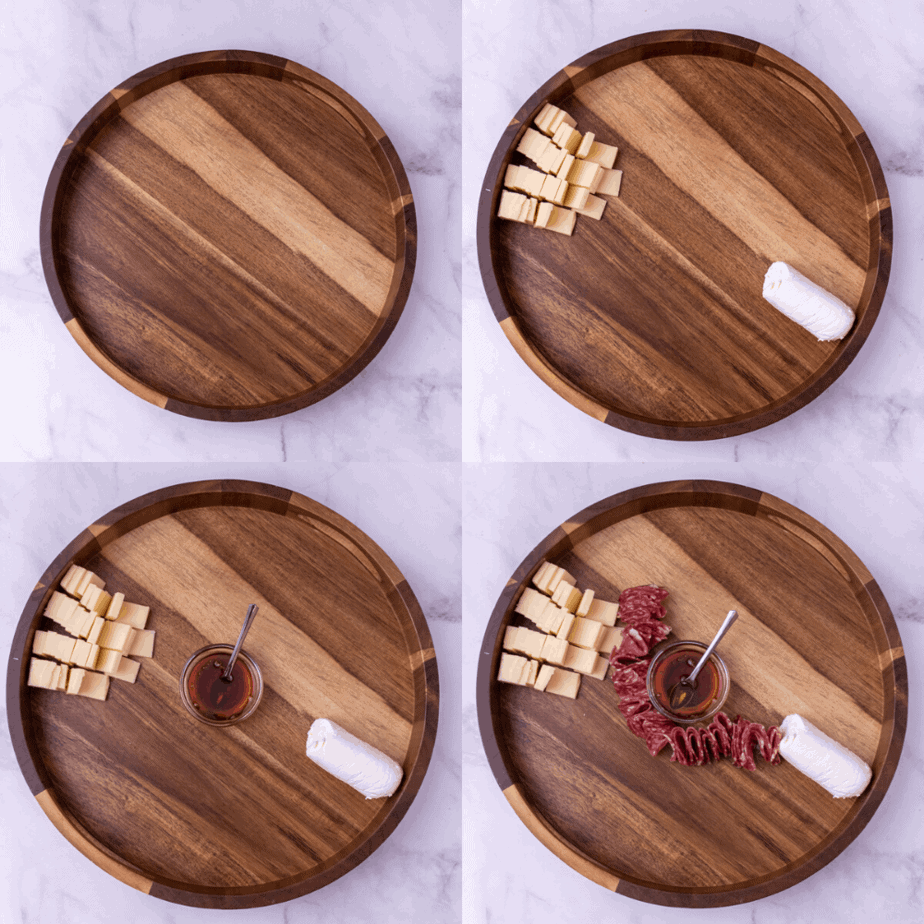 Crackers take up a lot of space so I add these next. You can place them along the edges to keep smaller ingredients from falling off. Add the chopped up fresh fruit. Chop fruit up into easy to bite pieces like slices of apple. Arrange in two different spots around both types of cheese. Next add dried fruit into any holes that you have left but make sure to cut into smaller pieces if not bite sized.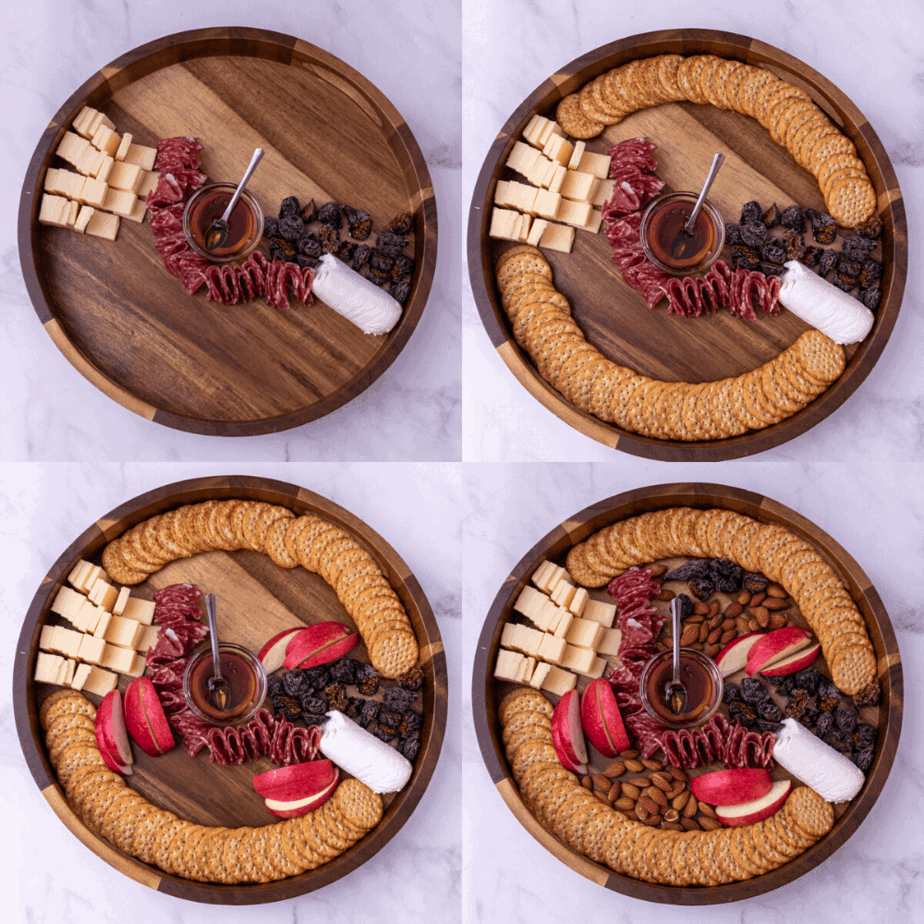 Scatter almonds or your nuts of choice around the board, these are small and can be placed in multiple spots. Finally garnish with rosemary or sage where you need some color. Make sure to add a small knife to the goat cheese and a small spoon for the honey.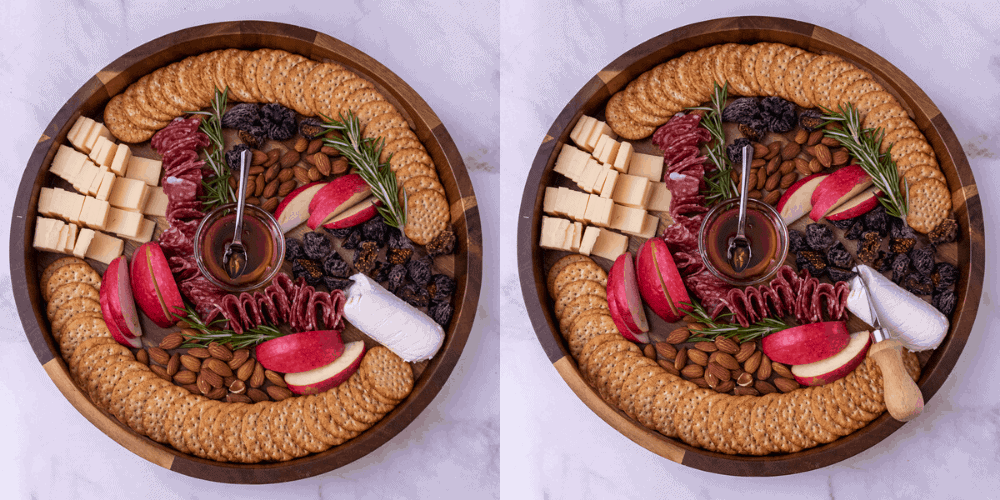 You May Also Like
Holiday and Seasonal Cheese Boards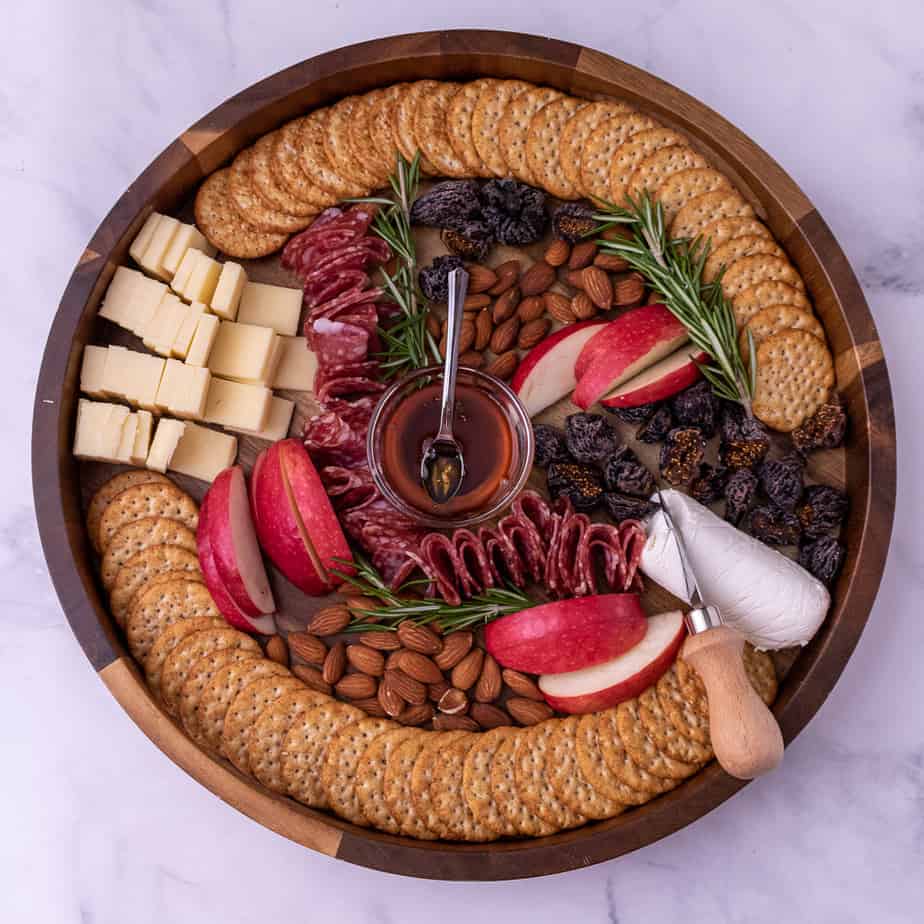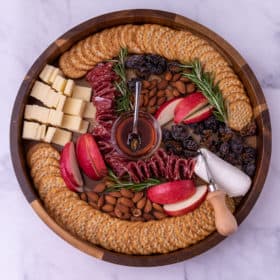 Thanksgiving Charcuterie Board
A fall inspired Thanksgiving Charcuterie Board is great as an easy appetizer to the busiest cooking day of the year. A simple to assemble cheese board with easy to find ingredients is a great make ahead appetizer that also travels well.
Print
Pin
Save
Saved!
Ingredients
4

oz

sharp cheddar cheese

sliced

4

oz

fresh goat cheese

1-2

oz

honey

⅓

pound

sliced salami

4-8

oz

crackers

1

red apple

sliced

4-6

oz

dried mission figs

2-3

oz

salted almonds

3

sprigs rosemary
Instructions
Begin assembling about an hour before your guests arrive, cheese taste best at room temperature for at least an hour.

Cut up cheddar cheese, apples and any other ingredients that need to be bite sized.

Place cheddar cheese on one side of the board and goat cheese log on the other side. Arrange cheddar cheese in a pile together.

Place a small bowl in the center for honey. If you are traveling with the cheese board, WAIT to pour honey until you're at the host's house. If you are serving immediately, pour as you assemble.

If you're using large pieces of salami from the deli, cut in half. Fold in half twice and arrange from one cheese to the other going around the bowl of honey. If you're using smaller pieces of salami simply fold them in half twice and arrange from one cheese to the other going around the bowl of honey.

Add crackers around the edge of the platter.

Place cut up fresh fruit in 2 spots near each type of cheese.

Fill holes with dried figs. Cut in half if they are large.

Sprinkle almonds over the rest of the board in various locations.

Garnish with rosemary.

Add small spoon to the honey and a small cheese knife to the goat cheese.
Notes and Accommodations
If you can, assemble about an hour before guests arrive, cheese is best at room temperature.
If traveling with the cheese plate, place bowl for honey but don't pour until you get to the host's house.
Cut up any cheese that isn't a soft spreadable cheese before adding to the cheese plate.
Storage leftovers separately off the board. Cheese, fresh fruit and meat should be stored in the fridge. Crackers, bread, dried fruit and almonds can be stored in airtight containers on the counter.
These proportions are for four to six people but can easily be scaled up or down
Originally published October 23, 2019. Republish with new information and clarity on November 2, 2020.