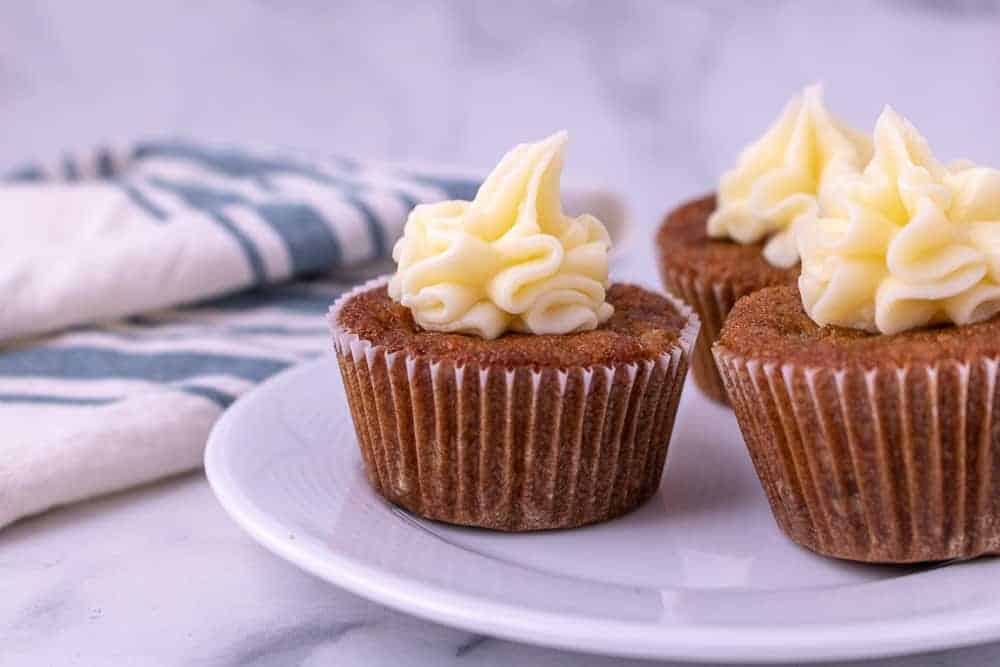 Tips and Tricks
How many cupcakes does this make? 30-32 cupcakes depending on how much you fill them.
Do you have to cool the cupcakes before frosting? Yes or else you risk the frosting melting off. I typically make cupcakes and allow them to cool for at least an hour or two before I even attempt to frost the cupcakes.
Can you use this recipe to make a carrot cake instead of cupcakes? Absolutely you can use this recipe to make a sheet cake. I'd recommend doing it in a 9x13 metal baking pan. Be sure to grease and flour the sides so it comes out easily. Increase the cook time to 45-55 minutes in a 350 F oven, rotating halfway through cooking. You'll know the carrot cake is done when it stops jiggling in the middle and is a golden brown color. Insert a toothpick in the center and having it come out clean is also a good indicator.
Substitutions
Do you need the frosting? The creamy frosting provides a nice balance to the spiced carrot cake cupcakes. You can easily leave it off, but in my opinion, that's the best part.
Can you use other types of frosting? I'm sure you could, but cream cheese is a classic.
Are confectioners sugar and powdered sugar the same thing? Yes they are. Just be careful, it makes a mess.
Can you replace regular white granular sugar with confectioners sugar? I wouldn't recommend it as it will change the texture of your frosting. Also the ratios of sugar to cream cheese and butter would need to be adjusted.
Can you leave out the raisins? Of course. A lot of recipes don't have raisins but we prefer the flavor and texture they add to the cake.
Can you add walnuts? Yes, you can add in walnuts when you add in the carrots. I'd recommend toasting walnuts before adding them to a cake or cupcakes. I don't like the texture or taste of walnuts in desserts so we leave them out.
Method
Can you grate your own carrots? I buy already cut matchstick carrots because it's easier and faster. If you want to grate your own, the texture of the cake may change a bit.
Do you have to drain the crushed pineapple? Yes! Otherwise it'll be too soupy.
My batter is very wet, is this right? Yes! This is an oil based cake and this particular recipe results in a moist cake. A wet batter is normal, it'll set, I promise. This is a very forgiving recipe.
How do you know the cupcakes are done? When the cupcakes have taken on a golden brown color, don't jiggle in the middle and springs back slightly when you push on the center. You can also insert a toothpick in the center to check for doneness.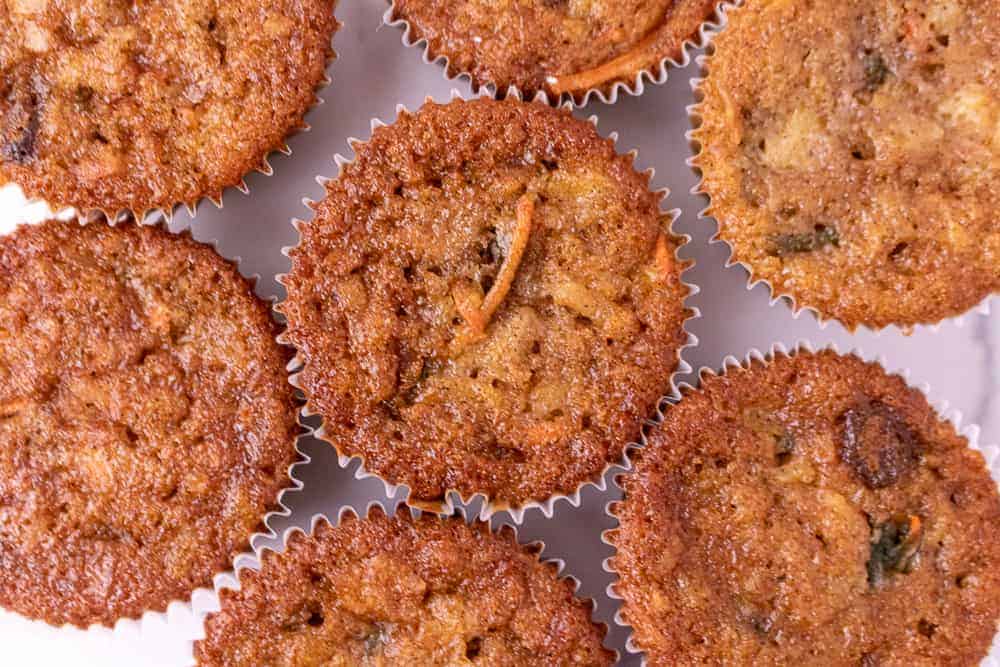 Why does the butter and cream cheese have to be at room temperature? This allows the frosting to come together easily. You don't want the butter and cream cheese too cold or you'll have lumps and you don't want it to be too warm because then it can become to loose. You should be able to easily push your finger into the package and see a dent for both the butter and cream cheese. However, if it slides through completely or sinking the butter or cream cheese has gotten too soft. It should be cool to the touch. Typically I leave them out for an hour or two depending on the temperature of my kitchen. Forget to take your butter out? Use this trick from Sally's Baking Addiction.
How much frosting do you add per cupcake? If I'm making cupcakes for an event, I usually use a piping bag and a piping tip so that they look fancier. I probably use 1-2 tablespoons per cupcake. When I'm just frosting the top, I add enough so that the top is covered with an offset spatula. You can easily add more or less to your taste.
Storage
How long can you store carrot cake cupcakes? I usually make these for a birthday or event so they don't last very long. But they will be good for 2-3 days in the fridge in an airtight container.
How do you store carrot cake cupcakes? I like to serve the cupcakes cold, so I store them in an airtight container in the fridge, with the cream cheese frosting on top.
You May Also Like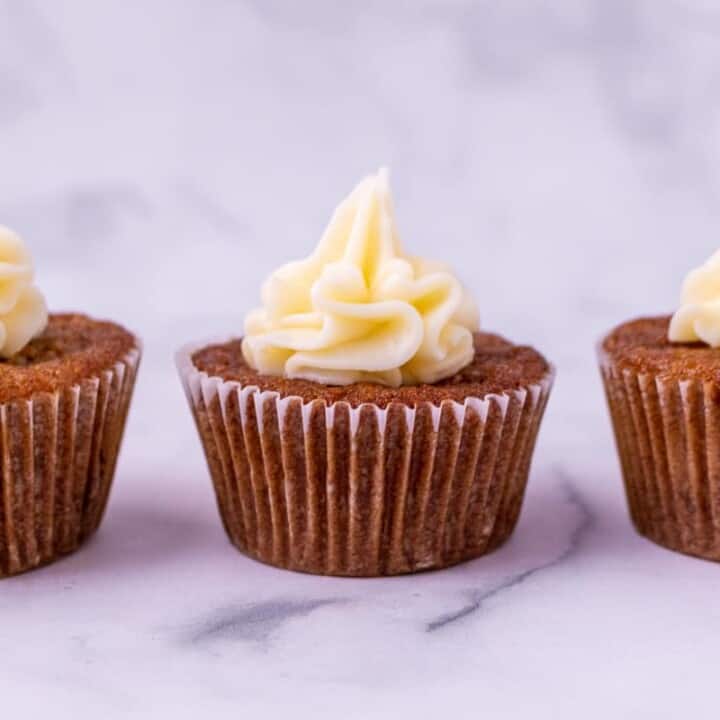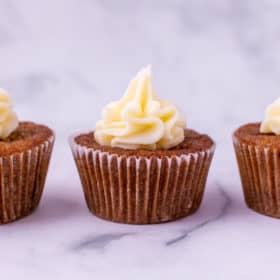 Easy Carrot Cake Cupcakes
These easy carrot cake cupcakes with cream cheese frosting are made completely from scratch. This is a super moist carrot cake cupcake recipe with raisins and pineapple that is topped with homemade cream cheese frosting. The recipe contains no walnuts, making it perfect to bring to parties and events.
Print
Pin
Save
Saved!
Ingredients
Cupcakes
2

cups

flour

2

cups

white sugar

2

teaspoons

baking soda

2

teaspoons

ground cinnamon

1

teaspoon

ground nutmeg

1

teaspoon

kosher salt

3

large eggs

beaten

¾

cups

vegetable oil

1 20

oz

can crushed pineapple

½

cup

sweetened coconut flakes

1

cup

raisins

3

cups

matchstick cut carrots
Cream Cheese Frosting
8

oz

cream cheese

room temperature

8

tablespoons

unsalted butter

room temperature

2

cup

confectioners sugar

1

teaspoon

vanilla extract

⅛

teaspoon

kosher salt
Instructions
Cupcakes
Preheat the oven to 350 F.

Line a standard muffin pan with cupcake liners.

In a large mixing bowl whisk together by hand the flour, sugar, baking soda, cinnamon, nutmeg and salt. Set aside

Beat the eggs and add to the dry mixture.

Drain the can of pineapple of excess juice. Add the oil, pineapple, coconut flakes, raisins and carrots into the large mixing bowl and mix by hand until the batter is mixed well. It is normal for the batter to be very wet. If using a standard mixer, beat on low until just combined.

Fill each cupcake liner up about ¾ th of the way.

Bake for 10 minutes and rotate the pan so that the cupcakes in the back are now in the front. Bake for another 8-10 minutes until golden brown and completely set in the middle.

Remove from the oven and allow to cool for 5 minutes. Carefully take out each cupcake and allow to fully cool on a metal rack.

Repeat until all batter is gone.

Allow all the cupcakes to cool completely (1-2 hour before frosting)
Cream Cheese Frosting
Make the frosting once the cupcakes are completely cool and are ready to be frosted.

In a medium mixing bowl, using either a stand mixer or hand mixer, beat together the cream cheese and butter. Mix until homogeneous.

Slowly add in 2 cups of confectioners sugar and mix on medium until mixed well. Add in the vanilla and salt and mix until incorporated.

Using either a piping bag or offset spatula, add about 2 tablespoons of frosting per cupcake.

Store frosted cupcakes in an airtight container in the fridge until ready to serve.
Notes and Accommodations
Always let cupcakes cool before frosting.
Be sure to use room temperature butter and cream cheese for the frosting.
Store in the fridge and serve cold for best results.