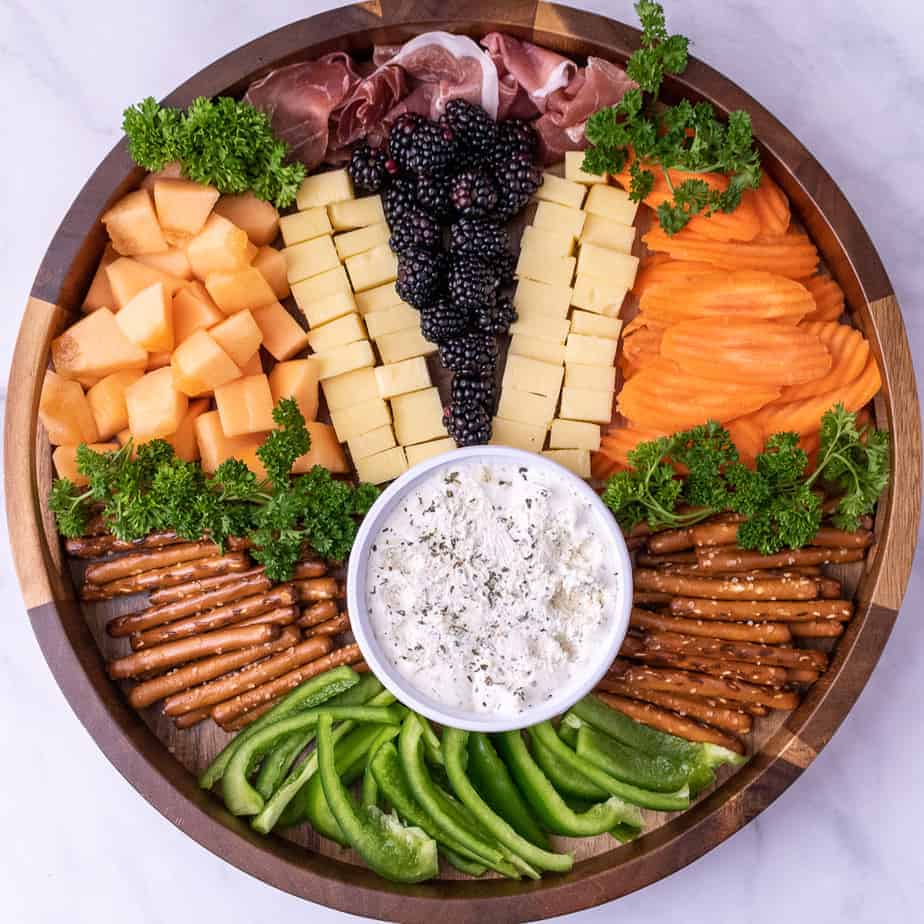 Beginners Guide to an Easter Cheese Board
A cheese board is always one of the easiest appetizers to make for a holiday. When you're stressed out trying to time everything for either Easter brunch, lunch or dinner, having an easy appetizer to put out is a life saver. Sometimes the potatoes aren't done but the ham is ready to come out and everyone is hungry. But if you have an easy no cook festive appetizer already out, people don't mind when the food is taking a bit longer. Made with spring flavors and light on the meat, this is the perfect first course that can be made ahead of time.
The inspiration behind this Easter cheese board is a simple Easter bunny theme with lots of fruits and veggies to gobble up. I used less than ten ingredients that are all pretty easy to find in a standard grocery store. After a long winter, everyone is craving fresh fruits and vegetables in the spring. Use the pretzel rods, carrots and green pepper to dip into the cheese spread. You can also munch on fresh fruit with prosciutto and a nice white cheddar.
Another great reason to make a charcuterie board for Easter is because of how flexible it is. If you've got a vegetarian coming you can easily bulk up the fruits and veggies and leave off the prosciutto. If you have picky kids or adults, add in their favorites to entice them to experiment.
Tips and Tricks
How do you store the board before serving? If you want to make this ahead of time and store in the fridge, I'd recommend putting together everything EXCEPT the pretzels. Leave a spot for the pretzels but don't add them until you go to put it out. Pretzels will get soggy if kept in the fridge with produce. To keep it fresh, I'd wrap the whole tray very well in plastic wrap to ensure a tight seal.
How do you transport an Easter cheese board? You can completely build this board before transporting it. I use a board with a lip to make it easier. Add plastic wrap or tin foil over the top of the board and transport without tilting. Uncover before serving and make any small adjustments to make sure it still looks like an Easter bunny in the center.
What board did you use? The best board to use is one that you already have. I used a circular board I got from Target. I like this board because it has a lip, making it easy to travel with and the handles make it easy to carry. If you don't have a large circular board, feel free to use a large baking sheet tray with a lip. It'll be easy to clean, the perfect size for a larger spring charcuterie board and super convenient to travel with.
What do you serve with this Easter appetizer? You can serve this as an appetizer before brunch, lunch or dinner with other appetizers or stand alone. It goes great with other light appetizers. Another great reason to serve a cheese platter is that it goes with almost any Easter brunch recipes like asparagus and goat cheese galette or eggs in a hole sandwiches, lunch recipes or dinner recipes. You could also serve an appetizer and just dessert if you're looking for an easy and light option. We love these easy carrot cake cupcakes for an Easter dessert.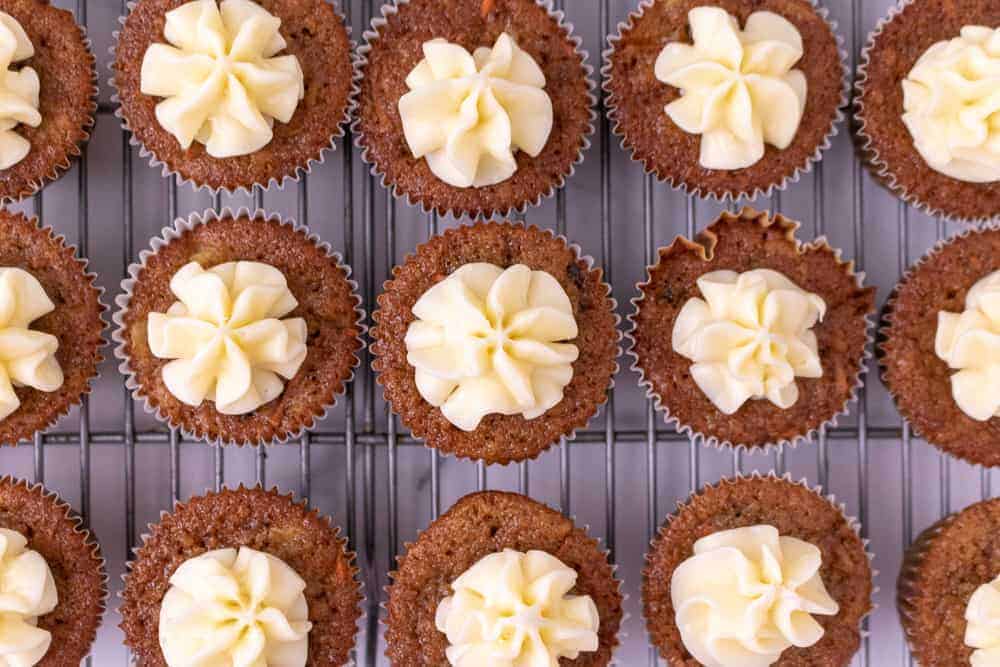 How do you plan for a charcuterie board? It can be overwhelming trying to pick what you want to add to your cheese and charcuterie board. A great way to organize yourself is with these printable cheese board shopping lists. You can buy the four templates that are both editable PDFs as well as printables if you like a physical copy.
Ingredients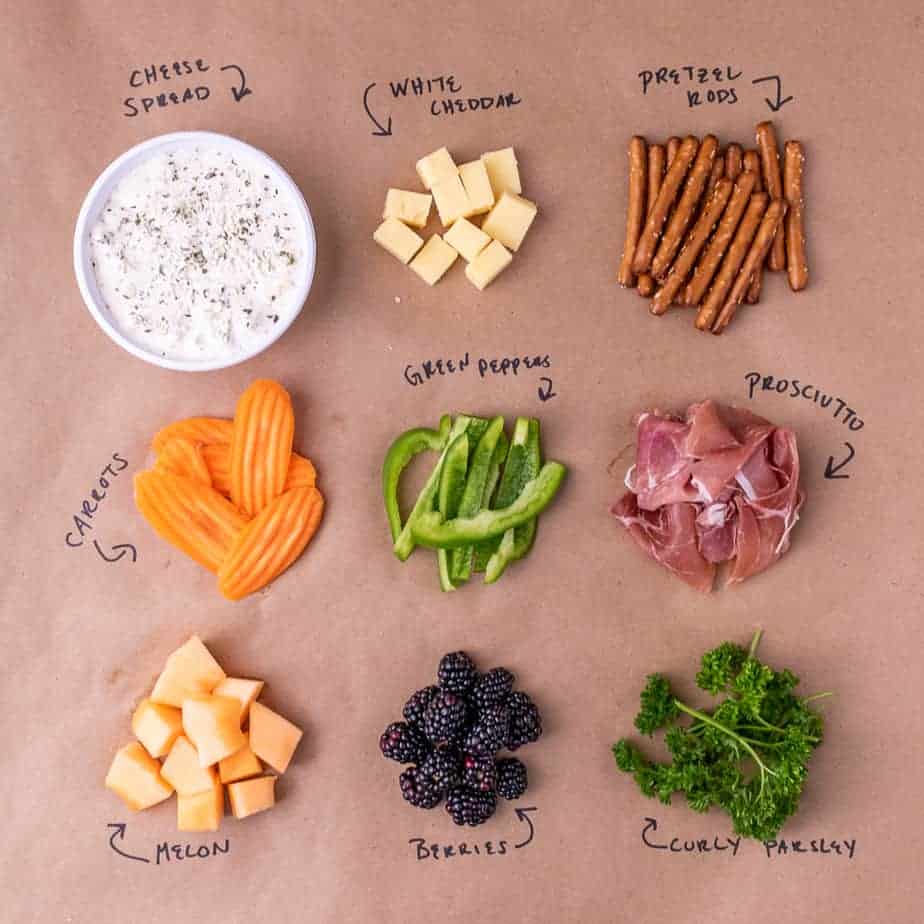 How much cheese do you buy for an Easter cheese platter? This cheese platter uses an entire eight oz block of white cheddar or any other white block cheese and about 6.5 oz of cheese spread.
How many people does this Easter cheese board serve? As an appetizer, this board will serve six to eight people.
What substitutions can you make?
Cheese spread substitution: Any white cheese spread will work including a homemade goat cheese or feta dip. Just make sure it's in a round bowl to serve as the face for the bunny.
White cheddar substitution: Any semi firm white cheese will work. You want something easy enough to cube up like a mild gouda or alpine cheese like swiss.
Pretzels substitution: Small breadsticks so they can be dipped into the cheese spread.
Carrot substitution: Orange peppers
Green pepper substitution: Cucumbers cut into stripes
Prosciutto substitution: Salami or ham
Melon substitution: Fresh pineapple
Blackberry substitution: Any fresh berry will work; blueberries, raspberries, strawberries
Parsley substitution: Mint
Method
How do you assemble the Easter bunny cheese board? Cheese plates are very forgiving, but I've included step by step photos to help you set up without stress.
Start by making sure the cheese spread is in a round container. If it doesn't come with one, place it in a round small bowl. Add this to the cheese board first in the bottom third of the platter/board. Leave some room between the end of the board and the cheese spread. Add the bunny ears with cubed pieces of white cheddar above the cheese spread. On either side of the cheese spread, add the small pretzel rods to make them look like whiskers. You can add more on top of each other once more things are in place so the pretzels don't move around too much.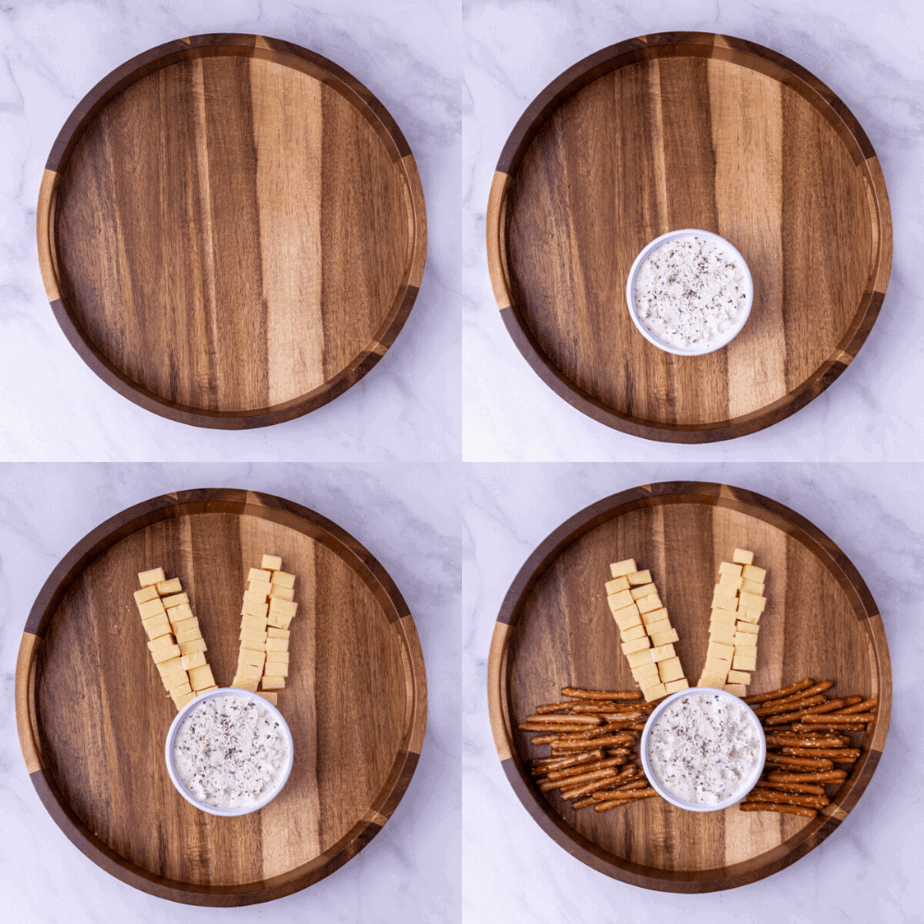 Next to one side of the ears and above the pretzel rods, add in the carrots to fill out that area. Below the cheese spread, add slices of green bell pepper. Above the ears, add torn up pieces of prosciutto. On the other side of the board, next to the other ear, add cubed up pieces of melon above the pretzels.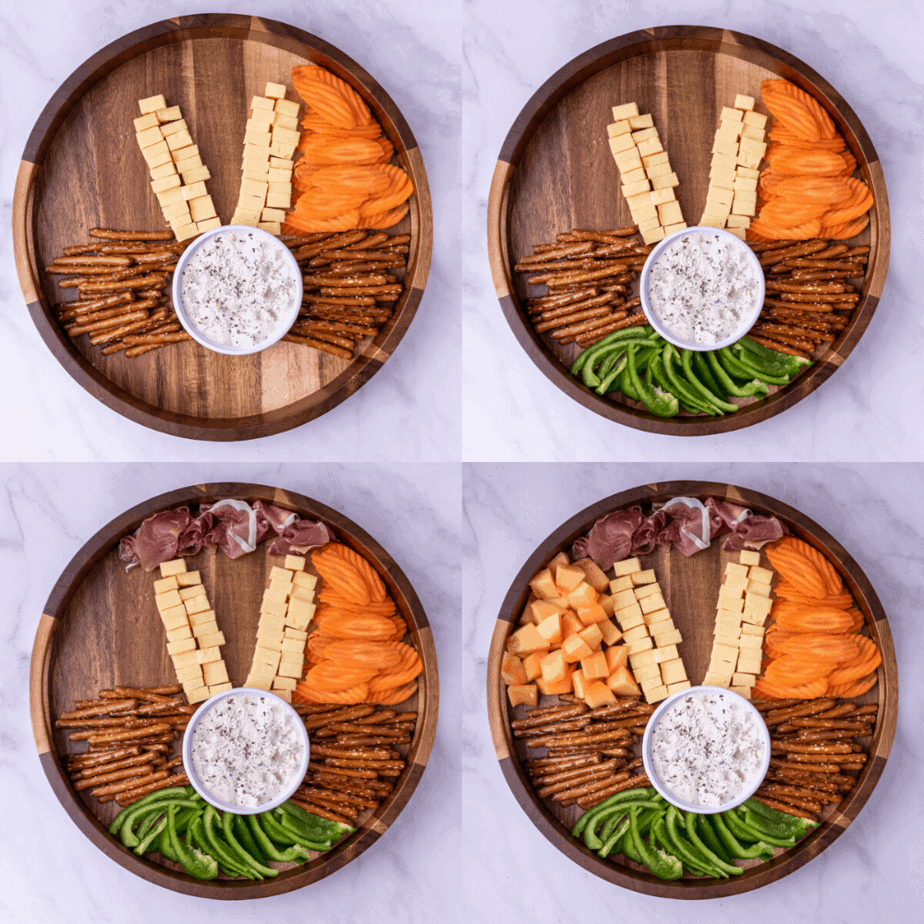 Between the ears, add the blackberries to fill in the rest of the cheese plate. Finally, garnish with curly parsley anywhere you could use more green. I added it between the pretzels and carrots/melon. And more between the prosciutto and carrots/melon.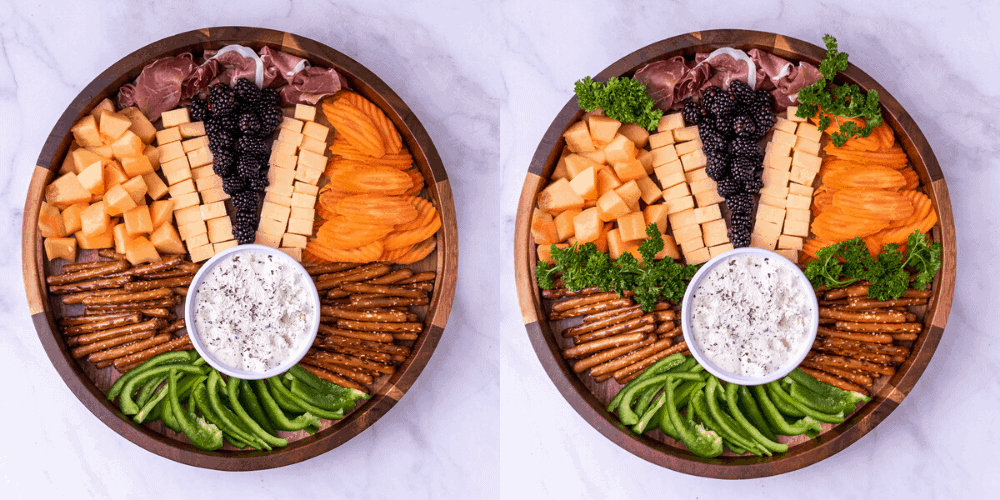 Leftovers
How do you store leftovers from the cheese board? If you have leftovers, store the cheese and meat in an airtight container in the fridge for up to a week. You can store the carrots and peppers together in an airtight container in the fridge for up to five days. Store the pretzels at room temperature in a sealed container. Finally, store the berries and melon separately but in the fridge for up to three days. Cut produce and fruit tends to go bad faster, so try to incorporate those into your snacks.
What do you do with leftovers? If you have a lot of leftovers, you can make your own DIY adult lunchable for lunch the next day at work. It's actually a very light and satisfying lunch that makes you feel fancy. You can also chop up the veggies finer and make omelettes or frittatas.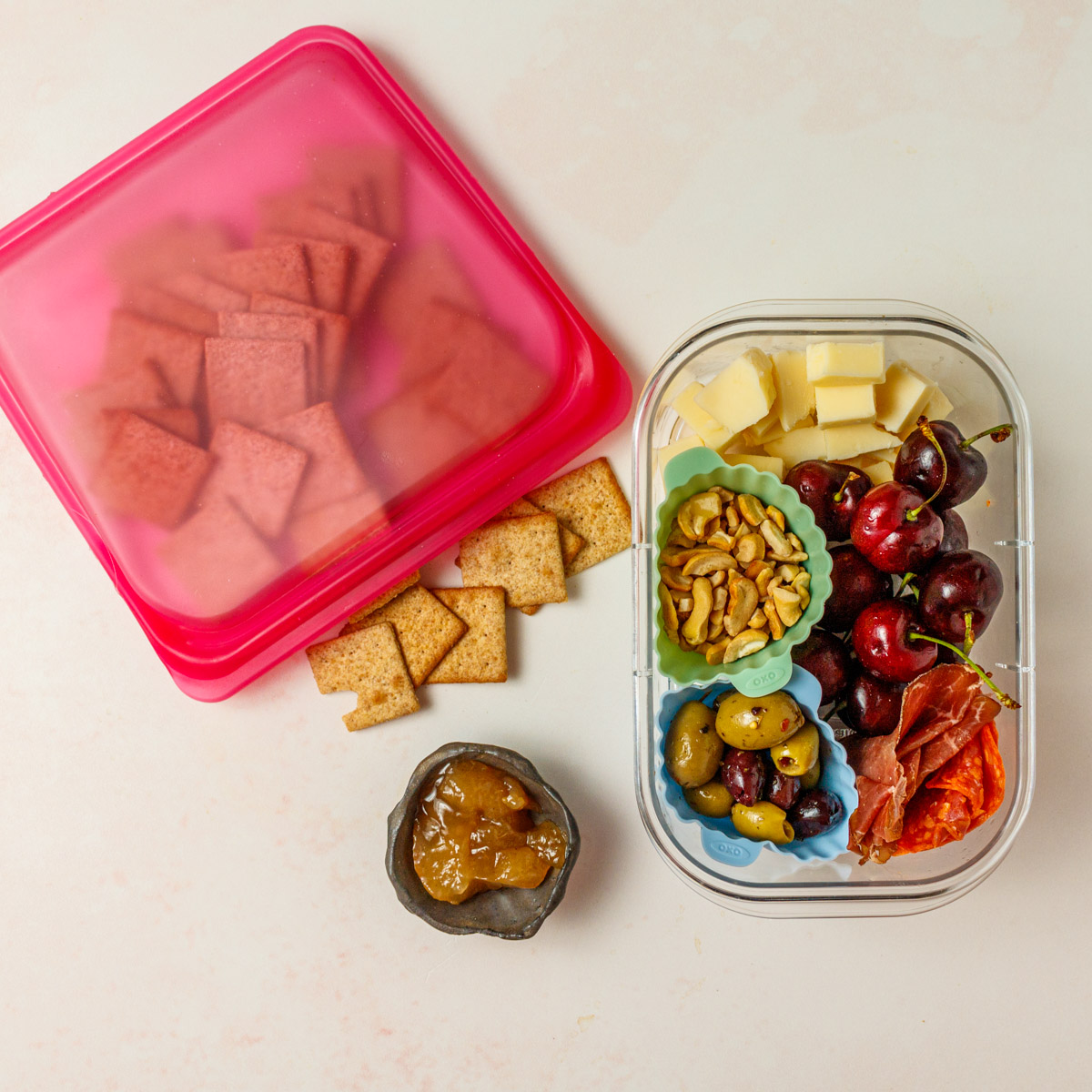 You May Also Like
Holiday Cheese Plates
Check out more holiday and seasonal cheese boards!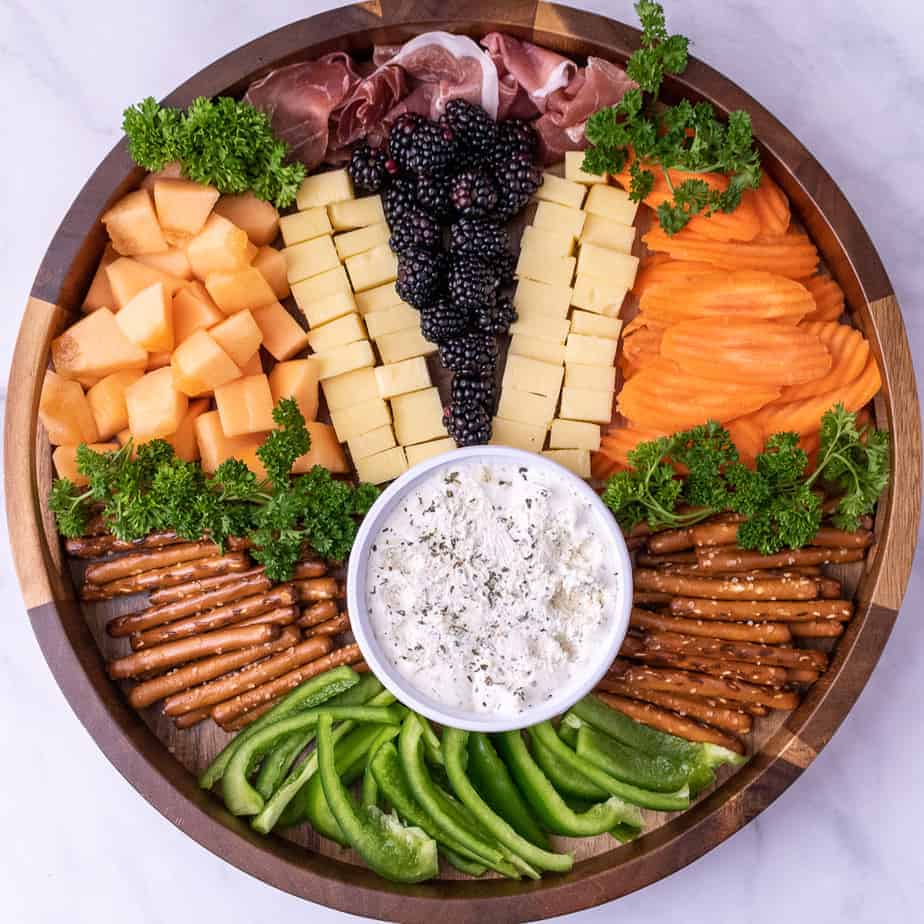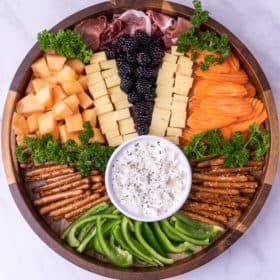 Easter Charcuterie Board
This Easter Charcuterie Board in the shape of the Easter bunny is an easy to make appetizer. A make ahead Easter cheese board with spring ingredients that travels well and is great for Easter brunch, lunch or dinner.
Print
Pin
Save
Saved!
Ingredients
6.5

oz

cheese spread

8

oz

white cheddar

cubed

40-50

small pretzel dippers

1 - 1 ½

cups

carrot chips or baby carrots

1

whole green bell pepper sliced

2-4

oz

prosciutto

1-2

cups

cantaloupe melon

cubed

3

oz

fresh blackberries

Curly parsley to garnish
Instructions
Start by placing the cheese spread in a round container in the bottom third of the platter in the center. Be sure to leave some room below the container and the bottom of the board.

Using cubed pieces of white cheddar, build 2 bunny ears above the cheese spread.

On either side of the cheese spread, add the small pretzels to look like whiskers.

On the right side, above the pretzels and next to the right ear, add the carrots and fill out that space.

Add slices of green peppers below the cheese spread between the whiskers.

Tear pieces of prosciutto to be bite sized and arrange above the ears.

On the opposite side of the carrots, above the whiskers and next to the ears, add cubed melon slices.

Between the ears, add the fresh blackberries to fill in the rest of the cheese plate.

Finally, garnish with curly parsley throughout the cheese plate, anywhere it could use some green and separation.
Notes and Accommodations
All amounts are approximations. If you find a cheese spread that is 8 oz, that's perfectly fine.
Store cheeses in the fridge covered in airtight containers.
Store pretzels on the counter in airtight containers.
Store blackberries and melon separately in airtight containers in the fridge.
Store carrots, peppers and parsley together in airtight containers in the fridge.
Originally published February 26, 2020. Reposted with new tips and tricks on March 1, 2021.