So you've started meal prepping and you've got your schedule down. Then you bought a planner and some great containers that make life so much easier. Next you've discovered the magical multi-tasker the slow cooker and you're best friends. You've even made one protein (like chicken, pork or beef) in a batch and made it into three separate meals in a week. However, now you're in a meal prep rut. How do you get out of it? How do you store it? What can you freeze?
How to Get Out Of a Meal Prep Rut
Even though I'm a seasoned pro at meal planning and meal prepping, I still get into ruts. Nothing seems to sound good, everything looks too hard or I am just uninspired. I'll search aimlessly through Pinterest and Instagram and still want nothing. To help myself get out of a rut, I start with a theme of some sort and go from there.
One theme I love to explore is different types of cuisines. Sometimes I just need something new to spark my creativity. The following are some examples of different types of food you can try.:
Mexican
Mediterranean
Italian
Indian
Greek
Middle Eastern
Asian
When I feel like I've been eating too heavy or I just want something light, I try to research different vegetarian options. This is another source of inspiration because most dinners I eat have meat as the protein source. If you have enough flavor in the dish you won't even miss the meat.
Another way to spark creativity is to look up what fruit or vegetable is in season in your region. I then focus a dish around a particular piece of produce that really sparks my interest. The best part is that typically the produce is cheaper and taste better when in season. If it's a nice day out, find a farmers market and talk to the local farmers. Ask them what they recommend and then go home and find a new recipe to try.
As good as I am at meal planning and trying to reduce waste, I often find random odds and ends to use up from the pantry, fridge or freezer. A lot of times, I'll have something like an extra pork tenderloin in the freezer, so I'll try to find a recipe to use up one of those. This saves money on your next grocery bill because you're using some stuff already in the house.

How to Successfully Store Your Meal Prep
Storage is a big problem when meal prepping. Some items are fine for three or four days in the fridge all prepped and others need to be separated or prepared fresh.
Store separately
Anything crunchy (croutons, tortilla chips, oyster crackers)
Things that spoil quickly (avocado, fruit)
Anything you want to heat up, but not heat up the entire thing (chicken for a salad)
Sauces/toppings/garnishes (sour cream and salsa for quesadillas or burritos)
Store together
Stirfry/anything you're going to mix together that will be the same temperature (all hot or all cold)
Protein+veggies+carbs (chicken + broccoli + rice)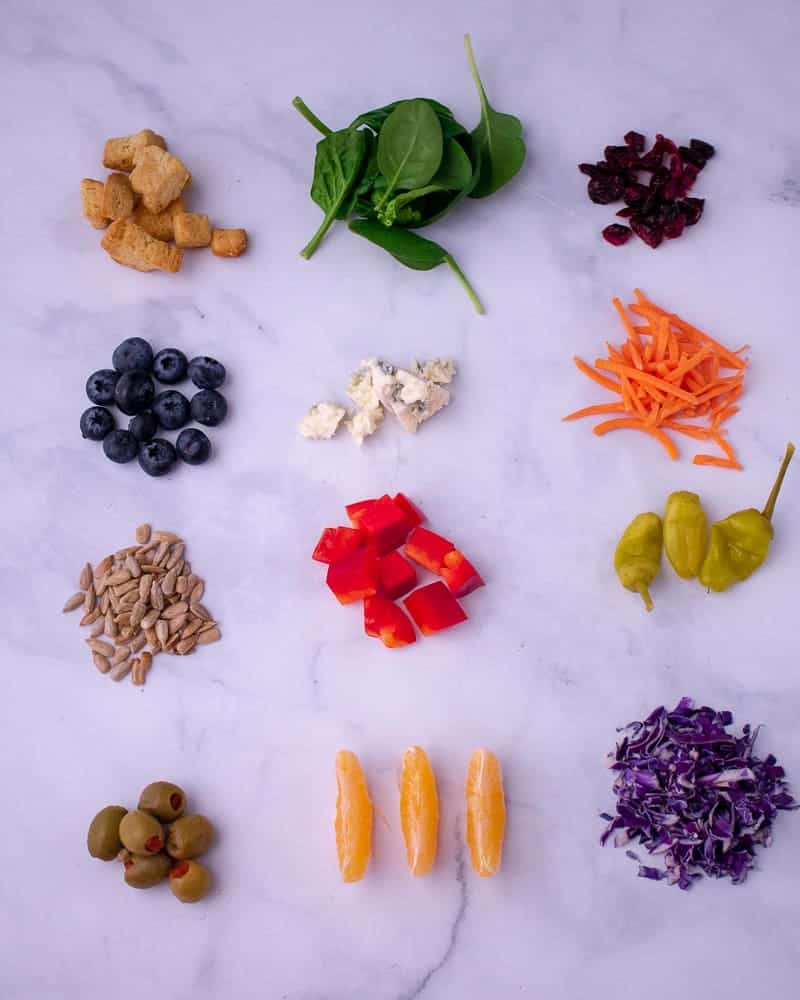 Salads
How do you get a salad to last all week without getting weird? You use heartier lettuce/vegetables options. Also think beyond just a lettuce "salad." Grains and beans are cheap, nutrient and protein packed AND last all week. Make the salads exciting with different textures: soft (cheese, fruit) vs crunchy (seeds/nuts/croutons), try different flavors like sweet (craisins, clementines) vs salty (olives, anchovies, marinated artichoke hearts), different colors (kale base with tomatoes, carrots and red onion).
Use a hearty base if you want it to last all week.

Zoodles
Sweet potato noodles
Broccoli/cole slaw mix
Kale
Cauliflower rice
Shaved brussel sprouts
Grains (quinoa/farro/barley)
Beans/Lentils (chickpeas, black beans)
How to Freeze Your Meal Prep
The biggest reason to start meal prepping is to save time. You may spend two hours in the kitchen on a Sunday afternoon, but you save a lot more time throughout the week not making lunches or dinners every day.
Another way to meal prep is to make a double or triple batch of something and freeze it. Unfortunately, sometimes when you freeze items, the texture and taste can change. For example, you want to avoid putting potatoes or dairy in the freezer or dairy. Anything that was crunchy when you put it in, will not be crunchy after being defrosted and re-heated.
That's okay! You can still make bigger batches and freeze extras of the following:
Important Freezer Tips
Make sure the container is freezer safe - this will ensure no glass shatters and minimize your freezer burn potential.
Get as much air out as you can to reduce freezer burn.
Freeze usable portions. Lets say you made six quarts of pasta sauce. When you freeze it in one cup portions, its faster, easier to store and you're less likely to waste it. This is good for pizza and individual pasta portions.
Always label EVERYTHING with what it is, date made and quantity. Sometimes I freeze chicken but I can't tell if it's one or two pieces. Or was this turkey. I to use painters tape and black permanent marker.
Don't freeze so much stuff that you have no idea what's in the freezer or never use it. I try to freeze things and then use it up within a month or two.
Foods That Freeze Well
Grains - I make a big batch of quinoa and then allow it to cool. Once cooled I measure out ½ - 1 cup portions and freeze those.
Barley, farro and all hearty grains like that freeze and thaw well. To thaw, I just open the zip top bag and throw it in the microwave for 30 seconds or let it defrost in the fridge
Bread - I freeze packages of bread ALL the time. It is super fast to defrost and the texture is always great. I use ten english muffin a week, but the packages come in packages of six. I always keep an extra package in the freezer for a quick meal too. If you're a single person or even two people, a whole loaf of bread or burger buns is too much to use all at once. Freeze the second half and use it next week for lunches.
Sauces - I freeze my meat pasta sauce as well as my pomodoro sauce. I'd say you'll be safe to freeze anything that isn't cream based. Cream/dairy based can get weird and break on you. Always freeze in useful portion sizes!
Soups/Broth - You can make your own broth and freeze it in one cup portions to use for individual soups or any other recipes. Homemade broth is always better than store bought. I make a big batch and store it for later recipes.
You can freeze a lot of soups, but I'd go with a broth based soup rather than a cream based soup. Chicken noodle soup, chicken tortilla soup or pea soup will all defrost well. I've never frozen beef stew, but I'm hesitant with the potatoes. You could always make the base and then add potatoes when you defrost it. As with sauce, it is important to freeze it in usable portions. I freeze mine in lunch size portions for an easy lunch.
Already cooked protein - A lot of times I'll make shredded chicken with some type of seasoning or sauce and freeze it in small portions. I can then use it to make quick quesadillas, burritos or throw on a salad. Pulled pork is another option here as well.
Uncooked meals - You can also freeze pre-chopped veggies or pre-marinated meats so that in two weeks when you want that meal again you can defrost it in the fridge the night before and cook it up for lunches that week.
How Do You Defrost Your Meals Safely?
Since you've listened to me and frozen all your hard work in usable portions, you should be able to take that portion out the night before and keep it in the fridge to defrost. In that time, it should be pretty defrosted. Keeping it in the fridge is the safest way to defrost food.
Another way to defrost frozen food is to run cold water over it until it defrosts. It is important that you use cold water to keep bacteria at bay and not accidentally partially cook any raw proteins. The best way to defrost food under cold water is while it is in a food safe zip top bag that is sealed. The more surface area exposed to the running cold water, the faster the food will defrost.
Once the food is defrosted, cook it as if it was freshly made, but without all that extra prep work! It is important to defrost all raw raw fully before cooking it for food safety.
Do you have any other problems with meal prep that you need help solving? Let me know in the comments below.
Meal Prep Series
Was this helpful? You can check out the rest of the series below!
Part 1: How to Get Started Meal Prepping
Part 2: Meal Prep: The Tips, The Tools and The Execution
Part 3: Slow Cooker Tips for Meal Prepping
Part 4: How to Meal Prep Without Getting Bored
Part 6: How to Meal Prep Like a Pro