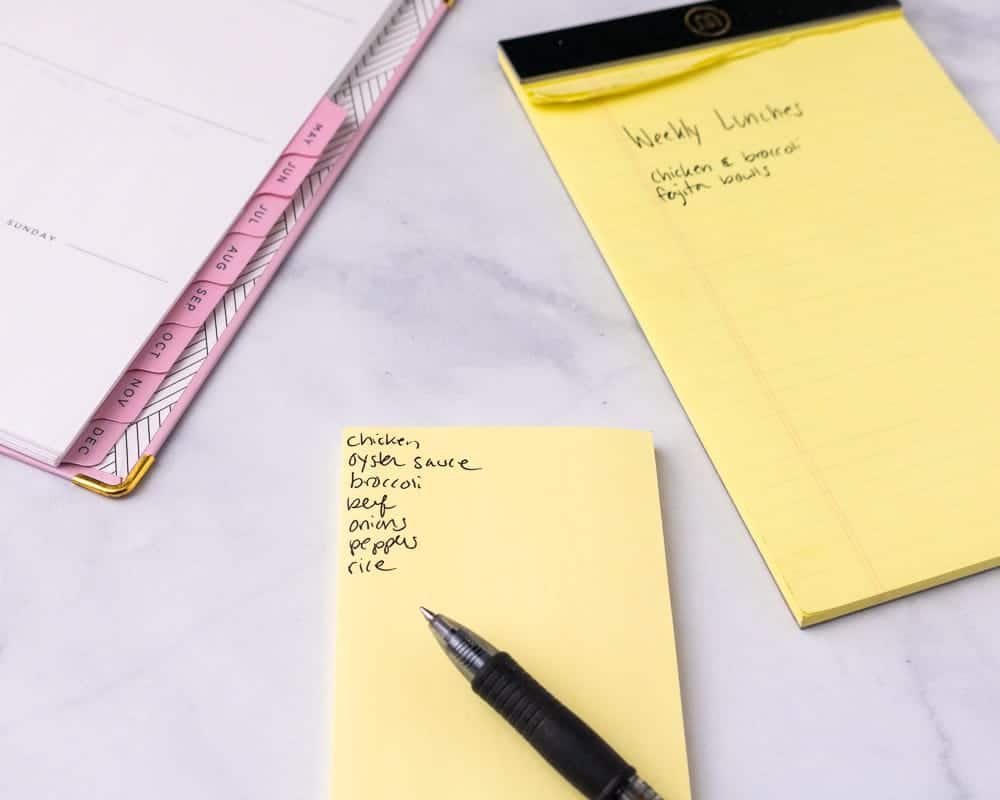 I have covered how to start meal prepping, what tools you'll need to execute your plans, how to use a slow cooker to multi-task, how to eat one protein three different ways in the same week, and how to get out of a rut when you're meal prepping. The best way to learn is from an example (and then actually doing it!) so I'm going to go over my typical week in meal prepping. I'll review when I prep, shop and eat the food I make and what tools I use to make it easier. After that, I'll list a bunch of my favorite recipes ideas that I use. You can expect to see some of these recipes on the blog soon, so if there is one in particular that you're interested in, please let me know in the comments! I'll try to work that one in or send you some tips about it.
How to Meal Prep Like a Pro
My typical week is a work week of Monday-Friday 8 am - 4 pm. I only need to bring lunch and a snack to work and have a separate plan for dinner. Adjust your plan accordingly.
In a typical week, I start meal planning my entire week on Wednesday or Thursday. I've found if I wait too long, I get a slower start to shopping and my whole week seems to be off.
Wednesday/Thursday: Start meal planning all dinners and lunches.
When planning I look at events/plans for the week and I know I'm planning for Saturday-Thursday. Once I've figured out each day's plan, I write it in my planner and then make a shopping list on a sticky note. The sticky note also goes into my planner so I don't lose it.
Saturday: I go shopping typically in the morning. It is less crowded and makes it more enjoyable.
Sunday: I meal prep one recipe, but make enough for two days.
Monday: Day 1 of meal prep from Sunday for lunch.
Tuesday: Day 2 of meal prep from Sunday for lunch.
Wednesday: On this day for lunch, I usually eat leftovers from dinner either Monday or Tuesday.
I start planning for the next week (Saturday-Thursday). At night I meal prep a second recipe but make enough for two days.
Thursday: Day 1 of meal prep from Wednesday for lunch.
Friday: Day 2 of meal prep from Wednesday for lunch.

That is the schedule I follow pretty religiously. To make meal planning and prepping work, you need to make it a priority. Yes, it can be hard on a Sunday to make food for the week. However, if you've already planned and gone shopping it makes it a lot easier. I know that I don't want to waste the food I bought or have more to do during the week. You'll thank yourself during the work week that you have one less thing to think about.
If this seems overwhelming to you, try to plan just a few days in advance. Go shopping on Saturday and plan to cook a small batch of food for Monday and Tuesday. If that goes well, you can go back to the store and try it again for the rest of the week. If you have a few problems, try to solve those problems and try again for just a few days. I've found that when you meal prep for only a few days at a time, you don't get sick of the food. Also, if you've made a recipe you're not crazy about you didn't just waste five pounds of chicken.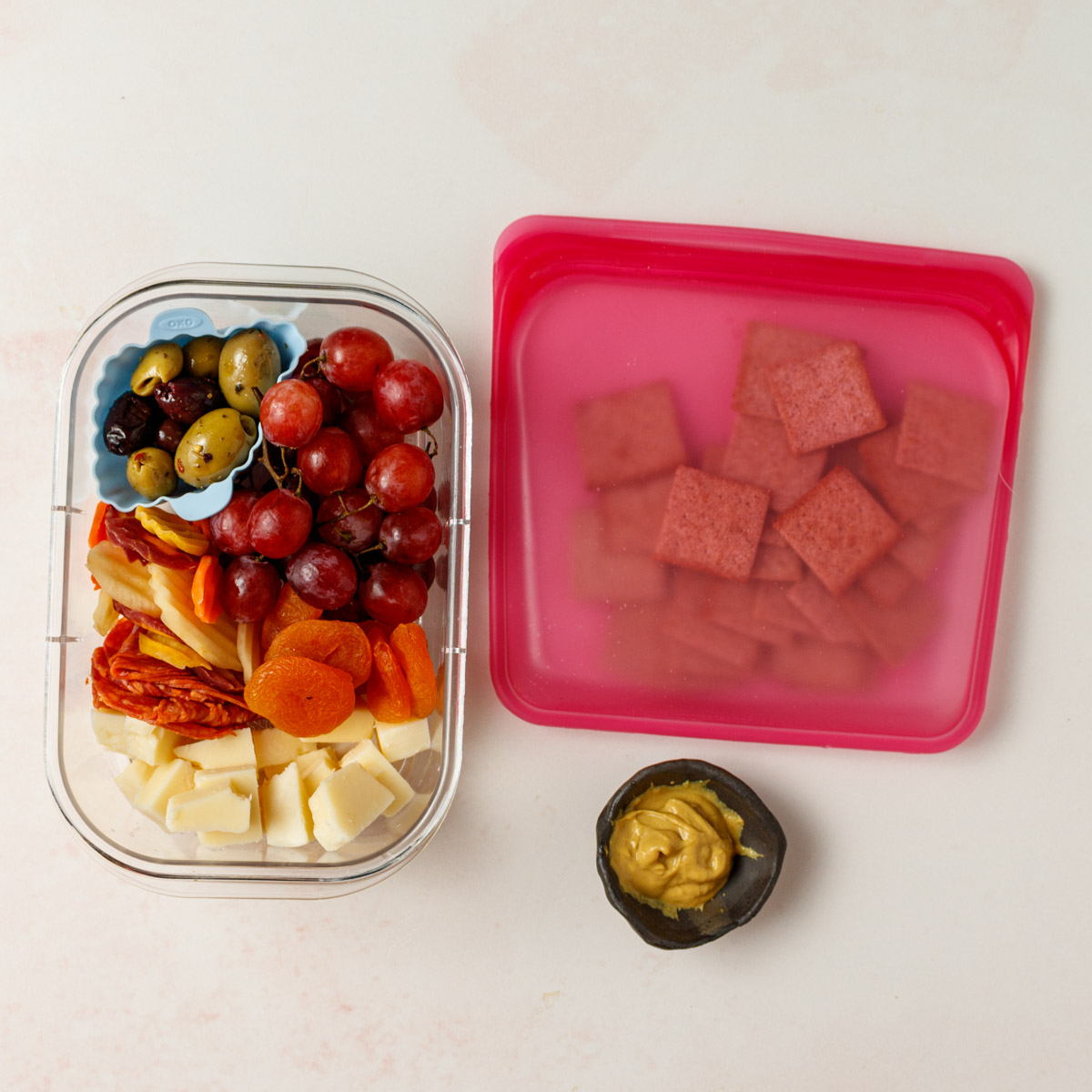 Go to Recipes
A lot of these are things I've made and played around with, so I don't have a formal recipe. These should be ideas and inspiration for your own meal prep.
Fajita/taco/burrito bowl - some kind of meat with the appropriate seasoning topped over rice and beans with salsas, cheese, sour cream, veggies and guacamole
Turkey club bowls - roasted turkey breast with avocado, bacon, sun dried tomatoes on a bed of quinoa plus a dressing.
Leftovers from dinner the night before. I make extra on purpose and just put it directly into a container and into the fridge so it doesn't get eaten.
Soups - Make a big batch of soup (chicken noodle, chicken tortilla, beef stew, clam chowder) and eat it for a few days.
Grain bowls - just Google "Buddha bowls" for inspiration, I promise plenty of stuff will pop up.
"What's in the fridge" - sometimes you may have a lot of weird odds and ends in the fridge or some extra udon noodles in the pantry. Try to combine a few of them together and you may get something amazing...or just something that works for that day.
Cheeseplate for lunch - another fun way to use up a odds and ends in the pantry and fridge. Half a cucumber? Small block of cheese? A handful of crackers? A few slices of pepperoni? Perfect you have lunch for tomorrow.
Roasting a whole chicken - I'll eat this for dinner one night and then use it different ways throughout the week. The roasted flavor makes even boring salads more exciting.
Broccoli slaw/zoodle salads - I use these when I'm sick of lettuce but don't want to eat a lot of pasta/grains. They last a lot longer than lettuce or spinach in the fridge too!
Teriyaki protein (chicken, beef, pork, shrimp, tofu, chickpeas) plus broccoli over some rice or udon noodles. I make my own but you can easily keep a bottle in the fridge. When cooking, toss in the odd half a pepper or quarter of onion and use up what's in the fridge.
Honey sriracha chicken - I usually eat this with some kind of roasted veggies and some fruit. Easy and tasty.
Stuffed portobellos/stuffed peppers - A good way to make your favorite foods low carb.
There are a lot of options for meal prepping but these are my go to options. Still intimidated? Send me a message or comment below. I'll walk you through it via baby steps.
Meal Prep Series
Was this helpful? You can check out the rest of the series below!
Part 1: How to Get Started Meal Prepping
Part 2: Meal Prep: The Tips, The Tools and The Execution
Part 3: Slow Cooker Tips for Meal Prepping
Part 4: How to Meal Prep Without Getting Bored
Part 5: How to Solve Common Meal Prep Problems