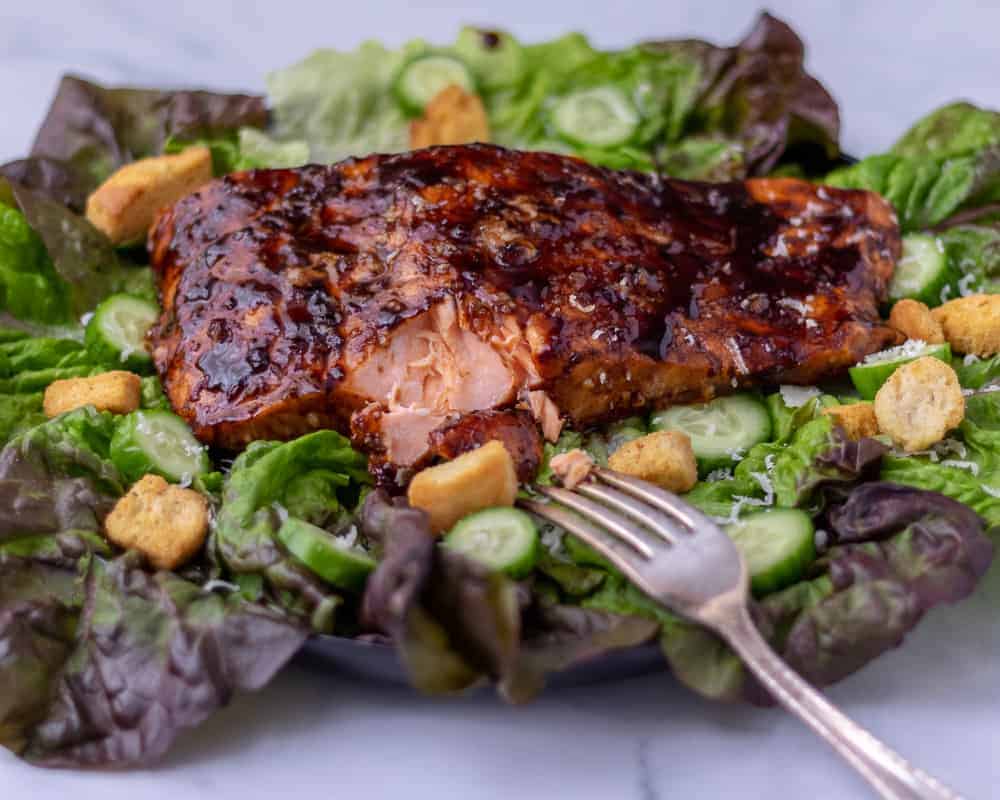 Tips, Tricks and Substitutions
What do you eat with balsamic salmon? I like to eat it with a salad (red leaf lettuce, cucumber, cheddar cheese and croutons!) or with some roasted veggies like asparagus or sweet potatoes.
How much salmon should you buy for each person? I usually buy 6 to 8 oz per person. It is important to note that it is best to buy it as one large piece instead of individual filets. If you buy them as individual filets, cooking time will vary.
Ingredients
Do you need to buy fresh salmon? I usually buy fresh salmon because I cook it the night that I buy it. However, I realize that fresh seafood isn't always an option, so just make sure you're buying wild caught, sustainable salmon. This is better for the fish and for the environment. Alaskan salmon can be expensive but really is a safe choice.
Does the size and shape of the salmon matter? Yes, I buy roughly 1 lb pieces of salmon and similar in size. There will usually be one part of the filet that is a bit thinner, but I look for a relatively even cut so that it cooks evenly.
Are balsamic vinegar and balsamic vinaigrette the same thing? No! Balsamic vinegar is just that, vinegar, it's acidic. Balsamic vinaigrette usually contains balsamic vinegar plus oil, sugar and mustard and commonly used on salad.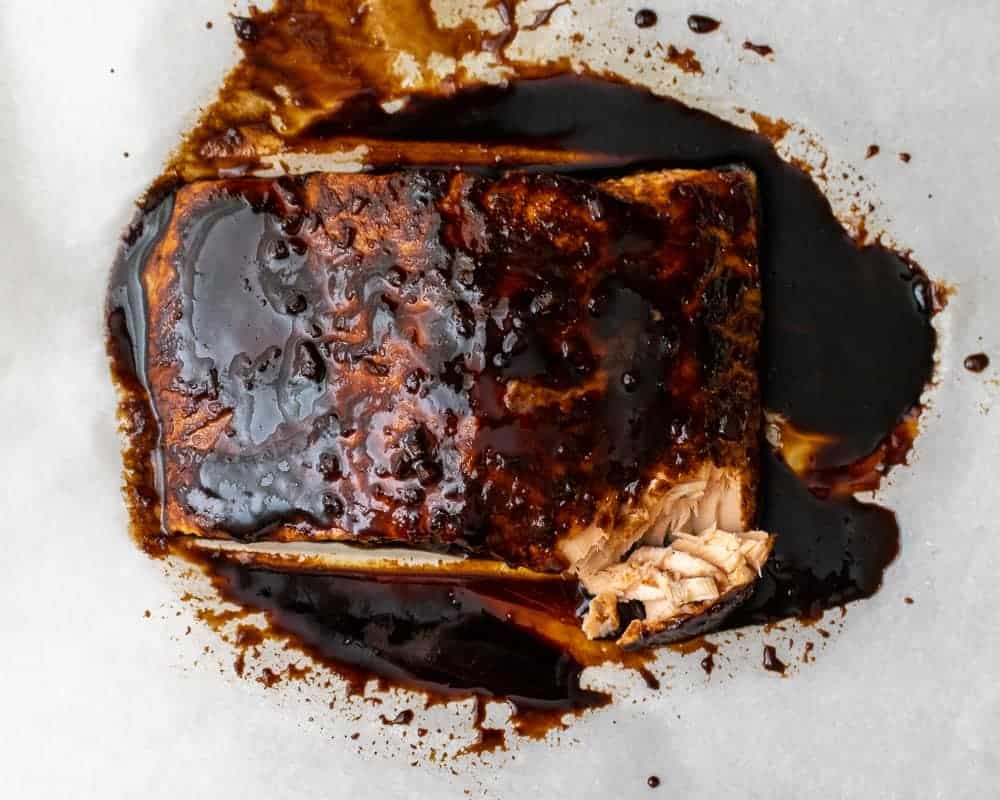 Method
How do you know when the salmon is done cooking? There are two ways to check if your salmon is done. One is to check it with a thermometer and look for 145F degrees. If you don't have a thermometer (get one!) you can check with a fork. Use a fork to lightly flake off a piece of salmon, if it happens easily, the salmon is done.
How do you know when the glaze has reduced enough? The sauce will be a bit thicker than water and the level will visibly reduce. If you're unsure about whether or not the sauce is done, dip a spoon into the sauce and see if it coats the back of the spoon. If the sauce runs off, it needs to be further reduced.
You May Also Like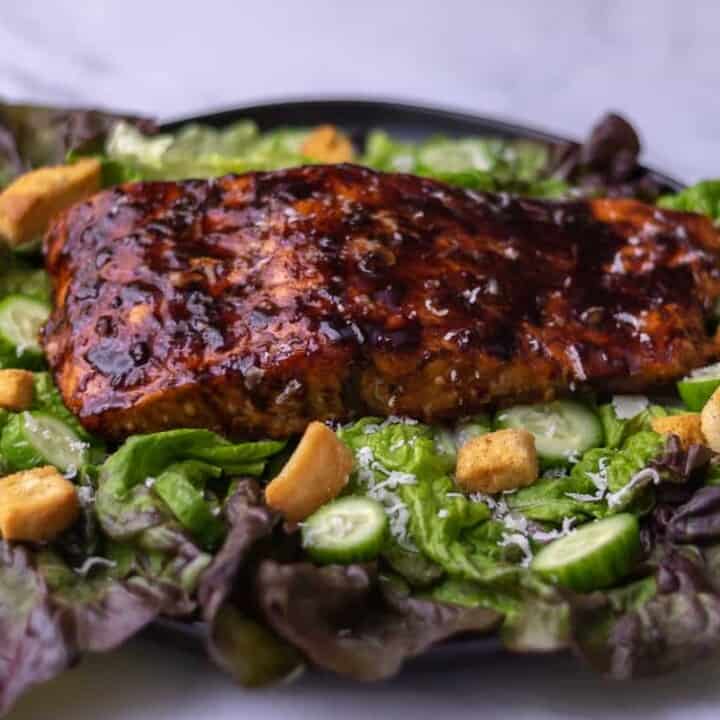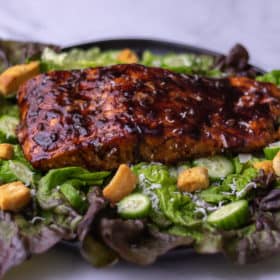 Slow Roasted Balsamic Glazed Salmon
Slow roasting salmon is a foolproof method for anyone who is intimidated by salmon. Roasting salmon at a low temperature makes it almost impossible to overcook. The balsamic glaze is basted on the salmon for maximum flavor.
Print
Pin
Save
Saved!
Ingredients
¾

cup

balsamic vinegar

2

tablespoons

maple syrup

1 ½

tablespoons

dijon mustard

1

tablespoon

garlic paste or 1 grated garlic clove

1

pound

fresh salmon

single filet
Instructions
In a medium saucepan, whisk together balsamic vinegar, maple syrup, mustard and garlic. Heat the mixture over medium heat until boiling. Next, lower the heat to a simmer until reduced to a glaze, about 10-15 minutes.

While the glaze is reducing, preheat the oven to 225 F and line a sheet tray with parchment paper.

Pat the salmon down and ensure that there are no bones in the filet. Place on the parchment paper lined sheet tray.

Once the glaze is ready, spoon over enough glaze to cover the fish. Be sure to reserve some glaze to bast during cooking.

Cook the fish for 40-50 minutes, basting every 10 minutes. The salmon is done when fork tender or 145 F.
Notes and Accommodations
This recipe is tested with 1 pound salmon filets. If using multiple filets, cooking time could vary.