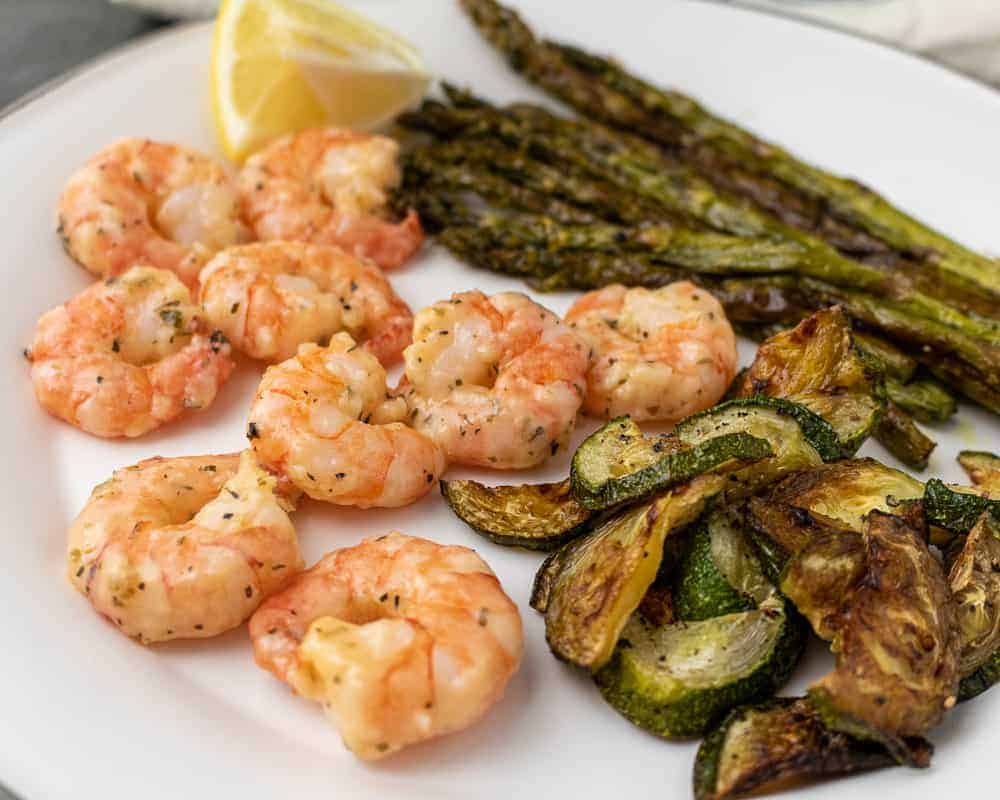 Tips, Tricks and Substitutions
Are shrimp and prawns the same thing? Yes and no. They are different animals from a science point of view. They live in different climates and types of water (salt water versus fresh water) but if you only have prawns in your part of the world, they will definitely work in this recipe.
Do you need to buy real Parmigiano-Reggiano? It will make the recipe taste better I promise. If you buy the cheaper imitation cheese it may not melt as well or have the right flavor. If the imported cheese is too expensive, I recommend a domestic parmesan style cheese you grate yourself.
What can you use as a substitute for garlic paste? You can always grate two to three large cloves of fresh garlic per one tablespoon of garlic paste. Another option is to finely mince up cloves of garlic or you can make garlic paste yourself with a knife and some salt.
Can you use already cooked shrimp for this recipe? Yes, but I recommend raw shrimp. I buy raw shrimp so that they cook in butter and garlic and are therefore more flavorful. The problem with already cooked shrimp is that you run the risk of overcooking them when you heat them up with the butter. I'd keep them in the sauce for no longer than a minute until they are just warmed through.
What side dishes can you serve with this recipe? This goes great over pasta, especially if you make extra butter sauce and toss the pasta in with the shrimp. We also eat it with roasted veggies like this one or just a simple side salad.
Ingredients
Where do you buy garlic paste? I always buy garlic paste from Gourmet Garden and it is found in the produce section. I keep it in the fridge almost all the time.
How do you buy shrimp? I like to buy frozen shrimp that are either wild caught or sustainably farmed. These options produce better quality shrimp and are better for the environment. Try not to be tempted by cheaper shrimp as quality may suffer.
Do you buy fresh or frozen shrimp? I buy frozen shrimp unless I know specifically that the shrimp are freshly caught that day. A lot of times the shrimp you see in cases is just frozen shrimp that has been defrosted. But you don't know how long they've been defrosted so I usually don't trust those. Frozen shrimp on the other hand are frozen pretty much immediately after being caught. Plus it's an easy protein to have in the freezer for a quick meal.
What size shrimp do you buy? I buy large shrimp because it gives me a good number per pound without being tiny. If I'm peeling and deveining them by hand, I don't want to do as many. You can easily use medium large or extra large shrimp if that is what you can find at the store.
Usually there is a number associated with the type of shrimp. This number (31/35 for large shrimp) is roughly how many shrimp are in a pound. A large number means more shrimp per pound but they will be smaller.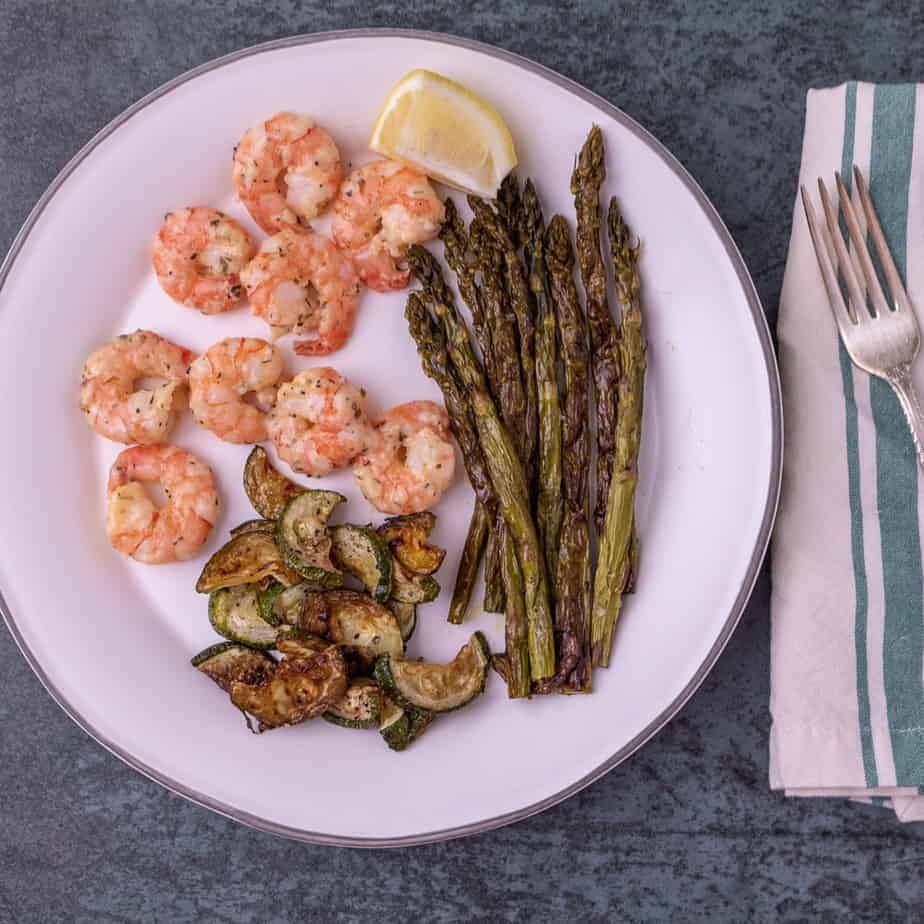 Method
How do you defrost frozen shrimp? The best way to defrost shrimp is by taking them out of the freezer and allow them to defrost in the fridge. However, a lot of time I forget to do that or don't plan ahead. You can pretty easily defrost shrimp by putting them in a bowl and running cold water over them. This shouldn't take too long 15 or so minutes. Once they are defrosted, pat dry and cook!
How do you peel and devein shrimp? I buy already peeled and deveined shrimp because it's a quicker prep time. However, shrimp shells are great for making seafood stock and can be saved in the freezer. I like to start with the legs and rip off the shell with my hands or with the help of a paring knife. I also take off the tail because I hate trying to eat around them. The vein is the digestive tract that runs on the outside of the shrimp, the exact opposite of where the legs are located. I make a shallow cut with a paring knife along the back of the shrimp and then remove the vein. If you miss a little, it's still safe to eat, but can be a little gritty. Peeling and deveining shrimp isn't hard but it can be time consuming.
How do you know when shrimp are done cooking? The cool thing about shrimp is once they are cooked they turn a bright pink color. So once all the shrimp are that color, they are done cooking. This doesn't take very long, maybe 2-3 minutes.
You May Also Like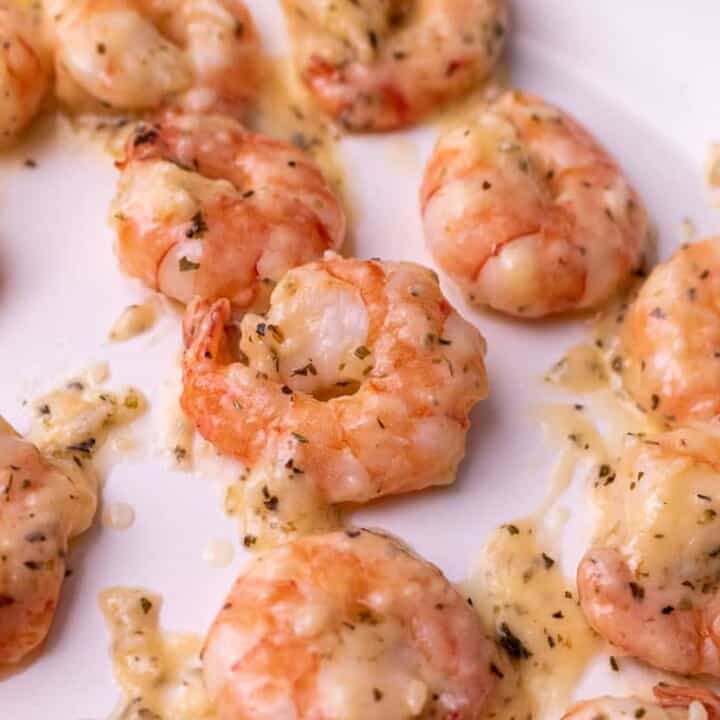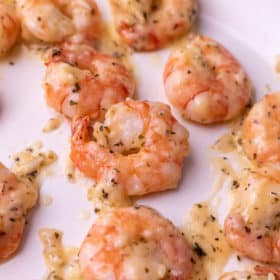 One Pot Garlic and Parmesan Shrimp
Once the shrimp are defrosted, this meal protein comes together in less than 10 minutes. One pot garlic and parmesan shrimp is an easy and quick weeknight main course that can be served over pasta, with rice pilaf, a simple salad or roasted vegetables.
Print
Pin
Save
Saved!
Ingredients
3

tablespoons

unsalted butter

½

pound

raw large shrimp

defrosted, peeled and deveined

Kosher salt

1 ½

tablespoon

garlic paste

or 5-6 freshly grated garlic cloves

1

teaspoon

dried Italian seasoning

1

ounce

parmigiano reggiano

freshly grated (about ⅓ - ½ cup)
Instructions
If frozen, defrost shrimp in a bowl of cold water in the sink.

Pat the shrimp dry after defrosted and preheat a dutch oven over medium heat.

While waiting for the dutch oven to preheat, grate parmigiano reggiano and set aside.

Once the dutch oven is preheated, add the butter and melt completely.

Add in the shrimp and salt lightly. Toss to coat in the butter.

Cook for 2-3 minutes, stirring every minute until shrimp are pink and cooked through.

Remove the dutch oven from the heat and add in the garlic paste and Italian seasoning. Stir until well coated.

Quickly add in all the parmigiano reggiano and stir until creamy.

Serve over pasta, with vegetables or other sides.
Notes
Make sure you start with defrosted, raw, peeled and deveined shrimp.
Grate the parmigiano reggiano before starting to cook the shrimp.
Shrimp are done cooking once they are pink all the way through.
Join our Discord Server!
Chat about the monthly theme, get recipe troubleshooting and post what you made for dinner and engage with the community!