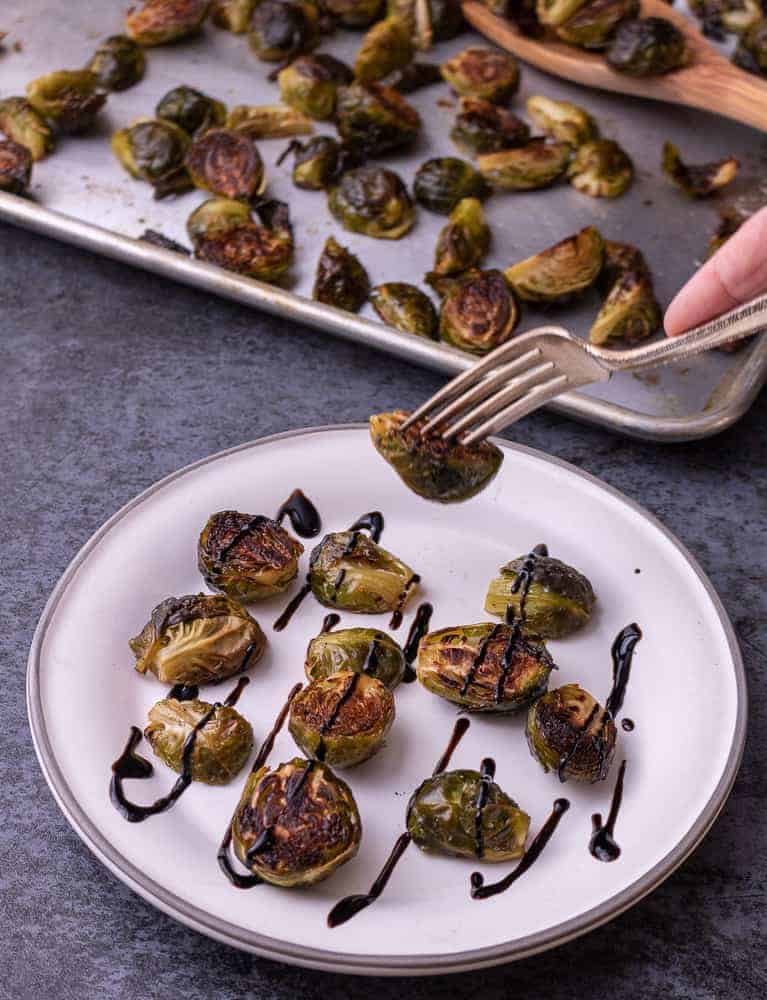 Ingredients
How do you buy brussels sprouts? Look for brussels sprouts that are small to medium in size. The larger ones typically have less flavor. The leaves should be close together and firm when gently squeezed. Brussels sprouts should be green with no black spots. I buy mine off the stalk, but that is also an option.
When are brussels sprouts in season? Late September to February.
How do you store brussels sprouts? The best way to store brussels sprouts is in the fridge in a plastic bag or airtight container for a week or two. They will keep longer if they remained uncut. However, I've cut them before and left them in the fridge overnight and they've been fine. This will work well if you're prepping ahead for a large meal like Thanksgiving.
How to cut brussels sprouts? You always want to cut off the stem of the brussels sprout because that can be tough and unpleasant to eat. Next, cut the brussels sprouts in half lengthwise. If the brussels sprouts are particularly large, cut them into quarters.
Do you buy or make your balsamic glaze? If I'm using a lot of it I'll make it using this recipe. However, I often cheat a little and just buy it from the store. When buying balsamic reduction make sure it is NOT vinegar or vinaigrette.
Tips and Tricks
What do you serve with brussels sprouts? Roasted brussels sprouts can be served with a variety of proteins including Cajun Pork Tenderloin, used for meal prep in Chicken Sausage Meal Prep recipe or with Garlic and Parmesan Shrimp.
Roasted brussels sprouts can also be used as an easy and cheap vegetarian Thanksgiving side. The brussels sprouts can be cut and prepped the day before Thanksgiving. Once you have own space in the oven, you can easily toss them with olive oil and roasted until caramelized. This is a great side dish for a crowd because you can get about two pounds of brussels sprouts onto a normal sheet tray.
Do brussels sprouts reheat well? The best way to reheat brussels sprouts is in the oven at 350F for 5 to 10 minutes. However, they easily reheat in the microwave as well.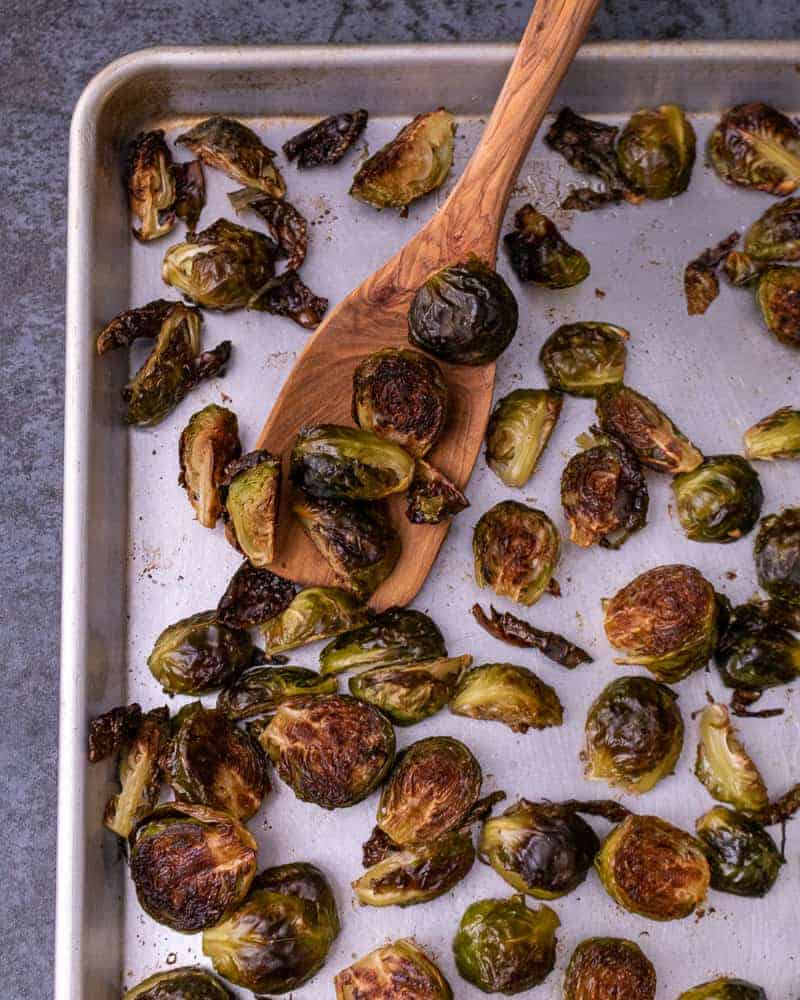 Method
How to make roasted brussels sprouts? Preheat your oven to 375F. Cut off the stems of all brussels sprouts and cut in half lengthwise. In a large mixing bowl, toss brussels sprouts with olive oil and kosher salt until well coated and seasoned. Add the brussels sprouts to a sheet tray cut side down, be careful not to overcrowd the pan. Roast the brussels sprouts on the bottom rack for 40-45 minutes until fork tender and caramelized. Remove from the oven and while hot, drizzle with balsamic glaze.
How do you avoid soggy brussels sprouts? It is important when roasting brussels sprouts that you do not overcrowd the sheet tray. When the sheet tray is too full, the vegetables end up steaming and do not get caramelized and crispy. Always make sure the brussels sprouts are cut side down in a single layer as well. Another way to avoid soggy brussels sprouts is to put the sheet tray on the bottom rack. This encourages more caramelization of the brussels sprouts which means they will be crispier.
How do you know when roasted brussels sprouts are done? Brusselssprouts are done once they are fork tender and caramelized on the cut side.
When do you put the balsamic reduction on the brussels sprouts? You put the balsamic glaze on the brussels sprouts after they are finished cooking and are still hot.
Storage
How to store roasted brussels sprouts? Store roasted brussels sprouts in an airtight container in the refrigerator for up to four days.
You May Also Like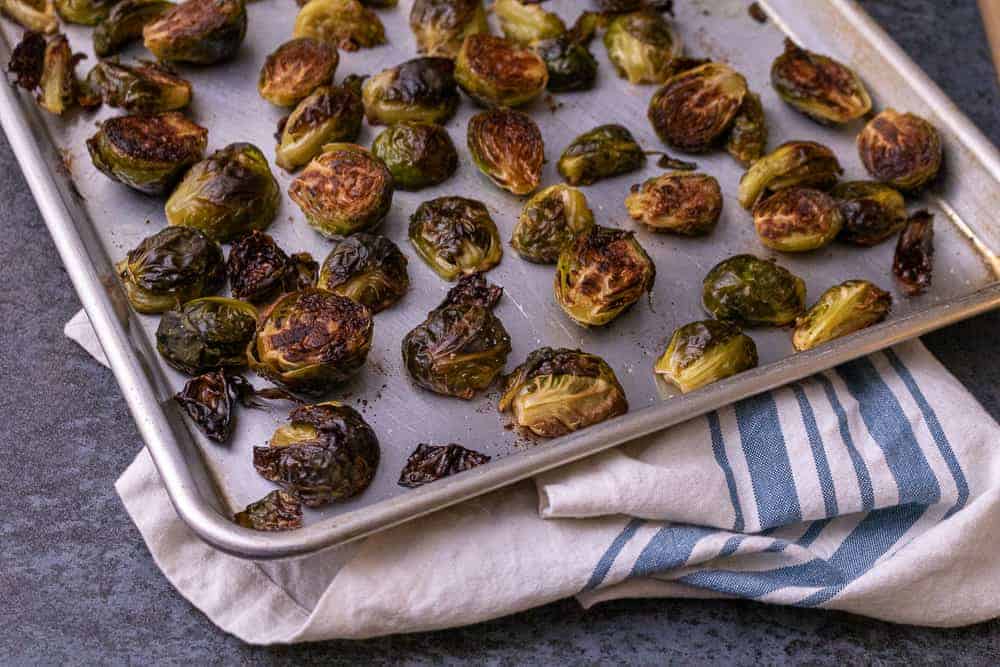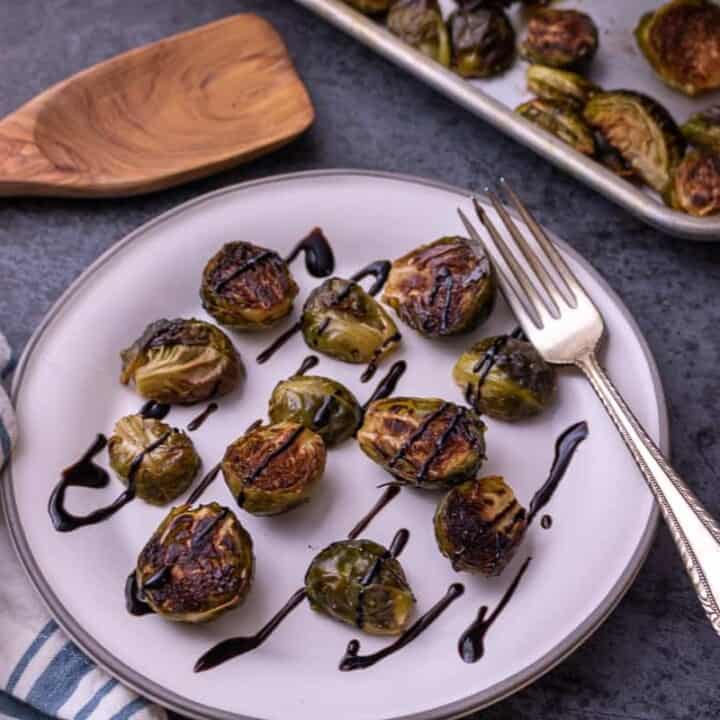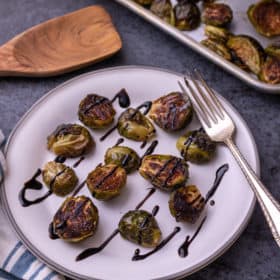 Roasted Brussel Sprouts with Balsamic Glaze
Oven roasted brussel sprout with balsamic glaze is an easy fall vegetarian side dish. Perfect as a simple and cheap side dish for Thanksgiving or any dinner party.
Print
Pin
Save
Saved!
Ingredients
2

pounds

brussel sprouts

3

tablespoons

olive oil

Kosher salt to taste

Balsamic glaze drizzle
Instructions
Preheat the oven to 375 F.

Prepare brussel sprouts by cutting off the stem and then cut in half lengthwise. If they are particularly large, cut into quarters. Add to a large mixing bowl.

Toss the cut brussel sprouts in oil and salt until liberally coated.

Place in a single layer on a sheet tray, cut side down. Do not overcrowd the sheet tray.

Roast for 30-45 minutes on the bottom rack. Timing will depend on the size of the brussel sprouts. Brussel sprouts are done once fork tender and the cut side is nicely browned.

Remove the sheet tray from the oven and immediately drizzle balsamic glaze over the brussel sprouts while still hot.

Serve immediately.
Notes and Accommodations
When cutting brussel sprouts, some of the outer leaves will fall off. I keep these in with the bigger pieces of brussel sprouts and let them roast and get nice and crispy. If you don't like that, you can discard them with the stems.
Don't overcrowd the pan, when in doubt use 2 pans.
Cooked brussel sprouts can be stored in the fridge in an airtight container for up to four days.