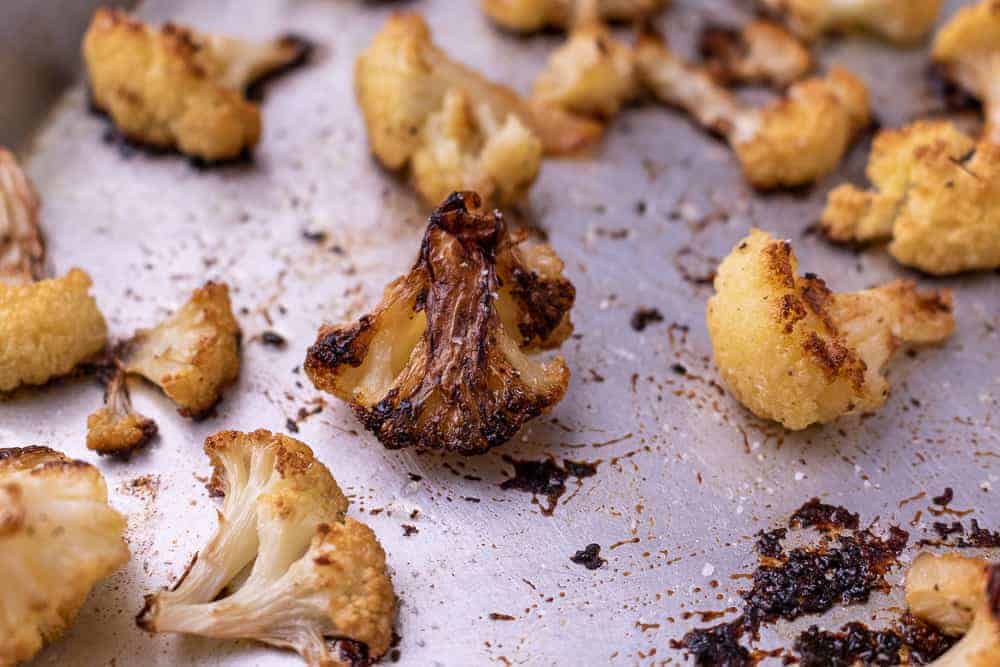 Tips and Tricks
What do you serve with roasted cauliflower? This is one of my favorite roasted vegetables. It is perfect for meal prep because it reheats well, I add it a lot to Pressure Cooker Shredded Buffalo Chicken or Cajun Pork Tenderloin. It's also great in a salad to bulk up the salad with more vegetables. It's an easy vegan side that can be served with a wild variety of proteins.
How do you reheat roasted cauliflower? I usually make this for meal prep so I often just microwave roasted cauliflower to reheat it. If you want to reheat it in the oven you can do so at 350 F on a sheet tray until warm, about 10-15 minutes.
How do you store roasted cauliflower? Once the cauliflower is roasted, it can be stored in the fridge in an airtight container for three to four days. It should be put into the fridge within two hours of cooking it.
Method
How do you cook roasted cauliflower?
Prep
Preheat the oven to 375 F and get out a sheet pan. Start by removing the leaves from the cauliflower. Next cut the whole head in half and then remove the core with a sharp chef's knife. Break up florets by hand to avoid a large mess of cauliflower pieces. If florets are large, make a small cut at the base and break apart using hands. Make sure the florets are even in size to ensure even cooking.
Flavor
Add florets to a large mixing bowl with olive oil, garlic paste and salt. Toss well to coat making sure the cauliflower is liberally coated with olive oil and garlic paste.
Roasting
Place florets in a single layer on a sheet pan with the cut side down. Don't overcrowd the pan. Roast for 40-50 minutes until fork tender and browning has occurred on the cut side.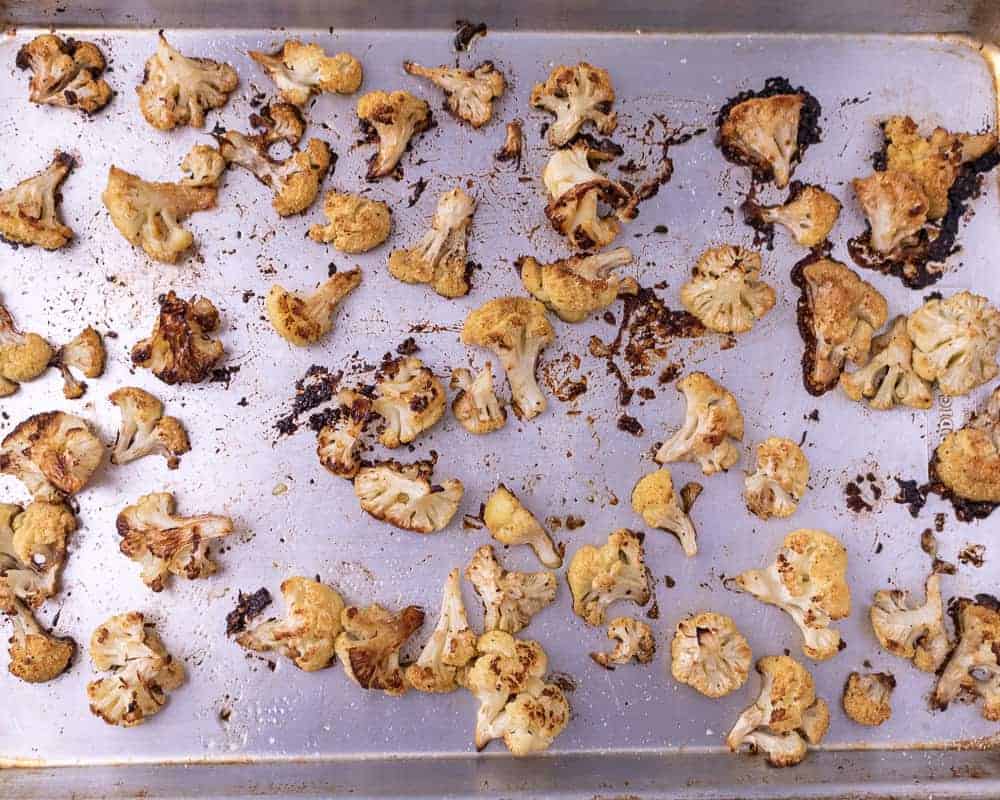 How do I know when cauliflower is done cooking? Cauliflower takes a bit longer to cook than broccoli. It also needs to really take on some color to get flavorful. Cauliflower is done when it is fork tender AND the side touching the sheet tray is browning. The browning is all the lovely flavor you get from roasting cauliflower. Be patient, it's worth it.
Do you really need that much olive oil? The olive oil is what helps the cauliflower brown. A lot of it will be left on the pan but you need to make sure that it's well coated in olive oil and salt to be flavorful.
How do you cut cauliflower? Cauliflower is similar to broccoli, but messier. I start with a head of cauliflower and peel back as many of the leaves that are attached to the base as possible. I Then use a knife and cut the entire head of cauliflower in head through the stem. Taking one of the halves, I use a chef's knife to cut out the core and discard this. I then use my hands to break off the florets. If the florets are very large I make a small cut at the stem of the floret but not going into the floret. I then put it apart with my hands. This may take longer than cutting it up with a knife but it's the only way I can avoid getting small pieces of cauliflower everywhere.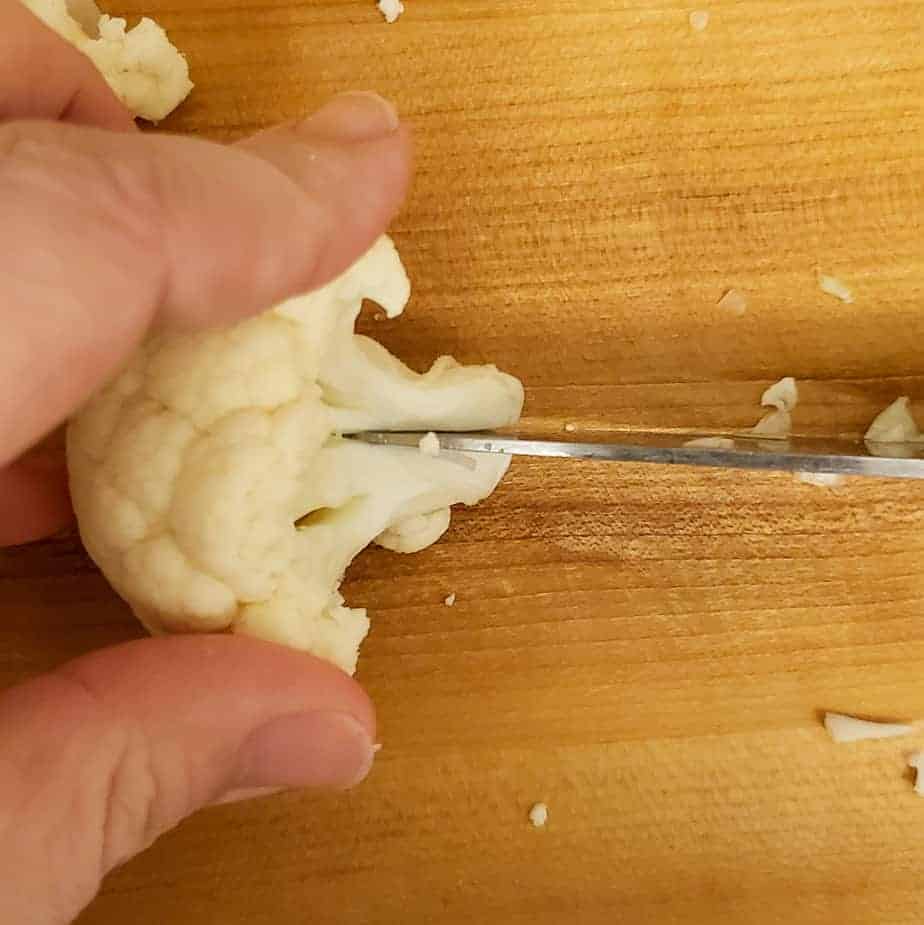 Ingredients
How do you buy cauliflower? Look for a white or cream colored head of cauliflower. There should be no soft spots and the leaves should look fresh, not dry or wilted.
How do you store fresh cauliflower? Keep fresh cauliflower uncut in the fridge wrapped lightly in plastic wrap and it should stay fresh for up to two weeks.
Where do you get garlic paste? I buy garlic paste in the produce section of my local grocery store and I buy Gourmet Gardens brand. It's a tube that I keep in the fridge and it's perfect for roasted vegetables. You can also finely grate garlic to get the same affect. The finer the garlic, the more it sticks to the florets of cauliflower.
You May Also Like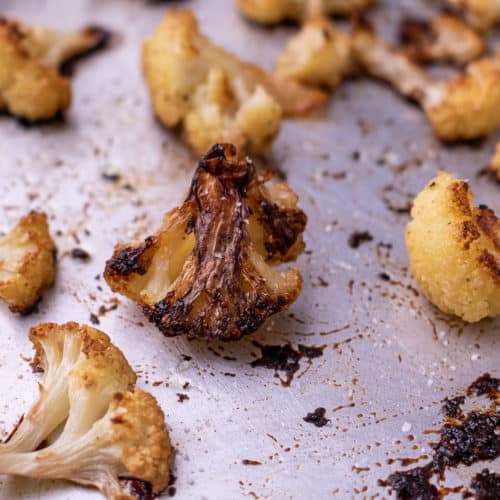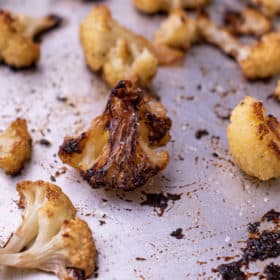 Roasted Cauliflower with Garlic
Roasted cauliflower with garlic is an easy and tasty low carb and vegan side dish to add to your favorite protein for dinner or meal prep. Roast cauliflower florets in a single layer on a sheet tray to get the best flavor and color!
Print
Pin
Save
Saved!
Ingredients
1

head of cauliflower

cut into florets

3-4

tablespoons

of olive oil

2

tablespoons

of garlic paste or 6 finely grated cloves

Kosher salt to taste
Instructions
Preheat oven to 375 F.

Remove leaves from base of the cauliflower. Cut cauliflower in half through the stem. Remove the core with a sharp chef's knife and tear florets off with hand to avoid mess.

If individual florets are too large make a small cut on the stem of the floret and finish tearing with hands.

Toss all florets in a large mixing bowl with olive oil, garlic paste and kosher salt to taste. Ensure garlic is evenly distributed and coating the florets.

Place cauliflower florets in a single layer with cut side down on sheet tray. Do not overcrowd the pan or you will steam the cauliflower instead of roasting it.

Roast for 40-50 minutes until fork tender and the cut side has a nice brown color.

Enjoy with a variety of protein options or add to salads or soups.
Notes and Accommodations
Cut florets into even sized pieces to ensure even cooking.
Don't overcrowd the pan with florets or you'll steam the vegetables instead of browning them.
Always keep cauliflower in a single layer on a sheet pay for maximum color and flavor.
Cauliflower florets are done with fork tender and have good brown color on the side touching the sheet pan.
Store cooked cauliflower in the fridge for three to four days in an airtight container.