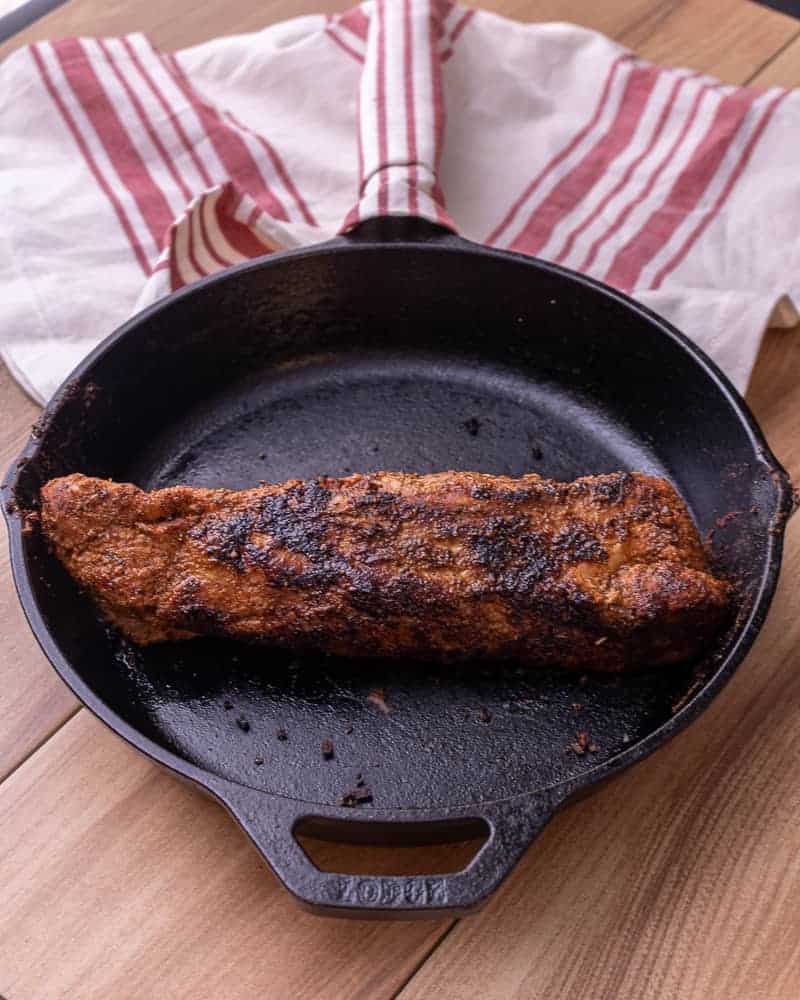 Tips and Tricks
What color is cooked pork? A lot of people overcook their pork. Pork is perfectly safe to be eaten a little pink in the middle. I cook the pork tenderloin until it reaches an internal temperature of 145F and let it rest for 10 minutes.
What to serve with cajun pork tenderloin? Cajun pork tenderloin is a great weeknight dinner that can be served with roasted vegetables like roasted zucchini with balsamic and hazelnuts, with rice or even on a spinach salad.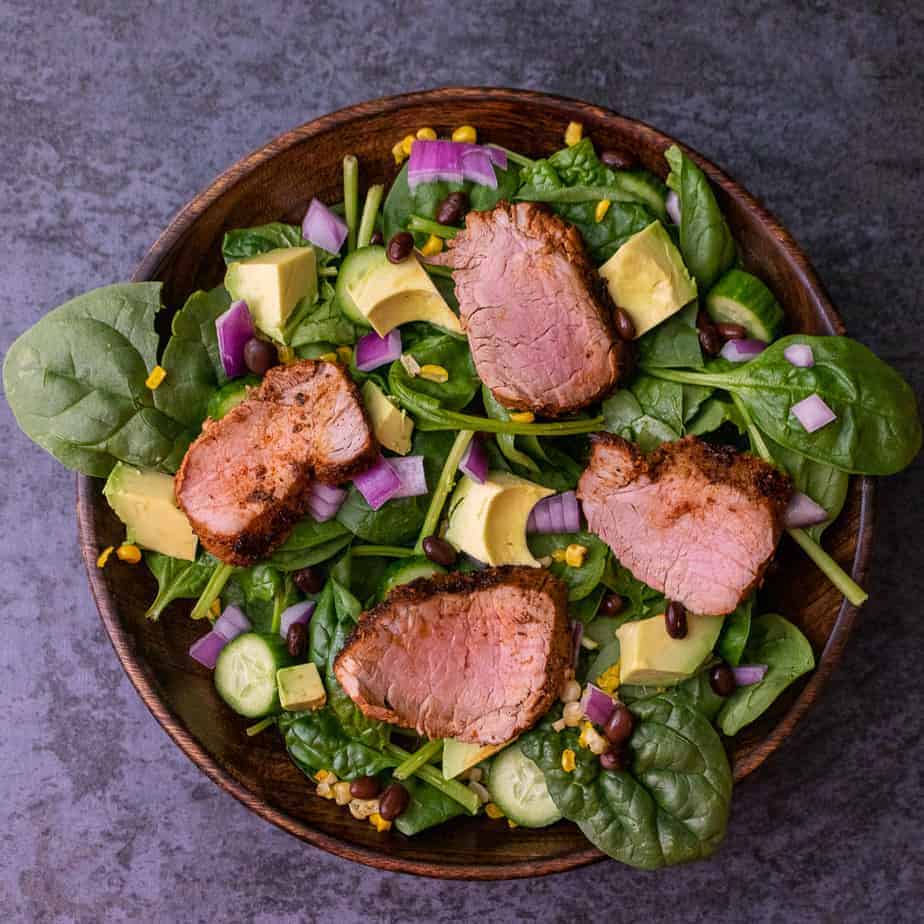 How to remove silverskin on pork tenderloin. Silverskin is thin connective tissue on pork tenderloin. Silverskin is actually silver and is only on one side of the pork tenderloin and is typically at the thicker end of the tenderloin. To remove this, take a sharp knife (preferably a boning knife) and gently slide the knife between the silverskin and the rest of the pork tenderloin. Try to stay very close to the silverskin to keep the tenderloin intact. Discard the silverskin once removed. It goes about half way down the tenderloin.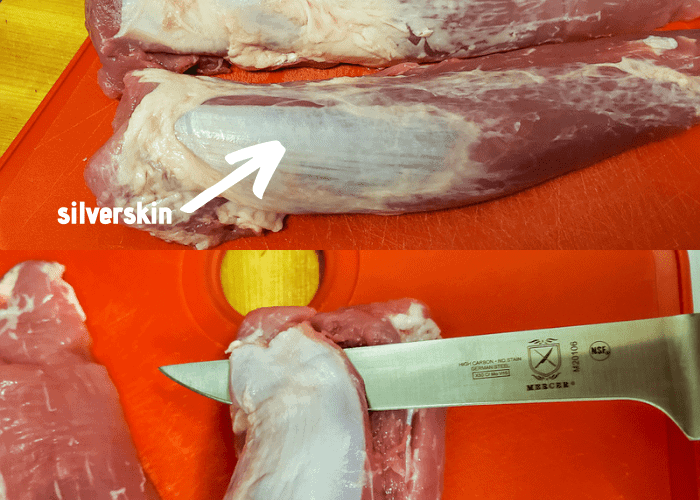 Ingredients
What type of cajun seasoning do you use? I buy McCormick Gourmet Cajun seasoning at the grocery store. The bottle has a green top on a clear bottle. I've tried to use other cajun seasonings and they are often very salty. When choosing a cajun seasoning, enjoy the first ingredient is not salt or make your own.
Method
How do you make cajun pork tenderloin? To make cajun pork tenderloin, first start by preheating a 10-12 in cast iron skillet over medium heat and preheat the oven to 425F. While the skillet and oven are preheating, remove the silverskin and pat the pork tenderloin dry. Lightly season the pork tenderloin with salt and then add about 4 teaspoons of cajun seasoning. Once the pan is hot enough, lightly rub 1 tablespoon of avocado or canola oil onto the pork tenderloin. Sear the pork tenderloin for 2-3 minutes on each side until all four sides are seared. After about 12 minutes, place the pork tenderloin in the cast iron skillet into the oven for 6-8 minutes or until it reaches 145F. Remove the pork tenderloin from the skillet and allow to rest for 10 minutes on a cutting board. Slice into medallions and serve.
Do you need to sear pork tenderloin? Searing the pork tenderloin adds extra flavor to it. You can definitely make the recipe without searing the pork but it will take longer to cook in the oven and you will lose the additional flavor from the sear.
Do you need to remove silverskin on pork tenderloin? The silverskin is unpleasant in texture and adds no extra taste to the recipe. It is best to remove this before cooking cajun pork tenderloin.
What temperature do you cook pork tenderloin to? To ensure your pork tenderloin is still juicy, cook until the pork tenderloin reaches an internal temperature of 145F.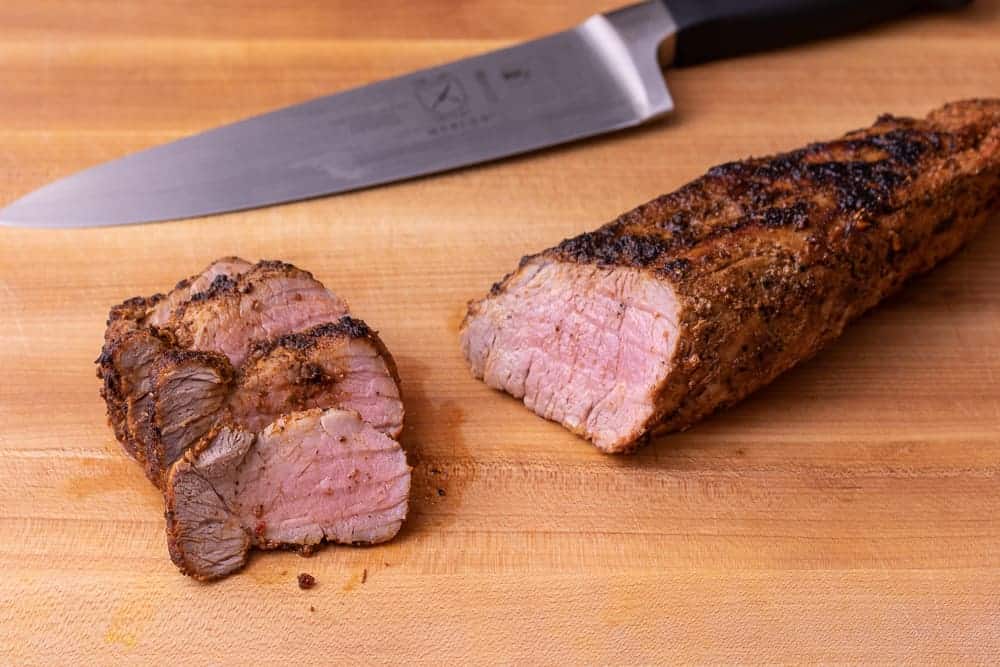 Substitutions
What's the difference between pork tenderloin and pork loin? These are two different cuts of meat from the same animal. They are not interchange pieces of meat. Pork tenderloin is a cut that is very tender, lean and usually between 1-1.25 pounds. A pork loin is much thicker and can vary in size and fat content.
Do you have to use cast iron for this recipe? If you don't have a cast iron skillet, you can use any other oven safe pan like a stainless steel pan or dutch oven. If none of your pans are oven safe as well as stove top safe, you can always sear the pork tenderloin in one pan and finish roasting in an oven safe pan.
You May Also Like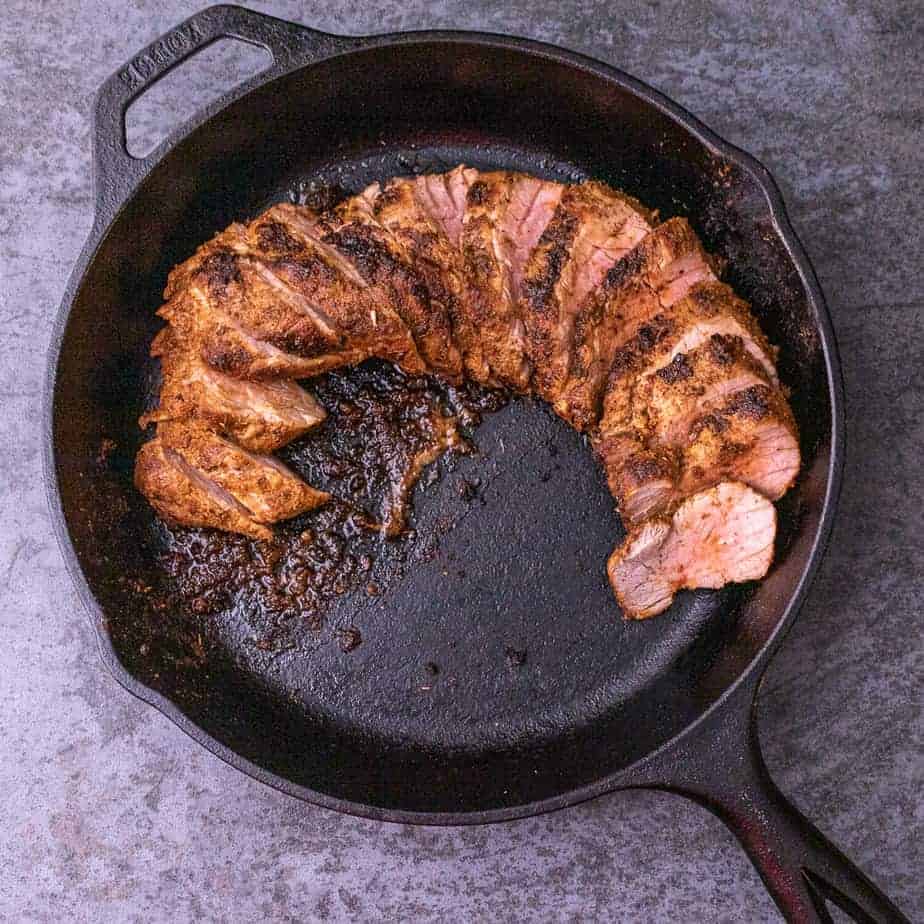 Cajun Pork Tenderloin
Pan seared and oven roasted cajun pork tenderloin in a cast iron skillet is an easy weeknight dinner. This easy pork tenderloin recipe results in juicy and flavorful pork.
Print
Pin
Save
Saved!
Ingredients
1

pork tenderloin

1-1 ¼ pounds

Kosher salt to taste

4

teaspoons

of cajun seasoning

1

tablespoon

avocado or canola oil
Instructions
Begin by preheating a 10-12 inch cast iron skillet over medium heat. Also preheat the oven to 425F.

While the pan and oven are preheating, remove the silverskin with a sharp boning knife.

Pat the pork tenderloin dry and lightly season with kosher salt. Add about 4 teaspooons of cajun seasoning to the pork tenderloin until generously coated.

Rub the oil onto the pork tenderloin and place into the preheated cast iron skillet. You should hear a sizzle immediately. If you do not, take the pork tenderloin out and allow the pan to preheat for 5 more minutes. Sear one side for 2-3 minutes. Turn the pork tenderloin to the next side and repeat until all four sides have been seared.

Place pork tenderloin, still in the cast iron skillet, in the oven for 6-8 minutes or until the pork reaches an internal temperature of 145F.

Once the pork has finished cooking, remove the skillet from the oven and allow the pork tenderloin to rest on a cutting board for 10 minutes. After 10 minutes, slice pork tenderloin into medallions and enjoy with your favorite sides.
Notes
Be sure to remove the silverskin before cooking pork tenderloin.
Pork tenderloin will be slightly pink in the middle when cooked to 145F. This is perfectly safe to eat and keeps the pork nice and juicy.
Pork tenderloin and pork loin are not interchangeable.
Join our Discord Server!
Chat about the monthly theme, get recipe troubleshooting and post what you made for dinner and engage with the community!