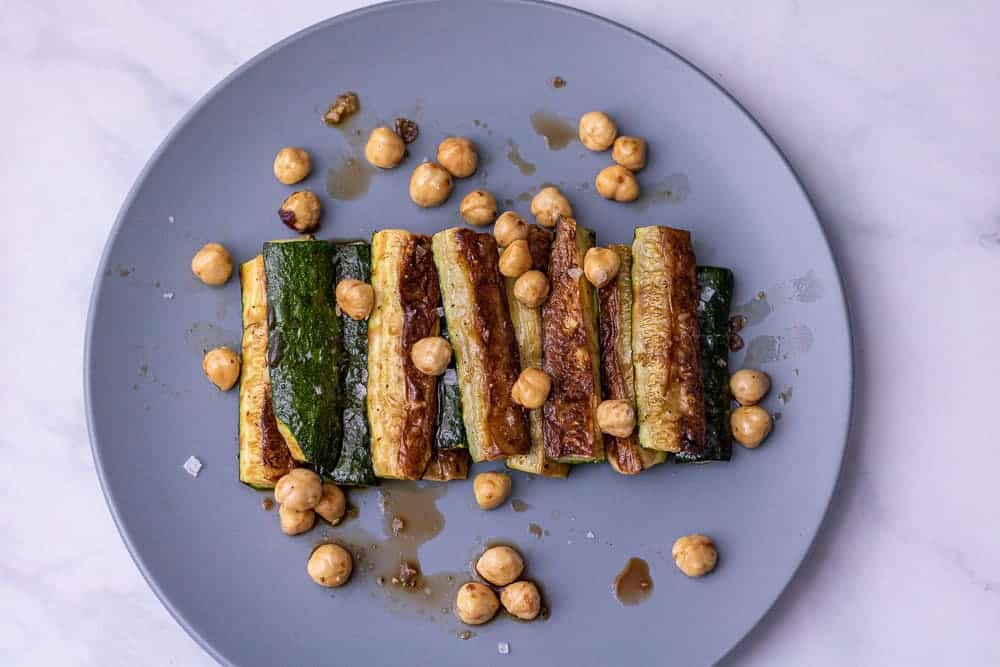 Method
How do you make roasted zucchini in the oven? First preheat your oven to 375F. Then wash and prep you zucchini by cutting off the stem ends. Next, chop the zucchini in half down the middle. Take these pieces and cut each half in half again lengthwise to make spears. Toss the pieces in olive oil to coat and season to taste with salt and pepper. Place these pieces with one cut side down onto a baking sheet. Be sure not to crowd the pan to prevent soggy zucchini.Finally, place the zucchini on the lowest rack and bake for 25-30 minutes until caramelized and fork tender.
How do you toast hazelnuts? If your hazelnuts are already toasted, you can skip the toasted portion. If you buy raw hazelnuts, you can place them in a single layer on a sheet tray. No need for oil or anything. Place them in a 300F oven for 10-15 minutes until fragrant and turning golden brown. Allow to cool. I season toasted hazelnuts as I need them.
How do you avoid soggy zucchini? No one likes soggy zucchini. There are a few ways to avoid soggy zucchini. First, make sure that you do not overcrowd the sheet tray. If you're in doubt, roast the zucchini in batches. If the sheet tray is overcrowded, it will steam the zucchini. Another way is to make sure that the zucchini is in a single layer and a cut side of each piece is in contact with the sheet tray. Finally, I put the zucchini on the bottom rack to ensure maximum caramelization.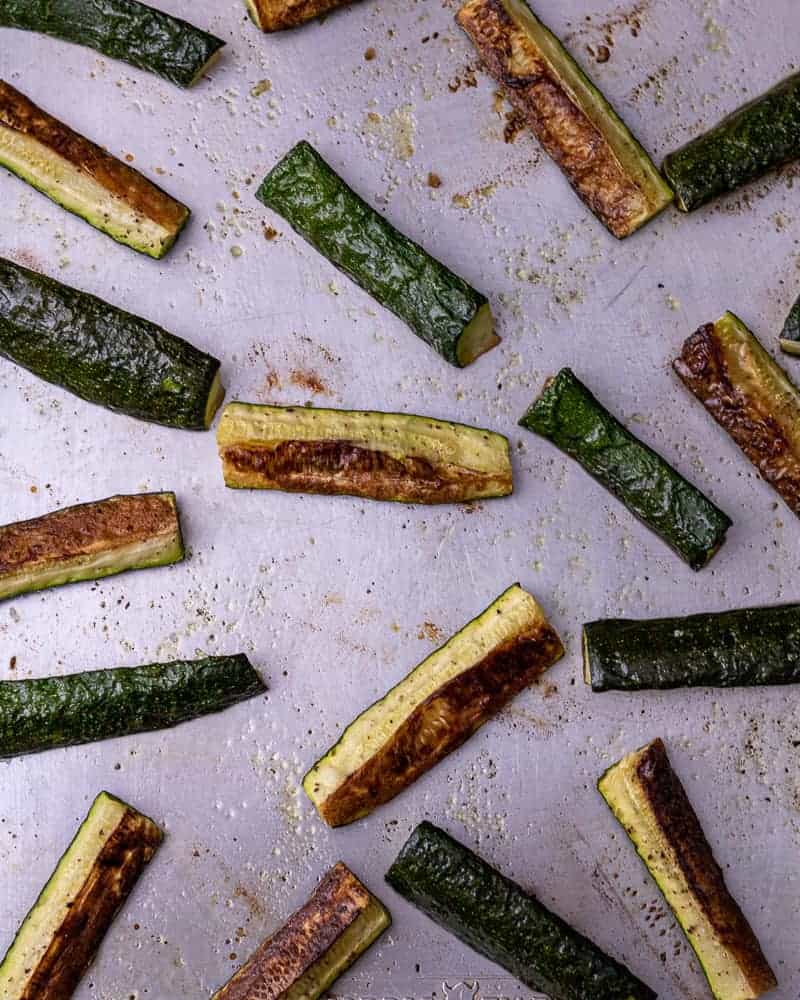 Zucchini Tips
How do you buy zucchini? When buying zucchini, look for smaller pieces, usually about six inches in length. Larger zucchini can be watery and lack flavor. Always look for a rich colored zucchini which will result in a more flavor. Finally, make sure that the zucchini is firm with no soft spots and doesn't feel slimey.
How do you store zucchini? Store zucchini outside of a plastic bag in the fridge for up to a week. Store the zucchini uncut to keep it fresh as possible. Soft, mushy or slimey zucchini should be thrown away.
Do you need to peel zucchini? Nope! I just cut off the stem ends and keep the skin on. It has a lot of nutrients and vitamins.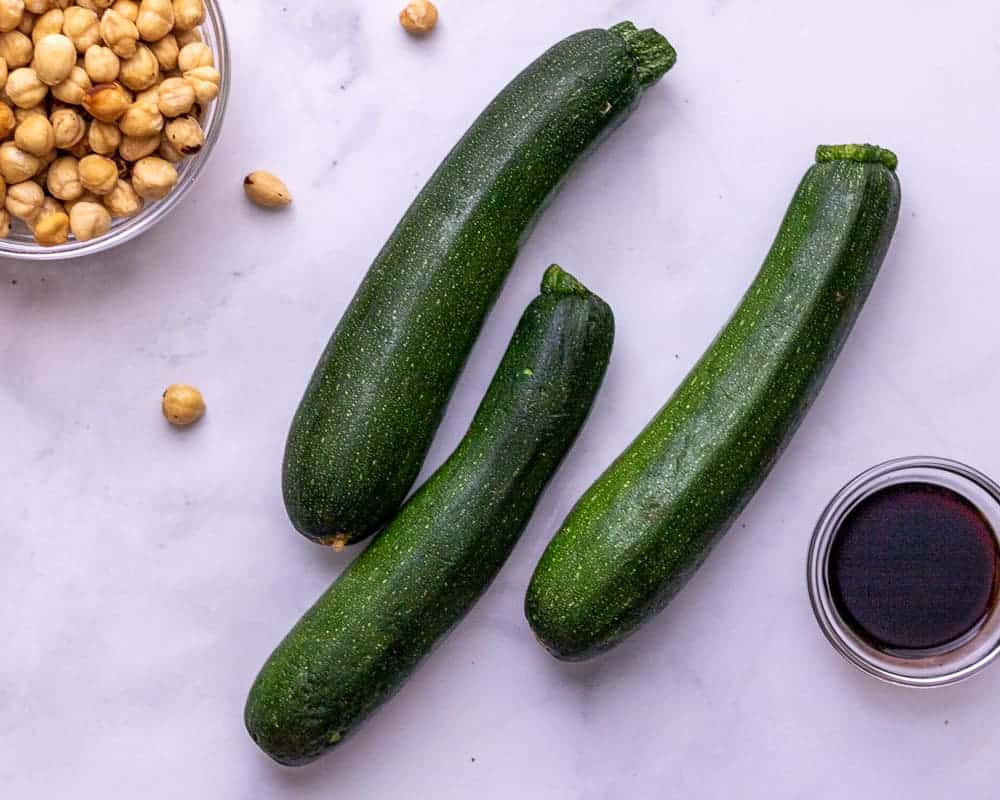 Hazelnut Tips
How do you store toasted hazelnuts? I buy more than I need for a recipe and roast all the hazelnuts. I then freeze the roasted hazelnuts in an airtight container. When I need them for a recipe, I grab whatever I need and bring to room temperature before using. They will last in the freezer for up to 12 months. If you're using the hazelnuts in a few days, they are fine in an airtight container on the counter.
Where do you buy hazelnuts? I found hazelnuts in the bulk section, already shelled and without skin, at my local grocery store. They may also be in the nuts section near cashews and pistachios or in the baking aisle with walnuts and pecans. Worst case scenario you can order them online.
Substitutions
Are balsamic vinegar and balsamic vinaigrette the same? No they aren't. Make sure you're using balsamic vinegar instead of the salad dressing with oil and other flavors.
You May Also Like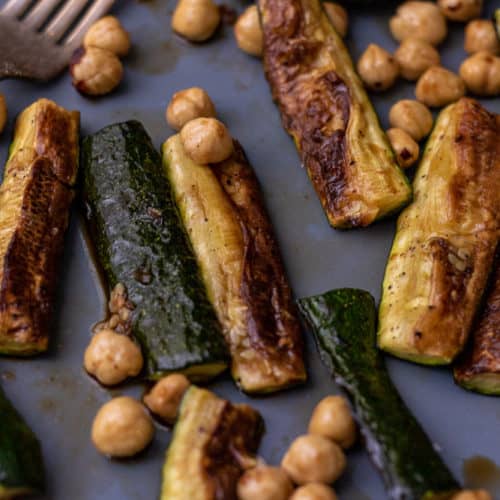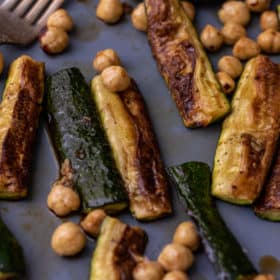 Roasted Zucchini with Balsamic and Hazelnuts
Zucchini roasted in the oven and then topped with balsamic vinegar and hazelnuts is an easy dinner side for your favorite protein. When zucchini is baked in the oven, it becomes caramelized and never soggy pairing perfectly with tangy balsamic vinegar and crunchy hazelnuts.
Print
Pin
Save
Saved!
Ingredients
3

whole zucchini

2

tablespoons

olive oil

Kosher salt to taste

Black pepper

freshly grated, to taste

1-2

tablespoons

of balsamic vinegar

½

cup

toasted hazelnuts

whole and shelled
Instructions
Preheat the oven to 375F.

Prep zucchini by cutting off both stems on each zucchini. Next, chop each zucchini in half down the middle. Take each half and cut them in half lengthwise to make spears.

Put the spears into a large mixing bowl and add the olive oil. Coat the zucchini with olive oil and season with salt and pepper to taste.

On a baking sheet, add zucchini pieces in a single layer with a cut side in contact with the baking sheet. Be sure to avoid overcrowding the pan.

Place baking sheet on the bottom rack and roast for 25-30 minutes until the zucchini is caramelized and fork tender.

Allow zucchini to rest for 5 minutes on the tray.

In a bowl, toss zucchini gently with balsamic vinegar and toasted hazelnuts. Serve immediately with your favorite protein.
Notes and Accommodations
If you need to toast hazelnuts, preheat the oven to 300F. Place the hazelnuts in a single layer on a sheet tray and roast for 10-15 minutes until fragrant and toasted.
Don't overcrowd the pan, this will help avoid soggy zucchini.