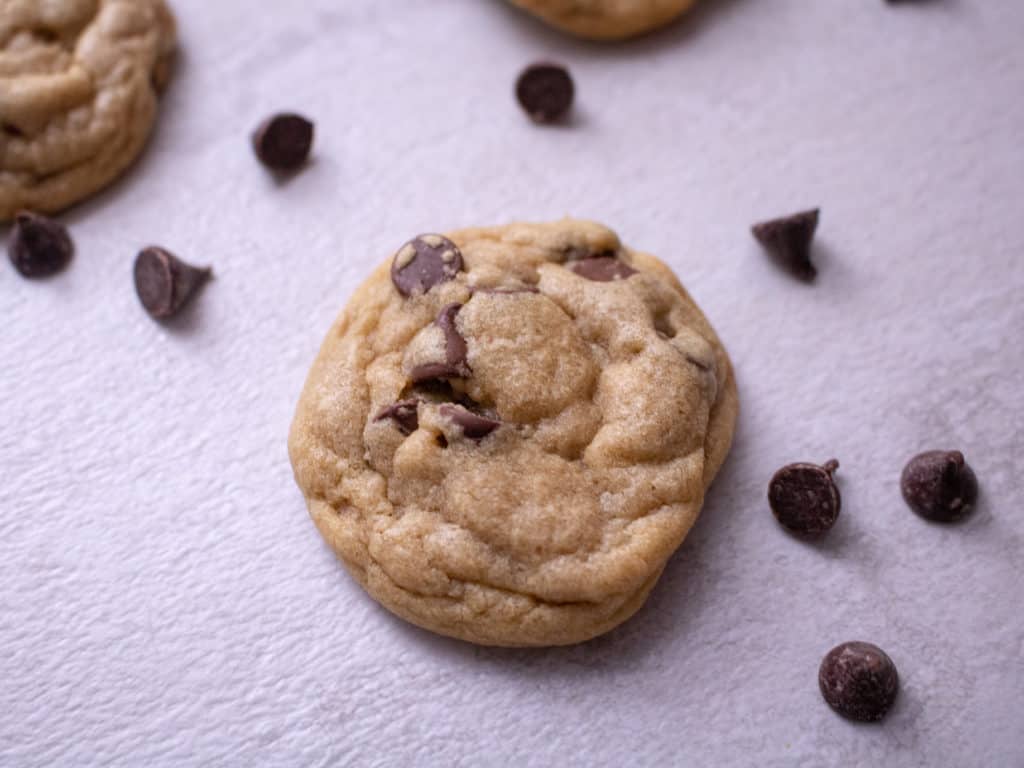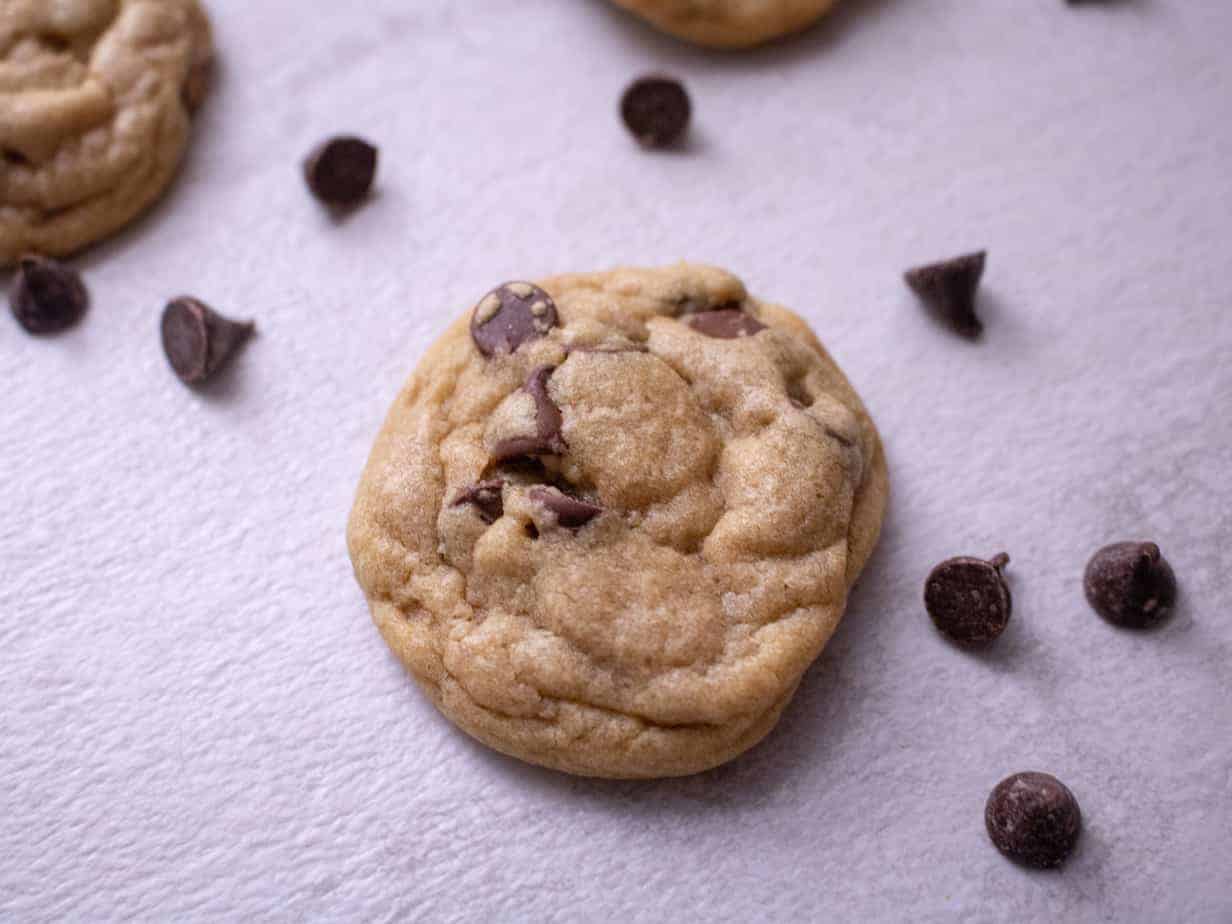 Tips and Tricks
How do you keep cookies soft? One of the ways to keep cookies dough soft is to have more brown sugar than white sugar in the dough, which is why it's a 3:1 ratio of brown sugar to white sugar. Another way to keep cookie dough soft is to not overcook them. You should not cook cookies until they are hard in the oven but yet slightly brown around the edges. The center will be soft but will harden as the cookie cools. Finally, the last way I keep these cookies soft is by adding the instant vanilla pudding to the dough. It keeps the cookies extra soft even if they are a day or two old.
Should you rest cookie dough? There are two reasons to let your cookie dough rest. The first one is that it helps to develop the flavor. The longer the dough rests, the more the ingredients meld together. The other reason is so that your cookies don't spread too much in the oven. If the butter is too warm, the cookies will spread too much.
Method
What do you mean by room temperature butter? Does that matter? Room temperature butter is butter that is easily spreadable but not melted. How long it takes to warm up, depends on how warm your kitchen is. The butter takes longer to warm up in my kitchen in the New England winters, so I just take it out earlier in the day or while I'm making dinner.
It absolutely matters that the butter is room temperature. You want the butter to mix well with the sugars to keep your dough nice and soft. If the butter is too cold, you'll get lumps of butter throughout your dough and it takes FOREVER to get them out. Just be patient and let it come up to room temperature. It is worth it.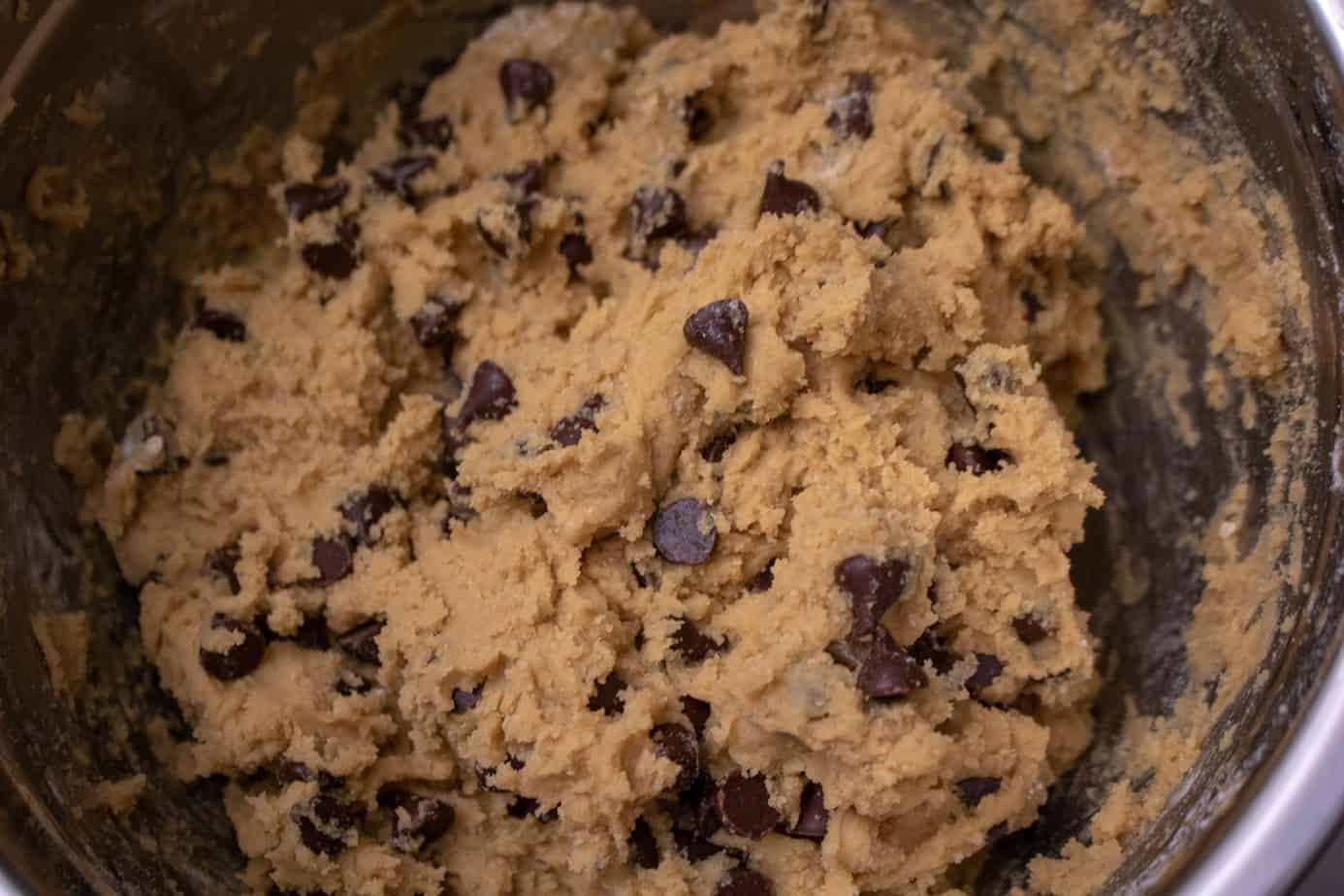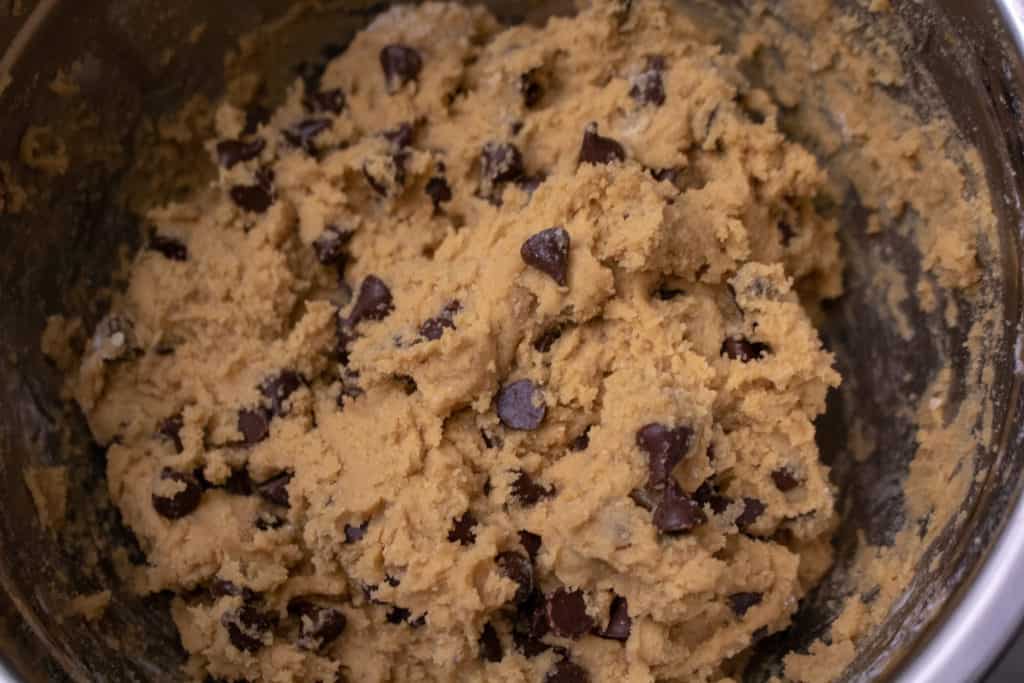 Fully mixed, raw cookie dough
How do you make soft and chewy chocolate chip cookies? First start by creaming room temperature butter with both brown sugar and white sugar with a hand mixer or stand mixer in large mixing bowl. Incorporate the vanilla pudding mix, eggs and vanilla until uniform. In a medium mixing bowl, combine and mix flour, baking soda and salt. Slowly mix the flour mixture into the butter and sugar mixture. Combine until all the flour has been incorporated. Using a wooden spoon, work in chocolate chips until uniformly distributed throughout the dough. Allow dough to rest for at least 30 minutes in the fridge. While dough is resting, preheat oven to 350F and set up one sheet tray with parchment paper or a silicone baking mat. After 30 minutes, portion out one ounce cookies and roll into a ball. Place on cookie sheet about one inch apart. Repeat until cookie sheet is full and bake for 10-12 minutes until edges are slightly brown. Let cool for 10 minutes and then transfer to a wire rack. Continue with the rest of the cookie dough until all baked. Store in an airtight container for up to five days on the counter.
Storage
How do you store baked chocolate chip cookies? Store baked cookies in an airtight container on the counter for up to five days.
How do you store leftover cookie dough? Leftover cookie dough can be stored in the fridge for up to three days or in the freezer for three months. To store cookie dough in the fridge, make sure it is in an airtight container and has plastic wrap over the dough so it doesn't dry out. Store portioned out cookie dough in an airtight container in the freezer.
How do you freeze chocolate chip cookie dough? To store cookie dough in the freezer, portion out one ounce cookie dough balls and place on a parchment paper lined sheet tray. Continue until all dough is portioned out. Make sure the cookie dough balls aren't touching each other or they will freeze together. Allow to freeze solid. Then transfer them to an airtight container like a ziploc or tupperware container. Cook from frozen by adding one to two minutes of cook time or allowing to thaw in the fridge.
Substitutions
Can you use the cheapest chocolate chips I can find? Your cookies will taste okay if you use the cheapest chocolate available. However, not all chocolate is created equal and I prefer to use "Ghirardelli Semi-Sweet Chocolate Premium Baking Chips." You can easily use dark chocolate or white chocolate as well, but I'd recommend you spend the extra dollar or two on better quality chocolate chips.
Can you scale this recipe down for just 2-3 people? I would make the entire batch of cookies and then bake 2-3 cookies for each person. Then freeze the rest of the dough in usable portions. Defrost whenever you want cookies or bake from frozen! The flavor will be even better too.
You May Also Like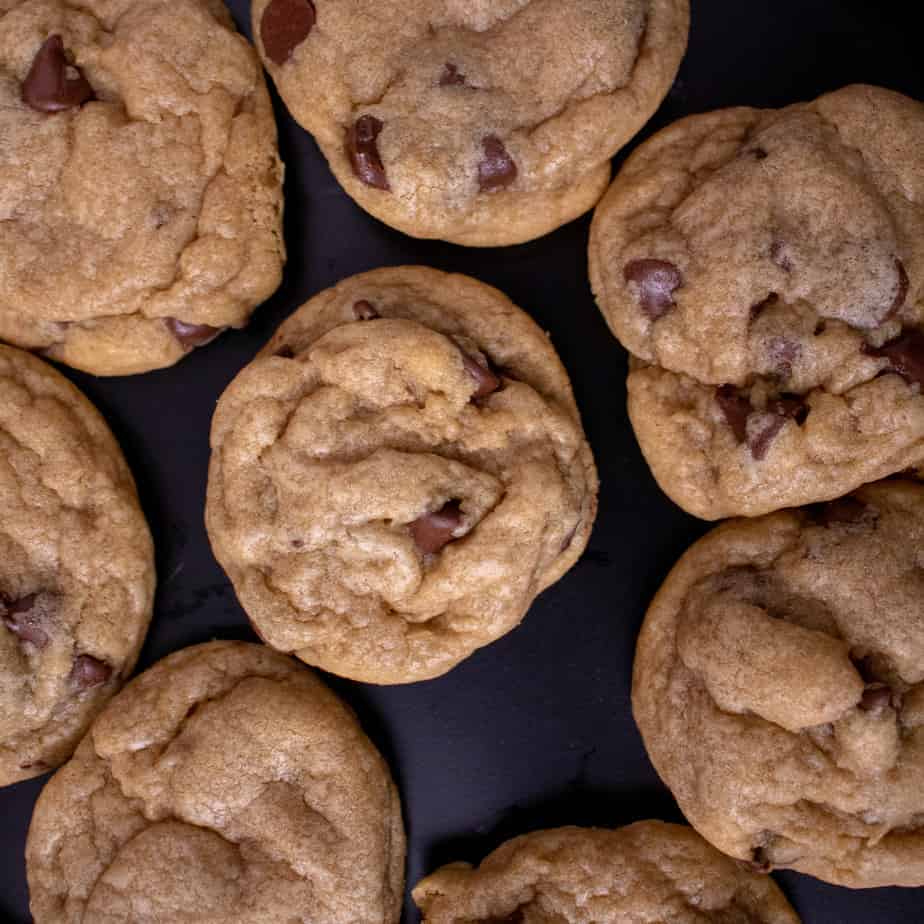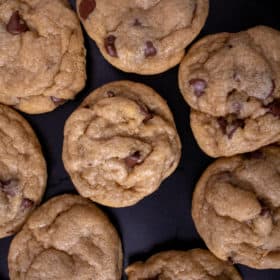 Always Soft Chocolate Chip Cookies
This Always Soft Chocolate Chip Cookie recipe is perfect for homemade, chewy chocolate chip cookies from scratch. Made with instant vanilla pudding and a chilled dough, these cookies stay soft and gooey long after they cool.
Print
Pin
Save
Saved!
Ingredients
2

sticks unsalted butter

room temperature

¾

cup

packed dark brown sugar

¼

cup

white sugar

1

package

3.4 oz instant vanilla pudding mix

2

eggs

beaten

1

teaspoon

vanilla extract

2 ¼

cups

AP flour

1

teaspoon

baking soda

1

teaspoon

kosher salt

1 ½ - 2

cups

good quality semi-sweet chocolate chips
Instructions
In a large mixing bowl, cream together (on low with either a hand or stand mixer) room temperature butter, brown sugar and white sugar for 1-2 minutes. Mixture should be completely homogenous and smooth, kind of like wet sand.

Add in the instant vanilla pudding mix and combine well on low.

Next, add both eggs and vanilla extract into the mixing bowl and fully combine on low. Mixture should be soft and uniform.

In a separate mixing bowl, combine flour, baking soda and salt, mix lightly to incorporate.

Slowly add the flour mixture to the large mixing bowl. Continue to mix on low until all the flour is just incorporated. Do not over mix the dough. There should be no unincorporated flour and dough should come together but still be soft.

Start with 1 ½ cups of chocolate chips and mix by hand with a spatula or wooden spoon until they are dispersed throughout the dough. If desired, add remaining chocolate chips and combine into dough until just together.

Cover the large mixing bowl and place in the refrigerator for at least 30 minutes and up until 24 hours.

While cookie dough is chilling, preheat the oven to 350 F and line a sheet tray with parchment paper or a silicone non stick mat.

After at least 30 minutes, portion out 1 ounce cookies and roll into a ball. If you do not have a scale, use an ice cream scoop or spoon to portion out even amounts of cookie dough. This helps the cookies bake evenly.

Add cookie dough balls about 1 inch apart on a sheet tray and bake 10-12 minutes until slightly brown around the edges. The cookies will be soft but will set up after cooling.

Allow the tray to cool for 10 minutes before transferring cookies to a cooling rack.

Continue to portion out cookie dough until all the cookie dough is baked. If the cookie dough gets too soft, put back into the refrigerator for 15 minutes until firm.
Notes and Accommodations
Store baked cookies in an airtight container for up to 5 days.
Freeze extra raw cookie dough in 1 ounce portions on parchment paper on a sheet tray. Ensure they aren't touching and allow to fully freeze. Once frozen, transfer to a ziploc or other airtight container.
Cookies can be cooked from frozen but add 1-2 minutes to cooking time.
Inspired by: https://www.chef-in-training.com/pudding-cookies/
Originally published December 24, 2018. Reposted with new tips and tricks on November 17, 2019