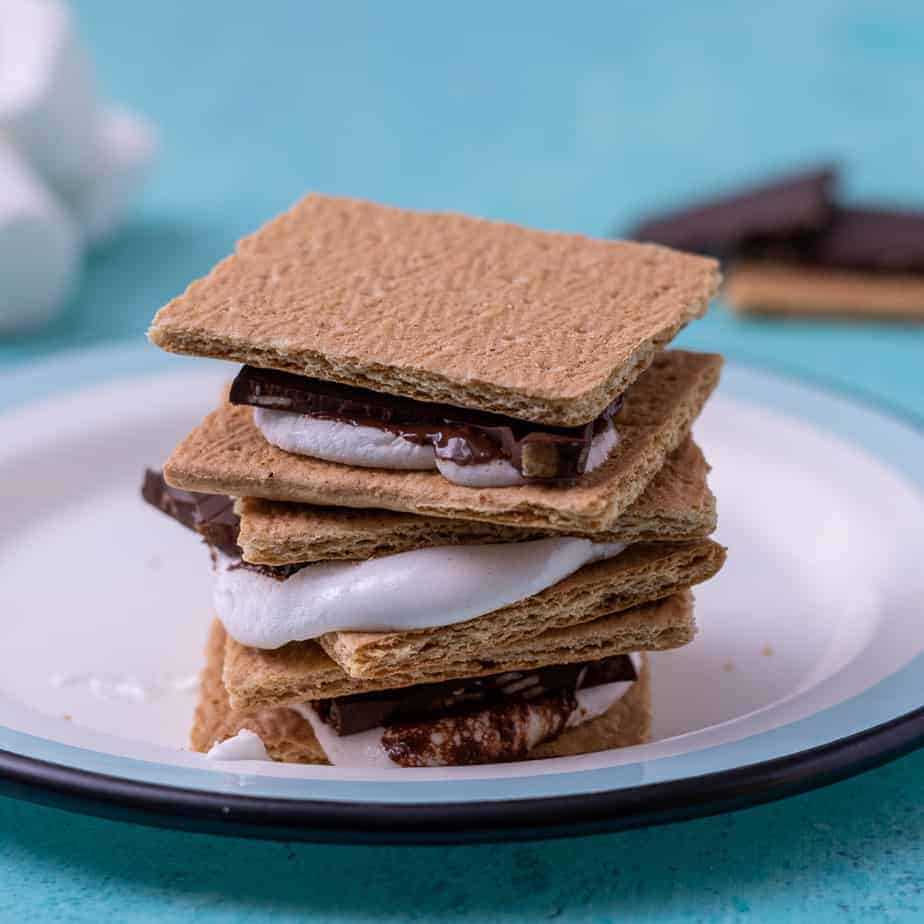 Tips and Tricks
Can you make these ahead of time? These need to be eaten almost immediately otherwise they lose their texture and turn into a very sticky and hard to eat snack. I would not recommend making these ahead of time, but making them as you need them. Because they only take two minutes to cook, it should be easy to crank out a few rounds quickly.
Why make s'mores in the air fryer? S'mores are typically made around a campfire in the summer. However, if you don't like camping or don't have access to a campfire, this is a quick and easy dessert to satisfy the iconic summer treat craving that is a roasted marshmallow with melted chocolate sandwiched between graham crackers. This dessert is made in two minutes, making it the ultimate, homemade sweet snack. Another bonus is that there are no bugs indoors (hopefully!!)
Method
How do you make s'mores in the air fryer? Start by preheating your air fryer to 330 F. Next, crack two graham crackers in half so you have four squares. Tear one large marshmallow in half so each half has a sticky end. Stick one half of the marshmallow on one square and repeat with the other marshmallow. You should have two graham cracker squares with nothing on them and two with marshmallows stuck to them. Stick the two graham crackers with marshmallows inside the air fryer, marshmallow side up in a single layer. Cook for two minutes. Remove immediately with tongs and place on a plate. Top each toasted marshmallow with one square of good quality chocolate. Add the remaining graham crackers on top of the chocolate and smoosh down. Enjoy immediately.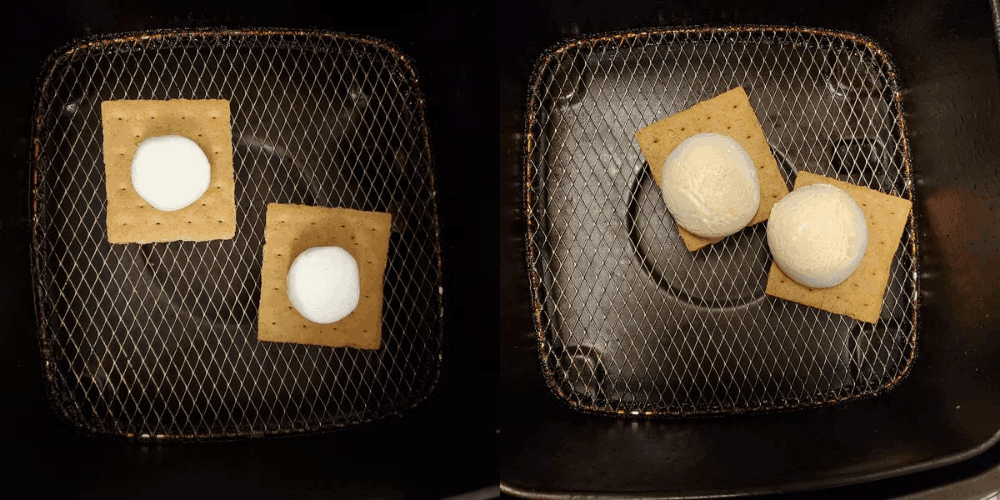 How many s'mores can you make at once? This depends on the size of your air fryer. My three quart air fryer is only big enough to make four at once. Make sure that the graham crackers are in a single layer. If you need to make more than four, cook the marshmallows in batches.
How do you avoid the marshmallows flying around? To avoid the marshmallows from flying around (they make a mess if they melt on the side) is by tearing it in half so there is one sticky end. Place the sticky end on top of the graham cracker so press down to make sure it's secured. Once I start the air fryer, I check about 15 seconds after to make sure nothing is flying around.
When do you add the chocolate to the s'mores? Make sure to add the chocolate on top of the toasted marshmallow after it has come out of the air fryer. Do not melt the chocolate in the air fryer, it will burn. The warmed marshmallow has more than enough heat to melt the chocolate.
Ingredients
What's the best type of chocolate to use for this dessert? This dessert only has three ingredients so you want to really use the best possible ingredients to make the dessert extra tasty. I recommend using a better quality chocolate bar from Lindt or Ghirardelli and avoiding the standard Hershey bar. It will taste better and they come in great flavors from chocolate and orange to a spicier Chili pepper flavored one. It's worth the extra few dollars spent on a nicer quality chocolate bar. I prefer dark chocolate but milk chocolate will work just as well.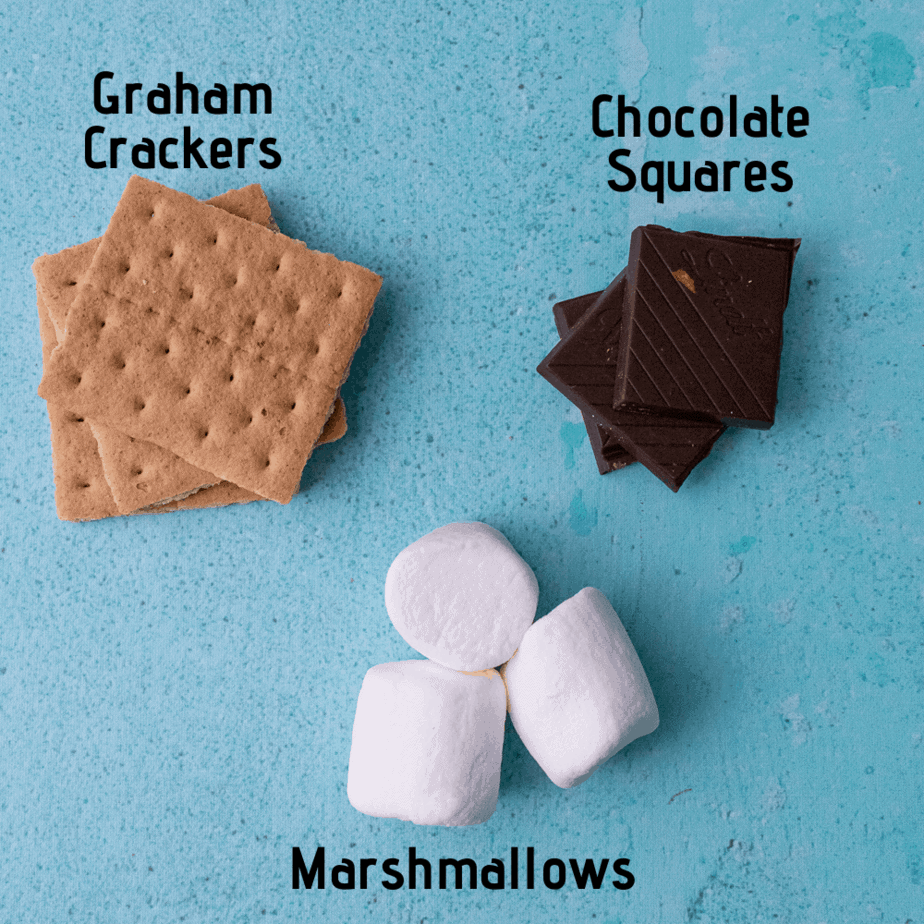 What size marshmallows do you use? I would avoid the extra small ones that you put in hot chocolate and the super giant ones sometimes marketed as s'mores marshmallows. I buy the medium to large ones that you can find in the summertime. A larger marshmallow may take longer to cook.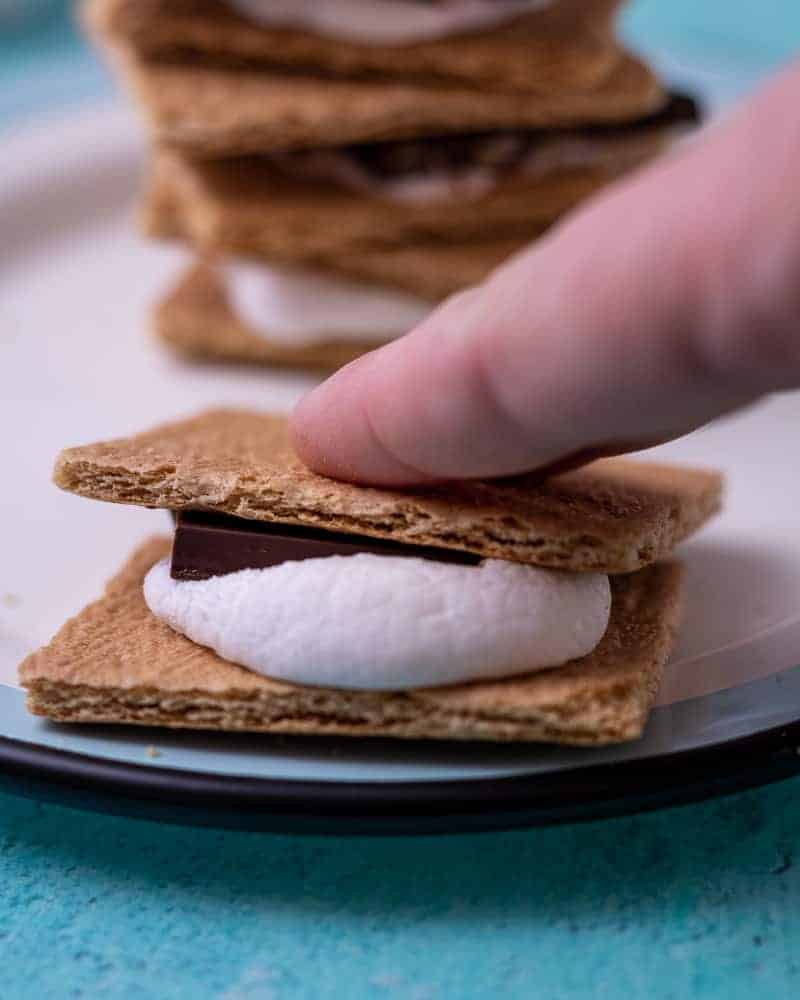 You May Also Like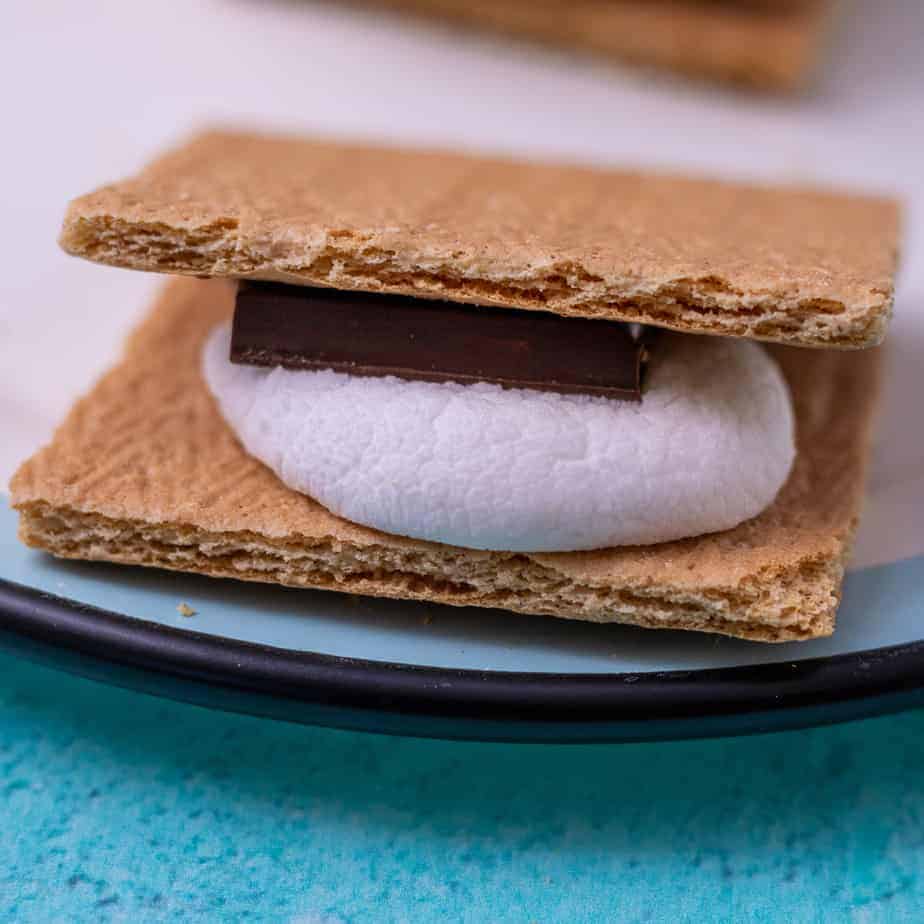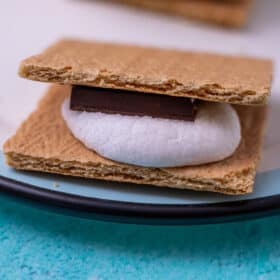 Air Fryer S'mores
A truly easy, 3 ingredient air fryer dessert, indoor Air Fryer S'mores are a delicious sweet treat with graham crackers, chocolate and melty marshmallows. A quick dessert recipe; great for one or two people without a campfire.
Print
Pin
Save
Saved!
Ingredients
2

graham crackers

cracked in half

1

large marshmallow

2

squares good quality chocolate
Instructions
Preheat your air fryer to 330 F.

While preheating, crack two graham crackers in half to form 4 squares. Tear one large marshmallow in half equally so one side is sticky.

Add each half of marshmallow to 1 graham cracker square and press down to adhere marshmallow to graham cracker. You should then have 2 marshmallow covered graham crackers and 2 plain graham crackers.

In a single layer, add the 2 graham crackers with marshmallows into the air fryer and cook for 2 minutes until the marshmallow becomes slightly toasted.

Remove carefully (I use tongs for this) and immediately add 1 square of chocolate to each toasted marshmallow. Add the remaining graham cracker squares and push down. Enjoy immediately.
Notes
Make sure you rip the marshmallow in half so one end is sticky, it will keep it from flying around while cooking.
Start with a 2 minute cook time and then increase as desired, each air fryer is a little different.
Use good quality chocolate for the best taste.
Only cook as many marshmallows as you can fit in a single layer; if necessary make in batches.
Join our Discord Server!
Chat about the monthly theme, get recipe troubleshooting and post what you made for dinner and engage with the community!