If you make rice ahead of time and chill it, this recipe is done in 30 minutes. Chilling the rice takes the longest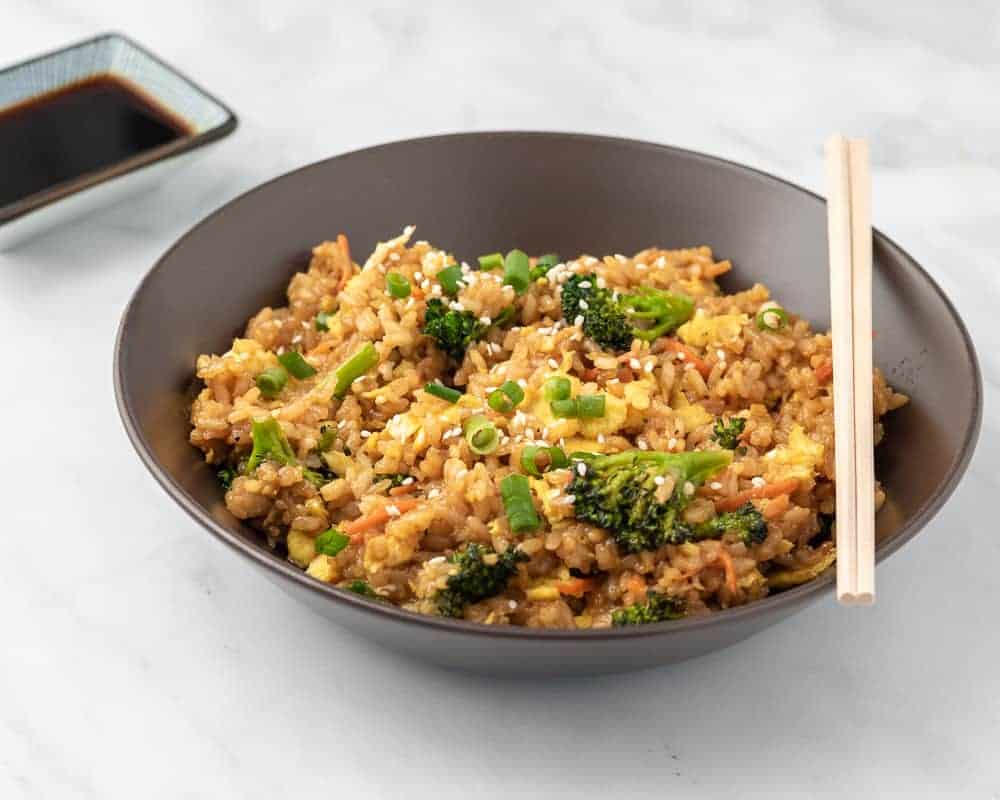 Tips, Tricks and Substitutions
Can you add protein to this to make it a full meal? Absolutely! It would be great to add in chicken, pork, beef or shrimp. Even tofu if that is your jam. I'd definitely cook the protein before adding it to the rice and add it when you add the eggs. Or could it before the eggs and cut it up into bite sized pieces.
What other vegetables could you use? Much like the protein, use whatever is in your house. If you have onions or peppers to use up, chop them up and sautee them with the broccoli. Add peapods or frozen peas when you add the carrots and just let them get warm. This is a very forgiving recipe once you've got the flavors down. To bulk it up, add as many vegetables as you want!
Can you replace oil for the butter? You won't get as much flavor or as nice of a texture with oil, but it will work. Yes it is four tablespoons worth of butter, but it's in two cups of rice, which is a large portion size.
What can you use instead of garlic paste? I always have a tube of garlic paste in the fridge. You can also mince up finely two cloves of fresh garlic or grate with a microplane two cloves of garlic.
Method
Do you really need cooled rice for this recipe? You definitely can make rice and use it immediately, but it won't have the traditional fried rice texture or flavor. You want the rice to be a bit dried out and cold so it gets a nice crispy texture. So if you're in a rush, you can make the rice and spread it out on a sheet tray and pop it in the freezer for 15 minutes or the fridge for an hour. I usually make it the night before and keep it in the fridge.
Ingredients
Can you use any type of rice? Yes, absolutely. I've done this with brown rice before. I usually use whatever I have in the house and go from there. Some people make it from leftover take out white rice, which will definitely work. The most important thing is to plan ahead a bit and make sure that it's cooled and a little dried out.
Where do you find oyster sauce? You should be able to find oyster sauce in your normal grocery store near the soy sauce and other Asian sauces/ingredients. I know they also sell vegetarian oyster sauce, but I've never tried it. If you're a vegetarian or allergic to oysters, this might be a good option.
What brands of oyster sauce do you buy? I usually stick with Kikkoman because I know they are solid and I know I like the taste. Joyce Chen and Lee Kum Kee also make good ones. It's good to have in the house and lasts a while in the fridge, so it's a good investment (usually less than $6/jar)
You May Also Like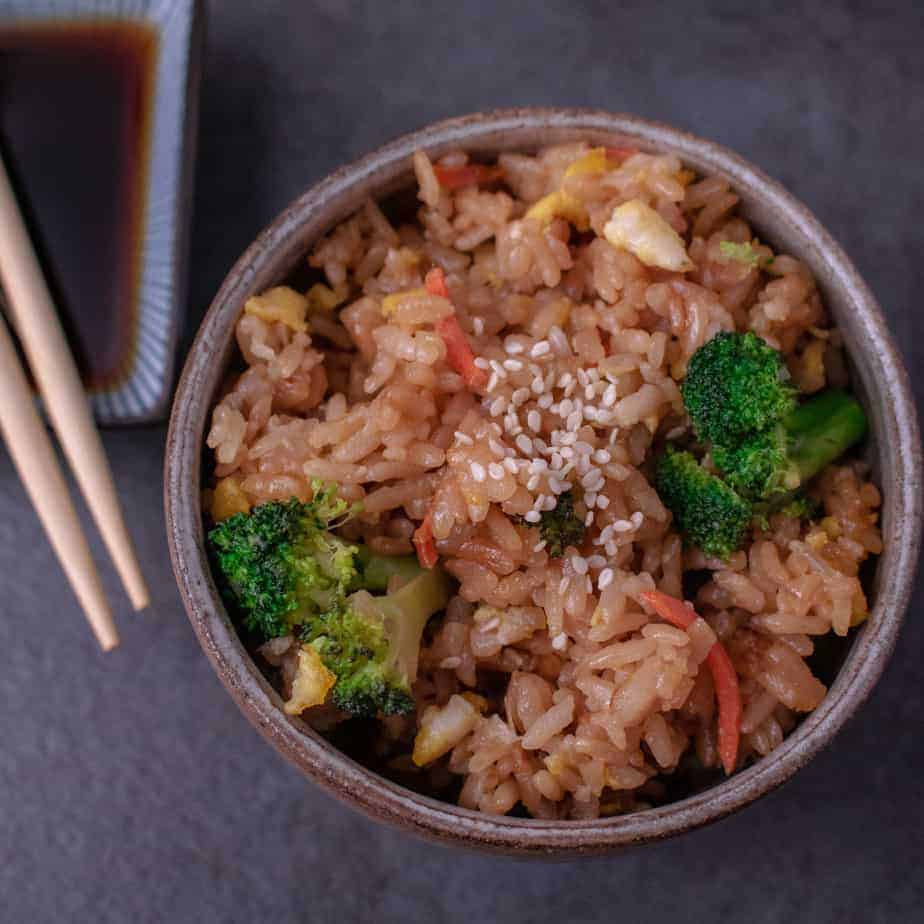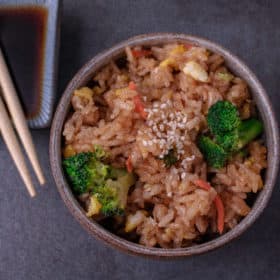 Better Than Takeout Fried Rice
Better than takeout fried rice is the ultimate "use what's in the fridge" dinner or side dish. Add in any extra chicken, pork or beef plus the odds and ends of vegetables like broccoli or carrots to bulk up the rice into a dinner. This comfort food dish is pretty easy to make with a few standard Asian staples from your pantry. You won't want the bland and flavorless takeout fried rice after trying this recipe.
Print
Pin
Save
Saved!
Ingredients
3

large eggs

beaten

1

medium head broccoli

chopped

2

tablespoons

olive oil

Kosher salt to taste

4

tablespoons

unsalted butter

divided

⅓

cup

soy sauce

¼

cup

oyster sauce

2

tablespoons

garlic paste

2

cups

already cooked and cooled rice

¼

cup

matchstick carrots

1

teaspoon

toasted sesame oil

2

bunches of scallions

Sprinkle of sesame seeds
Instructions
Preheat a large dutch oven or wok over medium heat.

While the pan is heating, beat three eggs in a separate bowl.

Chop up a medium head of broccoli and toss in olive oil and kosher salt to taste. Set aside.

Once the pan is hot, add in 1 tablespoon of the unsalted butter. Once melted, add in the eggs.

Lightly scramble the eggs with a rubber spatula until just set and then remove from the pan and place in a separate bowl.

Add in the broccoli and saute for about 2-3 minutes, stirring with a wooden spoon to ensure the broccoli doesn't burn. Cook until bright green and getting tender.

While the broccoli is cooking, mix together soy sauce, oyster sauce and garlic paste until combined in a separate bowl.

Turn the heat up to medium high heat and add the remaining butter to the pan. Allow the butter to melt and then add in all the rice and the soy sauce mixture. Be sure to mix well and evenly coat the rice with the sauce. Make sure that the rice has maximum contact with the bottom of the pan. This will give you great texture and flavor. Toss the rice mixture every minute or so to ensure it doesn't burn and the flavors continue to develop.

After about 3-4 minutes, the rice should have darkened a bit in color and become caramelized and a little crispy. Turn off the heat and add in carrots. Continue to toss the rice to warm up the carrots

Add in the scrambled eggs and break up with wooden spoon. Drizzle with sesame oil and give the fried rice a final mix.

Portion out the rice onto plates or into bowls. To finish, quickly chop up two bunches of fresh scallions using both the white and green parts. Add a sprinkle of scallions and sesame seeds to each bowl and enjoy.
Notes and Accommodations
You should really make the rice before hand and cool in the fridge overnight. However, in a pinch you can make rice according to the package instructions and put it on a sheet tray in the freezer for 15 minutes. You want cold and dried out rice.

You can make it with whatever rice you have on hand (white rice, sushi rice, brown rice, jasmine rice) just make sure it's cooled and dried out a little.

Add whatever veggies you have leftover in the fridge. Pea pods, frozen peas, onions, peppers, mushrooms would all be delightful.

Feel free to add in already cooked protein like chicken, pork, beef or shrimp to bulk this up.

Store for three to four days in an airtight container in the fridge. Great for meal prep lunches if paired with an Asian inspired protein like teriyaki salmon or chicken.