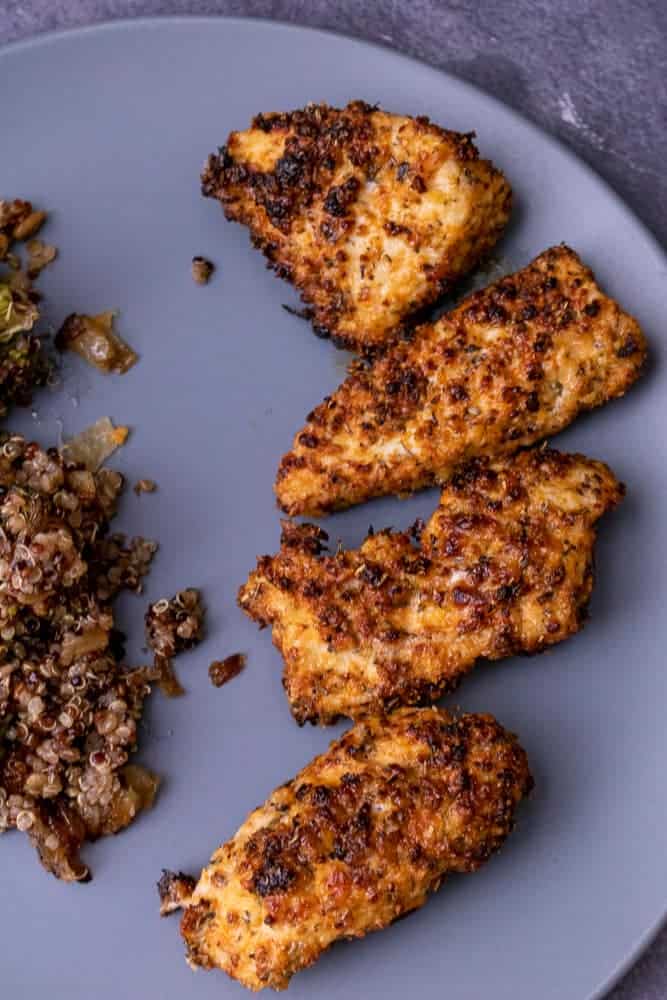 Tips and Tricks
What can you serve with parmesan crusted chicken? I like to eat this as a fancier topping for salads. It's a great low carb but delicious parmesan crusted chicken without any breadcrumbs! Realistically, this chicken can go with a variety of sides but I usually go vegetarian like roasted brussels sprouts with balsamic glaze or roasted cauliflower with garlic. Another option is a type of grain like flavored quinoa or rice.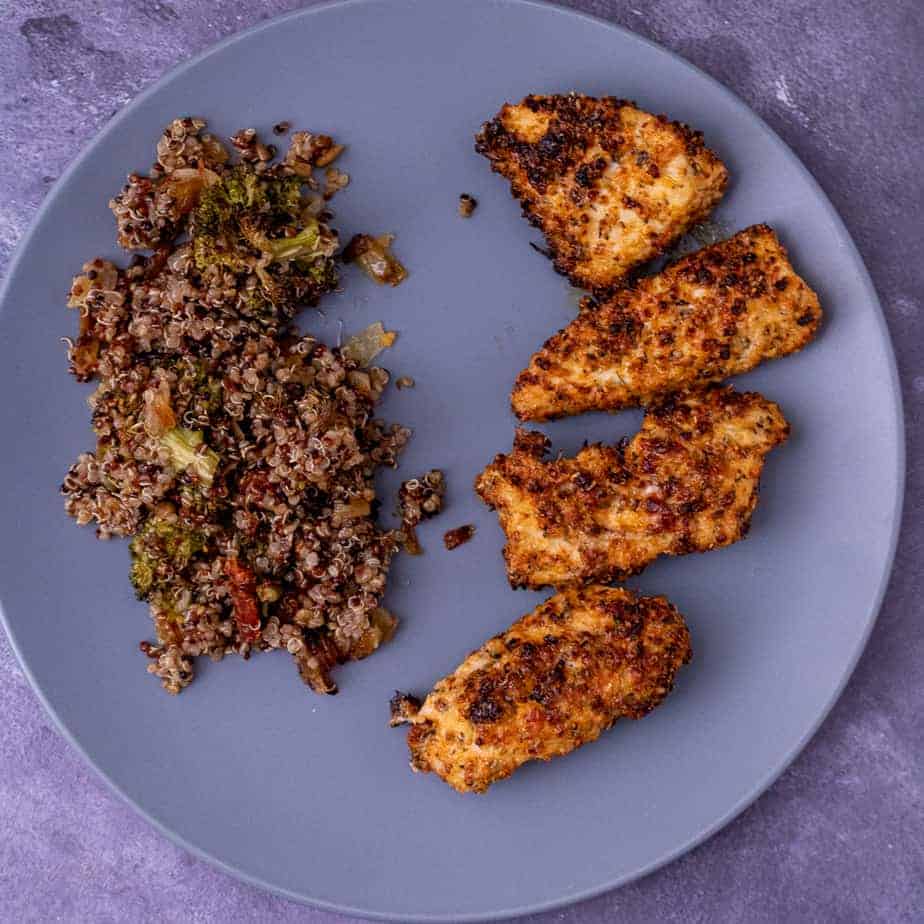 Can you cook chicken breast in the air fryer? Yes, you can absolutely cook boneless skinless chicken breast in the air fryer! Especially with the coating, the chicken is nice and juicy and the crust developed a great golden brown and delicious flavor. Have you ever had a little bit of parmesan get crispy on a pizza or sandwich? That is basically what's all over this chicken!
How do you reheat parmesan crusted chicken? When I have this a meal prep salad topper I either eat it cold on top of salad or a reheat it quickly in the microwave. If I am at home I will use the air fryer on 350 F to reheat it for three to five minutes.
Method
How do you cut the chicken breast for this recipe? I like to cut the chicken in half widthwise. I cut each half into two or three pieces depending on how large the breast is. There is nothing wrong with cutting a larger piece of chicken into just four pieces but the timing element may be off. Be sure to try to keep the chicken pieces fairly even so that they cook all at the same rate.
How long do you cook chicken breast in the air fryer? After cutting the boneless skinless chicken breast into either four or six pieces, I cook these for nine to ten minutes, flipping half way through. Each chicken breast is a little different and if you have a smaller breast, I'd recommend cutting it into fours and checking the temperature at eight or nine minutes.
How do you make air fryer parmesan crusted chicken?
Prepping the Ingredients
Mix the parmesan, garlic, paprika and Italian seasoning together in a shallow bowl. Next, cut the chicken into four to six even pieces. Preheat the air fryer to 400 F. Beat the eggs in a shallow bowl. Season each piece of chicken with salt and then dip each piece of chicken into the egg. Next coat each piece in the cheese mixture and set aside.
Cooking the Chicken
Spray the basket with oil spray and place the chicken in a single layer. Bake for five minutes and then flip. Bake for another four to five minutes until the chicken reaches a temperature of 155-160 F internally. Allow chicken to rest for five minutes and then serve with vegetables, rice or salad.
Do you have to flip the chicken half way through? Air fryers typically have the heating element on the top, so if you do not flip the chicken, the top with overcook before the bottom half will fully cook. When you flip the chicken half way through you're also ensuring that the crust is crispy all around.
How do you know when the chicken is done? I always check all of my meat with a meat thermometer because it is the best way to ensure the chicken is cooked through all the way. I like to take my chicken out at 155-160F because I allow it to rest up to 165F. This makes sure the chicken is juicy and flavorful. No one likes dry chicken breast. Another way to check to see if a chicken breast is if the juices are running clear and colorless. The color of the crust is another indicator, it should be a deep golden brown color and crispy.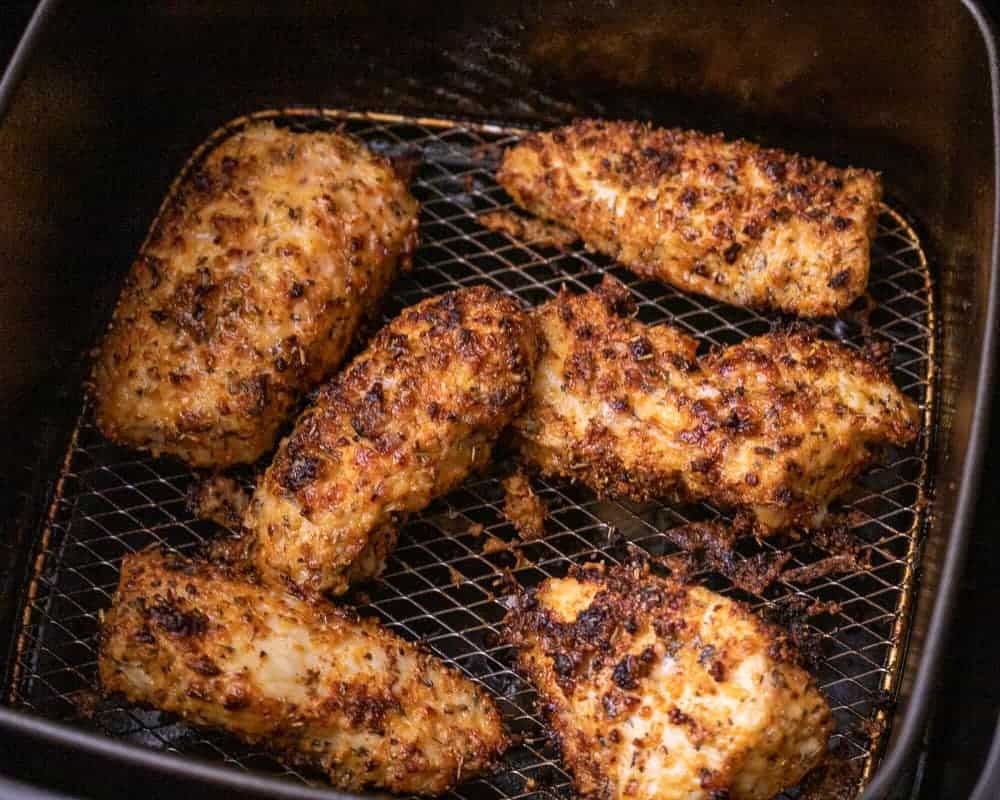 Substitutions
Can you use chicken thighs for this recipe? I have not personally tested this recipe with chicken thighs. If you did boneless and skinless chicken thighs it should work in theory but the cooking time will vary. If you try it, definitely let me know how it goes! It will be delicious but I cannot confirm the amount of time it will take in the air fryer.
Do you have to use parmigiano reggiano for this recipe? Your best bet for this recipe is to buy a block of parmigiano reggiano and grate it yourself. However, if that is out of your budget or your grocery store doesn't have it, you can buy a parmesan style cheese and grate it yourself. Freshly grated cheese is important because the pre-grated cheese does not brown as well now does it taste as good. I do NOT recommend you use the pre-grated stuff in a can.
Do you need to use oil spray? I use oil spray on the basket to make sure that the chicken does not stick when flipping it and removing it. The chicken has a delicious crust and you don't want it to fall off and stick to the basket.
Storage
How long can you store parmesan crusted chicken in the fridge? You can store the chicken in an airtight container in the fridge for three to four days.
You May Also Like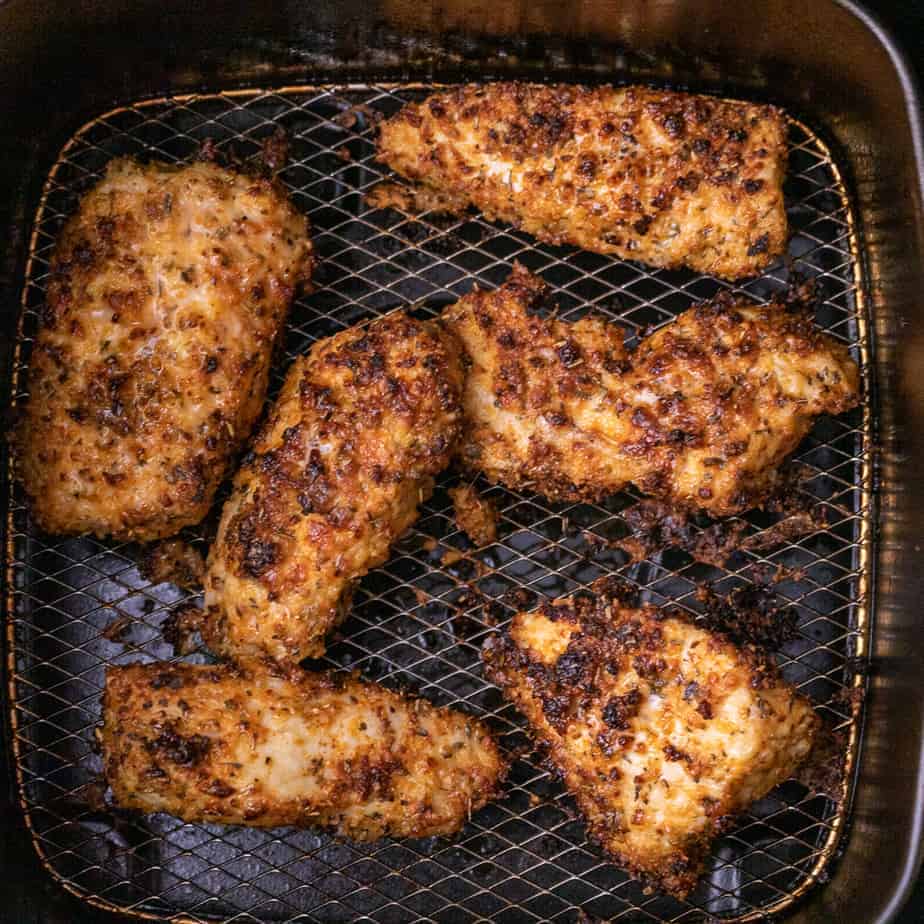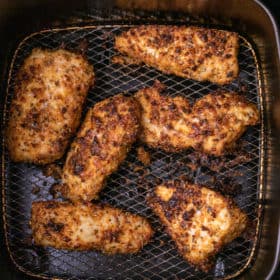 Air Fryer Parmesan Crusted Chicken
Air Fryer Parmesan Crusted Chicken is an easy air fryer chicken breast entree for your next weeknight dinner. This parmesan and garlic crusted chicken is made without breadcrumbs or mayo to make it low carb but still delicious for picky eaters.
Print
Pin
Save
Saved!
Ingredients
1 ½

cups

freshly grated parmigiano reggiano

2

tablespoons

dried Italian seasoning

2

tablespoons

garlic paste

or 6 cloves finely grated

2

teaspoons

paprika

2

boneless skinless chicken breasts

2

large eggs

beaten

Kosher salt to taste
Instructions
Mix together the parmesan, Italian seasoning, garlic paste and paprika until well mixed in a shallow bowl. At first the garlic will be clumpy but keep mixing until it is all incorporated.

Cut the chicken breasts in half widthwise and then cut each of those pieces into 2 or 3 pieces depending on how big the chicken breast is (resulting in 4-6 pieces per chicken breast). Make sure the chicken is cut into even pieces to make sure they cook evenly.

Preheat the air fryer to 400 F.

While the air fryer is preheating, beat the eggs and place them in a shallow bowl.

Season the cut pieces of chicken well with kosher salt. Dip a piece of chicken into the egg and allow some excess to drip off.

Next coat the chicken in the cheese mixture. Shake off any excess and set aside on a plate. Repeat with the rest of the chicken pieces.

Once all the chicken is coated, spray the inside basket with an oil spray to prevent the chicken from sticking. Place the chicken pieces in a single layer in the basket and bake for 5 minutes. If all the pieces do not fit in a single layer, make in multiple batches.

Flip the chicken pieces and cook for an additional 4-5 minutes until 155-160 F internally. Allow the chicken to rest for 5 minutes. The chicken is done once the crust is golden brown and delicious looking.

If cooking in batches, repeat until all chicken is done.

Serve with roasted vegetables, sides or on salad.
Notes and Accommodations
Make sure to mix the cheese mixture completely until all the garlic paste is incorporated.
Cut chicken into even pieces to ensure even cooking.
Cook chicken in a single layer to get good airflow. If necessary, bake in batches.
Boneless skinless chicken thighs can be used but may change the cooking time.