Precooked chicken sausage in the air fryer is a great low energy meal prep protein or dinner protein. The air fryer keeps the sausage juicy and flavorful without you needing to stand over a grill or the stove. Use your favorite brands like Aidells, Alfresco or Trader Joe's precooked chicken sausage for this recipe and pair with some vegetables for a simple and fast meal.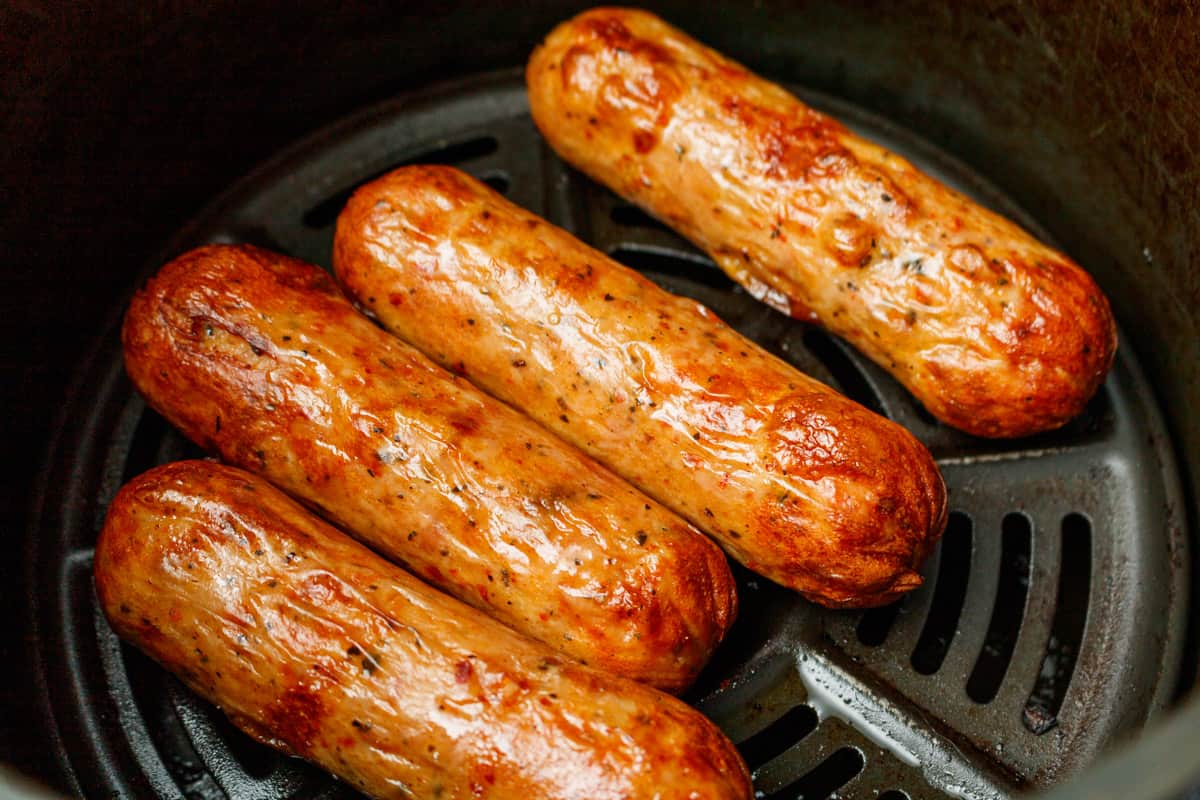 Jump to:
Tips and Tricks
What do you serve with chicken sausage? Chicken sausage is extremely versatile and can go with a variety of things to make a quick weeknight meal. Serve sausage on a bun with your favorite condiments like mustard, relish or hot sauce and pair with fries or a salad.
If you're feeling fancy you can serve with air fryer bell peppers and air fryer onions. Chicken sausage also goes great with roasted vegetables like brussels sprouts and sweet potatoes.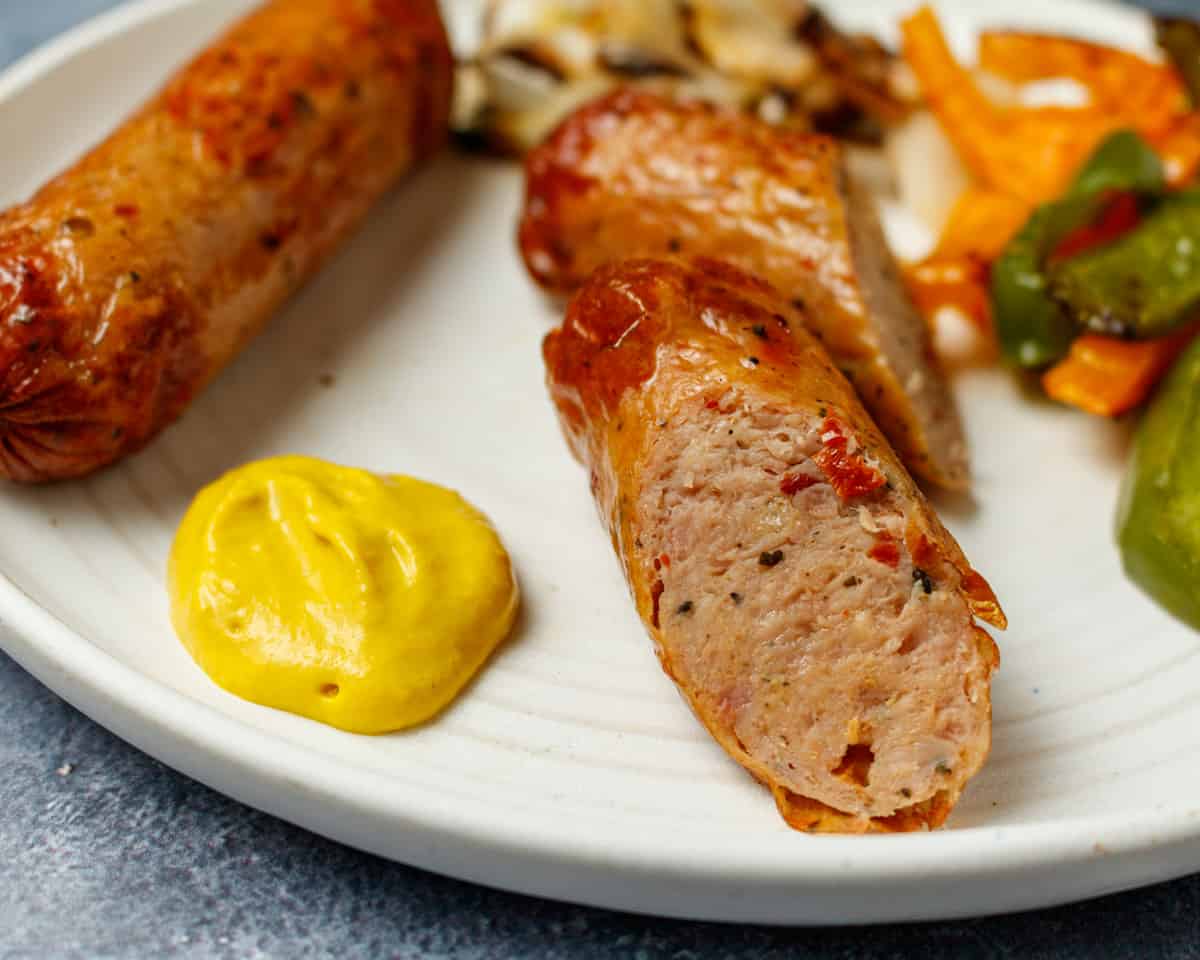 How do you store leftover chicken sausage? Store leftover chicken sausage in the refrigerator in an airtight container for up to four days. If you cook vegetables with the sausage, you can store them all together.
How do you reheat chicken sausage? Reheat chicken sausage in the microwave until warmed through, in the air fryer at 350F until warmed through (three to five minutes) or on the stove top on medium low until warmed through.
What is the best way to cook chicken sausage? The best way to cook chicken sausage is the air fryer since it is a set it and forget it method. You don't have to stand over the stove or grill to get beautiful delicious brown sausage.
This is ideal if you don't have the ability to stand for a long time or you're busy prepping other things in the kitchen.
Ingredients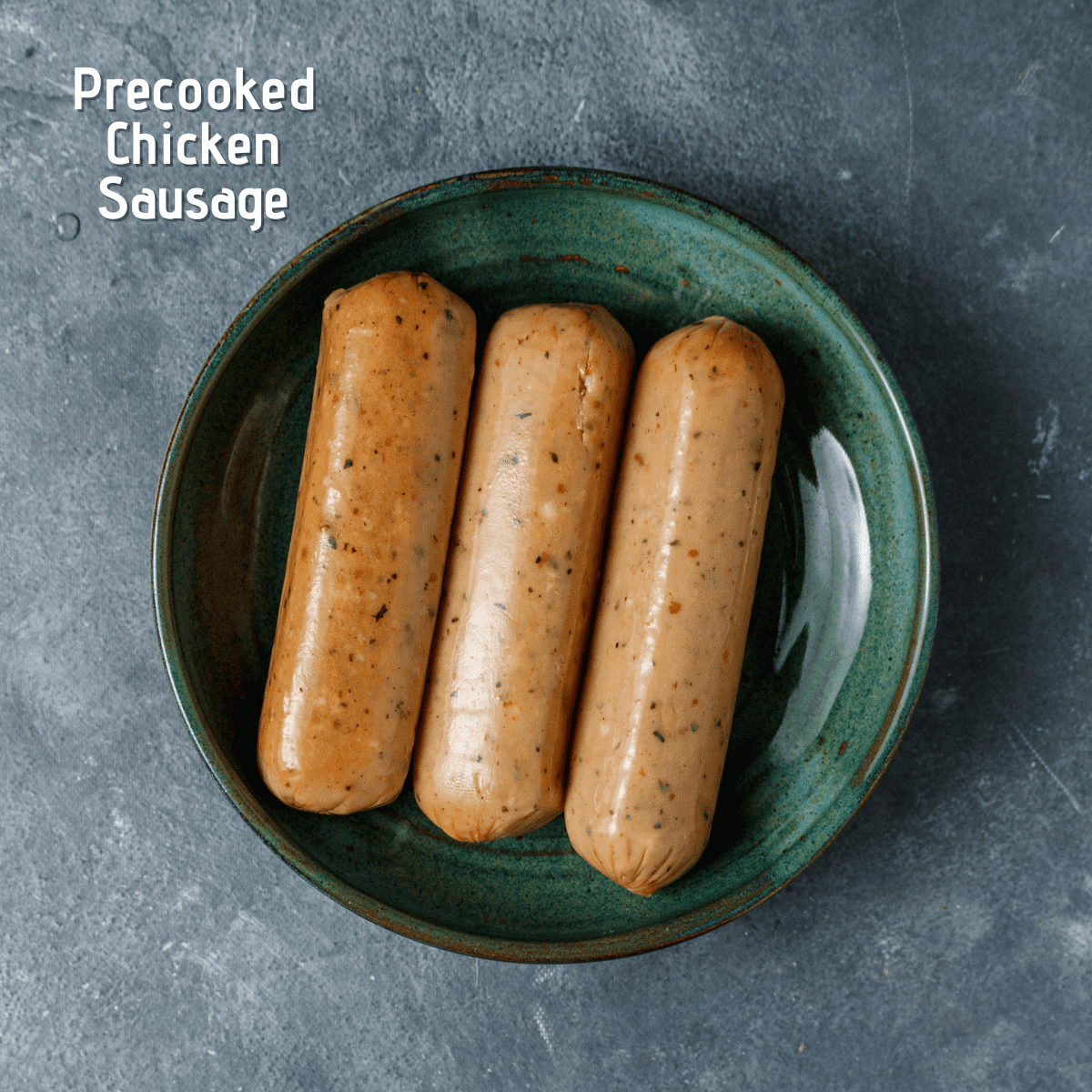 Chicken sausage - Use your favorite flavor from your favorite brand for precooked chicken sausage
See recipe card for specific quantities.
Method
How long do you cook chicken sausage in the air fryer? You cook precooked chicken sausage in the air fryer for eight to ten minutes.
How do you know when chicken sausage is done cooking? The best way to check a chicken sausage for doneness is with a meat thermometer (affiliate link). The internal temperature should be at least 165F.
Chicken sausage will be browned when cooked through. The chicken sausage is already cooked and safe to consume, but cooking them increases the flavor and changes the texture. Cook them until you're satisfied with the browning.
Should you prick chicken sausage before cooking? I do not recommend you put holes into chicken sausage before cooking since that will dry them out. The juice will leak out during the cooking process and give the sausage a dry texture.
Can you cut up the sausage before cooking? You can cut up the sausage into coins before cooking but you run the risk of them getting dried out and overcooked. I recommend leaving them whole while cooking and cutting after resting for three minutes.
Hint: Use precooked chicken sausage for the time and temperature listed.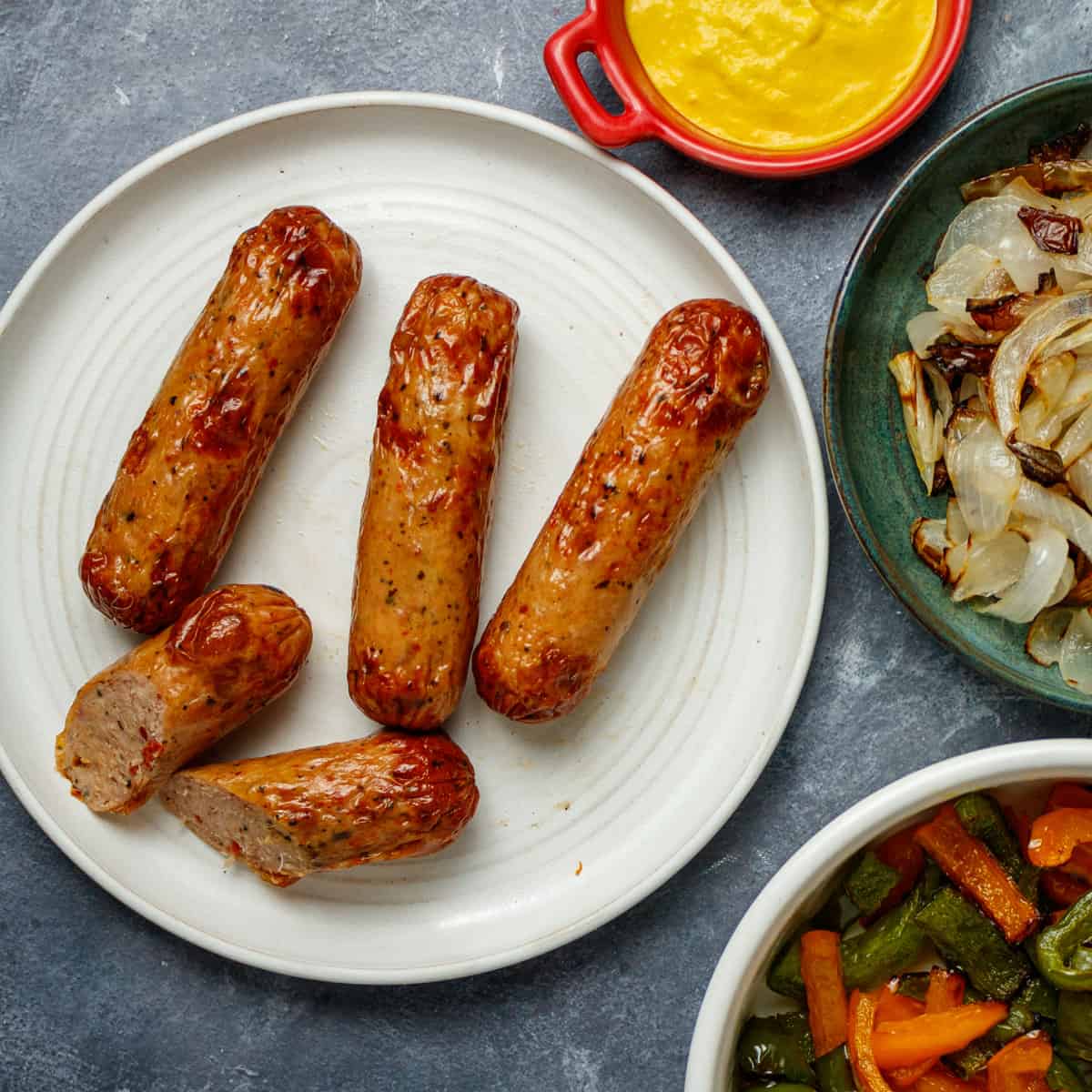 Substitutions
Can you use raw chicken sausage? If you use raw chicken sausage, adjust the time to ensure they are cooked to 165F internally.
Variations
Can you cook chicken sausage with onions and peppers? You can cook sliced onions and bell peppers at the same time as chicken sausage to make a simple, fast air fryer meal. Place the vegetables in the bottom of the air fryer and sausages on top. Cook according to the recipe below, tossing the vegetables and shaking the sausage to ensure even cooking.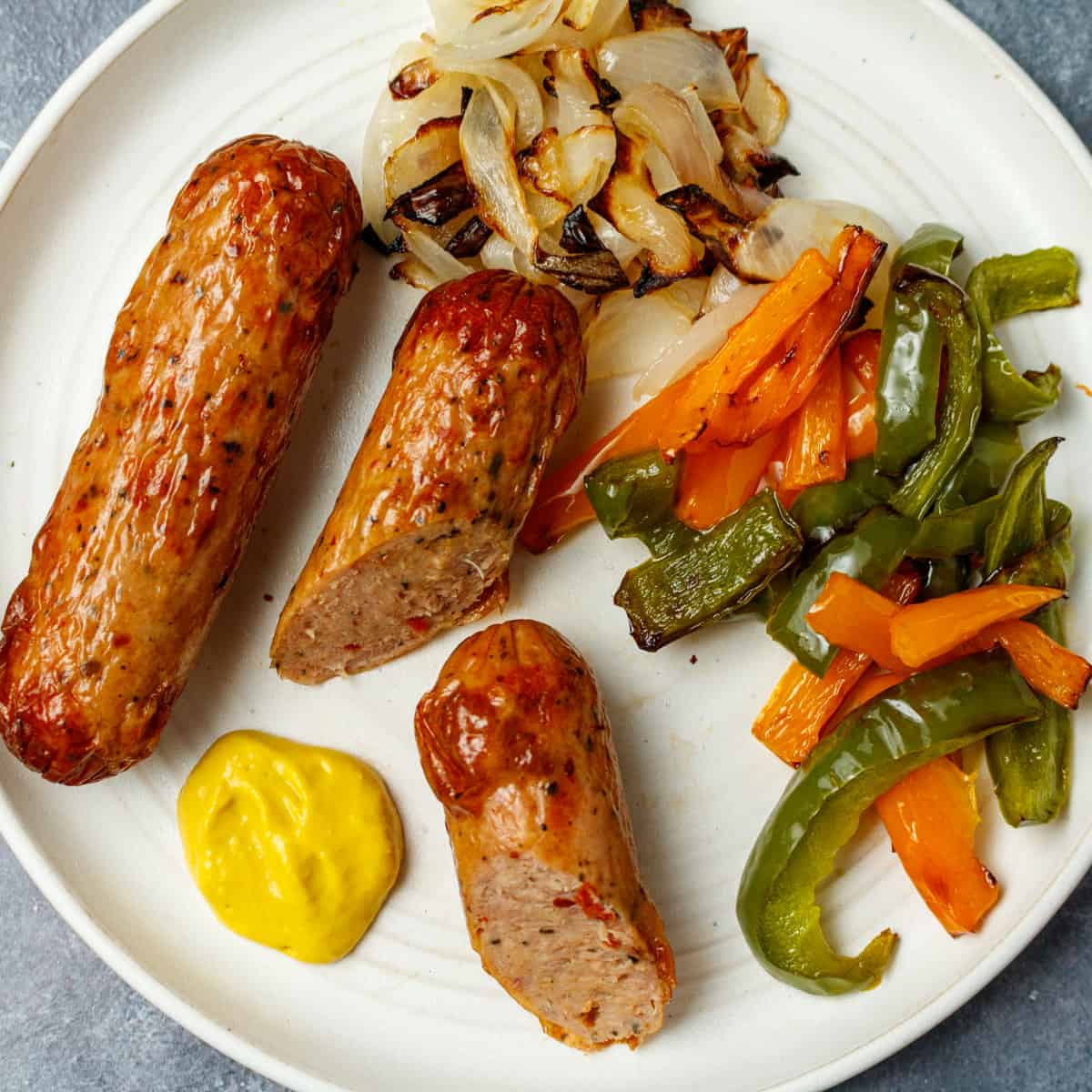 Equipment
Can you put sausages in the air fryer? Yes! Chicken sausage does well in the air fryer and it helps give you an even browning. Cooking sausage in the air fryer allows you to sit down while it is cooking.
It also allows you to finish cooking or preparing other ingredients since you can set it to cook and walk away until the timer goes off.
If you're looking for more tips and information for your air fryer, check out my Air Fryer FAQ page.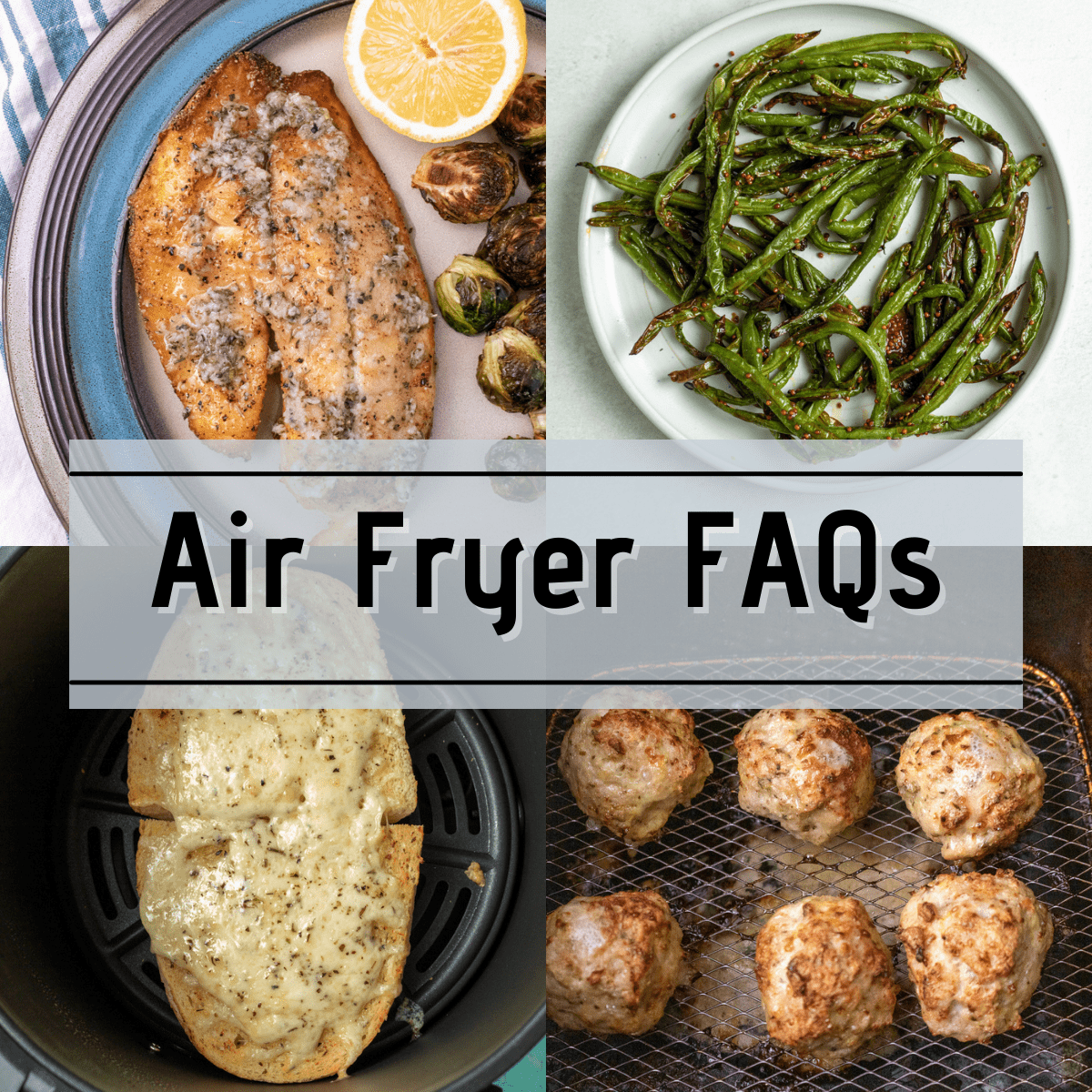 Top Tip
Leave sausage whole while cooking to keep them juicy.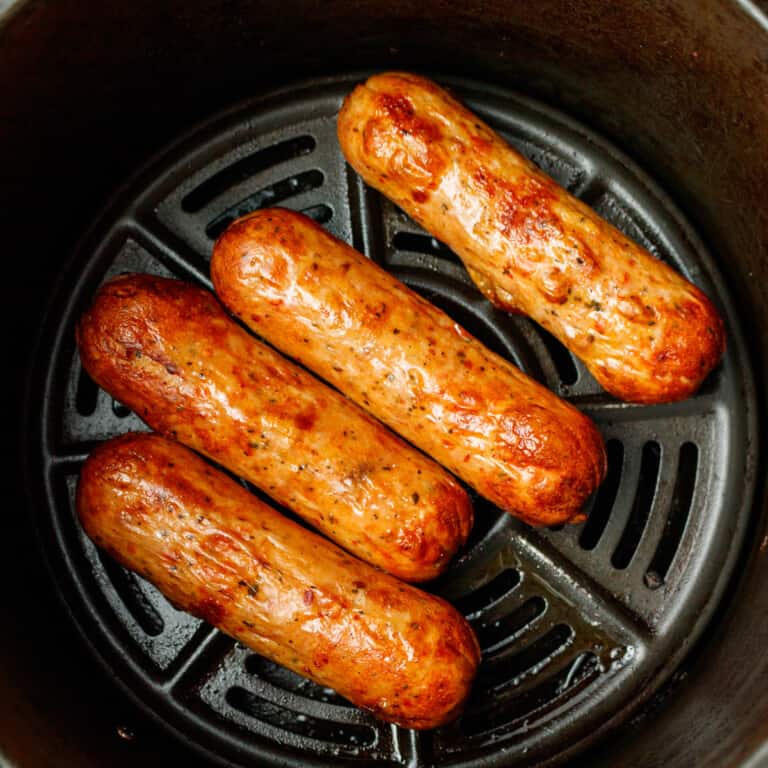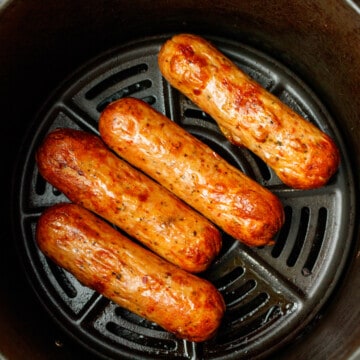 Air Fryer Chicken Sausage
Use the air fryer to make juicy, flavorful chicken sausage quickly. Pair air fryer chicken sausage with onions, peppers, potatoes or on a bun with mustard for a quick meal.
Print
Pin
Save
Saved!
Ingredients
4-6

precooked chicken sausage
Instructions
Preheat the air fryer to 375F.

In a single layer, place chicken sausage and cook for 5 minutes.

Flip and cook for another 3-5 minutes until turning brown and internal temperature is 165F.
Notes
If you are using raw chicken sausage, cooking time will vary.
Do not poke holes in sausage or they will get dried out.
Cook whole to avoid overcooking sausage. Slice if desired after resting 3 minutes.
You can cook these with onions and peppers if desired. Be sure to move around veggies and chicken sausage to promote even cooking.
Join our Discord Server!
Chat about the monthly theme, get recipe troubleshooting and post what you made for dinner and engage with the community!
Food Safety
Cook to a minimum temperature of 165 °F (74 °C)
Do not use the same utensils on cooked food, that previously touched raw meat
Wash hands after touching raw meat
Don't leave food sitting out at room temperature for extended periods
Never leave cooking food unattended
Use oils with high smoking point to avoid harmful compounds
Always have good ventilation when using a gas stove