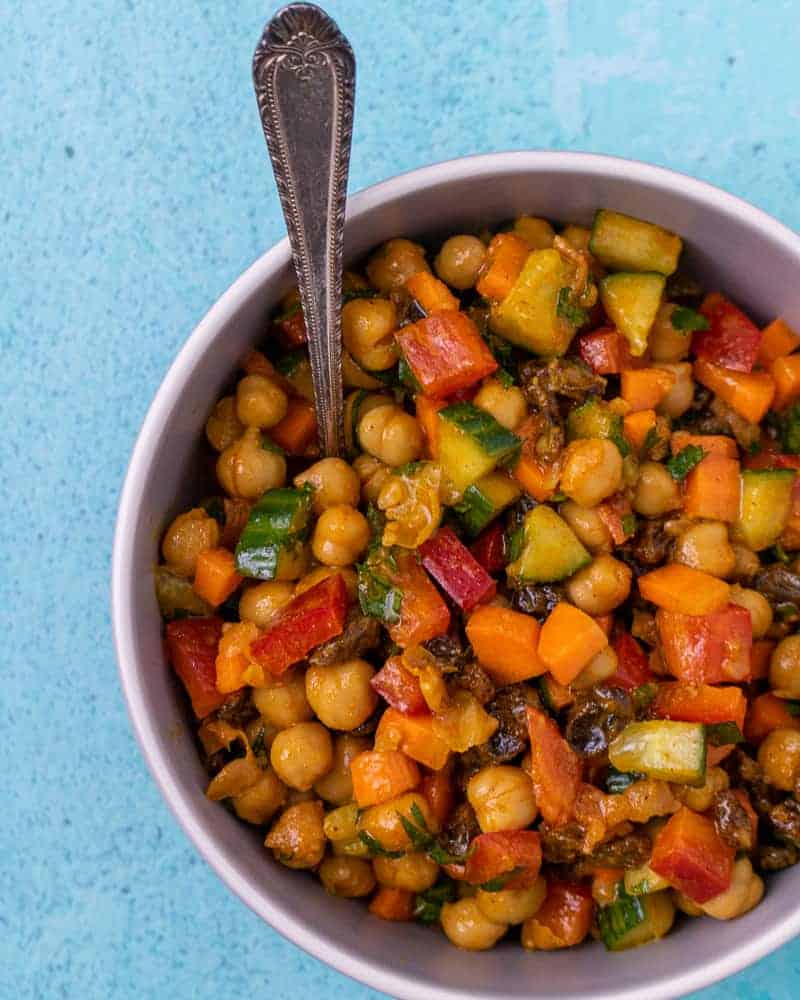 Tips and Tricks
Are chickpeas or garbanzo beans the same thing? Yes! They absolutely are the exact same thing. Different parts of the world have different names for them. Grab whatever you can find at the store.
What do you serve this with? This is a great and filling snack to have between breakfast and lunch or lunch and dinner, so I eat this cold from the fridge. You can also eat this as a side to your favorite protein during the summer because it's light and refreshing. Perfect with anything you have hot from the grill or as a side dish for a cookout. Like most cold salads, this pairs well with sandwiches, soups or just eaten with some pita or naan.
Do you eat this hot or cold? This is best served cold or room temperature.
Substitutions
Can you use honey in this recipe? You can absolutely substitute honey for maple syrup and it will be delicious, but it will no longer be vegan.
Can you use dried beans? Yes, you can definitely start with dried beans and use them in this recipe. Be sure to soak them first and then cook them according to these instructions.
What substitutions can you make? This recipe is a base recipe for a salad and like most salads, you can definitely mix and match the types of chopped veggies you prefer or have in the fridge. I would recommend heartier vegetables if you plan on leaving this in the fridge for a few days so it doesn't turn mushy. Any canned bean of your choice would be great. You can substitute any liquid sweetener for maple syrup (honey or agave). Finally, you can substitute in cilantro or basil for parsley, you add all three!
Storage
How do you store leftovers? I love to store this in the fridge in an airtight container for up to five days. If I'm meal prepping this and making it as a snack for work, I store it in small mason jars in the fridge, making it easy to grab on the go. It's a perfect cold, protein packed snack you can make once and eat the whole week. It's also a great thing to batch prep because you can easily add it as a side to lunch at home or with a light dinner.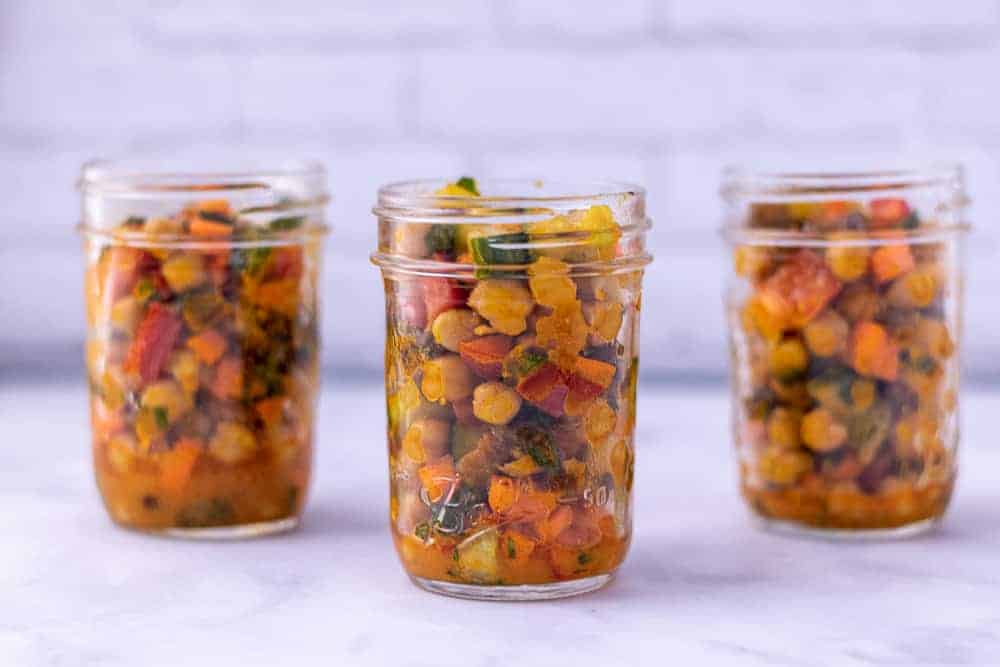 How long does this last in the fridge? If stored in the fridge in an airtight container, it will last up to five days in the fridge and retain it's crunch. Be sure to stir it up to mix up the turmeric maple dressing throughout the salad.
Method
How do you make this vegan chickpea salad? First chop up all your vegetables and herbs and set aside. Try to keep them small and even to make it easy to eat. Next, drain and rinse a can of chickpeas. Add all the ingredients to a large mixing bowl and mix well until coated with the turmeric maple syrup dressing. Allow to chill in the fridge for at least two hours before serving. If desired, portion out into mason jars for an easy, portion control snack for the week.
Do you rinse the beans? Yes, I drain the beans into a fine mesh sieve and rinse them in the sink with cold water. This removes the extra starch and salt from the chickpeas.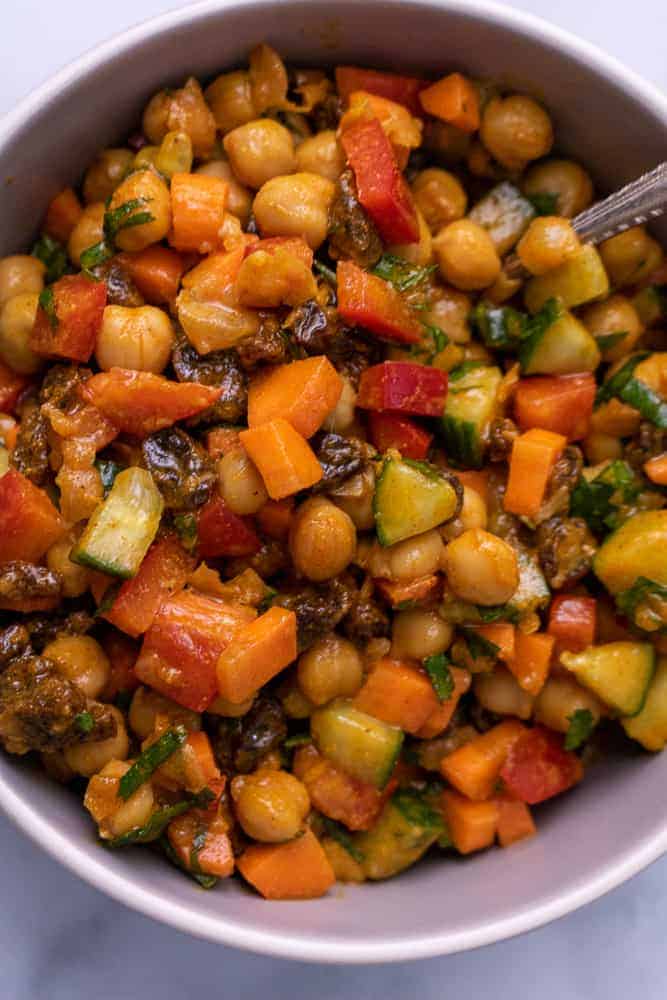 You May Also Like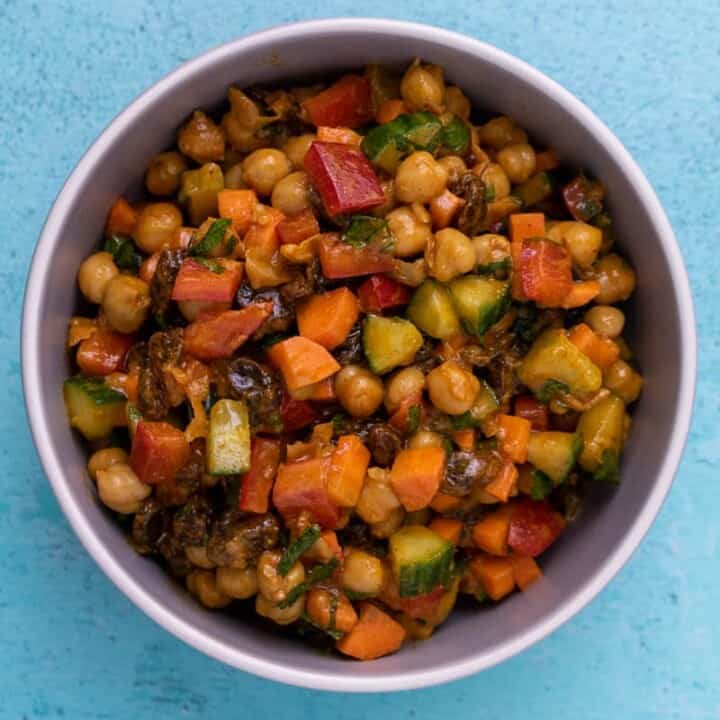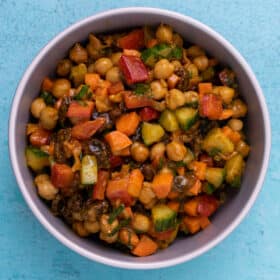 Vegan Chickpea Salad
This raw vegan chickpea salad is a simple no cook side dish or snack. A protein packed salad with a sweet turmeric dressing that keeps in the fridge for the whole week.
Print
Pin
Save
Saved!
Ingredients
1

15 oz can of chickpeas

½

cup

diced red bell pepper

½

cup

diced cucumber

½

cup

diced carrots

½

cup

raisins

3

tablespoons

olive oil

2

tablespoon

chopped fresh parsley

2

tablespoons

maple syrup

1

tablespoon

garlic paste or 3 grated cloves

1

tablespoon

red wine vinegar

1

teaspoon

paprika

1

teaspoon

turmeric

Juice from ½ lime

Kosher salt to taste

Black pepper to taste
Instructions
Dice and chop all fresh ingredients and set aside.

Drain and rinse the can of chickpeas. Add to a large mixing bowl.

Add all ingredients to the large mixing bowl and mix well.

Chill covered in the fridge for at least two hours.
Notes
Store in airtight containers for up to 5 days in the fridge.
Be sure to stir it up before eating if it's been stored for a few days to redistribute the dressing
Join our Discord Server!
Chat about the monthly theme, get recipe troubleshooting and post what you made for dinner and engage with the community!