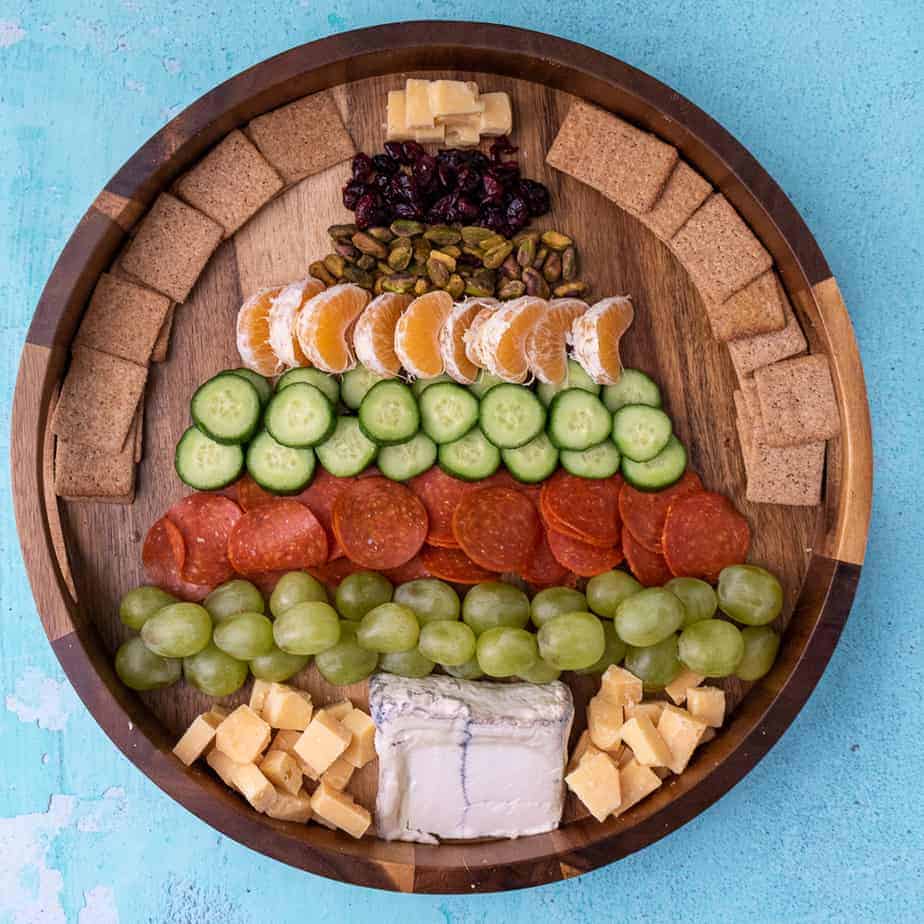 Beginners Guide to Christmas Cheese Plate
If you're tasked with bringing an easy make ahead appetizer to a Christmas party or to Christmas dinner, make this simple themed cheese board! A meat, cheese and fruit board that uses red and green colored ingredients plus winter seasonal fruit to make a festive appetizer. My favorite thing about this is that it's only nine ingredients, all of which are easy to find at the typical grocery store. A fancy looking appetizer that's actually very simple to pull together and is a definite crowd pleaser.
Why make a Christmas charcuterie board? Christmas is a hectic time of year and you've already got a lot of things going on. Having an easy make ahead platter to put out for family, friends and guests keeps everyone happy. It's easy to customize for the number of people coming, for almost any budget or just general preferences. Cheese plates are very forgiving because they are easy to assemble, travel well and can be made ahead.
Tips and Tricks
What's the best board to use to build a Christmas tree cheese plate? The best board is one that you already have. I used a circular board I got from Target. I like this board because it has a lip, making it easy to travel with and the handles make it easy to carry. If you don't have a large circular board, feel free to use a large baking sheet tray with a lip. It'll be easy to clean, the perfect size for a larger Christmas Tree charcuterie board and super convenient to travel with.
How many people does this serve? With the amounts listed below, this cheese platter would serve four to six people. If this is your only appetizer, expect it to serve four people. If you have multiple appetizers then you can stretch it out a bit more and it'll feed more people like six to eight. I'd also say that it matters how long it'll be out. If it's only out for 30 minutes before dinner, you'll need less than if it's out all afternoon while people are opening presents or hanging out.
Can you make this Christmas cheese board ahead of time? Yes! The best thing about a cheese plate is that it is a great make ahead appetizer. Cut up all your cheeses and fruits, veggies and arrange them on the board. Wrap tightly in plastic wrap and store in the fridge for up to two days. When you're ready to serve, unwrap and add the crackers and nuts last minute. Serve and replenish as necessary.
What do you serve with a charcuterie board? Cheese always goes great with a variety of alcoholic beverages like wine or beer or even a non alcoholic sparkling apple cider! Serve this appetizer with other finger foods like cranberry cream cheese appetizer or a biscuit wreath with buffalo chicken dip. The limits are endless because cheese goes with everything!
Can you scale this up or down? Very very easily! Make a small cheese plate for two to four people or a larger one for six to eight people. One of the best things about charcuterie boards is how easily you can add more to bulk it up or scale it down!
Ingredients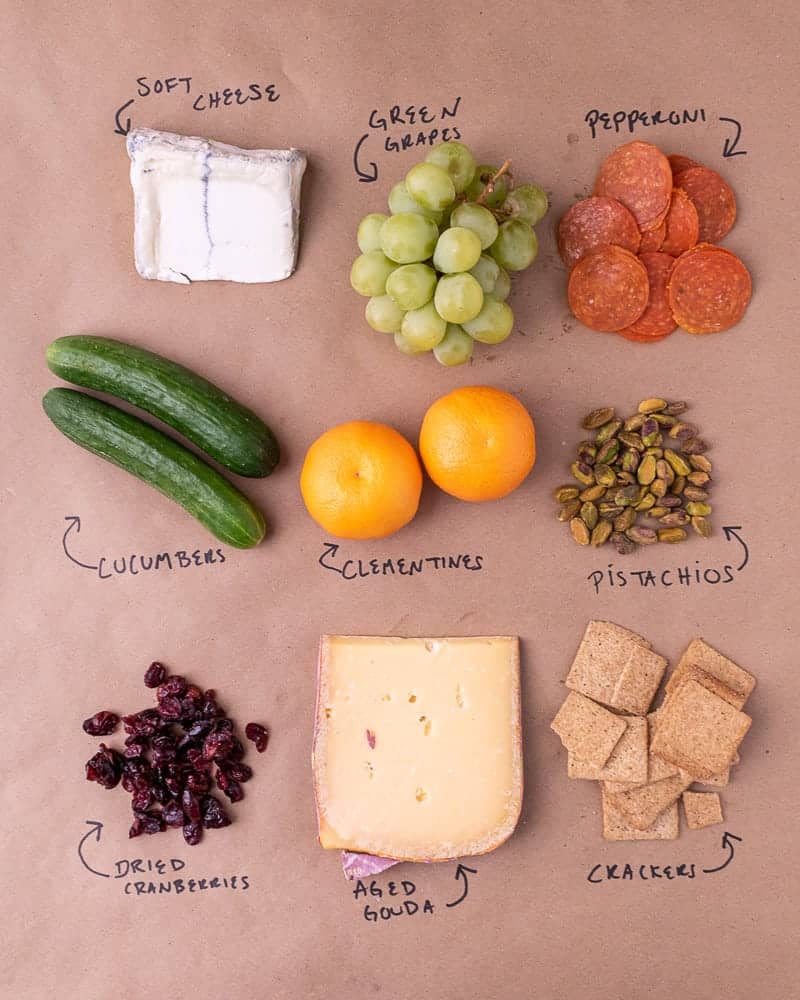 What ingredients do you suggest eating together? There are always those very specific food pairings that everyone suggests for cheese platters. However, I believe that everything goes well together. Mix together colors, textures and sweet/salty. Experiment to find out if you like soft cheese with grapes or cucumbers better.
How do you store leftovers? It is important to store your leftovers separate. You can store crackers, craisins and pistachios together on the counter in an airtight container. Cucumbers have a lot of moisture so I usually store those by themselves in an airtight container in the fridge. Store the meat, cheese and fruit together in an airtight container in the fridge for up to three days.
What substitutions can I make for this cheese plate? There are plenty of substitutions you can make to fit your personal taste or budget!
Aged gouda substitute: Parmigiano-Reggiano
Soft cheese substitute: goat cheese, brie, Camembert
Green grapes substitute: green apples or kiwi
Pepperoni substitute: prosciutto
Cucumbers substitute: celery, pickles or other green crunchy vegetable
Clementines substitute: fresh mango slices
Pistachios substitute: pecans
Dried cranberries substitute: dried figs or dates
Crackers substitute: baguette slices
Method
How do you assemble a Christmas Tree cheese plate? Place the soft cheese at the base of the platter in the center, preferably in a rectangle or square but a circle will work. This is the tree trunk. Next add a row of grapes across the platter above the soft cheese. Continue to build the layers by adding slightly shorter rows of each ingredient. Add pepperoni, cucumbers, clementines, pistachios and dried cranberries. Finally, top the tree with a few pieces of gouda. Add the remaining gouda around the base of the tree. The finishing touch should be the crackers on either side of the cheese Christmas tree.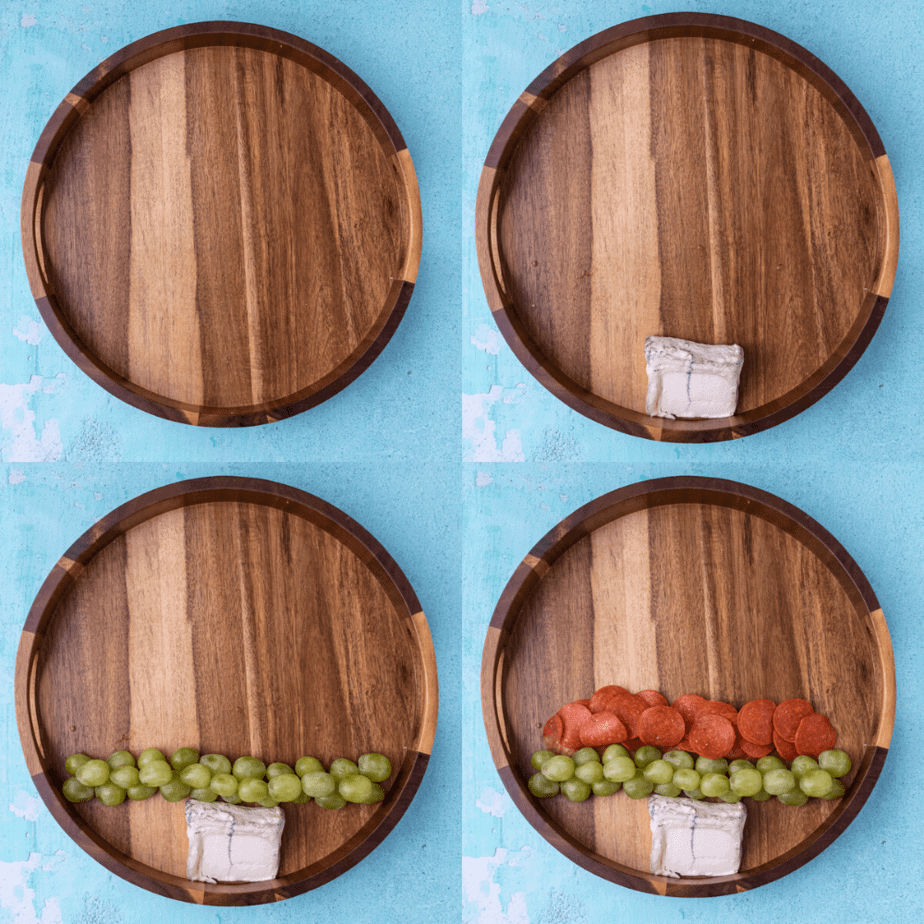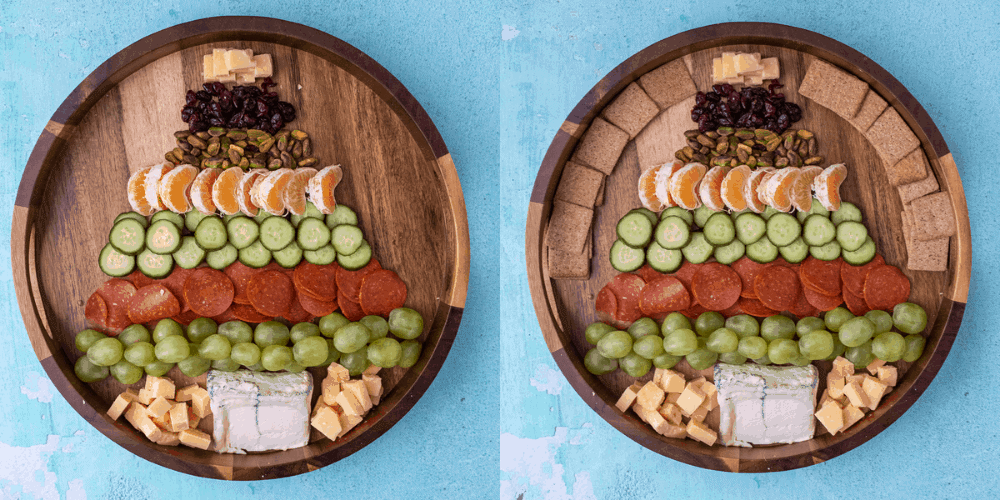 Do you need to peel and segment the clementines? I like to make it easy for my guests to eat each item on the cheese platter. This means peeling and separating the pieces in the clementines so they can just grab them and enjoy. Plus they are very easy to peel!
Can you use shell on pistachios? For the same reason I like to peel the clementines, I like to buy shelled pistachios. It makes it much easier to eat. Another reason is that guests don't need to worry about disposing of the shells.
You May Also Like
Holiday Cheese Boards
Check out more holiday and seasonal cheese boards!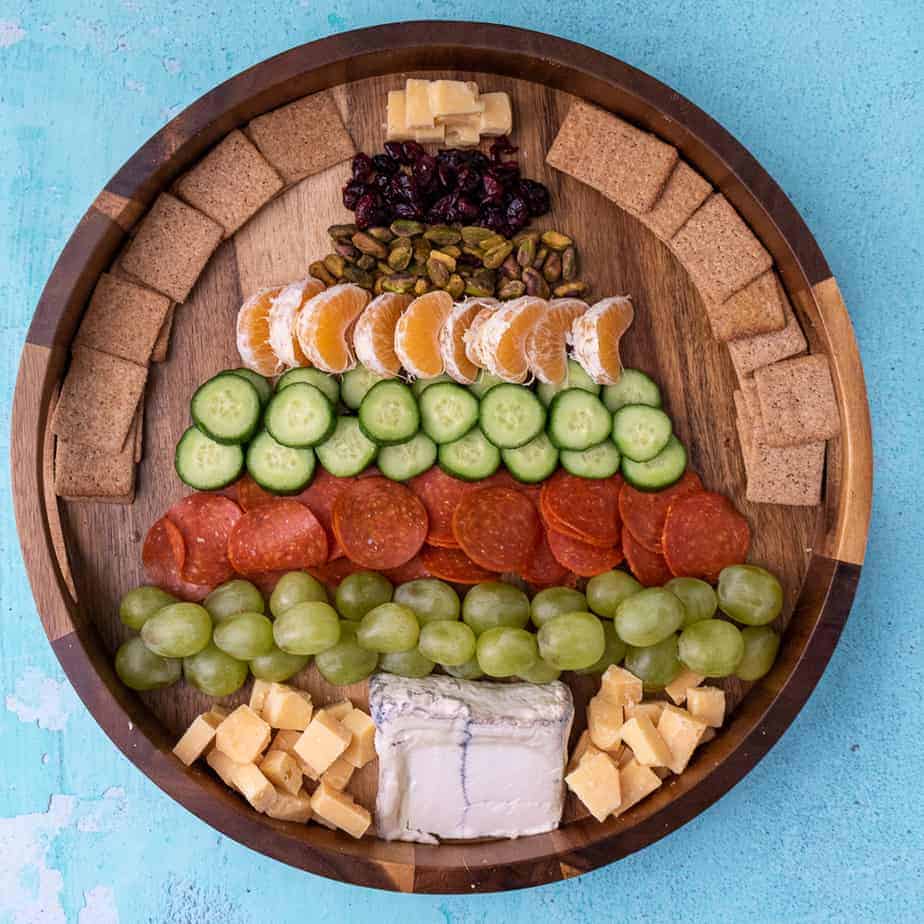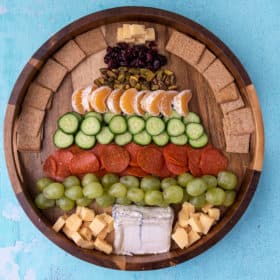 Simple Christmas Charcuterie Board
Make an easy Christmas tree shaped charcuterie board for your Christmas celebrations This is the ultimate make ahead appetizer meat and cheese plate with easy to find ingredients; perfect for a small group or a crowd!
Print
Pin
Save
Saved!
Ingredients
5

oz

soft cheese

1

small bunch green grapes

2

oz

pepperoni slices

2

small english cucumbers

chopped into coins

1-2

clementines peeled and segmented

⅓

cup

pistachio pieces

shelled

¼

cup

dried cranberries

6

oz

aged gouda

cubed

4

oz

crackers
Instructions
Place the block of soft cheese at the bottom of the platter. This is the "tree trunk" of the Christmas tree.

Next, take the grapes off the stem and arrange in a layer above the soft cheese across the bottom of the platter to form the base of the tree.

Above the grapes, add the pepperoni in a row, making it slightly shorter in length than the grape layer.

Arrange the cut up cucumbers above the row of pepperoni, making it slightly shorter in length than the pepperoni layer.

Peel and separate the pieces of the clementines and arrange in row above the cucumbers. Make sure that the row is shorter in length than the cucumber layer.

Add the pistachios above the layer of clementines in a row. Ensure it is slightly shorter in length than the clementine row.

Above the pistachios but leaving a little room for the top of the tree, add dried cranberries above the pistachios. This layer should be slightly shorter than the previous layer.

Finally, add the tip of the Christmas tree with a few pieces of gouda. Sprinkle the rest of the gouda around the base of the tree.

Add crackers to the side of the board and serve!
Notes and Accommodations
Store leftover cheese, pepperoni, clementines and grapes together in an airtight container in the fridge.
Store leftover cucumbers separately because of their water content in airtight containers in the fridge.
Store the crackers, dried cranberries and nuts in airtight container on the counter.
Originally published December 5, 2019. Reposted with new tips and tricks on October 29, 2020.