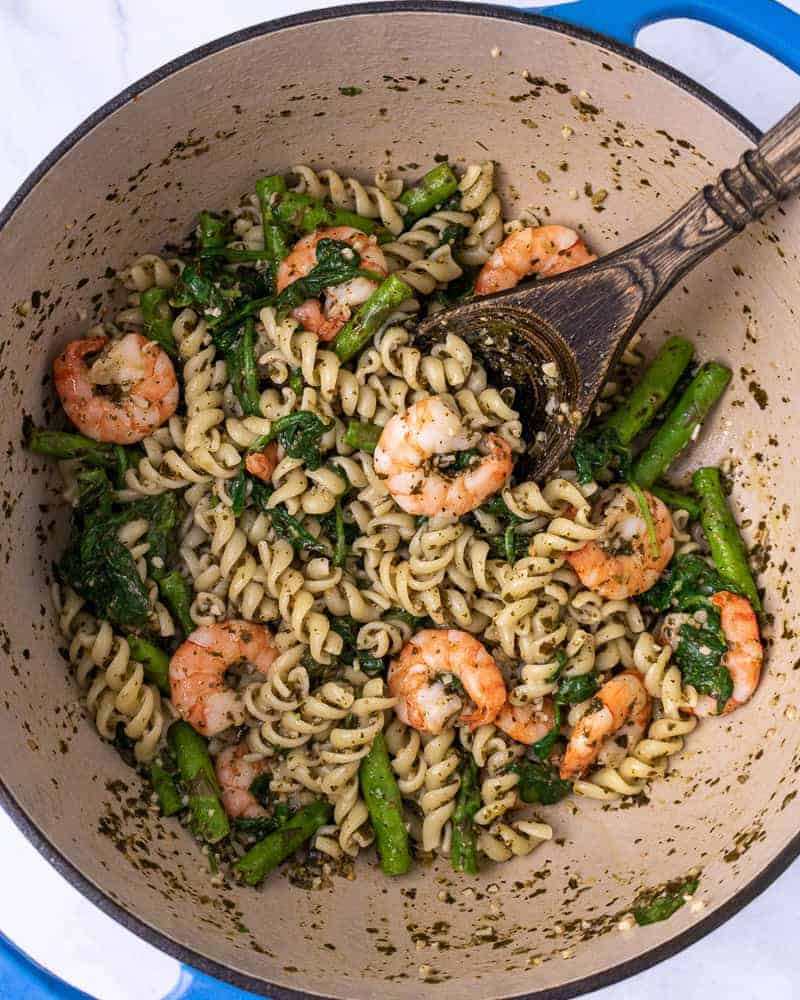 Tips and Tricks
What goes well with this pasta recipe? This pasta dish has a lot of vegetables already in it, but if you want you could serve it with garlic bread or a side salad.
How do you store leftovers? Store leftovers in the fridge in an airtight container for up to three days with a splash of pasta water or a little extra pesto. You can store pasta with cheese or grate it fresh after reheating it.
How do you reheat this pasta dish? Reheat the pasta leftovers in the microwave for 30 seconds to one minute and stir halfway through. Shrimp can overcook quickly so if you throw it in for three minutes, they may get rubbery. This recipe is still pretty good as leftovers, but it is better fresh. If your pesto gets dry, add a little extra pesto if you have it or olive oil and mix well.
How much salt do you add to your pasta water? I never measure how much salt I put in my pasta water, but I do taste it to make sure it tastes seasoned. To do this, I add salt to my pasta water before it starts boiling and stir it and taste it. If I can't taste anything but water, it needs more salt. The water should be seasoned meaning you can taste the salt but not so salty you can't tolerate it. Salting your water gives you a chance to season your pasta while it cooks. It's a necessary step unless you're on an extremely low sodium diet.
How do you avoid a dry pesto pasta? The key to keeping your pasta flavorful and avoid the dreaded dry pesto pasta is using plenty of pesto and adding some extra pasta water. If you taste the pasta dish and you want more flavor, add more pesto until it is well coated and to your liking, if it's just a little bit dry, add a few tablespoons of the pasta water and stir well. If you run out of pesto, you can add olive oil and stir well. The pasta should be liberally coated in pesto, don't skimp!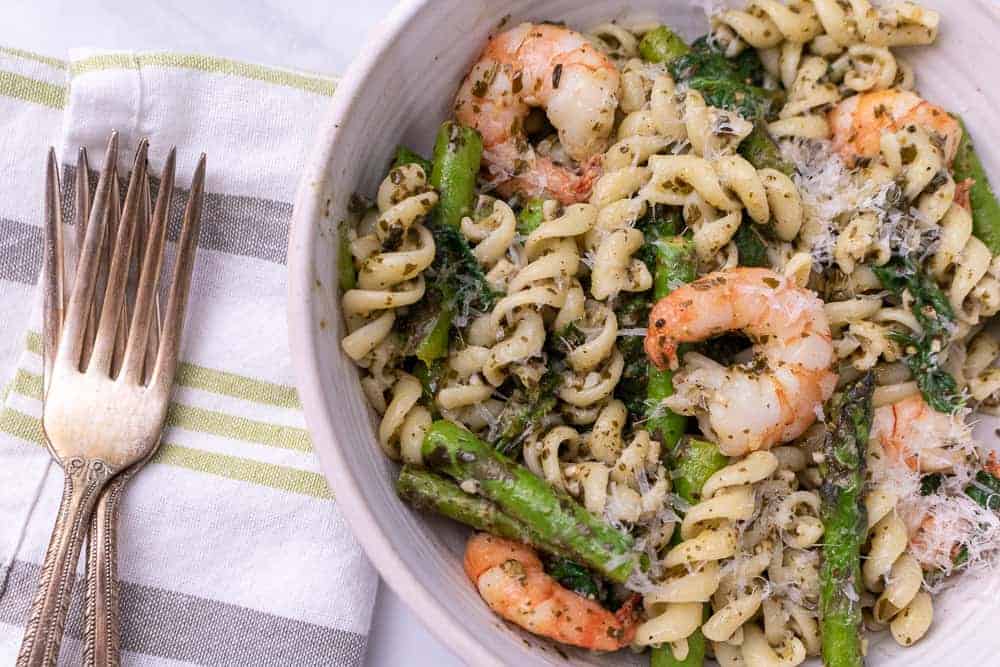 Ingredients
Do you use cooked or raw shrimp? For this recipe, I use frozen raw shrimp that have been de-veined and peeled. Before the shrimp are cooked, make sure they are defrosted. You can absolutely de-vein and shell your own shrimp if you prefer. I recommend NOT using already cooked shrimp because they can turn into rubber when re-heated if not done properly.
What size shrimp do you use? I use large shrimp which are also called 31/35. This number is roughly how many shrimp are in a pound. A large number means more shrimp per pound but they will be smaller. You can use larger or small shrimp but cooking time will vary. The smaller the number per pound, the large the shrimp.
What's the best type of pasta to use for this recipe? This pasta will literally work with any type of pasta you have in your house. However, if you're buying pasta for this recipe, I'd recommend pasta with a large surface area like rotini. The swirls in the pasta allow for more sauce to be on each noodle, making it more flavorful.
Do you make your own pesto or use a jarred sauce? I use a jarred sauce because I like that this is a quick pantry recipe. If you're looking to make your own pesto you can use this recipe.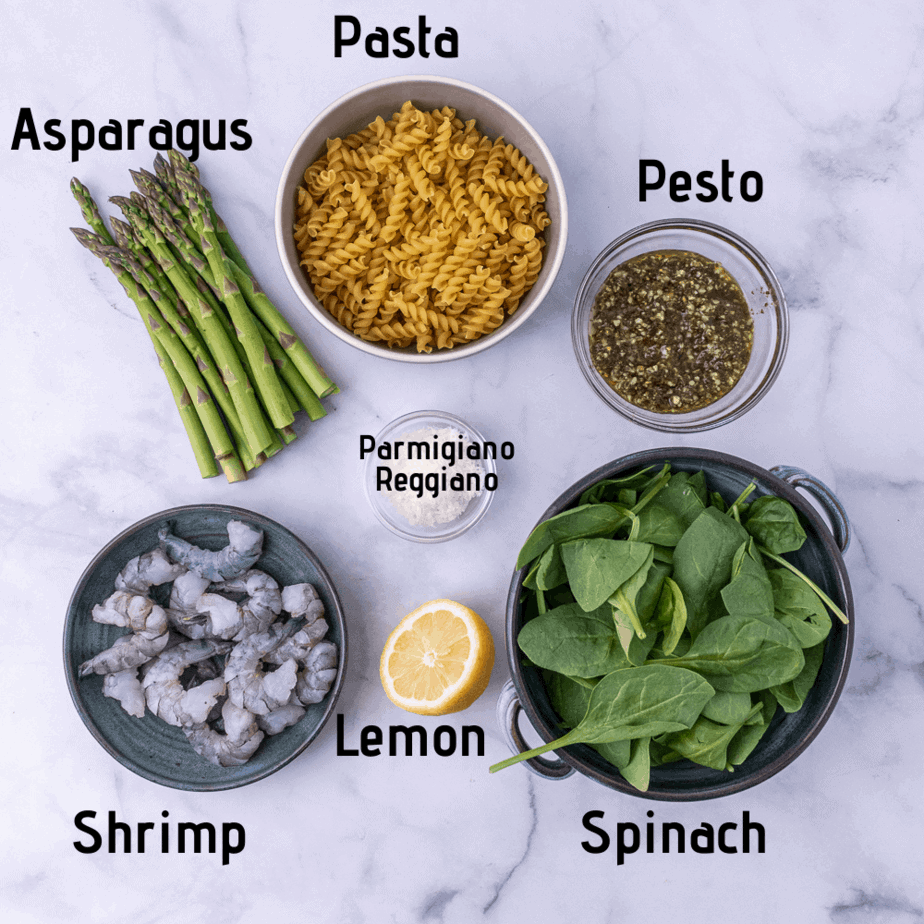 Substitutions
I don't like shrimp, what can I use instead? You can cook cubed up chicken breast or chicken thighs, sea scallops or even salmon for protein as a substitution for shrimp. If you're a vegetarian you could saute tofu or bulk up the vegetables. The cooking time will vary if you change out the protein. I'd recommend sauteeing the asparagus and then removing, cooking your protein and then reducing the heat to add it all back together.
Can you substitute other types of vegetables? Yes, you can add whatever vegetables you have in house. Other options would be onions, peppers, corn, mushrooms or even kale. However, the cooking time will be different if you start adding a lot of different vegetables. Kale takes much longer to wilt than spinach does, but either would work.
Method
How do you make lemon pesto pasta? Start by defrosting your shrimp in cold water. After the shrimp are defrosted, peel and de-veined as necessary. Pat them dry and set aside. Begin boiling enough salted water for the pasta and begin to preheat a six quart dutch oven on the stove over medium heat. Trim your asparagus and cut each spear into two or three pieces. Add pasta once the water is boiling and cook according to the instructions. Once the dutch oven is preheated, add two tablespoons of olive and add the asparagus, season with kosher salt and then saute the asparagus for two minutes until bright green. Remove asparagus and set aside. To the dutch oven add the remaining olive oil and shrimp. Season quickly with kosher salt and reduce heat to medium low and cook shrimp until pink on both sides (two to four minutes total). Once the shrimp are cooked, add in spinach and asparagus and stir well until spinach is wilted. Next, add in pesto and juice from ½ lemon and stir well. Save ½ cup of pasta water and drain pasta and add directly to the dutch oven. Stir everything together, add two tablespoons of pasta water to make sure the pesto coats the pasta well. Taste for seasoning and add kosher salt or lemon juice as needed. Portion out pasta and garnish with freshly grated Parmigiano-reggiano.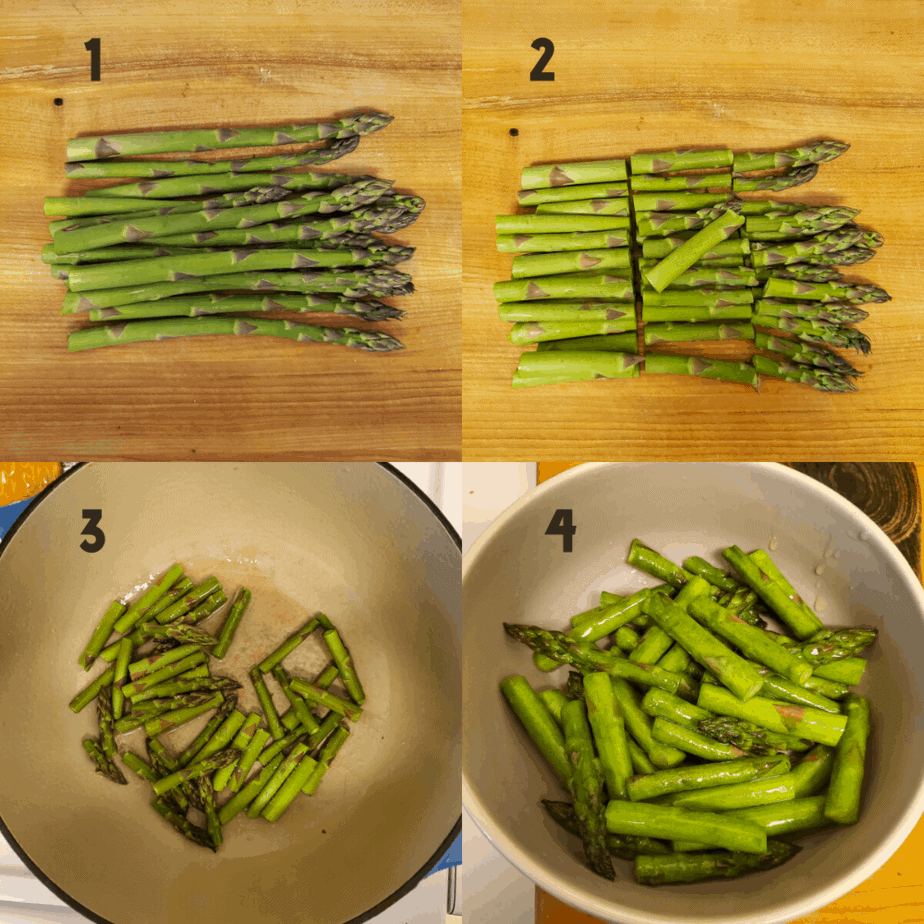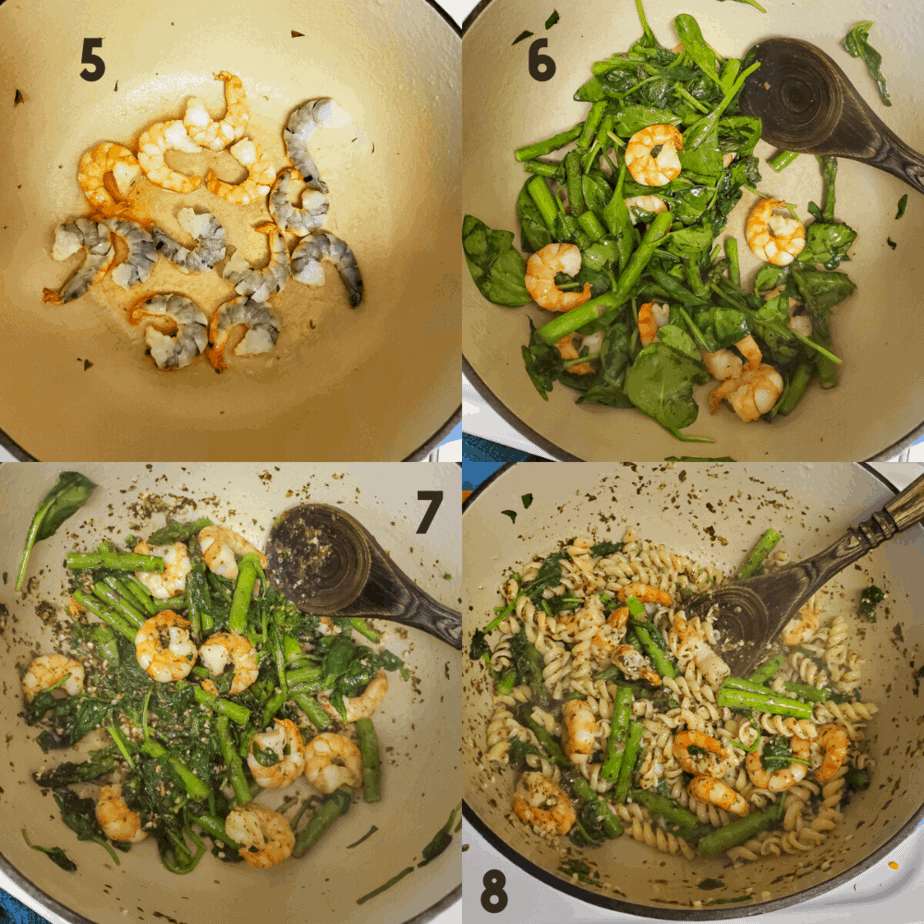 How do you trim asparagus? Trimming asparagus gets rid of the woody ends that aren't great to eat. To determine where to trim the asparagus, I take one spear and bend it until it breaks. I then cut all the asparagus in that bunch around that area. Sometimes it's only one inch other time it's two or three inches depending on the asparagus.
How do you defrost frozen shrimp? Remove frozen shrimp from the bag and place in a bowl and cover with cold water. Allow the shrimp to sit on the counter for 10-15 minutes and then check to see if they are defrosted. If they aren't, replace the water with new cold water and check back in 10 minutes.
How do you know when shrimp is done cooking? Shrimp turn from a gray/blue color to a bright pink color when they are done. You will know they are done cooking because they will be pink all the way through and have shrunk a little bit in size.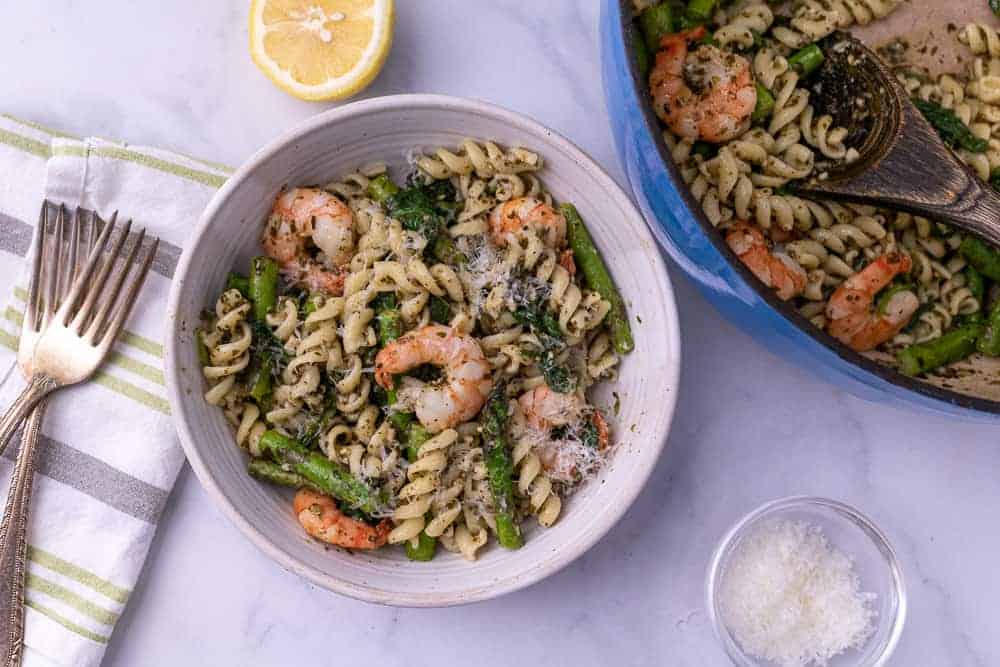 You May Also Like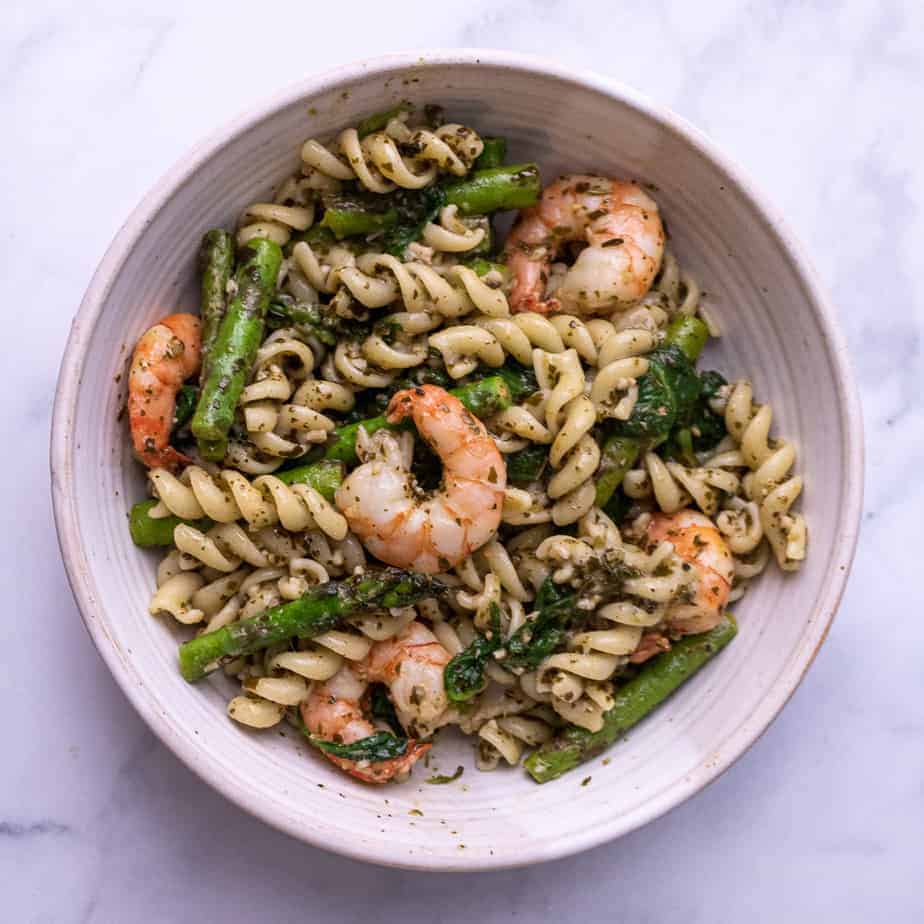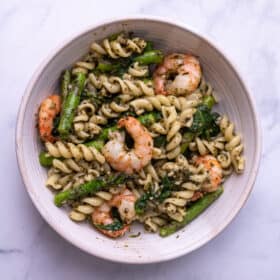 Lemon Pesto Pasta with Shrimp
Lemon Pesto Pasta with Shrimp is a quick, easy weeknight dinner seafood recipe, perfect for two people. A stove top pasta dish done in less than 30 minutes and loaded with fresh vegetables and pesto.
Print
Pin
Save
Saved!
Ingredients
½

pound

raw shrimp

peeled, de-veined, defrosted

6-8

oz

dried rotini

Kosher salt

½

pound

fresh asparagus

trimmed and cut into 2-3 pieces

3-4

tablespoons

olive oil

divided

3

oz

fresh spinach

¾

cup

pesto

Juice from ½ lemon

Parmigiano-reggiano to garnish
Instructions
Defrost raw frozen shrimp in a bowl of cold water. If necessary, de-vein and peel shrimp then pat dry, set aside.

In a medium to large pot begin boiling salted pasta water. Also, preheat a dutch oven over medium heat.

While waiting for the water to begin boiling, trim the ends of asparagus and cut each spear into 2-3 pieces.

Once the water begins boiling, add the pasta and cook according to package inspections. Stir immediately to prevent sticking and then stir occasionally while cooking.

After you start the pasta, add 2 tablespoons of olive oil to the preheated dutch oven and saute the asparagus. Season with salt to taste and cook for about 2 minutes until bright green but still not soft.

Remove asparagus and set aside.

In the dutch oven, add the rest of the olive oil and add the shrimp and season with salt. Reduce heat to medium low and cook shrimp until pink on both sides (2-4 minutes total).

Once the shrimp is cooked, add in the cooked asparagus and raw spinach. Toss together until spinach is wilted and turn off the heat.

Next add pesto and juice from ½ of a lemon. Stir to combine.

Save ½ cup of pasta water and then drain pasta using a spider or colander. Add hot pasta directly to the dutch oven and stir well to combine. If necessary, add 2 tablespoons of pasta water to loosen the sauce. Season with salt to taste.

Portion out pasta and then garnish with freshly grated Parmigiano-Reggiano if desired.
Notes and Accommodations
Use de-veined, peeled, defrosted raw large shrimp for this recipe. Cooked shrimp can be added with the pasta to be warmed up.
Be sure to save some pasta water to make the sauce cling to the pasta.
Store leftovers in the fridge in an airtight container with a splash of pasta water or extra pesto for up to 3 days.