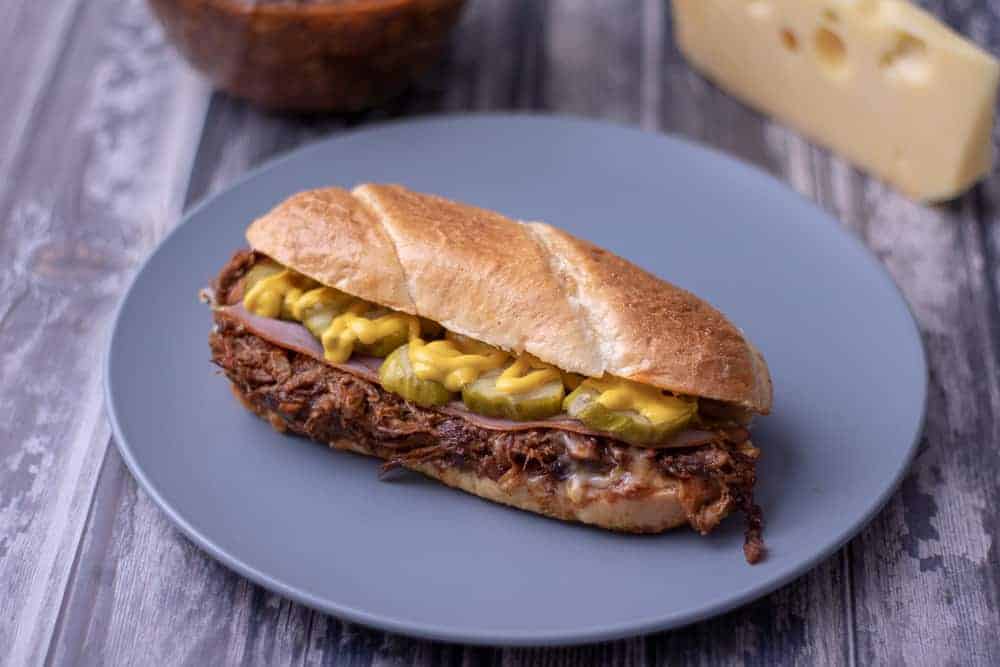 Tips, Tricks and Substitutions
Do you need to use exact measurements? No way! Sandwiches are meant to be flexible and customized. These are rough guides so you know how much cheese and ham to get. Use as much or as little of everything as you want. If you want more pickles, add more pickles. If you want just a little bit of mustard, do a light drizzle over the sandwich.
What other types of cheese can you use? I prefer a nice alpine cheese like Swiss or Gruyere. A mild cheddar, fontina or havarti will also work. My preferred brand is Jarlsberg in a block that I shred right before using it. You can also use pre-sliced cheese.
Method
How do you make pulled pork? I make mine in either the pressure cooker or in a slow cooker. You can read see my recipe here.
Do you need to wrap the sandwiches in tin foil and put a brick on it? This may sound a bit strange, but it's the cheapest way to make a panini without buying another piece of equipment. Do I love panini's? Yes. Do I want to have another appliance on my counter top? Nope. A brick wrapped in foil works just fine. The tin foil helps keep the sandwich together and placing the brick on top gives the "pressed sandwich" effect.
What do you use if you don't have a panini press or brick? If you're in a pinch, you can use a heavy oven safe pan to put on top (like a cast iron pan). If you only have one, I would wrap the sandwich in tin foil, put it on a sheet tray and then place the cast iron pan on top. Also go buy a brick. It is less than a dollar and I use mine for making an extra melty grilled cheese, grilled chicken caesar wraps and even crispy chicken.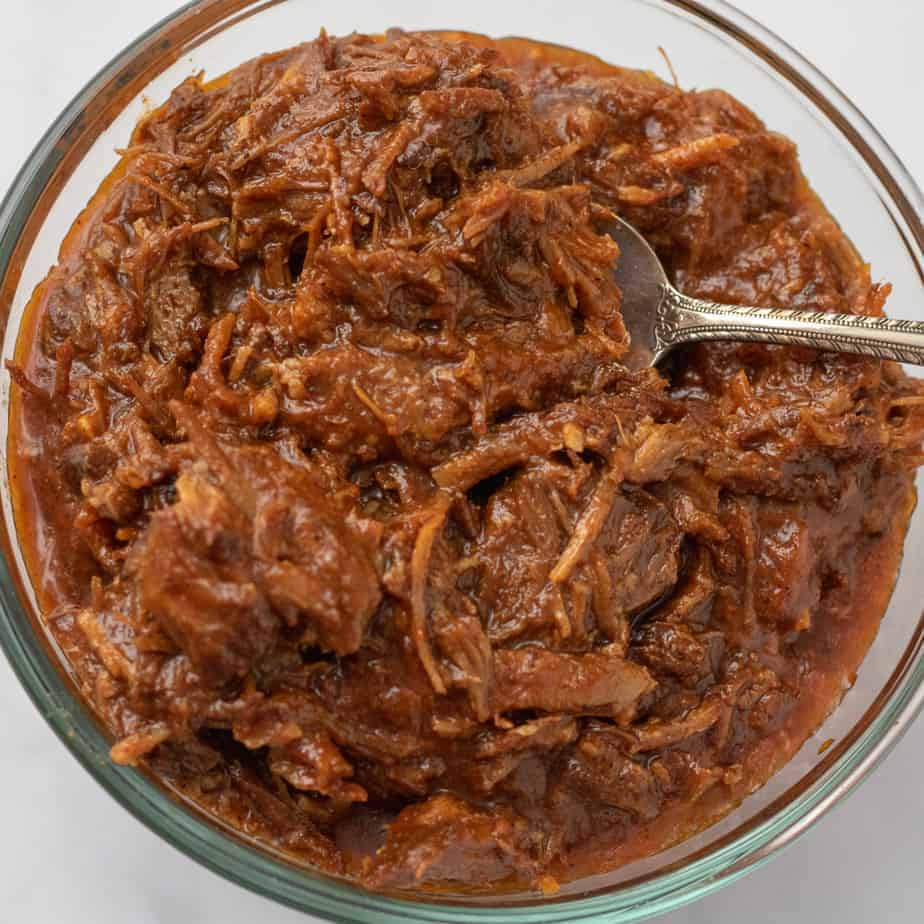 Ingredients
What types of pickles do you use? I prefer either bread and butter pickles or sweet gherkins for when I make Cuban sandwiches. Use your favorite pickles. I'd recommend cutting them so they fit well on the sandwich, or buying the ones that are already flat. The acid really brightens up the sandwich and gives a great texture.
You May Also Like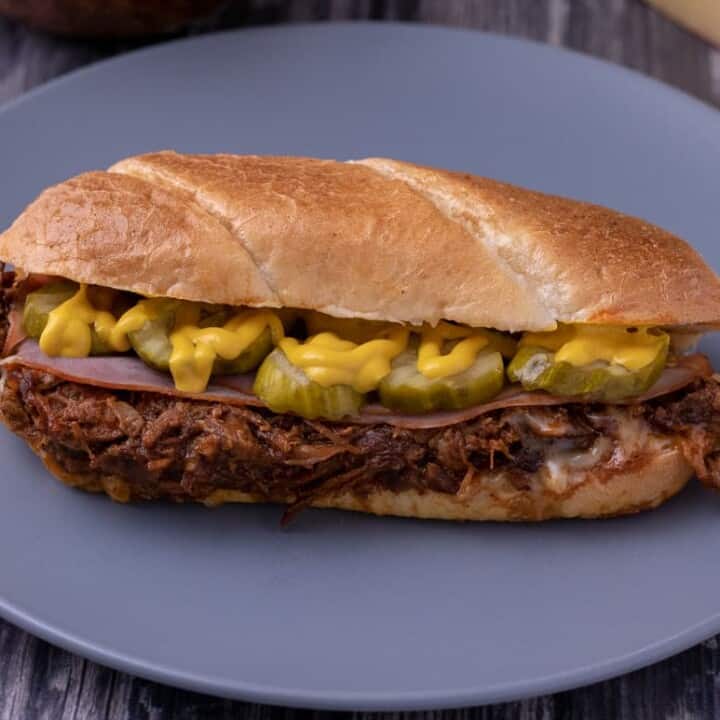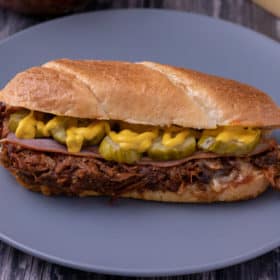 Leftover Pulled Pork Cuban Sandwich
Pulled pork Cuban sandwiches are a fantastic way to use up leftover pulled pork. This is my take on these classic South Florida sandwich. This recipe is perfect for a quick weeknight dinner for just one or a whole family.
Print
Pin
Save
Saved!
Ingredients
One 6 inch French roll

⅓

cup

Swiss cheese

freshly grated

⅓

cup

BBQ pulled pork

2

pieces

deli honey ham

¼

cup

bread and butter pickles

1

tablespoon

yellow mustard
Instructions
Place a medium cast iron pan in the oven and preheat the oven to 400 F.

Cut open a french roll, but do not cut all the way though. Make sure the two pieces are connected by a hinge.

Place the roll on a large piece of tin foil.

On the bottom portion of the roll, add cheese, pulled pork and top with ham.

Tightly wrap the sandwich closed with the tin foil and note which side is the bottom of the sandwich.

Place the wrapped sandwich in the preheated cast iron pan. Ensure the bottom of the sandwich is in contact with the pan. Cover the sandwich with a tin foil wrapped brick or cast iron press.

Bake for 15 minutes.

Carefully take out the pan and sandwich from the oven. Remove the brick and carefully unwrap the sandwich from the foil.

Open the sandwich and add pickles and yellow mustard.

Cut in half and enjoy.
Notes
If you don't have a brick or cast iron press, you can use another cast iron pan or a panini press to achieve the desired texture.
Join our Discord Server!
Chat about the monthly theme, get recipe troubleshooting and post what you made for dinner and engage with the community!