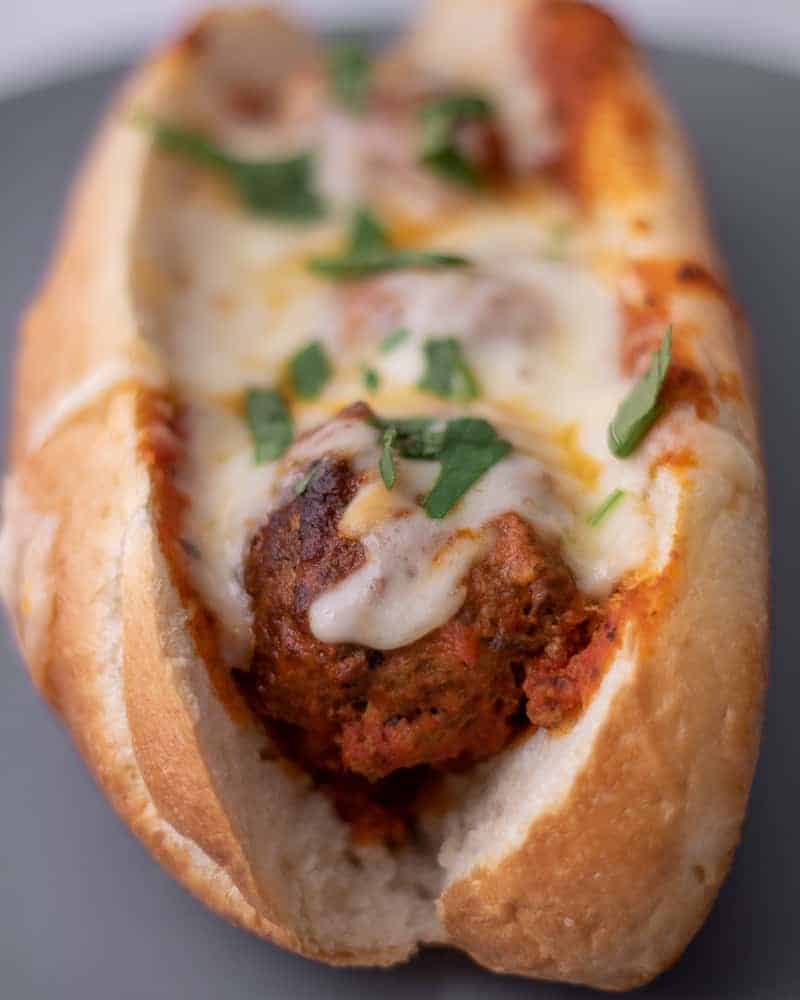 Tips, Tricks and Substitutions
Can you use frozen meatballs for meatball subs? Yes, you can either use homemade meatballs that have been frozen (Find instructions here) or already frozen store bought meatballs. Make sure the meatballs are already cooked completely through. Do not use raw meatballs as they won't cook all the way through in the subs. Before adding frozen meatballs to meatball subs, ensure they are thawed out in the fridge, in sauce on the stove top or in the microwave.
What do you serve with meatball subs? Something lighter works well with this. We usually have in season vegetables or a light salad.
Can you freeze sub rolls? Yes. Bread freezes and defrosts very well. Make sure it's in an airtight container to avoid freezer burn. We do this because we don't eat a whole bag of rolls before they go bad.
Ingredients
What kind of bread do you use for the subs? I buy six inch brioche, Italian style sub rolls or french bread for meatball subs. Whatever looks better that day or you have in the house.
What cheese can you use for meatball subs? There are lots of type cheeses you can use on these meatball subs. My favorite cheeses to use are a 1:1 ratio of fontina to smoked mozzarella. Other options are cheddar, provolone or mozzarella. I'd be careful with a lot of fresh mozzarella because it can become watery. Typically a blend of cheese works best to get good melting action and flavor.
Method
How do you make meatballs? My stove top Italian meatball recipe is here with tips on how to prepare the meatballs, freeze the meatballs and cook the meatballs.
How much sauce do you put on each sub? I typically don't measure how much sauce I put on the meatball subs. I add just enough to cover the inside of the bread and then a little more over the meatballs once in the rolls. Add as much or as little as you want.
How many meatballs do you put on each sub? For the rolls we buy I either cut two meatballs in half to make it easier to eat or do three full meatballs. It depends on if my boyfriend is eating them (the first method) or I'm eating them (the second method). I'd recommend using as many meatballs are you can fit comfortably.
How much cheese do you put on each sub? I always make sure the top of the meatballs are covered well with cheese before toasting.
How do you bake a meatball sub? The best way to bake a meatball sub is on a sheet tray with the sub opening facing up so that the cheese melts well. If you wanted toasted bread, don't wrap the meatball subs. If you want softer bread, wrap the meatball sub in tin foil before baking. You will still get melted cheese and warm bread but it won't be toasted.
You May Also Like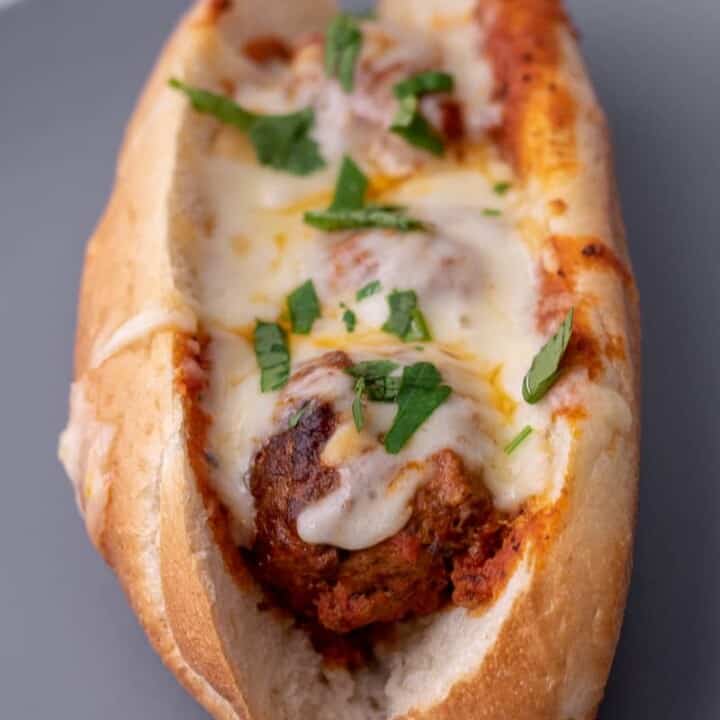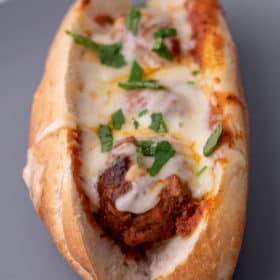 Italian Meatball Sub Sandwiches
These easy Italian meatball subs are topped with marinara sauce and cheese and then toasted in the oven. The melted cheese and juicy Italian meatballs make an easy weeknight dinner. This meatball subs recipe can use your favorite fresh or frozen meatballs.
Print
Pin
Save
Saved!
Ingredients
2

six inch brioche sub rolls

6

Italian meatballs

already cooked

4

tablespoons

marinara sauce

¼

cup

shredded smoked mozzarella

¼

cup

shredded fontina

Optional: 2 tablespoons fresh parsley

chopped
Instructions
Preheat the oven to 375 F.

Cut the sub rolls almost in half, leaving a hinge.

Place the cut sub rolls on a sheet tray. Add 2 tablespoons of marinara sauce to each sub roll.

Place 3 full meatballs into each sub roll.

Grate and mix the smoked mozzarella and fontina in a small mixing bowl.

Top the meatballs with cheese mixture and place in the oven. Make sure that the subs are standing up so that the cheese doesn't melt out.

Bake for 8 minutes in the oven.

Remove from oven and top with optional parsley. Cut in half and enjoy.
Notes
Stove Top Italian Meatball recipe
Meatballs can be kept whole or cut in half in sub.
Provolone, fresh mozzarella or cheddar can also be substituted.
Brioche, Italian sub rolls or french bread will work for meatball subs.
Join our Discord Server!
Chat about the monthly theme, get recipe troubleshooting and post what you made for dinner and engage with the community!