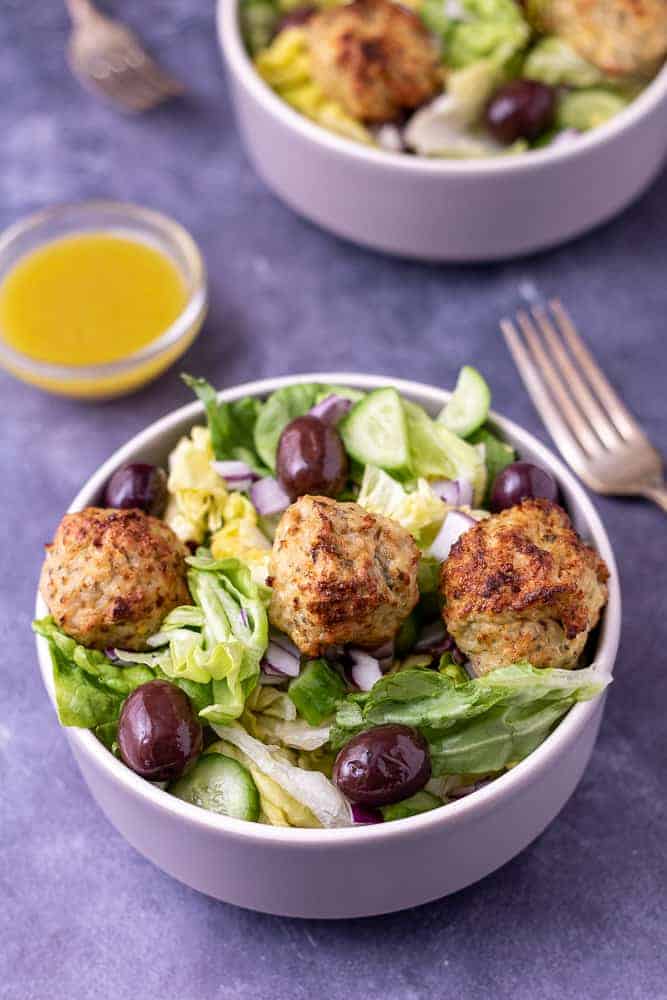 Method
How do you make Greek chicken meatballs? I have an entire post dedicated just to how to make the meatballs that you can find here. There you can find tips on how to cook, store and freeze these meatballs. To make the meatballs mix together in a large mixing bowl: one pound ground chicken, one large egg, 1 ½ tablespoons garlic paste or four to five cloves grated, one tablespoon of dried oregano, one teaspoon lemon zest, one teaspoon onion powder, ¾ teaspoons kosher salt, ¼ teaspoon fresh black pepper. Mix well with hands and portion out 1.5 oz meatballs using a scale, the recipe will make 12 meatballs. Preheat your air fryer to 390 F and spray the basket with oil. Cook six meatballs at a time in a single layer for eight to nine minutes until golden brown and cooked to 160 F internally. Repeat with the remaining meatball and then assemble the salad.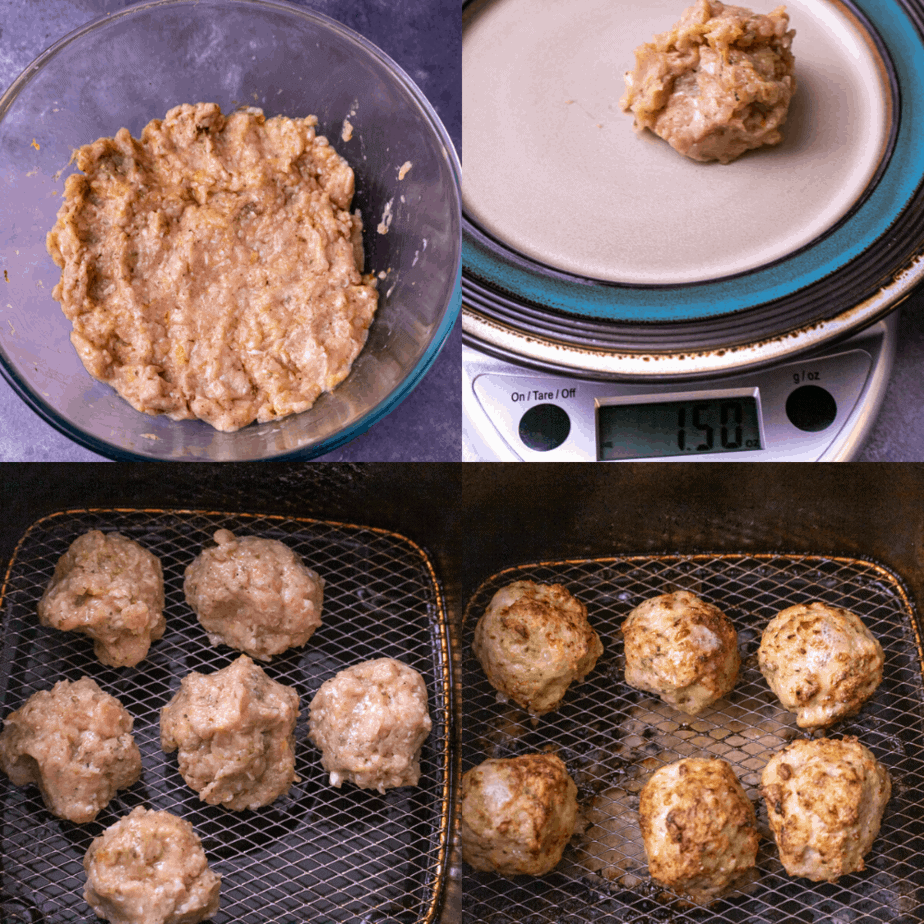 How do you make lemon vinaigrette? This salad dressing is very easy, I usually assemble it in a small mason jar for easy storage and shaking. To a small mason jar add lemon zest from ½ of a lemon, two tablespoons of lemon juice, 1 ½ tablespoon of apple cider vinegar, one teaspoon of garlic paste and five tablespoons of extra virgin olive oil. Shake well and then season with salt and pepper to taste.
How do you assemble the salad? This salad is very forgiving and very easy. Simply add your lettuce of choice to a bowl and add toppings (olives, onions and diced cucumber). Add warm meatballs on top (three to four) and finish with lemon vinaigrette.
Tips and Tricks
Are the meatballs warm or cold on the salad? I prefer to have a hot/cold combination when eating a salad, so I prefer the meatballs warm out of the air fryer or microwave. However, as long as the meatballs are cooked through fully, you could serve these cold on a salad.
How many people does this salad recipe serve? This salad recipe is written for two large salads for dinner, making it a great recipe for two people or one person with leftovers for the next night. However, it is a very easy recipe to scale up or down depending on the number of people you cook for or as a meal prep for the week.
Storage
How do you store lemon vinaigrette? I store this salad dressing in a mason jar in the fridge for up to two weeks. Reshake before using to recombine.
How do you store this salad for meal prep or leftovers? If you think you'll have leftover salad, make sure you only add the dressing to the amount of salad you want to eat. Dressed lettuce and salad gets soggy and aren't great the next day. Store lettuce, olives, cucumbers and onion in one container, separate from the dressing. If you want the meatballs warm, store these separately as well, so they can be easily reheated. If you prefer to eat the meatballs cold with the salad, store on the salad in the fridge for up to three days. To make this for meal prep, be sure to store all portions of salad separate from the dressing.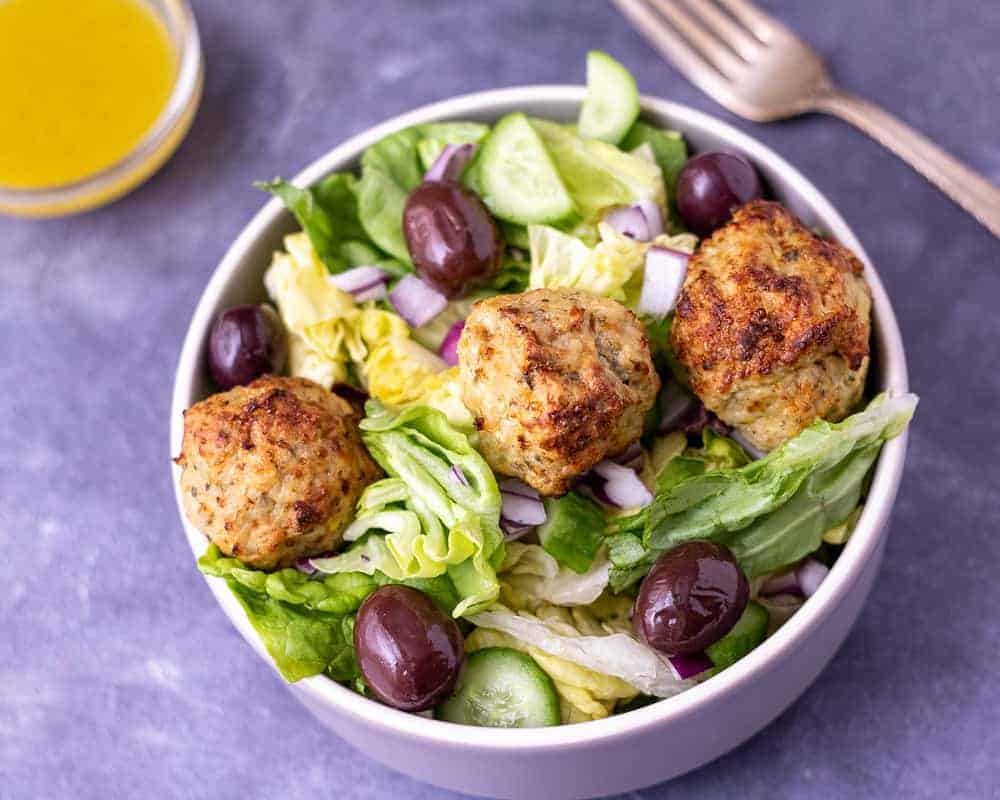 Substitutions
Can you use other meatballs for this salad recipe? Yes! If you have other meatballs you want to use up or prefer, you can absolutely add them to this salad as a base. Make sure they are cooked and warm before adding to the salad.
What substitutions can I make for this salad? As far as I'm concerned, all salad recipes are just a base recipe for you to mix and match whatever you prefer and what you have in the house. Swap in whatever leafy greens you prefer or have on hand, leave out the olives if you don't like them or add in fresh garden tomatoes (I'm not a fan!). Think about textures, flavors and colors when making a salad. Some substitution ideas are as follows.
Butter lettuce substitution: any leafy green like spinach, romaine, red lettuce
Cucumber substitution: sliced green pepper
Red onion substitution: sliced raw radishes
Kalamata olive substitution: other types of olives or anything pickled or briney like banana peppers or pickled cauliflower
Lemon vinaigrette substitution: balsamic vinaigrette or greek vinaigrette
You May Also Like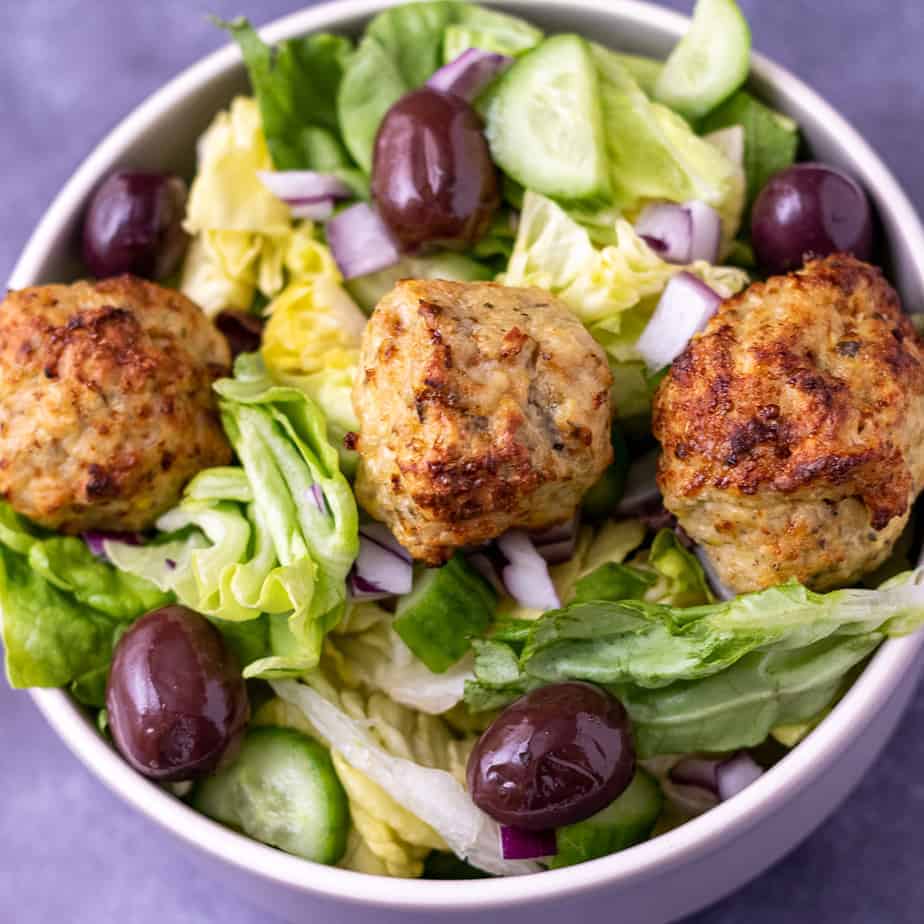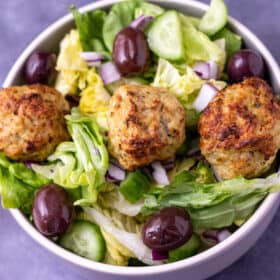 Greek Chicken Meatball Salad
Greek Chicken Meatball Salad is an easy low carb and dairy free salad recipe. Made with air fryer greek chicken meatballs, butter lettuce, kalamata olives, red onion, cucumber and a homemade lemon vinaigrette, this is an easy weeknight salad recipe.
Print
Pin
Save
Saved!
Ingredients
Salad Dressing
5

tablespoons

extra virgin olive oil

2

tablespoons

fresh lemon juice

1 ½

tablespoon

apple cider vinegar

1

teaspoon

garlic paste or 3 grated cloves

Zest from ½ lemon

Kosher salt to taste

Fresh black pepper to taste
Salad
6-8

Greek Chicken Meatballs

4

cups

butter lettuce

1

small cucumber

diced

¼

red onion

diced

¼

cup

kalamata olives
Instructions
Salad Dressing
Add olive oil, lemon juice, apple cider vinegar, garlic and lemon zest to a small mason jar and shake well to mix. Season to taste with kosher salt and black pepper.
Salad
If using, prepare and cook Air Fryer Greek Chicken Meatballs as described here.

Once the meatballs are done, portion lettuce into 2 different bowls. Split toppings between the 2 portions.

Add warm 3-4 meatballs to each salad and top with salad dressing. Mix together and enjoy.
Notes and Accommodations
For leftovers or meal prep, store lettuce and salad separate from dressing.
Meatballs can be eaten warm or cold depending on preference. Just make sure they are fully cooked through if eating cold.
All ingredients are approximates, the salad recipe is very forgiving, add more or less of each ingredient for preference.