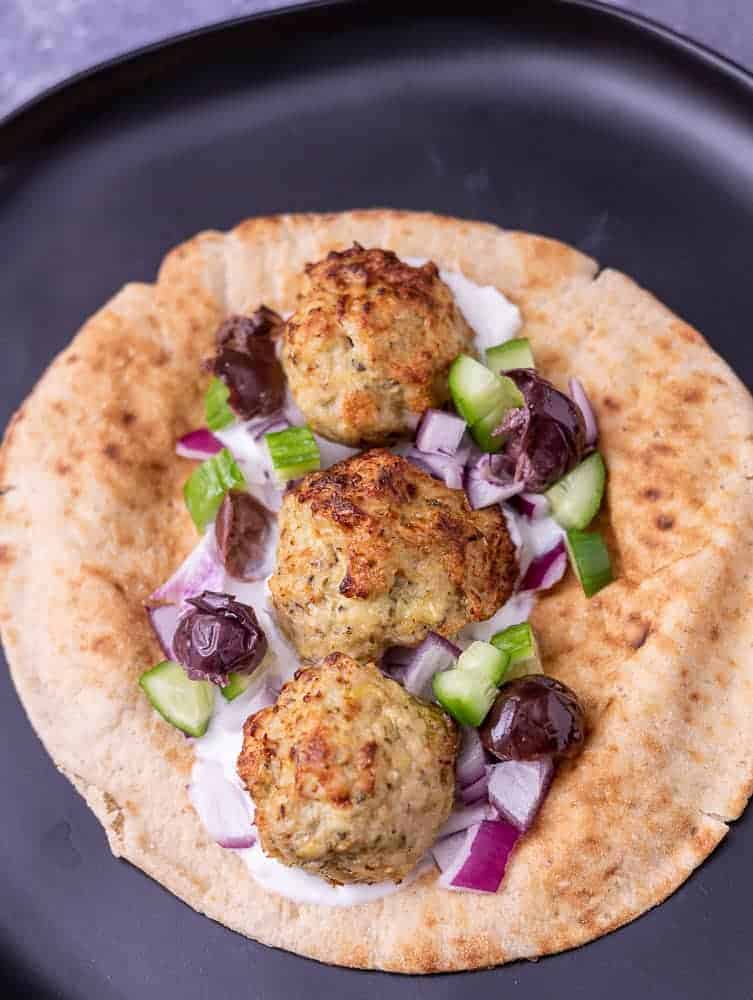 Method
How do you make Greek chicken meatballs? I have an entire post dedicated just to how to make the meatballs that you can find here. There you can find tips on how to cook, store and freeze these meatballs. To make the meatballs mix together in a large mixing bowl: one pound ground chicken, one large egg, 1 ½ tablespoons garlic paste or four to five cloves grated, one tablespoon of dried oregano, one teaspoon lemon zest, one teaspoon onion powder, ¾ teaspoons kosher salt, ¼ teaspoon fresh black pepper. Mix well with hands and portion out 1.5 oz meatballs using a scale, the recipe will make 12 meatballs. Preheat your air fryer to 390 F and spray the basket with oil. Cook six meatballs at a time in a single layer for eight to nine minutes until golden brown and cooked to 160 F internally. Repeat with the remaining meatball and then assemble the sandwich.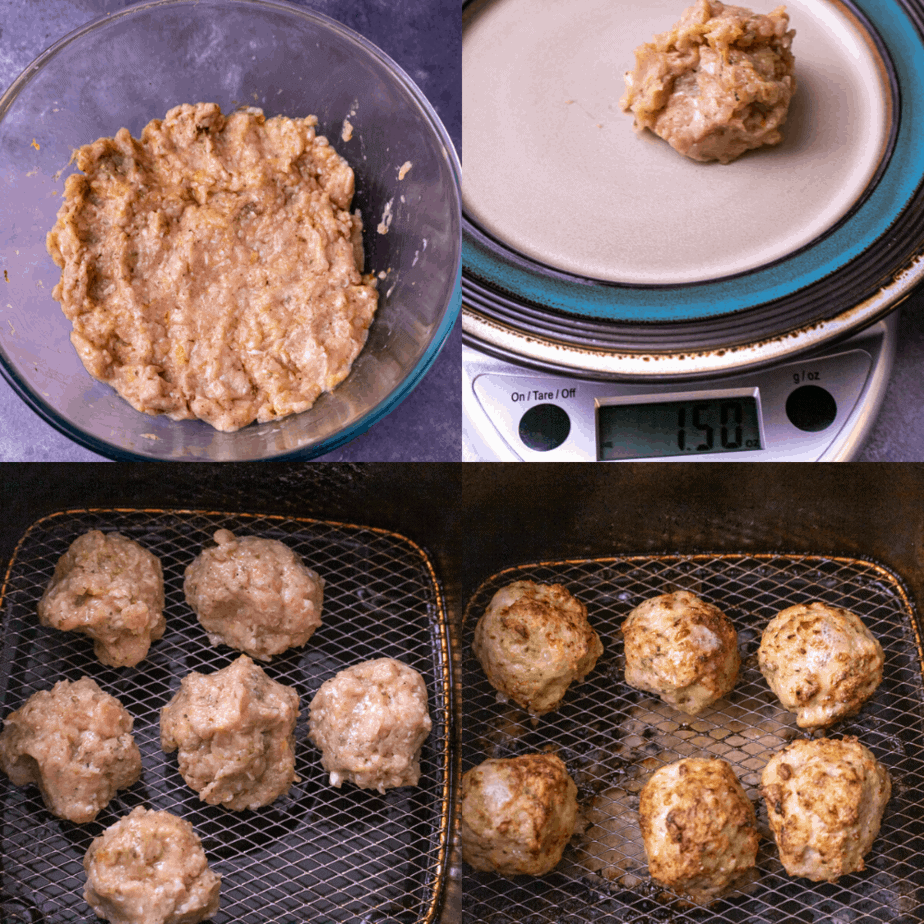 How do you make tzatziki? I either buy it at the store or use this recipe classic tzatziki sauce here. Either option works; making it from scratch allows you to customize the flavor and quantity. A lot of times the store bought version is very dill forward, which I am not a fan of, so I often make it. Sometimes I just make tzatziki sauce and dip the meatballs in it and eat it like that.
How do you assemble the pita sandwiches? I start by making the greek chicken meatballs in the air fryer and while those are cooking, I cut up my onion, cucumber and olives. I place one to two tablespoons of tzatziki sauce down the center of a pita. Once the meatballs are done cooking, I add three to four meatballs to the pita on top of the tzatziki and then add my toppings of choice. I prefer to eat the meatballs warm out of the air fryer but as long as they are cooked, you could eat them cold as well.
Do you add the filling inside the pita? You definitely can try but I always fail at doing this, therefore I take one pita and just make it like a taco. Whenever I try to add the filling inside the pocket of a pita, I rip it horribly. I've learned my lesson and just make it using a whole pita instead of half.
Tips and Tricks
Do you heat up the meatballs before adding them to the pita? I prefer to make the sandwiches with warmed meatballs. If using cold meatballs, ensure they are fully cooked before adding them to the pita.
Can you substitute other meatballs for the recipe? Absolutely, like most sandwiches, this is a base recipe that you can easily customize. Feel free to add feta cheese, tomatoes or anything else you think would go great here.
How many sandwiches does this make? This recipe is written for two sandwiches, making it an easy lunch or weeknight dinner for two people. However, the original meatball recipe makes 12 meatballs, so I recommend freezing the leftover meatballs or making a salad the next night with leftovers.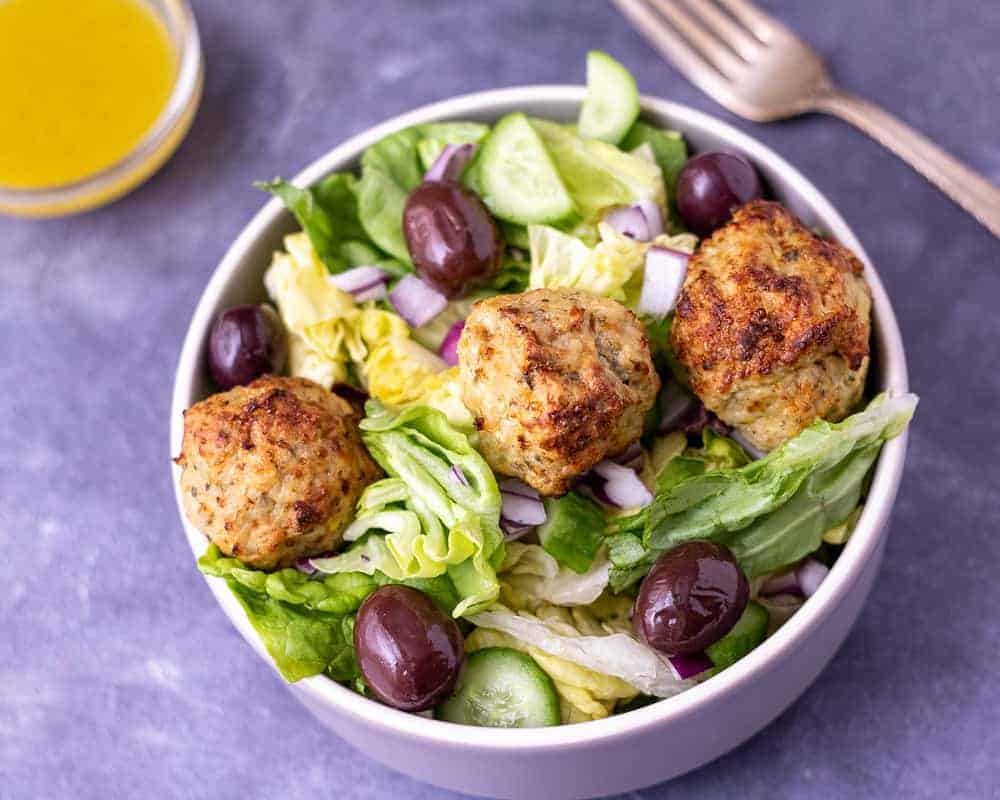 How do you store these sandwiches? I do not recommend storing these sandwiches fully assembled as they will get soggy in the fridge. I'd store the pita bread separate in your pantry in an airtight container. You can store the onions, olives and cucumbers together in the fridge. Store meatballs separately in the fridge in an airtight container so it is easy to heat them up. Finally, like most sauces, store your homemade or store bought tzatziki separately.
What do you serve with pita sandwiches? I usually eat two sandwiches for dinner without any sides because I'm lazy. But you could make some rice pilaf, roasted vegetables or have a side salad with these sandwiches. Because it's a lighter meal, I typically recommend eating with a lighter side dish like vegetables or a salad.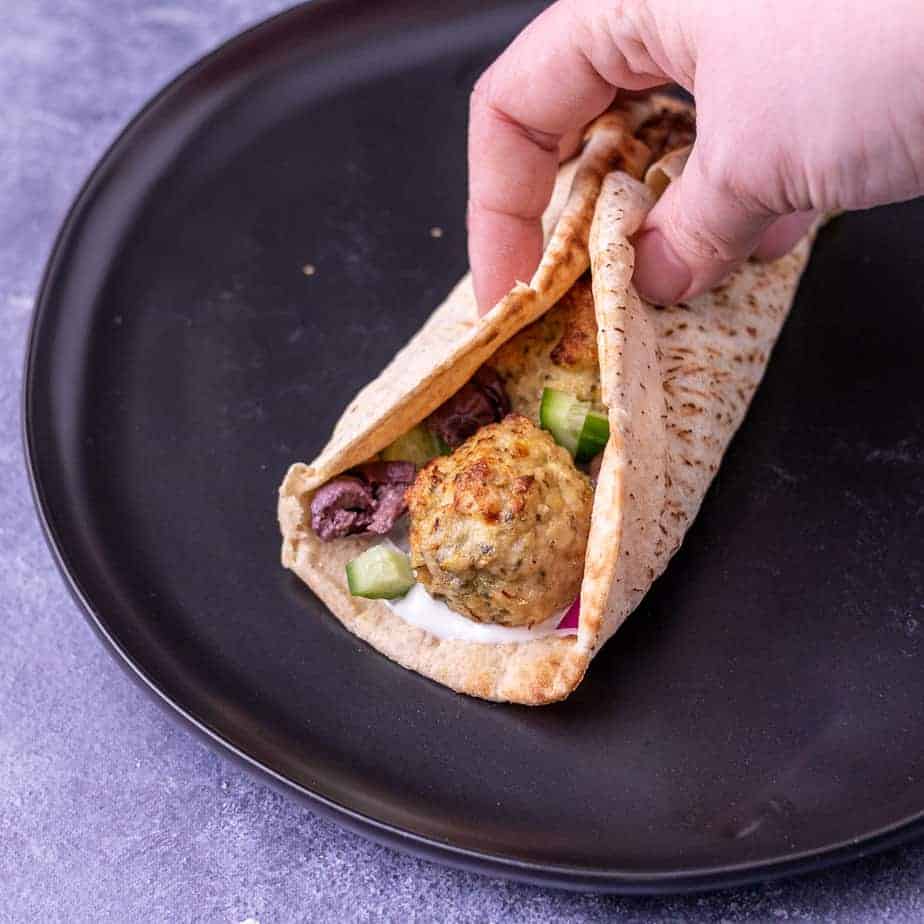 You May Also Like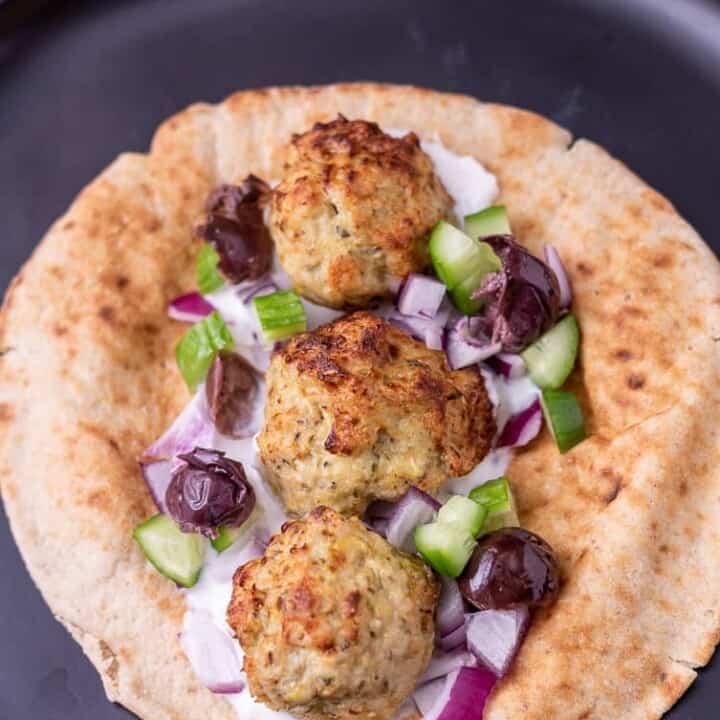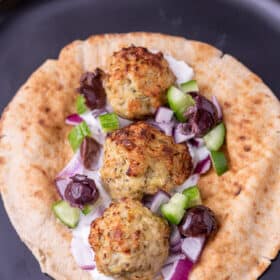 Greek Chicken Meatballs Pita Sandwiches
Greek Chicken Meatball Pita Sandwiches are a quick, easy and light lunch or dinner recipe (perfect for summer time!). Air fryer chicken meatballs topped with tzatziki, kalamata olives, cucumber and red onion all wrapped together in a pita.
Print
Pin
Save
Saved!
Ingredients
6-8

Greek chicken meatballs

cooked

2

pieces

pita bread

2-4

tablespoons

tzatziki

1

small cucumber

diced

¼

red onion

diced

¼

cup

kalamata olives

diced
Instructions
If using, prepare Air Fryer Greek Chicken Meatballs by using this recipe here.

Once meatballs are cooked, take 1 piece of pita bread and add 1-2 tablespoons of tzatziki down the middle.

Add 3-4 meatballs on top of the sauce and then top with half of the cucumber, red onion and olives.

Repeat with remaining ingredients to build the second sandwich. Fold to eat like a taco.
Notes and Accommodations
Meatballs can be eaten cold or warm, just ensure they are fully cooked.
Sandwiches are assembled on a full piece of pita bread.