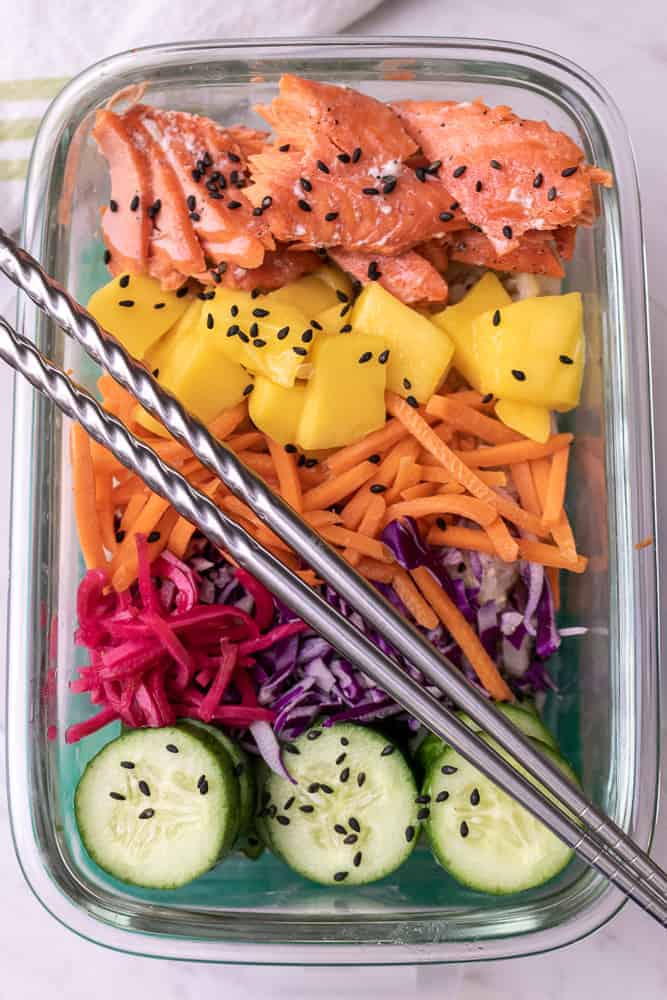 Tips, Tricks and Substitutions
Can you substitute canned salmon? Yes, absolutely! The texture may not be the same but it'll serve the same purpose. Be sure to drain it well and season it if unseasoned.
Can you use raw fish for poke bowls? Most recipes call for raw fish but you have to make sure you are buying sushi grade fish for these recipes. Depending on where you are, this can be difficult to find or very expensive. So if you can easily find raw sushi grade fish, then absolutely! Otherwise, I'd stick with buying good quality fish and slow roasting it.
What's the best way to store the dressing? I like to store mine in a small mason jar. You can measure all the ingredients directly into a mason jar, shake to mix it and then split it into two smaller mason jars. I keep these in the fridge next to the containers containing the poke bowls.
Can you make sushi bowls without rice? Yes, you can easily make poke bowls without rice. I'd add more cabbage,a sturdy green like spinach or kale or even use cauliflower rice to make it filling. This is a great low carb option.

Method
How do you make poke bowls at home? The first step is to cook your preferred rice according to instructions and cool it in the fridge. While that is cooling, start slow roasting the salmon in the oven. Once the salmon and rice are cooked, and the rice is seasoned, you can layer the toppings anyway you wish. Make sure to keep the sauce/dressing on the side so that it doesn't get too soggy if you are making this for meal prep options. If you're eating this recipe immediately you can toss everything in a bowl with the dressing on top.
How do you cook the salmon? I like to slow roast the salmon because I think it comes out more tender and juicy than if you cook it at a higher temperature faster. It is also easier to overcook the salmon this way with high heat.
How much rice do you use in salmon poke bowls? For each bowl I plan on making (usually two) I make ½ cup of rice. Typically, rice will double in volume so I start with ½ cup of uncooked rice and it'll make roughly 1 cup of cooked rice.
How much salmon do you add to the poke bowls? This recipe is based on making two poke bowls so I recommend buying about ½ pound of raw salmon. I roughly add ¼ pound to each bowl.
Ingredients
What do you put in the poke bowl? These poke bowls are basically sushi in a bowl. Anything you enjoy on sushi, you can easily add to your poke bowl. I like to use cooked salmon because it's cheaper than buying sushi grade salmon and a lot easier to find. I like to have a variety of colors, textures and flavors in my sushi bowls. My favorite ingredients are cooked salmon, brown rice, fresh cucumbers, shredded carrots, pickled ginger, fresh mango, red cabbage and sesame seeds. I top this with a dressing of soy sauce, maple syrup, garlic, sesame oil and rice wine vinegar.
What's the best rice to use in a poke bowl? The best rice to use in a sushi bowl or poke bowl is whatever rice you prefer and have on hand. I like to use brown rice but you can easily use white rice, jasmine rice, quinoa or even cauliflower rice. Just make sure it is cooled before you build the poke bowls and store them in the fridge.
Storage
How do you store poke bowls? It is best to store these in an airtight container in the fridge for up to three days.
How long are poke bowls good for? I usually only keep them for up to three days in the fridge. Try to buy the freshest salmon possible and then eat them a few days after you make them.
You May Also Like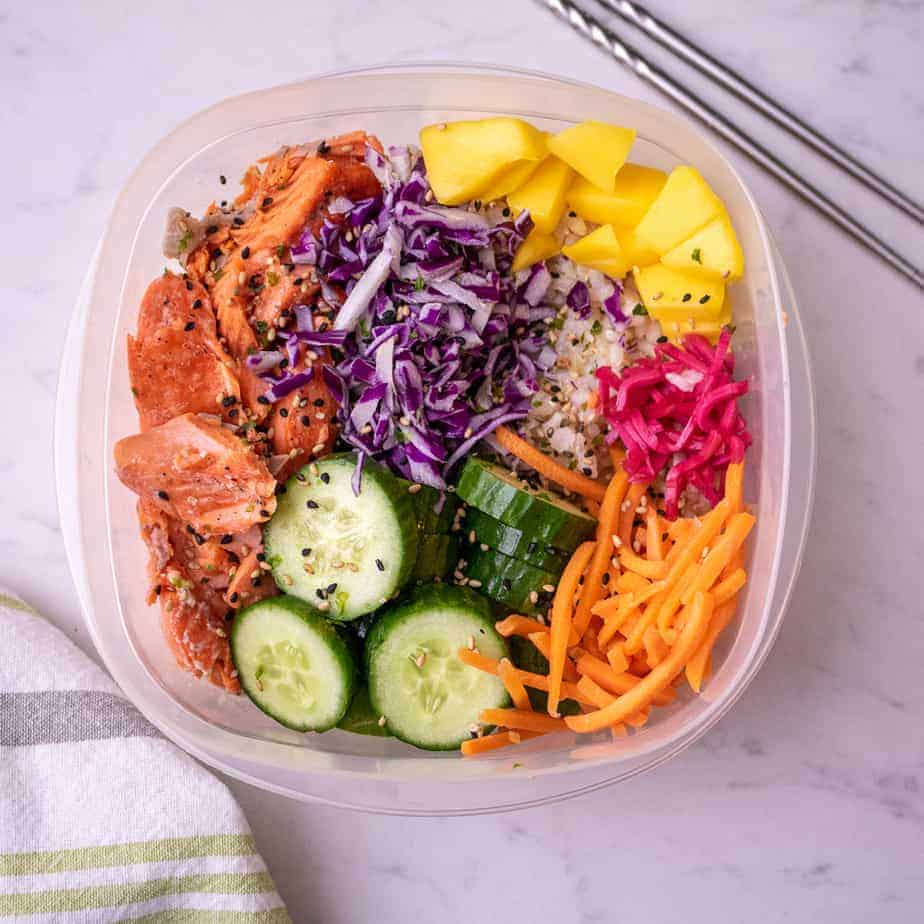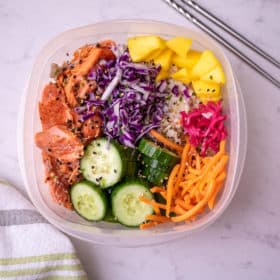 Easy Baked Salmon Poke Bowl Inspired Meal Prep
These easy baked salmon poke inspired bowls are great for a no heat meal prep option for lunch or dinner. This recipe makes two cooked baked salmon bowls, but can easily be scaled up.
Print
Pin
Save
Saved!
Ingredients
Rice Mixture
1

cup

cooked brown rice

cooled

¼

teaspoon

white sugar

1

tablespoon

rice wine vinegar
Slow Roasted Salmon
½

pound

salmon

1

teaspoon

olive oil

kosher salt

freshly ground black pepper
Dressing
⅔

cup

soy sauce

2

tablespoons

maple syrup

4

teaspoons

sesame oil

4

teaspoons

rice wine vinegar

2

teaspoons

garlic paste

or 2 cloves minced/grated
Toppings
2

small English cucumbers

cut into rounds

½

fresh mango

cut into cubes

⅓

cup

shredded red cabbage

⅓

cup

matchstick carrots

2

teaspoons

pickled ginger

2

scallions

thinly sliced

Sesame seeds for garnish
Instructions
Cook the rice according to package instructions, resulting in at least 1 cup of rice. Cool the rice in the fridge.

While the rice is cooking and cooling, preheat the oven to 225F Line a small sheet tray with parchment paper. Put the salmon skin side down on the parchment paper and drizzle with olive oil. Season to taste with salt and pepper.

Cook for 30 minutes or until salmon reaches internal temperature of 145F. Salmon is cooked when it easily flakes with a fork.

While the salmon is cooking, whisk together all the ingredients for the dressing in a medium mixing bowl. If using for meal prep, divide into two containers with lids (I use small mason jars). If you're eating immediately, keep in mixing bowl.

Chop up and prepare the toppings, set aside.

After the salmon is cooked, break it apart into bite sized pieces. The salmon should peel away easily from the skin.

Once the rice is cooled, mix it with the sugar and rice wine vinegar to season. Divide into two meal prep containers or bowls.

Split cooked salmon and all toppings between the two bowls. Top with sesame seeds.

If you're eating it immediately, top each bowl with half of the sauce. Mix well and enjoy chilled.

If you're meal prepping, store each bowl and sauce container in an airtight container with a lid in the fridge.

To enjoy for meal prep, remove from fridge and toss with one jar of sauce. I enjoy it cold from the fridge.
Notes and Accommodations
These proportions are for two bowls, but can easily be scaled up or down.
You can use whatever rice you prefer but ensure it is cooked and cooled before you build the bowl.
I typically start with ½ cup of brown rice to make 1 cup of cooked brown rice.
These measurements for toppings are rough estimates, feel free to customize.
These will keep for up to three days in the fridge.