Sauteed miso butter corn is a unique summer side dish that goes great with grilled meats and vegetables. Sweet summer corn off the cob paired with salty and rich miso is the perfect match. A quick side dish that really makes the most of delicious seasonal produce from the local farmers market.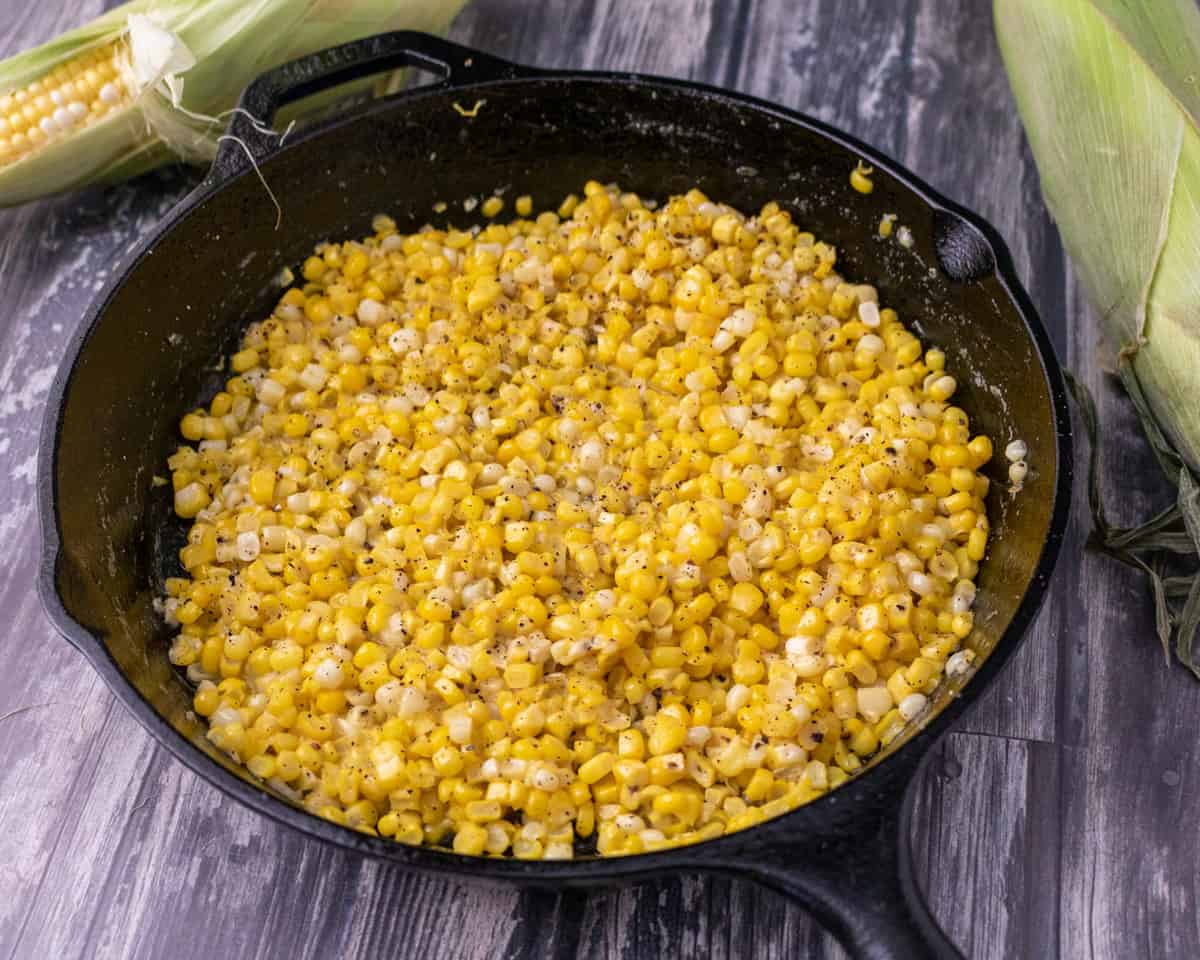 Jump to:
Tips and Tricks
How do you buy fresh corn? When buying fresh corn on the cob, try to avoid peaking at too much of the top because that dries out the corn quicker.
First, look at the tassels (the strings at the top) to see if they are moist and sticky, avoid dry tassels but brown is okay.
Next, check for small round holes near the top, this can mean worms/bugs got in there. The husk should be a bright green color, tightly wrapped around the cob and not dried out; slightly damp is just fine.
Finally, feel the husk and make sure there aren't any massive holes where kernels should be. Avoid peeling your corn at the store or farmers market as it dries out the corn and makes them starchier and less sweet.
How do you store fresh corn? Do not remove husks until you're ready to eat the corn. Store the corn in the husks, wrapped in a plastic bag in the fridge to preserve the kernels' sweetness for up to five days, but eating it sooner rather than later is better. Another option is to freeze it if you can't eat it quickly.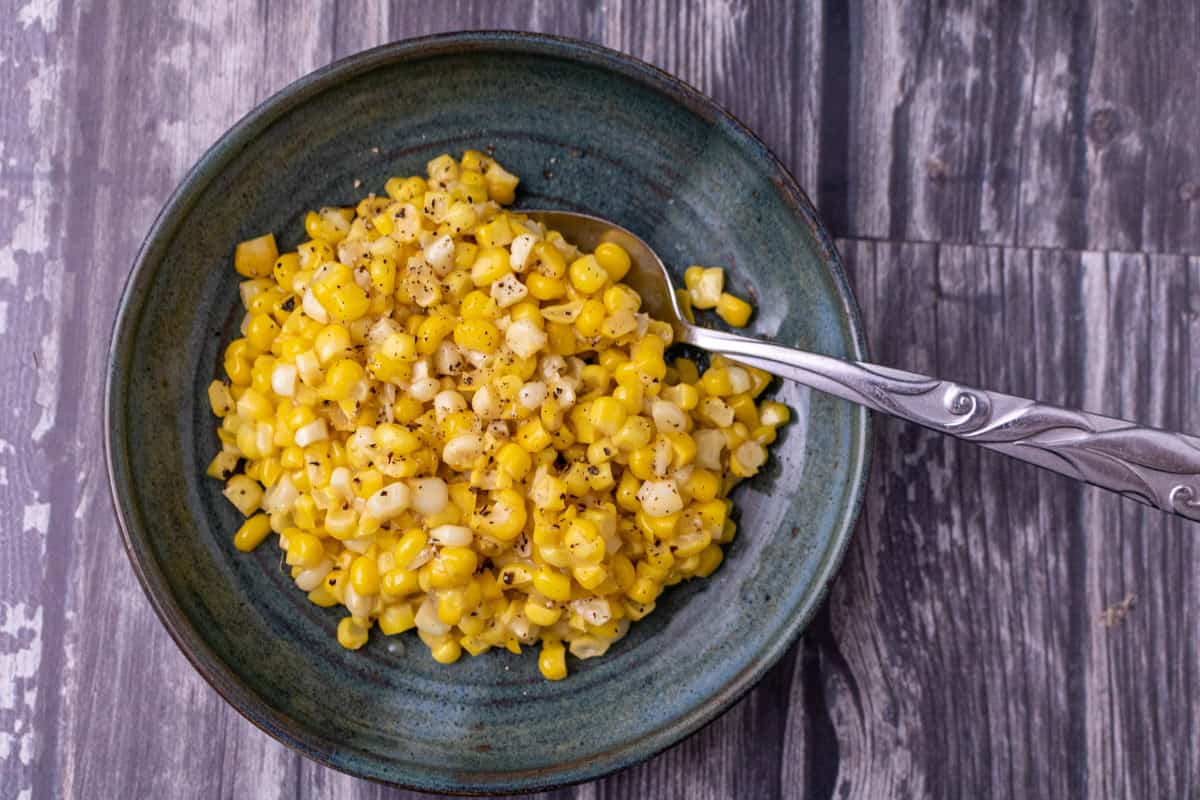 What do you serve corn with? Miso corn is slightly sweet, buttery and salty so it goes great with a variety of proteins but especially delicious with Grilled Soy Brown Sugar Salmon or Grilled Tilapia.
It's easier to eat because it's served off the cob, so it's great for dinner parties, outdoor grilling or a BBQ with friends and loved ones. Corn also goes great with other types of seafood like lobster, pork, steak, chicken, vegetarian options as well as the classic cheeseburgers and hot dogs from the grill.
How do you reheat leftovers? I reheat the leftovers in the microwave until just warmed through. You can also reheat the corn in a skillet over medium low heat until it's just warmed through.
How do you store leftovers? Store leftovers in the fridge in an airtight container for up to five days.
Ingredients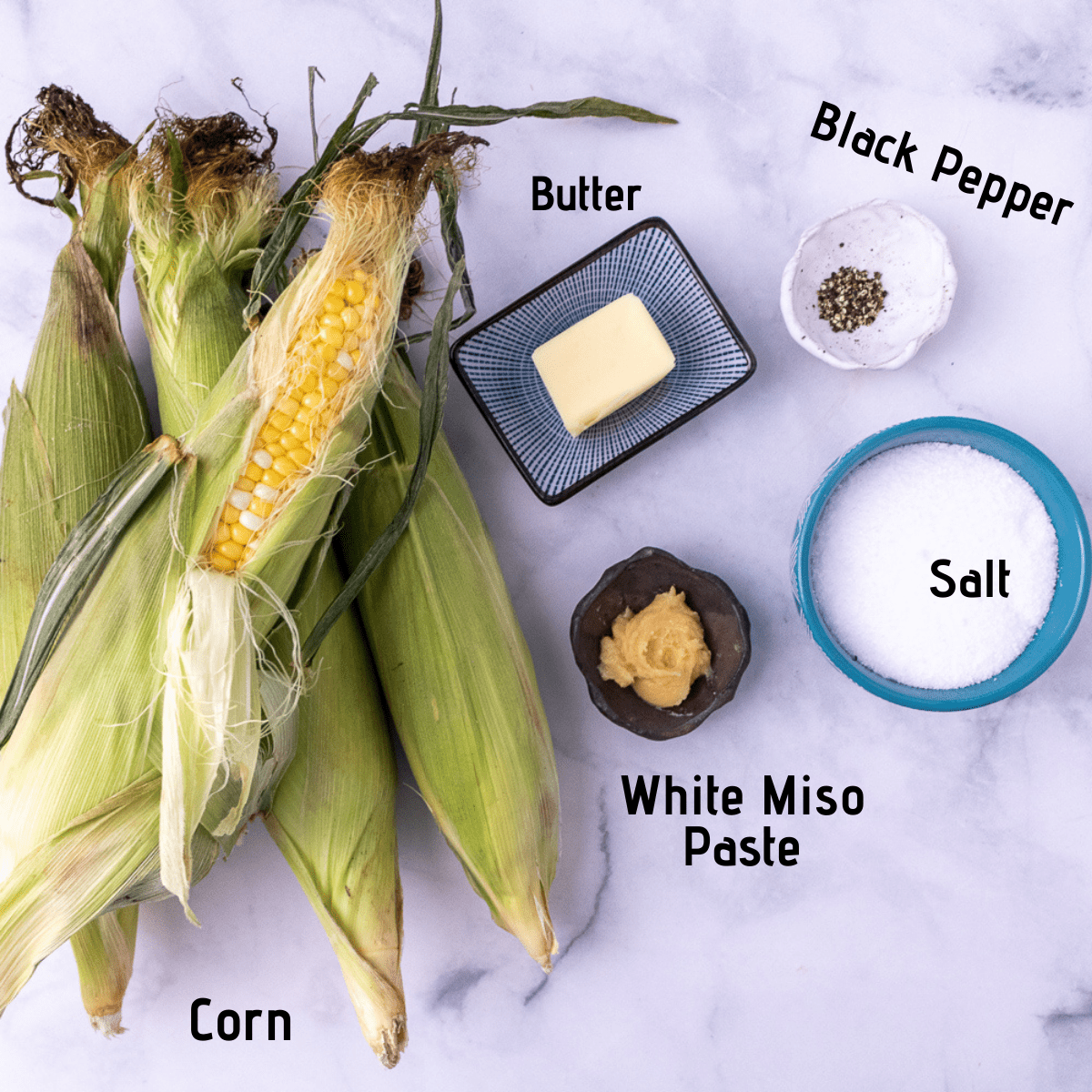 Corn on the cob - Fresher the better, ideally peak summer corn
Unsalted butter - your favorite works just fine
White miso paste - a mild tasting miso, if you want to use yellow or red, reduce the amount
Freshly ground black pepper
Diamond Crystal Kosher salt (affiliate link)
See recipe card for quantities.
Where do you find miso? Miso is Japanese fermented soybean paste, commonly found in the international aisle of a larger grocery store. Sometimes I can find it in the Asian section near other Japanese condiments and other times I find it in the refrigerated fermented food section near kimchi and sauerkraut. If you can't find it at your local grocery store, you can try Whole Foods or online.
What can you do with leftover miso paste? Miso paste is a fermented food so it will last a long time in the fridge. If you're looking for more ways to use up miso, you can add it to mustard dip for pretzels, salad dressings or even mashed potatoes! I love adding it to chicken soup, mac and cheese or melted with butter and tossed on popcorn. Add miso paste to anything that would benefit from a salty rich flavor.
What can you do with leftover corn cobs? If you're cutting the corn off the cob, you can then use the cobs for corn stock. I store a few in the freezer with carrot scraps, onion scraps, celery scraps, garlic scraps and fresh herbs like thyme and parsley. When I have a lot, I simmer them in water for a few hours and store it in the freezer for future use in sauces, rice dishes or pasta dishes.
Method
How do you get corn off the cob? Getting corn off the cob is a messy endeavor. I've found the best way for me to do it is using a sheet tray with a lip and a sharp paring knife. The sheet tray (affiliate link) will give you a wide surface area but also contain the corn.
A paring knife is easier to handle than a large chef's knife in this case. First husk the corn and discard. Next, put the corn at a 45 degree angle to the sheet tray, resting the end on the sheet tray and using the paring knife, cut the corn off the cob, letting it fall to the sheet tray.
Try not to cut too deep or it'll be too starchy. I've also seen people use a bundt pan, but we don't have one!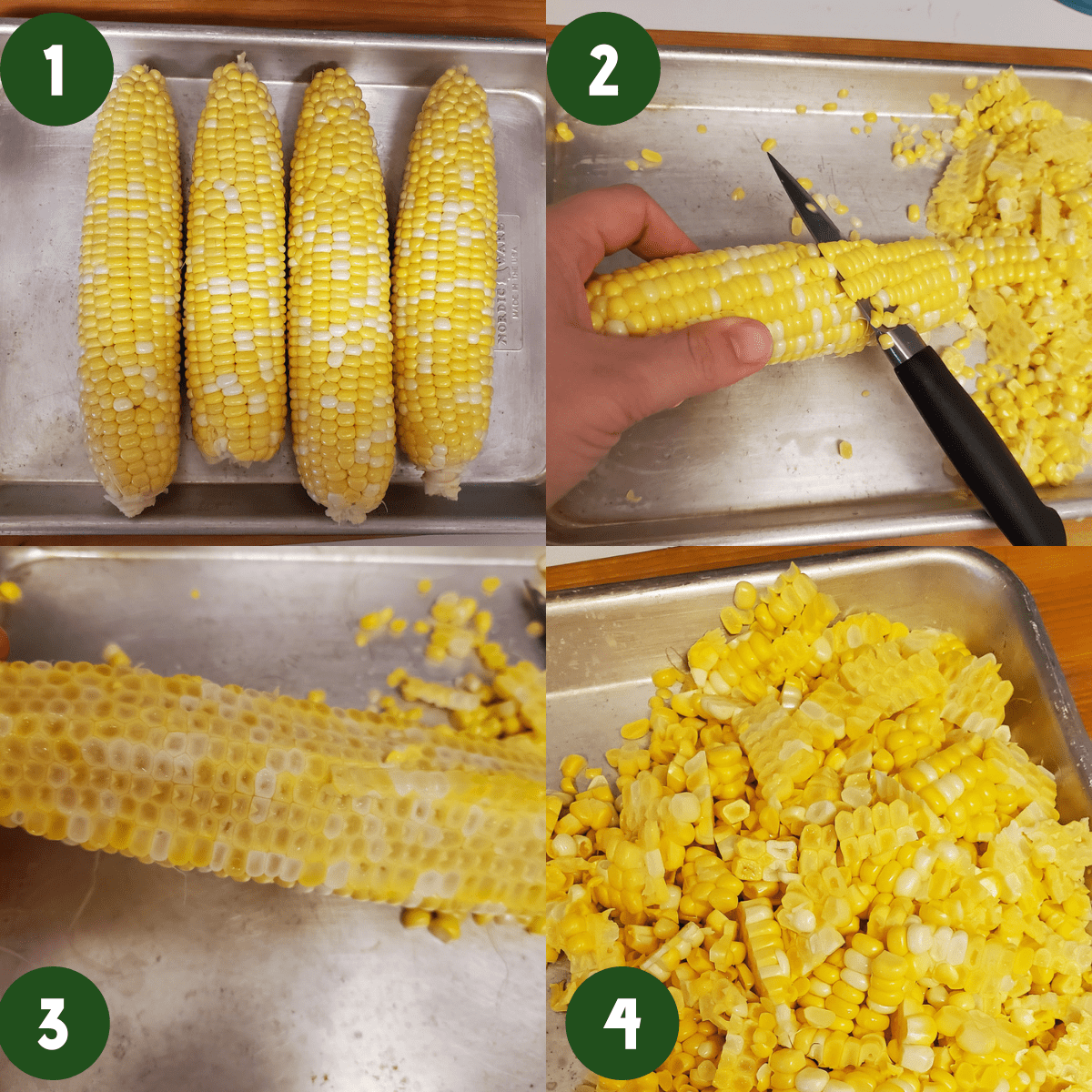 How do you make sauteed miso corn? Shuck the corn and then over a sheet tray, cut kernels from all four cobs using a paring knife. Save cobs for vegetable stock if desired. In a medium skillet (affiliate link), melt butter over medium low/medium heat until foaming but not browning.
Add corn kernels and stir occasionally until cooked through and bright yellow, about three minutes. Stir in miso paste and once dissolved, turn off the heat. Add freshly grated black pepper and taste for salt. Serve with your favorite protein as a summer side dish.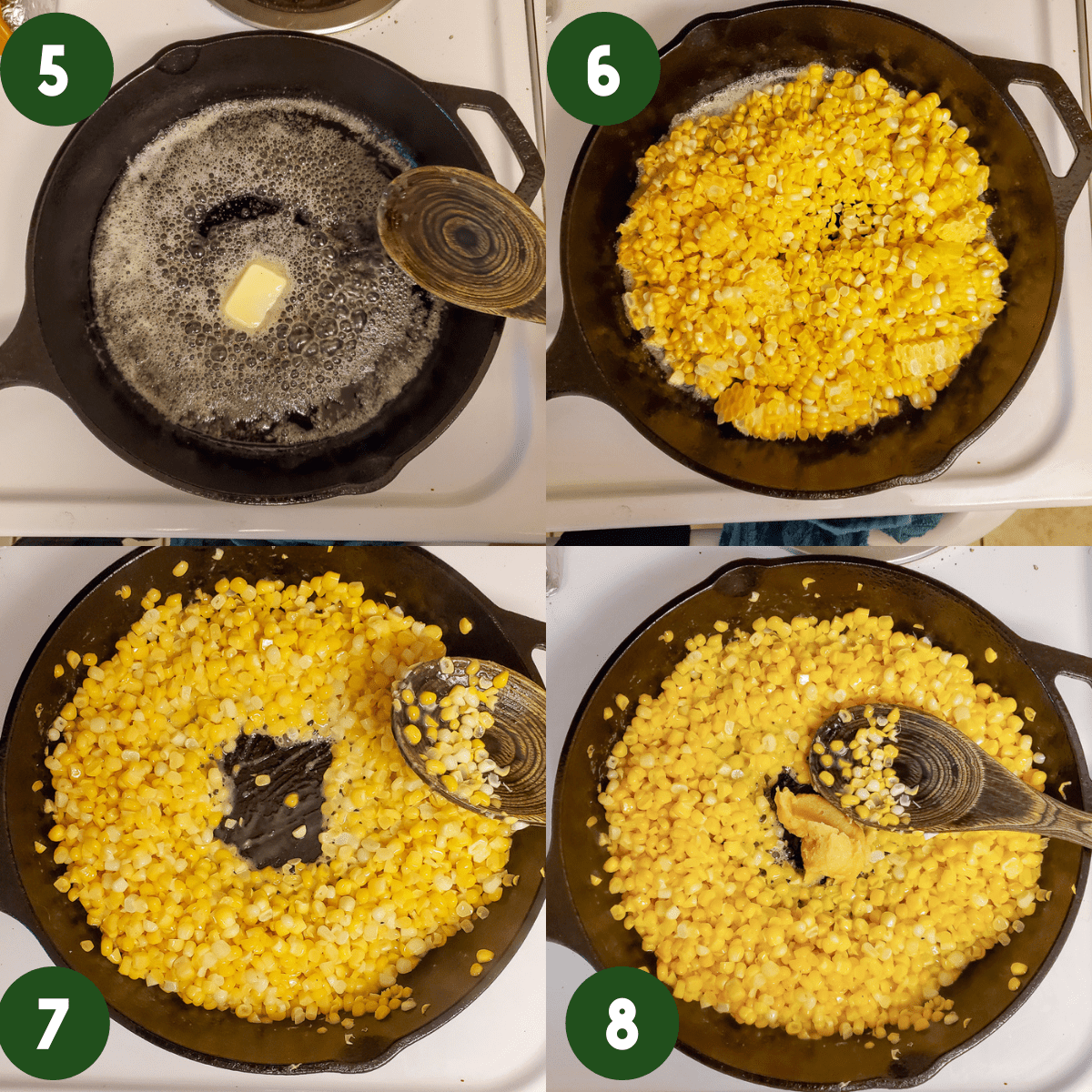 Hint: If you're craving this and corn isn't in season, it's best to use canned or frozen corn. Out of season corn on the cob is full of disappointment.
Substitutions
Can you use frozen or canned corn? Yes, you can use frozen or canned corn for this recipe. Simply heat the corn through and stir in the miso, butter and black pepper and serve.
I recommend only buying and eating fresh corn in the summer, where it is peak season. Therefore, if you're looking for an easy vegetarian side dish to go with your main course in the off season, opt for frozen or canned corn.
Can you substitute something for miso paste? There isn't really anything like miso paste as it has a unique nutty, slightly sweet and salty flavor.
The good news is that it lasts a long time in the fridge so if you buy it, you don't need to use it all at once. Fermented foods last for months in the fridge as long as they are stored in an airtight container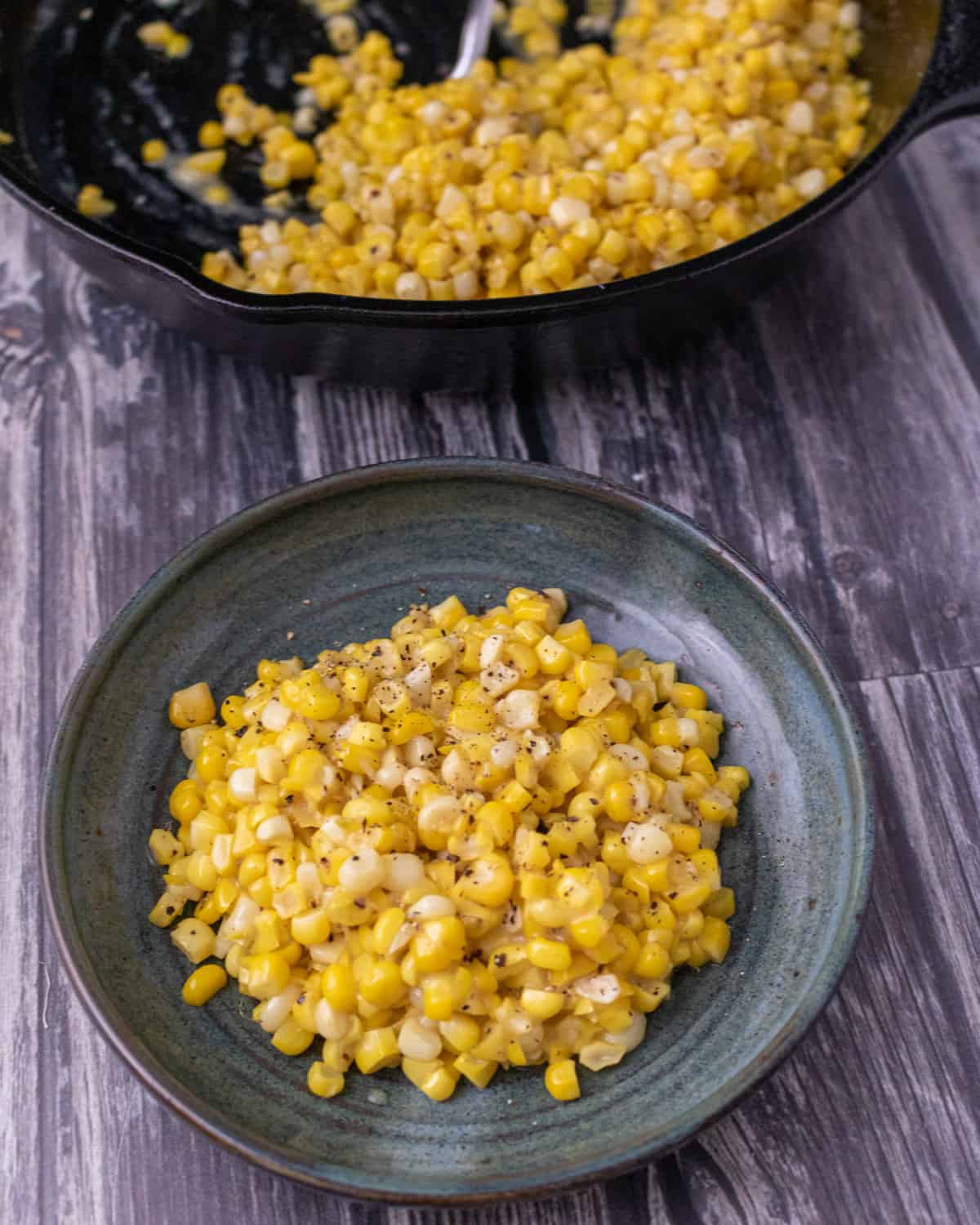 Top Tip
Cut corn off the cob at a 45 degree angle on a baking sheet. This will help catch the mess and make for easier clean up.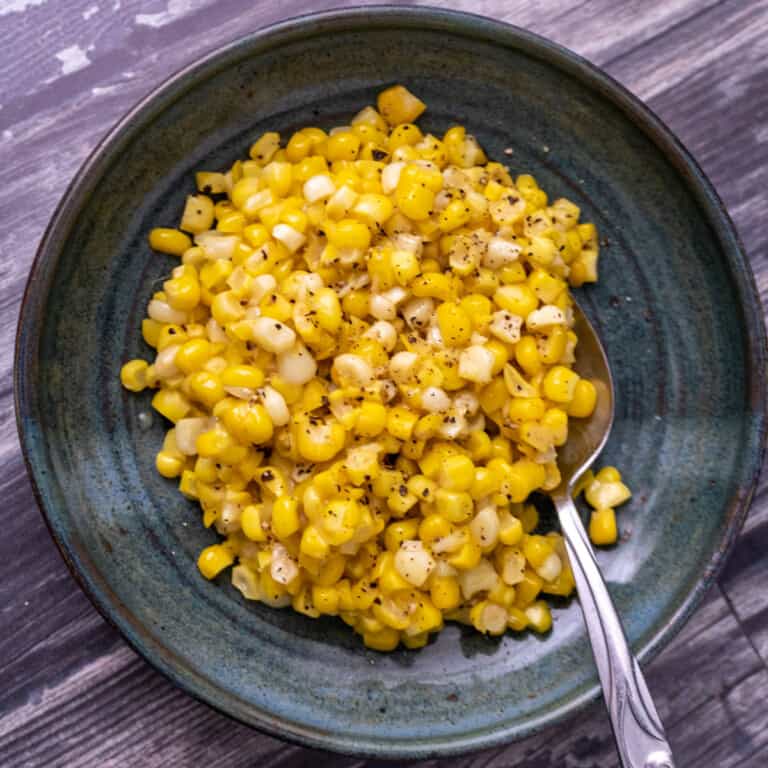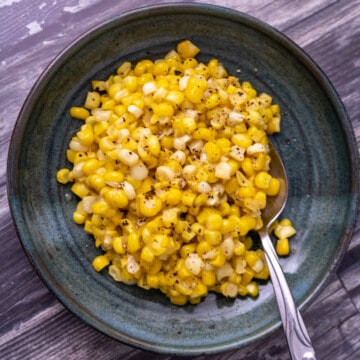 Sauteed Miso Butter Corn
Miso butter corn is a stove top, fresh corn side dish, perfect in the summer. This corn off the cob recipe is a savory, quick vegetarian side dish for a weeknight dinner, BBQ or grilling session.
Print
Pin
Save
Saved!
Ingredients
4

ears fresh corn on the cob

3

tablespoons

unsalted butter

2 ½

tablespoons

white miso paste

Freshly ground black pepper to taste

Kosher salt to taste
Instructions
Shuck corn on the cob and discard the husks.

Using a sheet tray to contain the mess, place a cob at a 45 degree angle on the sheet tray and remove the kernels from the cobs using a paring knife. Repeat with all ears of corn. Keep corn cobs for corn stock if desired.

In a 10-12 inch skillet, melt butter over medium low/medium heat (the butter should not immediately brown when added, but lightly foam and melt. If it burns, it is too hot, discard and start again).

Add in corn kernels and stir every 30 seconds until bright yellow, about 3 minutes total.

One the corn is cooked, add in the miso paste and stir until it dissolves then turn off the heat.

Add black pepper and then taste for salt. Miso is very salty so it might not need salt for your taste.

Serve immediately and enjoy with your favorite protein.
Notes and Accommodations
Fresh corn is best enjoyed in season, out of season use about 2 cups frozen or canned corn.
White miso is the best option for this recipe and can be found in the international section or fermented food section.
Miso is salty, so taste before adding more salt at the end.
This can be made ahead of time and reheated before serving.
Store in the fridge for up to 5 days in an airtight container.
Corn cobs can be saved for corn broth.
Originally posted August 11, 2020. Republished with updated tips and tricks on March 7, 2022.
Food Safety
Cook to a minimum temperature of 165 °F (74 °C)
Do not use the same utensils on cooked food, that previously touched raw meat
Wash hands after touching raw meat
Don't leave food sitting out at room temperature for extended periods
Never leave cooking food unattended
Use oils with high smoking point to avoid harmful compounds
Always have good ventilation when using a gas stove