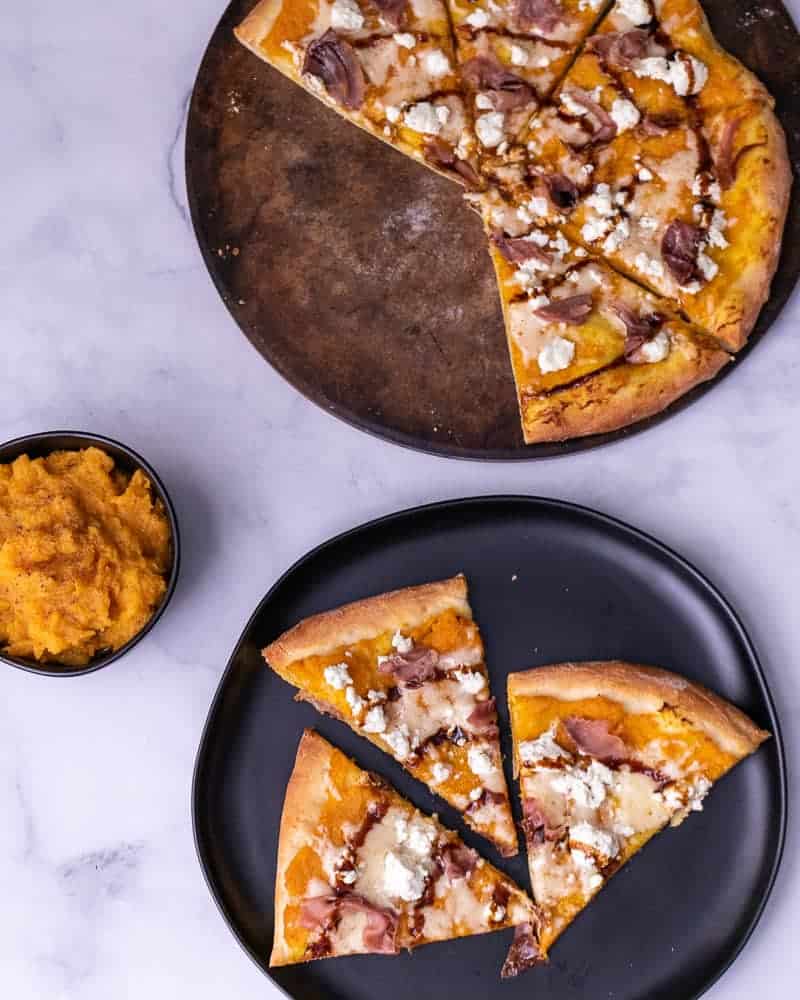 Tips and Tricks
How can you use up leftover Thanksgiving mashed butternut squash? If you're like me and have a lot of leftovers from the holidays, you're probably also sick of the same flavors of turkey, cranberry and gravy. Enter this pizza! The goat cheese and prosciutto pairs nicely with the butternut squash that gets a little caramelized with the pizza dough, but is a unique enough flavor that you're not bored of the same leftovers.
What do you serve with butternut squash pizza? I like to serve pizza with a salad like arugula. It's a peppery and bright leafy green that goes great with a hearty and savory pizza. Plus after Thanksgiving, I always want something lighter than mashed potatoes, gravy and more stuffing.
Method
How do you make leftover butternut squash pizza? Preheat the oven to 425 F. Next, make sure the pizza dough is at room temperature so that it is easier to stretch. Stretch the pizza out to about 12 inches and place it on a pizza stone. Add the butternut squash to the pizza and spread it like sauce to the edges of the pizza and cook for 17 minutes. Remove the pizza from the oven and top the squash evenly with fontina cheese and crumbles of fresh goat cheese. Tear the prosciutto into pieces and add it to the pizza. Bake for another five to seven minutes. Once the cheese is melted, take out the pizza and drizzle it with balsamic glaze. Cut and serve.
How do you make mashed butternut squash? If you don't have leftovers but want to make this pizza, you definitely still can! I like to buy the already cut up butternut squash so I don't cut my hand off, but you can also cut it up yourself. I use about one pound of butternut squash cubes and then add it to the pressure cooker with one cup of broth or water. Seal the pressure cooker and set for high pressure for three minutes. After it is finished cooking, do a quick release after one minute and immediately drain the squash. Put the drained squash in a medium mixing bowl and add three tablespoons of unsalted butter, kosher salt and pepper to taste, juice from ½ of a lime and two tablespoons of maple syrup. Mash the squash and mix together. From here you can eat it as a side or make the pizza.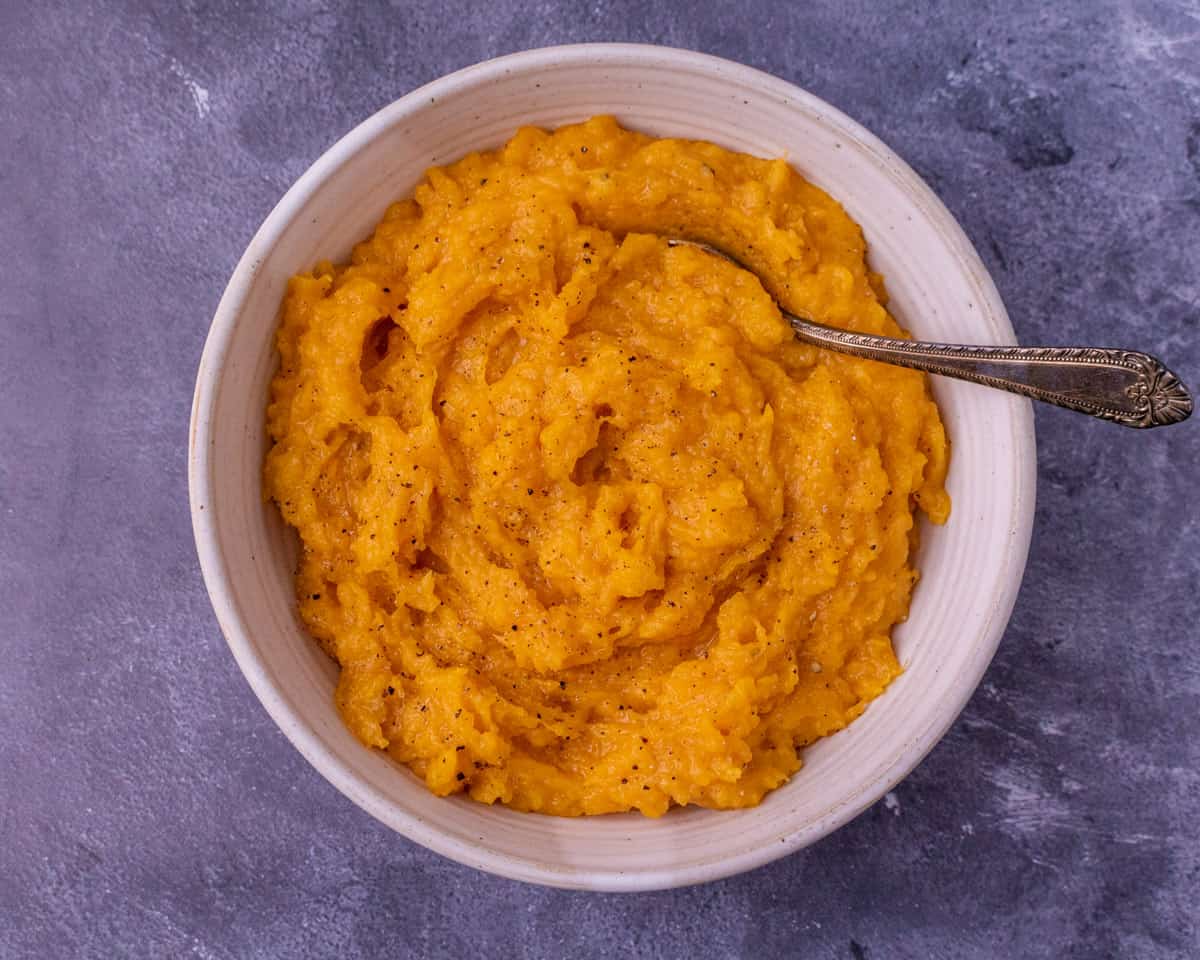 How do you stretch out pizza dough? The key to stretching out dough is being patient. I like to let my dough rise a bit once it comes out of the fridge because it's easier to work. Always start with a floured work surface and slightly floured hands. The dough should NOT be sticking to anything. If you did not think ahead (we've all been there) you can try to form it until it won't stretch anymore and then let it rest for five minutes. Repeat the process on a floured work surface until it's the size you want.
Substitutions
What substitutions can you make for this pizza?
Mashed butternut squash substitutions: I use mashed butternut squash but you can simply use roasted butternut squash and mash it up and loosen the mixture up with some water/milk or heavy cream. If you don't have butternut squash you could also use pumpkin puree either freshly made or from a can.
Goat cheese substitutions: If you don't like or have goat cheese, feta cheese or fresh mozzarella will work just as well. Tear the fresh mozzarella into small pieces.
Prosciutto substitutions: If you're looking for meat, you can easily substitute ham if you're not into the salty prosciutto. If you want to make this vegetarian you could saute up some mushrooms until caramelized and top the pizza with that.
Balsamic glaze substitutions: You could drizzle a little honey over the pizza instead. Be sure to do this after the pizza is cooked.
Fontina substitutions: Any mild, meltable cheese will work here. Low moisture mozzarella, monterey jack, mild gouda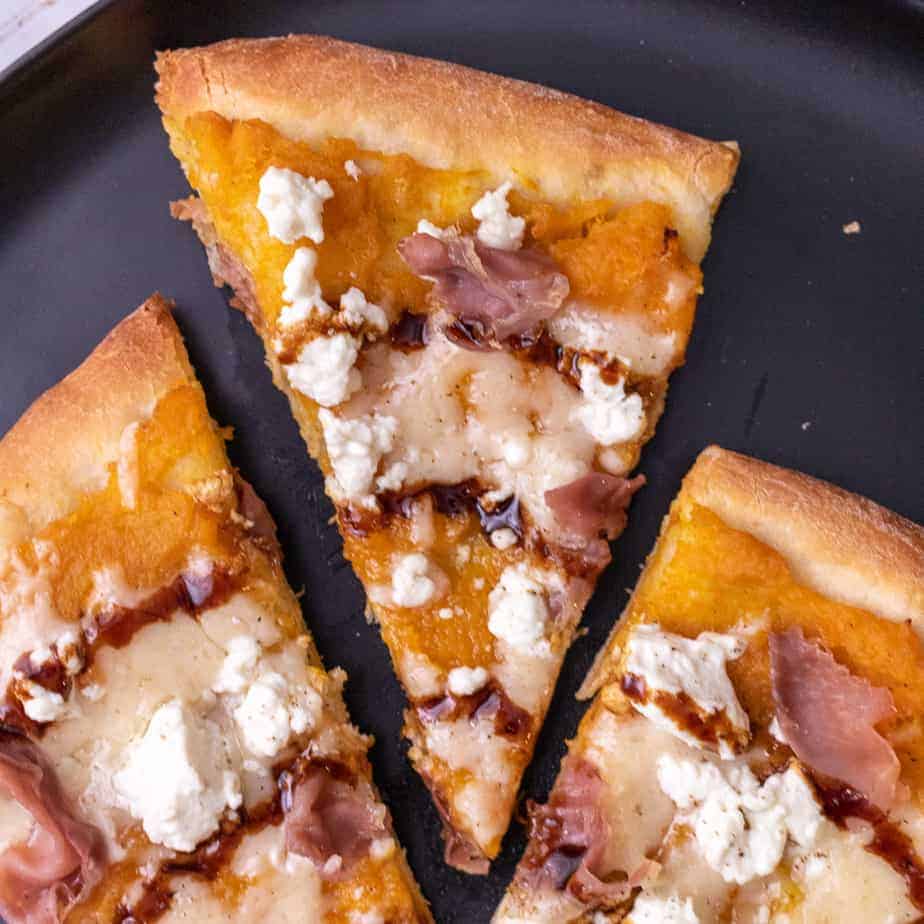 I have leftover roasted butternut squash, can I make this pizza? Yes! This will add a deeper roasted flavor to the pizza. Simply mash the roasted butternut squash and spread it around the pizza. If it is too thick, thin it out a little bit with water/heavy cream/milk to make it easier to spread. You don't want this to be soup, but a few splashes mixed in should help. It doesn't need to be super smooth, just smooth enough to spread it out onto the pizza dough.
My butternut squash has flavorings like maple syrup, cinnamon and sage in it, can I still use it? Whenever I make mashed butternut squash it has butter, maple syrup plus a little cream in it. The flavorings will just add flavor to the pizza.
Ingredients
What type of pizza dough do you use? I buy the uncooked pizza dough from the grocery store, which comes in 16 oz portions. Once I get it home, I cut it in half and use it to make two 12 inch-ish pizzas. I buy regular crust, but a whole wheat or a multigrain would also be fantastic. If you are starting with an already cooked crust, I would skip the first part of the recipe that gets the crust mostly cooked and just add all the toppings except the balsamic glaze drizzle.
Do you make or buy your own balsamic glaze? I buy my balsamic glaze and leave it in the fridge whenever the mood strikes. You can definitely make it by reducing down balsamic vinegar until it's syrupy and thickened.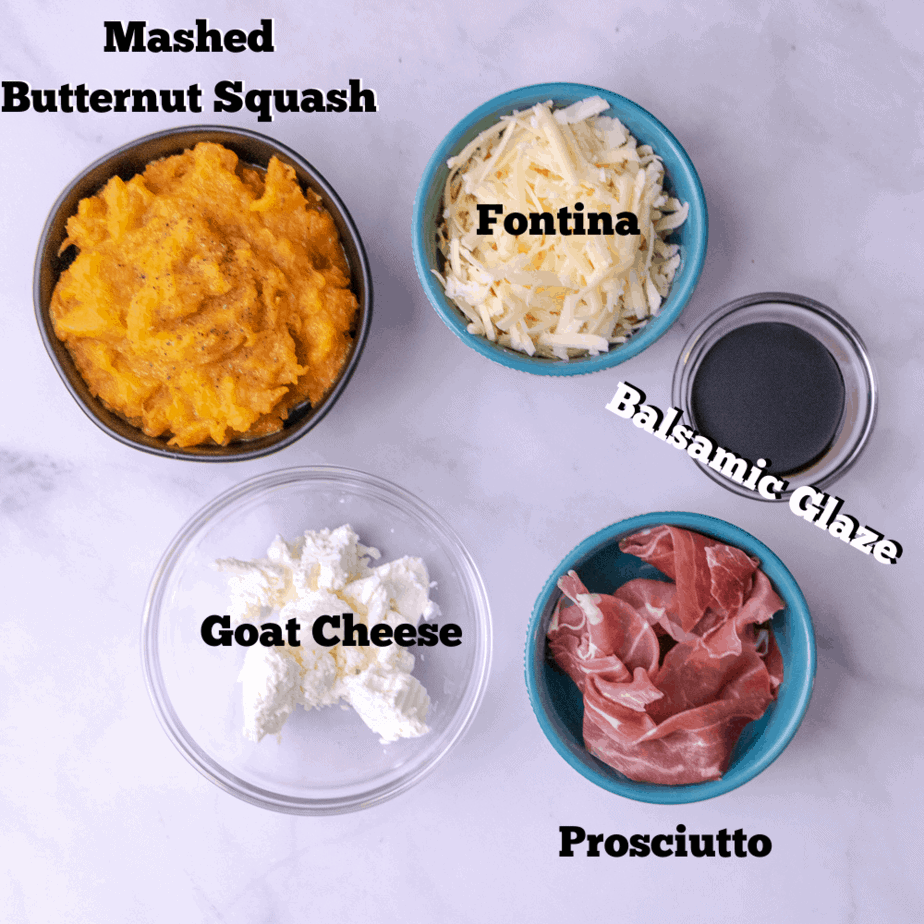 You May Also Like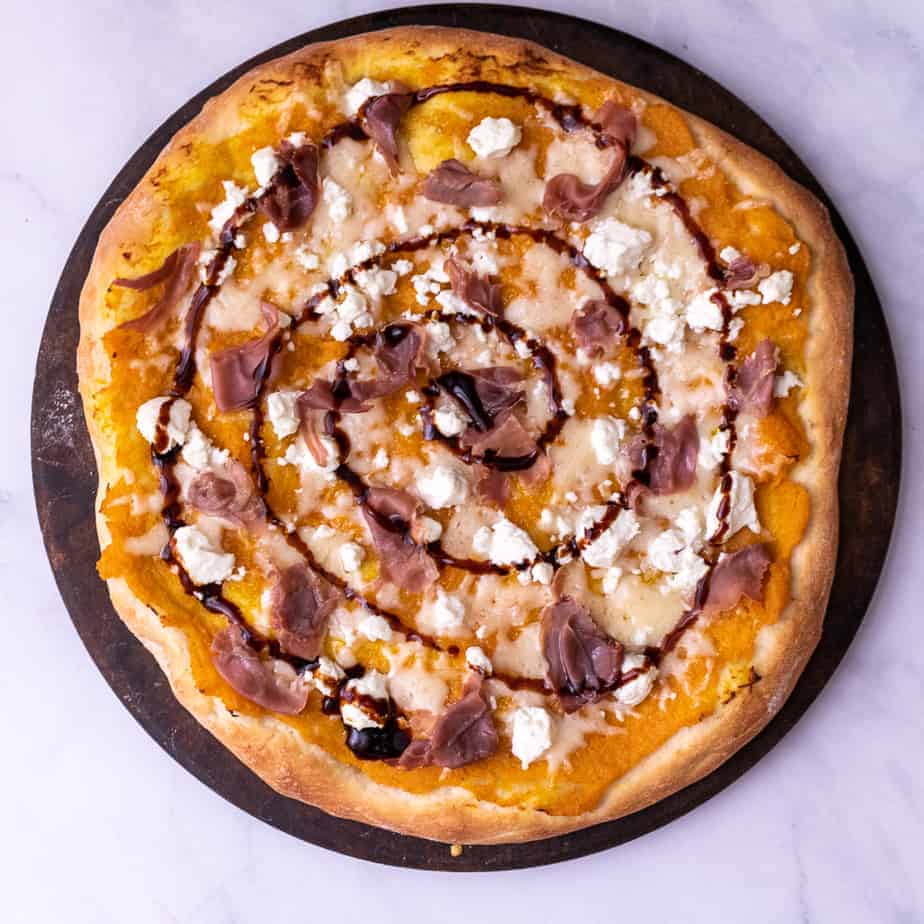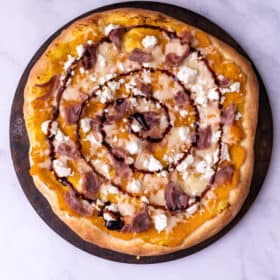 Leftover Butternut Squash Pizza
If you have leftover mashed butternut squash from Thanksgiving or Christmas dinner, make this creative recipe to use up leftovers! If you're sick of the same flavors from the holidays and want something different, this savory butternut squash pizza with goat cheese, prosciutto and balsamic glaze is perfect.
Print
Pin
Save
Saved!
Ingredients
8

oz

pizza dough

¾

cup

mashed butternut squash

1

cup

shredded fontina cheese

2

oz

fresh goat cheese

2-3

slices

prosciutto

Balsamic glaze drizzle
Instructions
Preheat oven to 425 F.

Allow pizza dough to come to room temperature so it's easier to stretch out. Stretch out in a roughly 12 inch pizza and place on a pizza stone or sheet tray.

Spread out the mashed butternut squash like a sauce, to the edges of the pizza.

Bake for 17 minutes until the butternut squash begins to brown.

Top the pizza evenly with freshly shredded fontina cheese and goat cheese crumbles. Tear prosciutto into bite sized pieces and place it on top of the pizza.

Put the pizza back in the oven for 5-7 minutes until cheese is melted.

Drizzle balsamic glaze over pizza, cut and enjoy.
Notes and Accommodations
If you can't find fontina, a mild gouda will also work.
Already roasted and then mashed butternut squash will also work with this recipe. If it is a bit too thick, add a splash of water/ milk or cream to loosen it up enough to spread it.
I use store bought pizza dough and balsamic glaze, but you can definitely make your own.
Serve this with a peppery side salad like arugula.