Tips and Tricks
Can you make this ahead of time and reheat for a holiday? Yes, this recipe reheats very well, so definitely make it the day before and reheat before serving. Thanksgiving and Christmas menus are intense and often have a lot of moving parts. Make your life a lot easier by preparing this vegetarian side dish before the big day.
How do you store leftover butternut squash? Once the butternut squash is mashed and flavored, leftovers can be stored in an airtight container in the refrigerator for up to five days. For longer storage, store in the freezer for up to three months in an airtight container. The less air, the less freezer burn.
What do you do with leftover butternut squash? If you make too much butternut squash, which I seem to do every Thanksgiving and Christmas, I like to make this Leftover Butternut Squash Pizza with goat cheese, prosciutto and balsamic glaze. You can also freeze the butternut squash and eat it at a later date.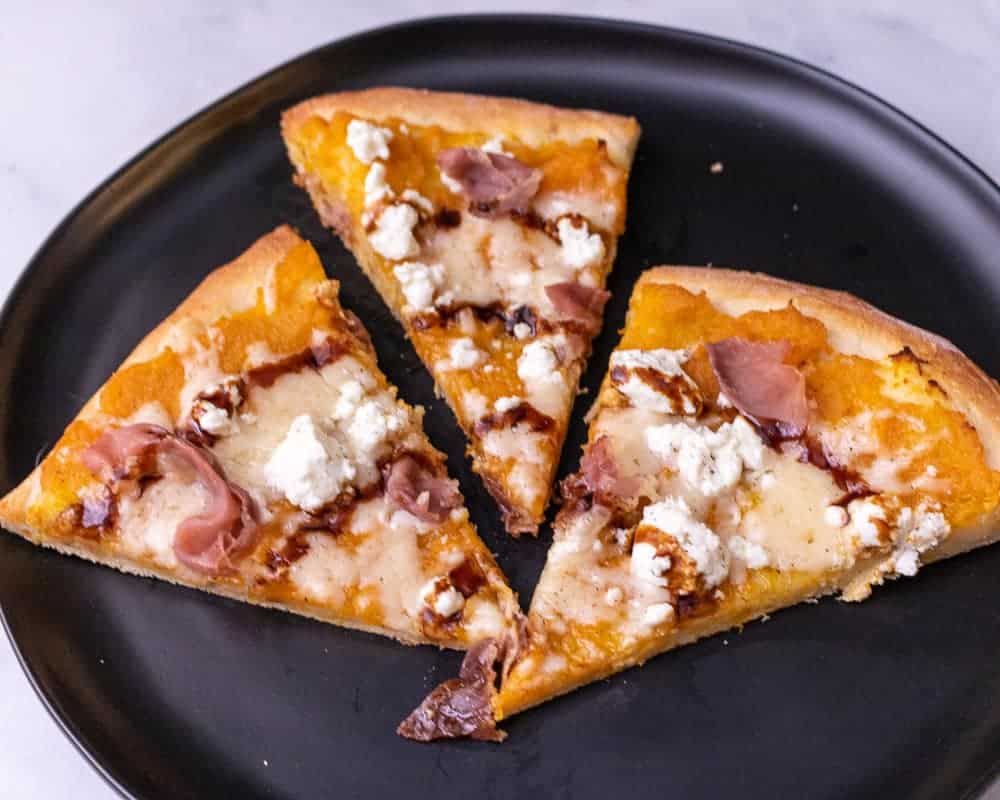 What do you pair with butternut squash? Butternut squash makes me think of fall and winter comfort dishes, so it's often paired with warmly seasoned proteins like a Maple Dijon Mustard Pork Tenderloin or a roasted turkey at Thanksgiving. Realistically, it goes great as a vegetarian side dish during the holidays or as a side to pork chops or tenderloin, roasted chicken or turkey during the week.
Method
How do you make pressure cooker mashed butternut squash? Start with cubed and peeled butternut squash. Add one to one and a half pounds of squash into the electric pressure cooker (like an Instant Pot) and add one cup of water. Seal according to your manufacturer's instructions and cook at high pressure for three minutes. Do a quick release after one minute and check squash; it should be soft and fork tender. Remove the squash from the water with a spider or use a strainer and add to a large mixing bowl. Mash squash using a masher or forks and add in butter, maple syrup, fresh lime juice and kosher salt and pepper to taste. Mix well, it's okay if a few lumps remain. Taste for seasoning and serve with your protein or on pizza.
How do you cut and peel a butternut squash? If you cannot find already cut up and peeled butternut squash, you can do it at home with a whole one. First, microwave the whole squash for three minutes on high. This will slightly soften the squash but not cook it through. Using a sharp knife, chop off the ends and discard. Next, cut the squash in half to separate the bulb from the neck, this makes it easier to handle. Cut each of these pieces in half and remove the seeds from the bulb halves with a spoon. You can discard the seeds or roast them. Next is the fun part, peel the skin off the four pieces with a vegetable peeler. The skin can be thick and tough and sometimes takes a few passes of the vegetable peeler to get to the flesh. Once this is done, cube into 1-2 inch pieces, trying to keep them even and proceed with the recipe.
Ingredients
How do you buy butternut squash? When you're looking to buy a whole butternut squash, you want one that is heavy for its size, that has no soft spots with the stem still attached. The skin shouldn't be wrinkled but fairly smooth (small bumps okay.) If you're buying already cut butternut squash, look for no brown spots and that it is tightly wrapped.
How do you store uncooked butternut squash? If you bought a whole butternut squash that isn't cut or peeled, store in a cool dark place for up to a month. If you bought the pre-cut and peeled butternut squash, store in an airtight container in the fridge for five to seven days. The less air that gets to it, the better.
Do you peel butternut squash before cooking? Yes, I find it easier to either buy already peeled butternut squash or to peel it before mashing it. If you peel it before cooking you can simply remove the butternut squash from the water and mash immediately. Otherwise you have to remove the skin from individual pieces, which I find more annoying. Plus I usually burn my fingers if I do that.
Can you buy the already cut up and prepped butternut squash? Absolutely, there are very few vegetables that I buy already prepped and this is one of them. Even with a very sharp knife and plenty of space to work, I find cutting up and peeling butternut squash tedious and annoying. I also find that the few extra dollars I spend are worth the time and effort, plus the quality doesn't suffer if you buy already cut up squash. The only difference is that the whole butternut squash will last a lot longer than the already cut up and peeled butternut squash.
You May Also Like
Print Recipe
Pressure Cooker Mashed Butternut Squash
Pressure Cooker Mashed Butternut Squash is an easy make ahead vegetarian side dish using seasonal fall and winter produce. This simple side dish goes great with pork tenderloin, turkey or any other rich protein.
Ingredients
1 - 1 ½

pound

of cubed butternut squash or 1 medium squash

1

cup

of water

3

tablespoons

unsalted butter

2

tablespoons

maple syrup

Juice from ½ of a lime

Kosher salt to taste

Freshly ground black pepper to taste
Instructions
Add 1 - to 1 ½ pounds of cubed, peeled butternut squash to the pressure cooker. Add 1 cup of water and seal according to the manufacturer's instructions. Cook on high pressure for 3 minutes. Carefully, do a quick release after 1 minute.

The butternut squash chunks should be fork tender and soft. Remove the butternut squash from the water and add to a large mixing bowl.

In the large mixing bowl, using a masher or forks, mash the butternut squash, it should mash easily.

Once mashed, add in remaining ingredients and mix well. Taste for seasoning and slowly add kosher salt until it tastes flavorful.

Serve with your favorite protein.
Notes
It is easier and quicker to buy already prepped and cubed butternut squash. No quality is lost if you choose this route although it may be a few extra dollars.
Prepping your own butternut squash will increase the prep time to 15 minutes.
If prepping your own butternut squash, microwave the whole squash for 3 minutes on high. Then remove the ends. Using a very sharp knife, cut in half where the bulb starts. Cut each piece in half. Scoop out the seeds with a spoon from the bulb and discard. Peel each piece with a vegetable peeler and then cut into cubes. Proceed with the recipe.
Store leftovers in the refrigerator for up to 5 days in an airtight container or in the freezer for up to 3 months