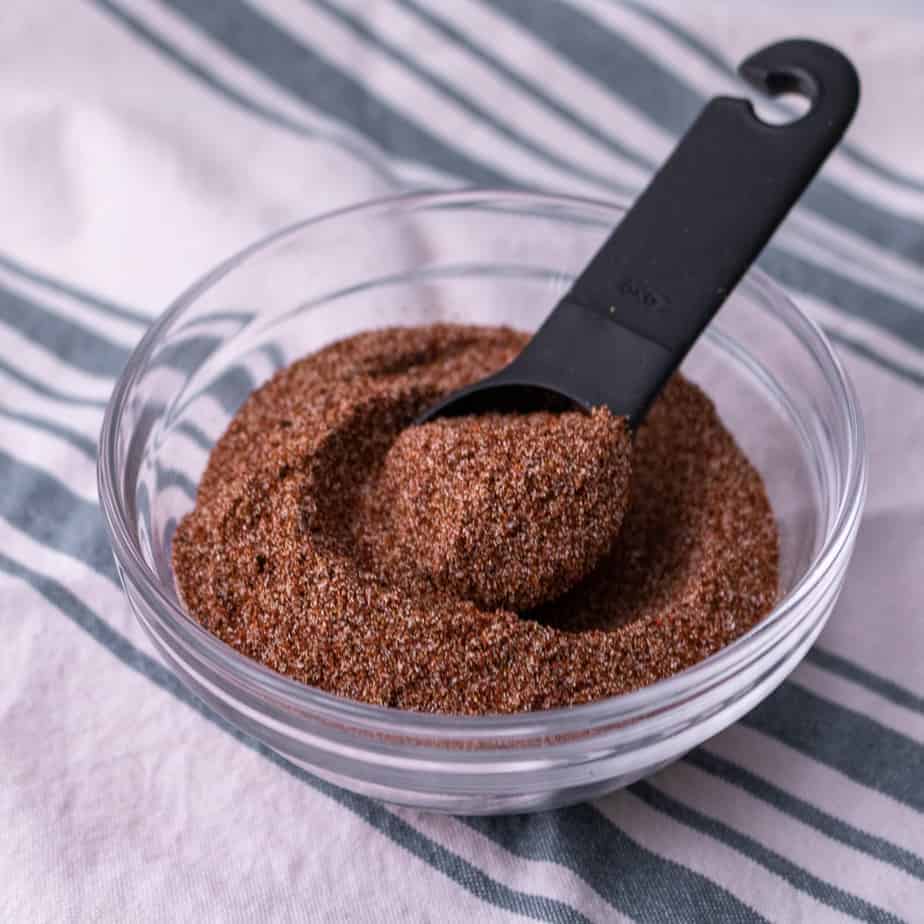 Tips, Tricks and Substitutions
How long is taco seasoning good for? I have never had taco seasoning last longer than a few months (we eat a lot of tacos!) but it should definitely be good for at least six months. Be sure to label the container with the date you made it and try to make it with fresh dried spices. If you're not sure the seasoning is still good, give it a smell. If it smells like taco seasoning it should be good to use. However, if there is no aroma then you should make a new batch.
What else can you put this on beside ground beef? I use this seasoning on a ton of different proteins including ground turkey, ground chicken, chicken thighs in the pressure cooker or even on shrimp. I've added it to rice while it is cooking, coated fries in it or just mixed it into sour cream. I use it all the time.
How do you store taco seasoning? I store the taco seasoning blend in a pint mason jar. I use mason jars to store seasoning blends because they are easy to label, clean and reuse. They have a tight seal to keep your taco seasoning blend fresh. Whatever you use, make sure it is airtight and you store it in a cool and dark location.
Why do you make your own taco seasoning? One of the biggest reasons is that there is a lot less salt in homemade spice blends. You can also easily control the spice level. I prefer to make my own taco seasoning blend because I always want more taco seasoning than what comes in the packet. This way I always have plenty and can add more or use less than a packet without waste.
Are these tacos spicy? Nope! This taco seasoning blend is mild but if you want to add more spice, I'd recommend adding cayenne pepper!
Does it matter what type of salt you use? Yes! I use Diamond kosher salt which is different than table salt or Morton's salt. Use half of the salt required if you're not using Diamond kosher salt. You can always add more to your taste but can't add less.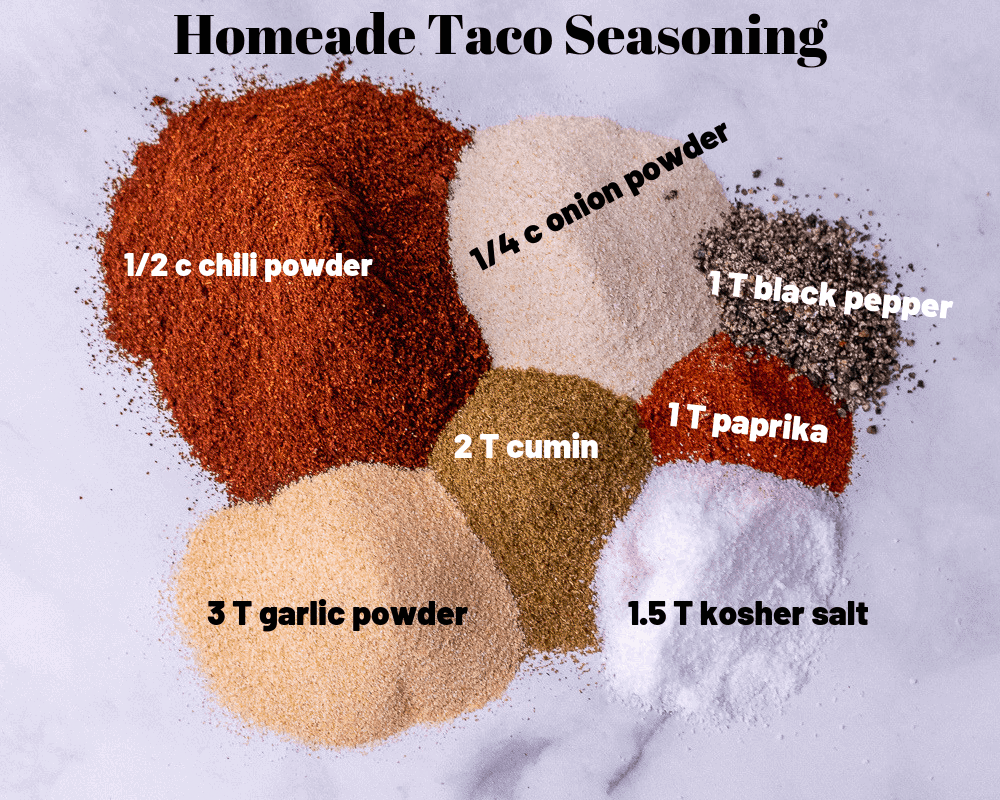 Method
How much taco seasoning do you use with one pound of ground meat? I use between two and three tablespoons of seasoning for one pound of ground meat. I like my tacos to have a little bit more flavor than the packets have, so I usually add closer to three tablespoons.
How many servings of tacos are in this batch of seasoning? I honestly don't have an exact serving number. I know that it makes probably 5-10 batches of tacos but it'll depend on how much you use when you make one pound of taco meat.
How do you make tacos with this? I first brown the ground meat I am using (ground beef, ground chicken or ground turkey will all work) in a medium saucepan over medium heat. Once the meat is cooked, I add in ⅓ - ½ cup of water and then mix in the two to three tablespoons of seasoning. I stir until the meat is coated in seasoning and reduce the head to medium low, allowing the meat to simmer. Once the water has reduced, you can use whatever shells or tortilla you like with your favorite toppings.
You May Also Like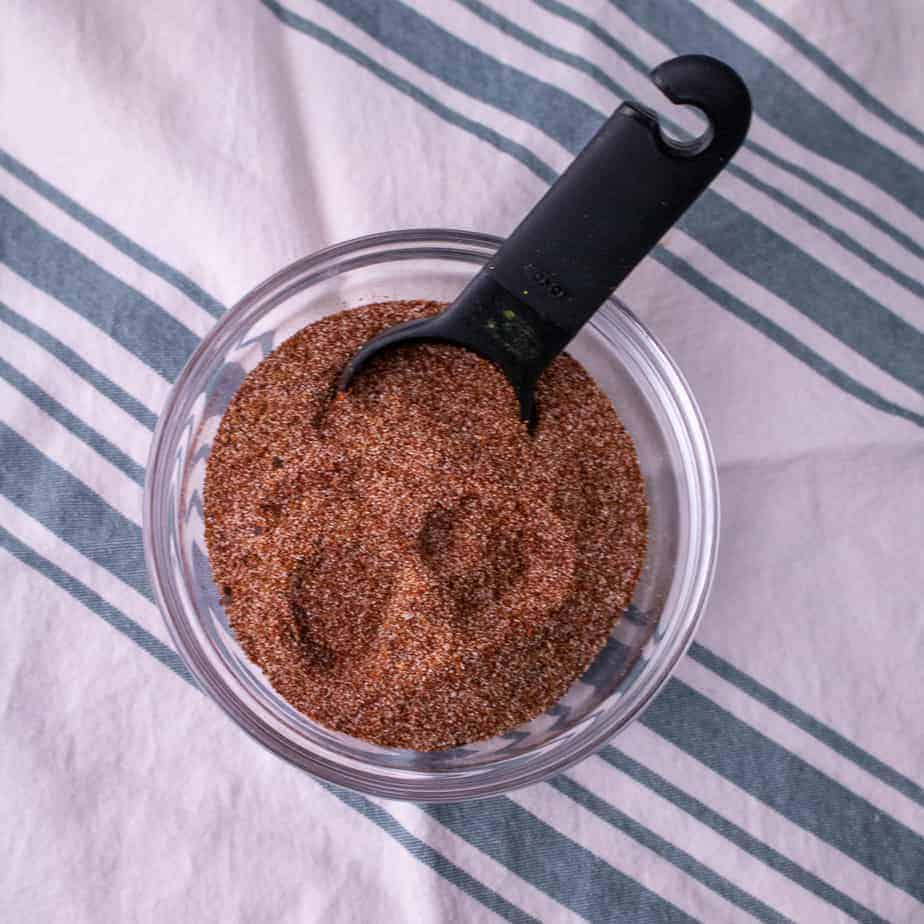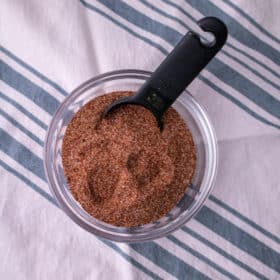 Homemade Taco Seasoning
This easy DIY seasoning recipe is perfect for taco night. Great on ground beef, turkey or chicken and stays fresh for 6 months.
Print
Pin
Save
Saved!
Ingredients
½

cup

chili powder

¼

cup

onion powder

3

tablespoons

garlic powder

2

tablespoons

cumin

1 ½

tablespoon

kosher salt

1

tablespoon

paprika

1

tablespoon

freshly ground black pepper
Instructions
Measure all ingredients into an airtight container like a mason jar. Mix well.

Be sure to label with the name and date created.
Notes and Accommodations
This can be stored for up to 6 months.
Use 2-3 tablespoons of mixture per pound of ground meat.
This recipe was developed using Diamond kosher salt. If using table salt or Morton's kosher salt, use half the amount.