If you have the pulled pork and rice made, this recipe comes together in less than 10 minutes. However, to make the pulled pork, takes longer than an hour, so you should plan ahead.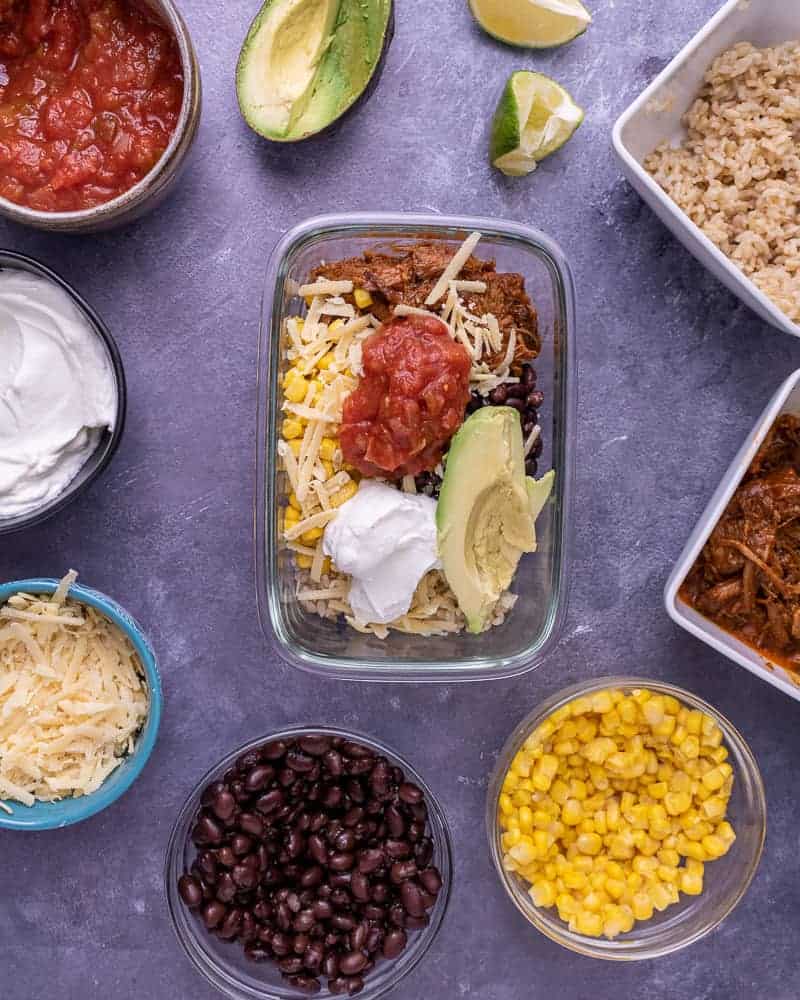 Method
How do you make pulled pork? Pulled pork is best made in either a pressure cooker (like an Instant Pot) or slow cooker (like a Crock Pot). For more details you can view my recipe here for pulled pork.
How do you build pulled pork burrito bowl? Start with a microwave and freezer safe food storage container. Add in pulled pork, corn and black beans. This is the base of your burrito bowl if you are storing them in the freezer. If eating right away continue with the toppings of cheese, sour cream, salsa, avocado or guacamole and finish with lime juice.
Storage
How long do pulled pork burrito bowls last in the fridge? This depends on how long your leftover pulled pork has been in the fridge. I'd only leave the pulled pork in the fridge for three to four days. So if your pulled pork has been in the fridge for four days I'd only store it in the fridge and freeze the rest. If you made pulled pork fresh and immediately make burrito bowls, then they will last for up to four days in the fridge.
How long do burrito bowls last in the freezer? The burrito bowl will last for up to three month in the freezer in an airtight container.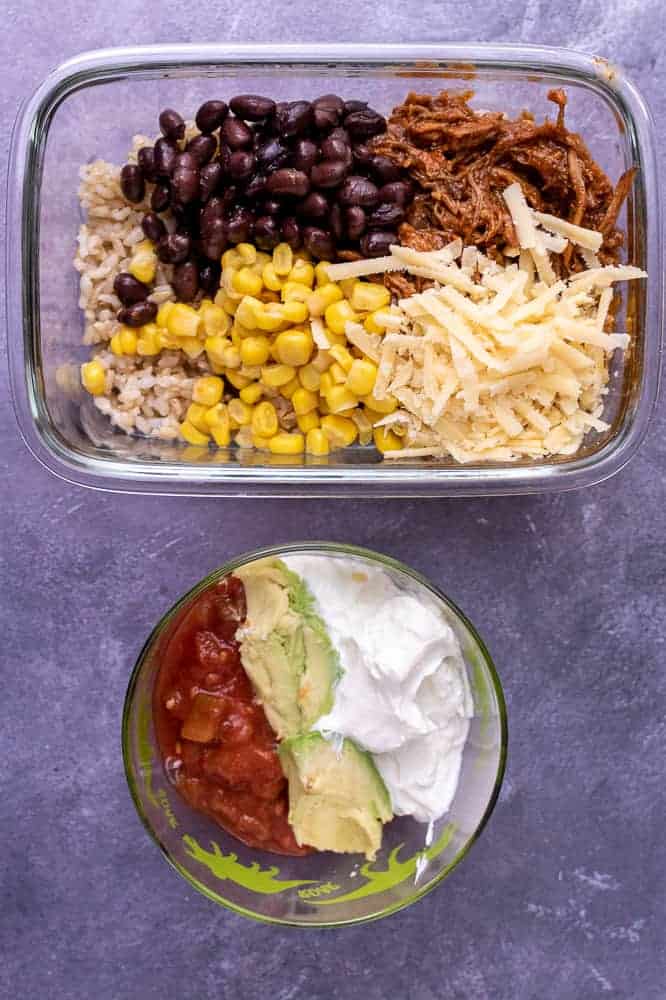 How do you store burrito bowls for meal prep? To store burrito bowls in either the fridge or the freezer, you want to start with a base of rice, black beans, corn and cooked pulled pork. Store these in either the freezer for up to three months or the fridge for up to four days. When you're ready to eat the pork burrito bowls, add cooked vegetables and cheese onto the burrito bowl to be microwaved with the base. Store the other toppings like sour cream, salsa, guacamole and hot sauce on the side.
Tips and Tricks
How do you thaw frozen burrito bowls? The best way to thaw pulled pork burrito bowls is in the fridge overnight. However, you can just as easily microwave the frozen base and add cheese and vegetables toward the end. It will take longer to heat up from frozen but it is always a quick option.
How many bowls does this recipe make? This recipe is for one burrito bowl but can be easily scaled up to use up leftover pulled pork. I like to make two or three and freeze one or two whenever I make pressure cooker pulled pork.
What type of containers do you use to store pulled pork burrito bowls? It is important that you store burrito bowls in microwave safe as well as freezer safe food storage containers. I like to use glass 3.5 cup sealed containers from OXO found here. These containers can go from the freezer to the microwave without fear of them shattering, plus they don't stain and are easy to clean. To store the toppings, I use a small plastic container like these.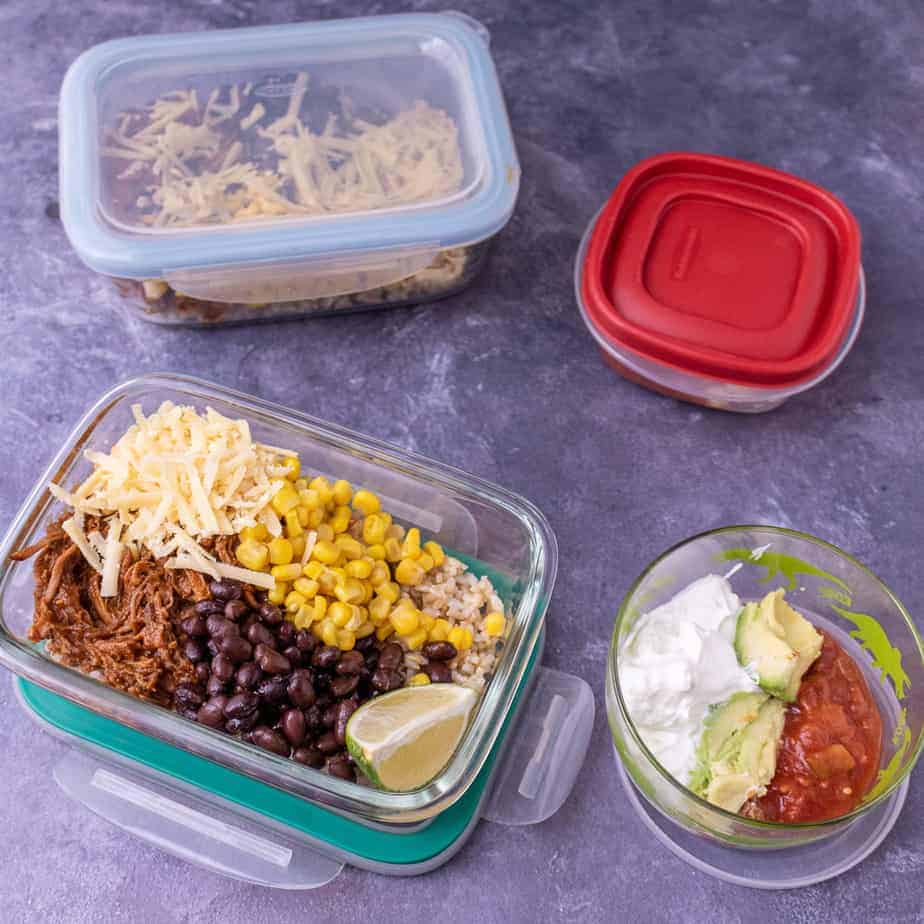 Ingredients
What's the best type of grain for a burrito bowl? I like to use brown rice because it freezes really well and has more fiber in it. However, use whatever cooked grain you prefer like white rice, quinoa, farro or barley.
What toppings do you add to the burrito bowl for lunch/dinner? I always have salsa, cheese and sour cream in my house so those are my go to toppings. However, I also love to saute up some extra veggies like onions, peppers or mushrooms to add to the bases before I heat it all up. If you're planning ahead guacamole or avocados and limes are also a great addition to burrito bowls. Realistically, anything you like on your burrito at Chipotle or Qdoba will work great here. If you have extra tomatoes, make a homemade salsa. If you have leftover veggies in the fridge, cook them up and add those. One of my favorite things about this recipe is how flexible it is to customize.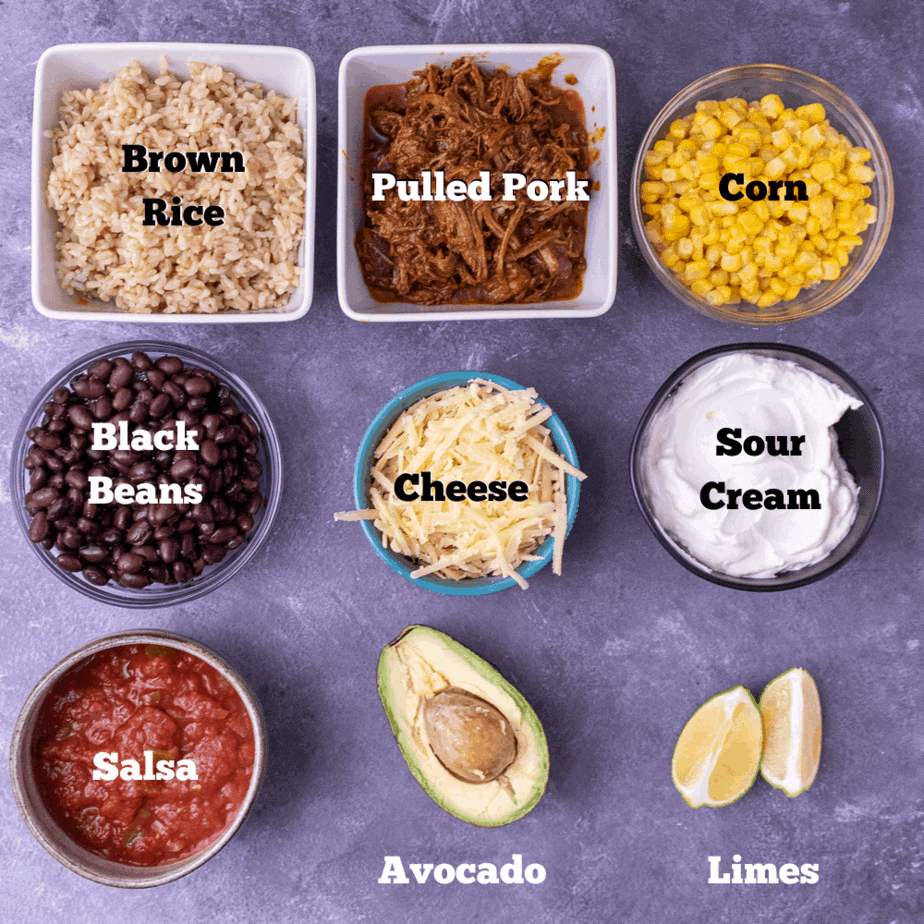 You May Also Like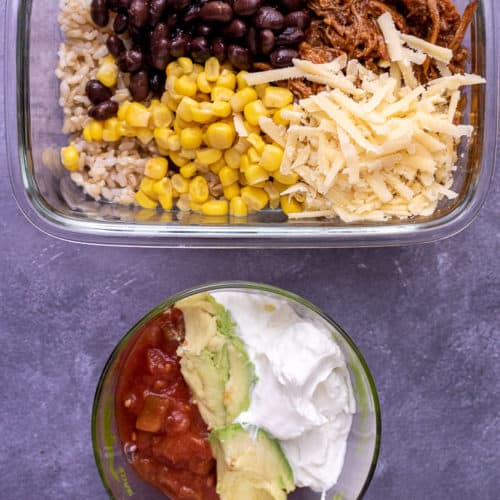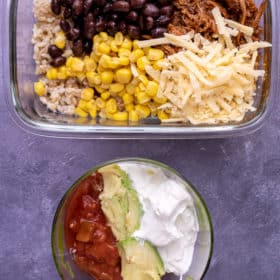 Freezer Friendly Pulled Pork Burrito Bowls for Meal Prep
Pulled Pork Burrito Bowls are a great way to use leftover pulled pork. This is an easy, freezer friendly meal prep for one or the whole family. Freeze the base and add fresh toppings right before eating for a delicious hot lunch or dinner meal prep option.
Print
Pin
Save
Saved!
Ingredients
Base to freeze
¾

cup

cooked rice

¾

cup

BBQ pulled pork

½

cup

corn

½

cup

black beans
Toppings (stored in separate container)
Shredded cheddar cheese

Salsa

Sour cream

Guacamole

Wedge of lime

Pickles onions

Cooked vegetables

like onions, mushrooms, peppers

Hot sauce
Instructions
Layer the ingredients for the base in the order they are listed in a freezer safe food storage container.

Freeze for up to three months.

To defrost overnight, add cheese or already cooked vegetables and thaw in the fridge. Before leaving for work, pack toppings separately.

When you're ready to eat the burrito bowl, microwave the base for 2 minutes. Stir after the first minute to ensure it warms up evenly and cheese is melted. Add toppings as desired after heating.

To defrost from frozen, add cheese and cooked vegetables and microwave for 2 minutes. Stir and microwave for 1-2 more minutes until cheese is melted. Add toppings as desired after heating.
Notes
Freeze rice, black beans, corn and pulled pork as the base.
Add cheese and already cooked vegetables like mushrooms, onions and pepper before heating up.
Store and pack sour cream, salsa, guacamole and hot sauce separately and add to already heated base.
Use both freezer and microwave safe containers
Join our Discord Server!
Chat about the monthly theme, get recipe troubleshooting and post what you made for dinner and engage with the community!
Previously posted April 3rd, 2019. Republished with new photos, tips and tricks on January 28, 2020.