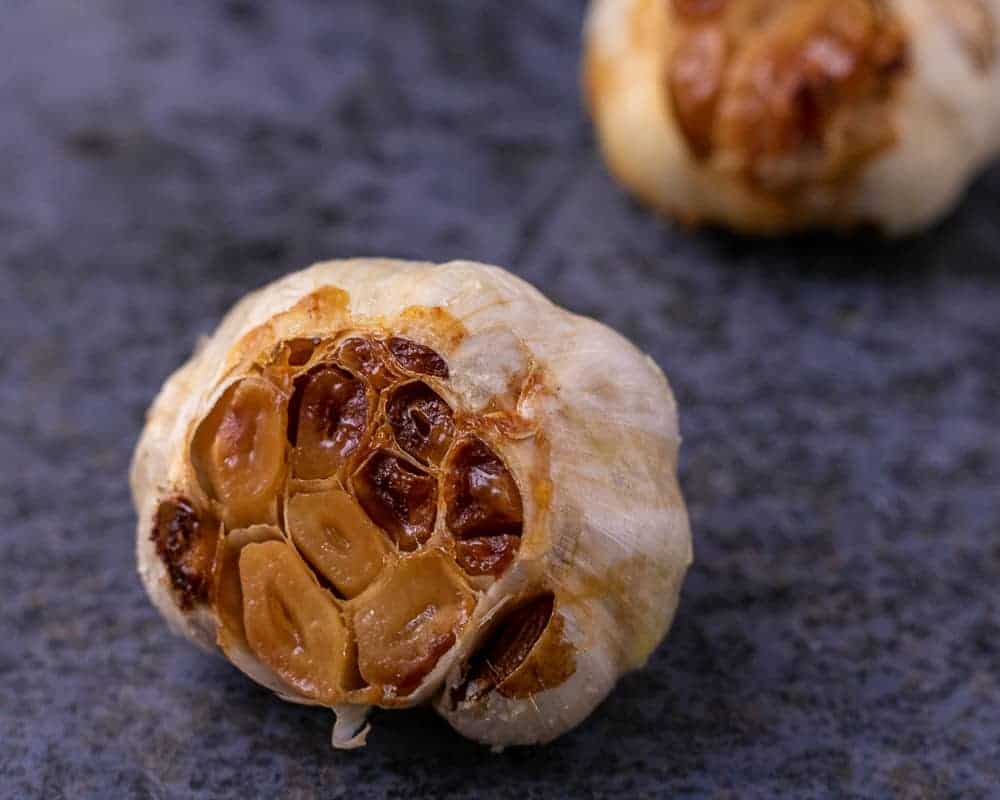 Garlic Tips
How do you store fresh garlic? The best way to store garlic is in a cool dark place. Don't keep it in the fridge unless it's already been cooked.
How do you store roasted garlic? The best way to store roasted garlic is in the freezer or in the fridge for up to 3 days. DO NOT store at room temperature in olive oil or you risk getting botulism toxin. Source
How to pick out garlic at the store? If you can, get garlic from the local farmers market. To pick out garlic from any source, make sure the bulb is firm and doesn't have any soft spots. Avoid any bulbs that feel hollow or have sprouts. The bulb should be dry as well.
What is the difference between a head and a clove of garlic? A head of garlic is the entire bulb of garlic you see at the grocery store. A clove is the individually wrapped pieces of garlic inside the bulb. For this recipe you are roasting the bulb whole and then removing the cloves after.
Uses
Why would you want to roast garlic? Raw garlic can be bitter and very intense. However, roasting garlic mellows out the flavor and gives it a sweet and buttery flavor. It adds a subtle hint to a lot of dishes and is even tasty eaten by itself!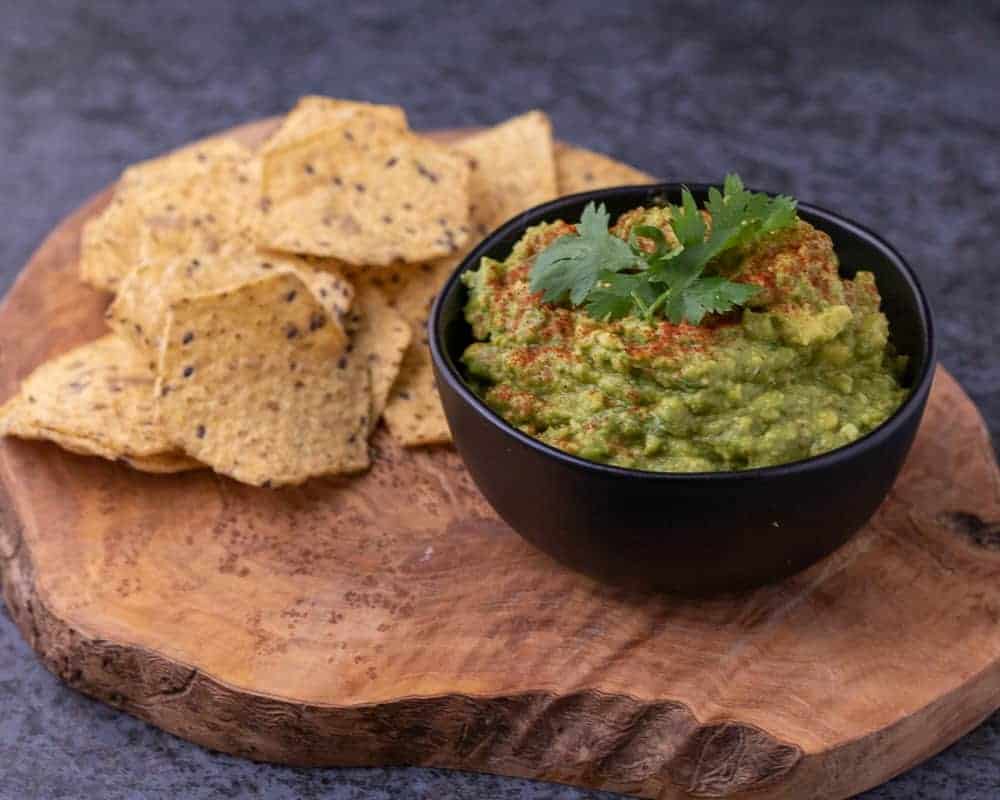 What can you use roasted garlic in? The question is what CAN'T you use roasted garlic in. It has a lot of uses because it is a lot more mellow than raw garlic. My favorite ways to use it are: in salad dressing, for garlic bread, in mashed potatoes, mixed with butter, in hummus, mixed with mayo, in a salad by itself, guacamole and in bread. There are a lot of other ways to use it. Get creative! Just remember that you will need to use a bit more roasted garlic than raw garlic as the taste is more mellow.
You May Also Like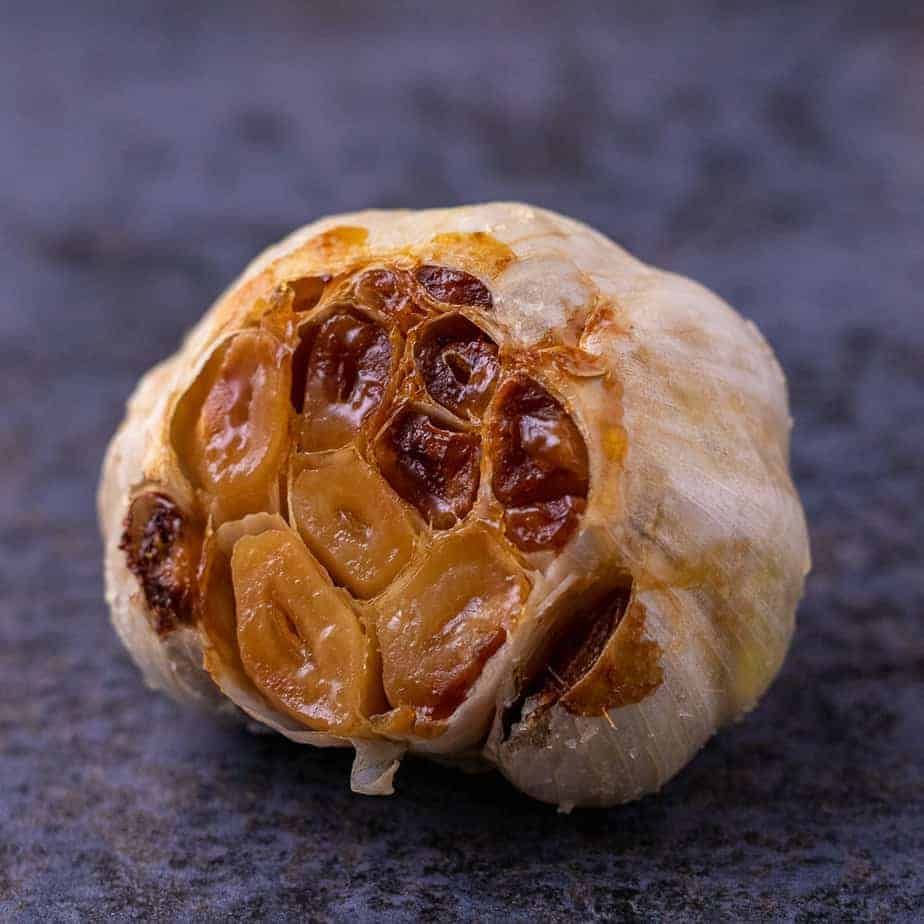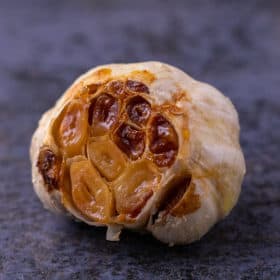 Roasted Garlic - How to Make, Store and Use It
Roasting garlic makes the flavor go from harsh to mellow and buttery. The slightly sweet cloves are perfect in salads, sauces and even just smeared on bread. Plus you can easily roast a bunch and freeze them.
Print
Pin
Save
Saved!
Ingredients
1

head of

garlic

1-2

tablespoons

olive oil

Pinch

of kosher salt
Instructions
Preheat the oven to 400F.

Cut off the top of the head of garlic so that all cloves are exposed.

Place the head of garlic onto a small sheet of aluminum foil so that the cut portion is exposed.

Crunch the aluminum foil around the base of the garlic clove but do not close.

Pour olive oil to coat all exposed cloves and add a pinch of kosher salt.

Close the aluminum tightly and place on a sheet tray.

Place in the oven for 45-60 minutes. Garlic will turn a golden brown color and be soft to the touch when done. The papery exterior should easily come away from the cloves.

Allow the garlic to cool until you're able to handle the head of garlic.

Gently squeeze each clove out and store in the fridge for up to 3 days. Any longer and they should be frozen.
To Freeze
Line a sheet tray with parchment paper. Place each clove on the sheet tray in a single layer. Ensure they don't touch.

Freeze in a single layer until frozen solid.

Remove and add to a freezer safe container. Good for up to 6 months.
Notes and Accommodations
If you're not going to use the roasted garlic be sure to freeze it as quickly as possible. Freezing the cloves individually will keep them from freezing together.
Do NOT store in olive oil at room temperature.
Roast a bunch of garlic all at once and store it in the freezer. It's easy to grab a few cloves for dinner as they thaw very quickly.