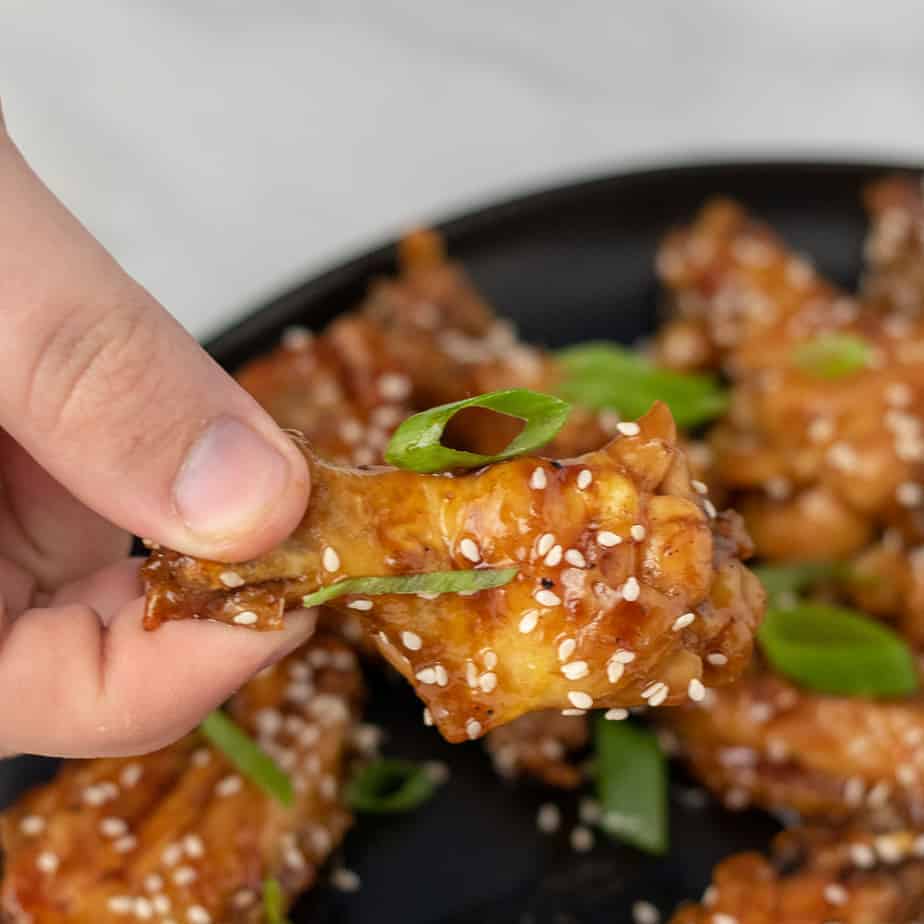 Tips and Tricks
Why do you bake chicken wings? Oven baked wings are much healthier than frying them. It's also a lot easier to do at home because you don't need to heat up a vat of oil. Plus the clean up is easy because you're not trying to dispose of a gallon of used cooking oil. I promise these wings still get crispy and delicious.
What do you serve with chicken wings? If you're eating these for dinner (yes I eat these for dinner sometimes) I serve them with a side salad. Mostly because I'm lazy and want an easy dinner. You could also serve them with other vegetables or even fried rice. If you are serving these as an appetizer for a party or football game, serve with other appetizers like Italian Stromboli or Three Cheese Buffalo Chicken Dip.
Do you really need to make four pounds of wings? That seems like a lot! I usually make two pounds of wings and freeze the second half of the sauce. You could easily make three pounds of wings and freeze the rest of the sauce or have them be extra saucy. My boyfriend and I eat two pounds of wings between us with a salad or small side. It's plenty of food. Four pounds of wings would be great for watching the big game or as an appetizer at a party.
Why can't I add the cornstarch directly into the sauce? Because you'll get a clumpy mess and have to start over. Trust me. Use a small mason jar or something you can easily close and shake. Add roughly 1 tablespoon cornstarch to 2 tablespoons COLD water and close the container. Cold as in let the water run for a bit from the sink. Shake it up to form a slurry. Once the teriyaki sauce has started to boil/simmer, whisk in the cornstarch slurry and continue to whisk for 1 - 1.5 minutes.
Method - Chicken Wings
How long do you bake chicken wings in the oven at 400F? Bake wings in a preheated oven at 400F for 45 minutes. Turn each wing over and bake for another 10 minutes until tender and juicy. The wings should be easy to pull apart.
Can you bake the wings with sauce on them? You cannot bake wings for 55 minutes in the oven with this sauce on it. The sauce will definitely burn with the amount of sugar in it. I always allow the wings to get crispy in the oven and then toss them in teriyaki sauce while still hot.
When do you add the teriyaki sauce? I always add the teriyaki sauce after I've fully cooked the wings to avoid burning the sauce. There is a fair amount of sugar in the teriyaki sauce that will definitely burn at 400F in the oven.
Does it matter how you arrange the wings on your tray? Yes, make sure that you're laying the wings down in a single layer on the sheet tray. Make sure there is a little room between wings. If you don't have enough room you risk steaming the wings. I've found two pounds of wings fits very well on one standard sheet tray.
How can you tell when the chicken wings are done cooking? You will know the chicken is done cooking because the bone will pull away from the meat very easily. This is what I love about these wings is that they are very easy to eat. The meat comes freely from the bone, no gnawing required.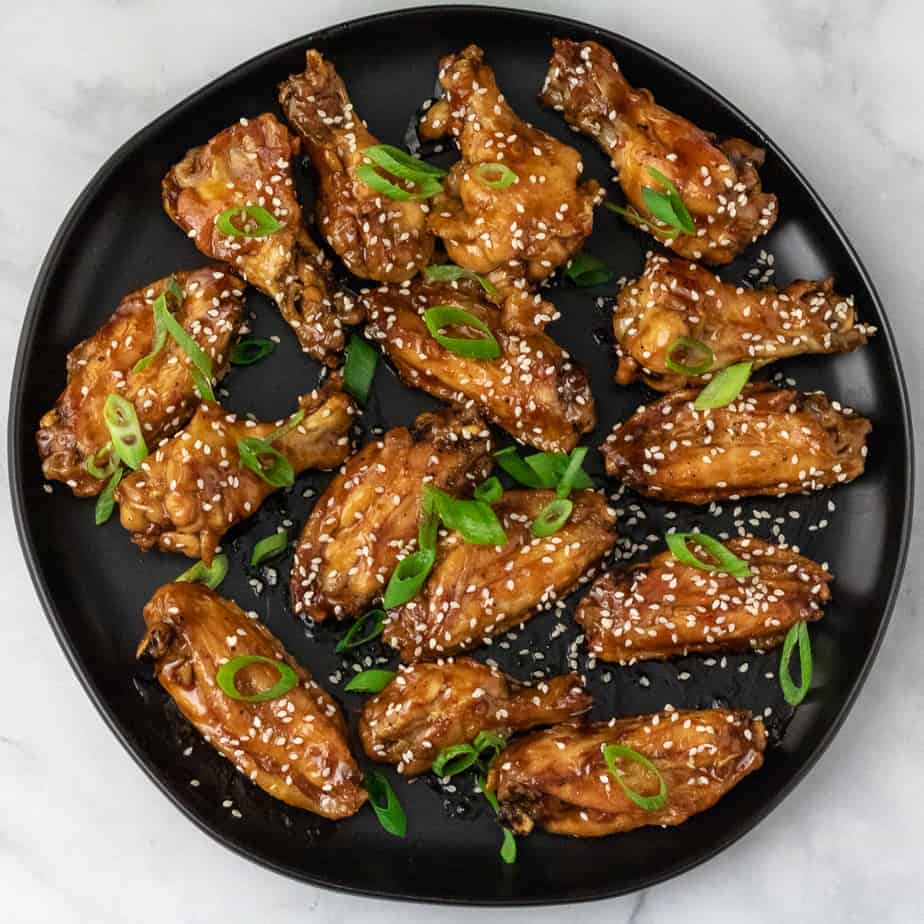 Homemade Teriyaki Sauce
Can you use store bought teriyaki sauce? If you're in a pinch and have some already in the house, yes you can. I'd still add it after the wings have fully cooked. However, the homemade teriyaki sauce will be a lot more flavorful and you'll have control over what's in it!
How do you store homemade teriyaki sauce? I store leftover teriyaki sauce, in the fridge in a mason jar or other airtight container for up to two weeks. You can also freeze it for up to three months. Thaw in the fridge before using.
What to do with leftover teriyaki sauce? There are a lot of things to do with this teriyaki sauce. You can easily put it over salmon, on chicken breast and udon noodles or even on flank steak. It's a flavorful sauce that you can add to almost any protein including seafood and tofu.
Substitutions
The recipe calls for maple syrup, can you use honey? Yes, I've made teriyaki sauce with honey plenty of times. I just have more maple syrup in the house (I am in New England after all) and it is WAY EASIER TO MEASURE/POUR.
Do you have to use parchment paper? You can use aluminum foil but the wings may stick to it and rip, leaving you to pick tiny slivers of metal off your food. Not my idea of fun, but will work in a pinch. I'd recommend spraying it down with some cooking spray to help the wings come off easier if you have to use tin foil.
You May Also Like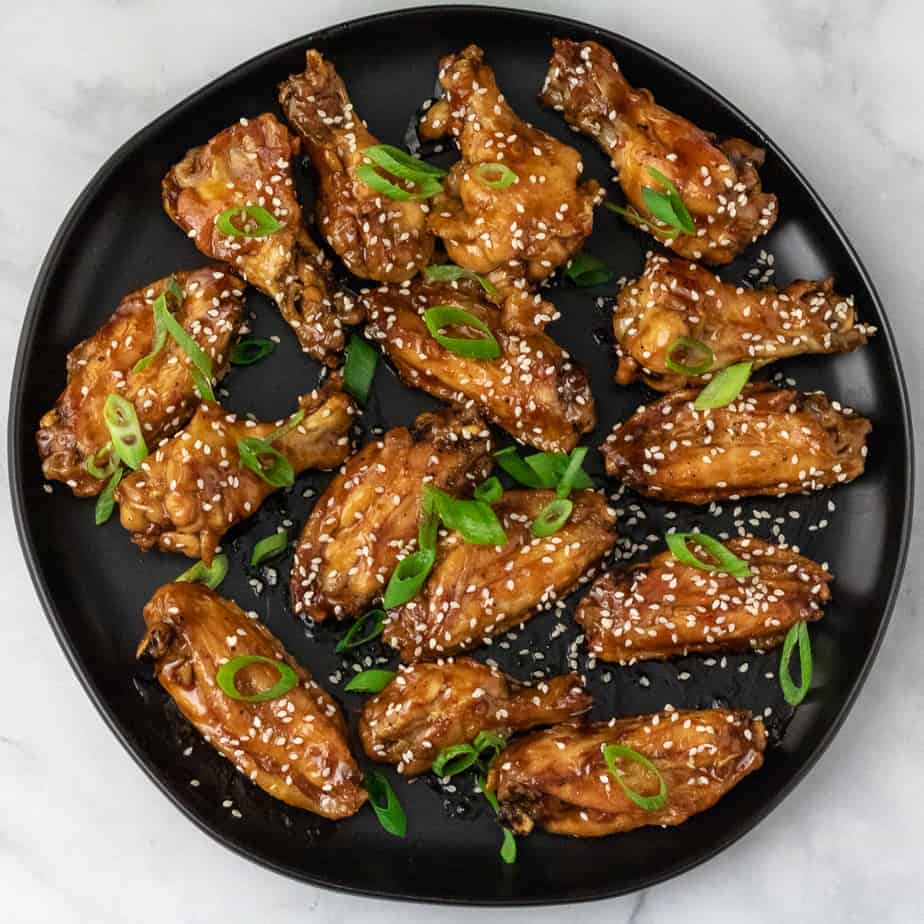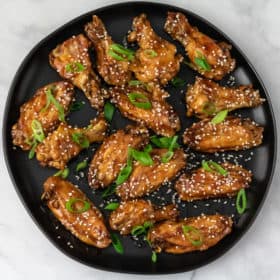 Oven Baked Teriyaki Chicken Wings
This is an easy oven baked chicken wings recipe. Baked on parchment paper in the oven until they become tender and juicy, the crispy skinned wings are finished with a homemade teriyaki sauce perfect for dinner, an appetizer or football game finger foods.
Print
Pin
Save
Saved!
Ingredients
4

pounds

chicken wings

drumettes and wingettes separated

4

tablespoons

olive oil

Kosher salt to taste

Fresh ground black pepper to taste

½

cup

soy sauce

⅓

cup

packed brown sugar

¼

cup

rice wine vinegar

2

tablespoons

maple syrup

1

tablespoon

garlic paste

or 3 cloves, grated

1

tablespoon

ginger paste

or 1 tablespoon freshly grated ginger

2

tablespoons

cold water

1

tablespoon

cornstarch

Sesame seeds to garnish

2

scallion

finely chopped for garnish
Instructions
Preheat the oven to 400 F.

Line two sheet trays with parchment paper.

In a large mixing bowl add half the wings and half the olive oil. Toss to coat. Season well with kosher salt and pepper.

Place the wings in a single layer on one of the sheet trays. Ensure there is maximum contact between the wings and the parchment paper. These parts will get crispier.

Repeat with the remaining wings and place on the second sheet tray.

Position both trays in the oven (side by side on the top shelf if possible, if not you may have to rotate half way through). Cook for 45 minutes.

After the wings have gone into the oven combine soy sauce, brown sugar, rice wine vinegar, maple syrup, garlic and ginger in a medium saucepan. Whisk the sauce together until the sugar is dissolved and then turn the heat to medium. Continue to whisk occasionally until it begins to simmer (3-5 minutes).

While the sauce is heating up, combine water and cornstarch in a closed container or small bowl. Either shake well or whisk well until a slurry forms. Add the slurry directly to the sauce after it starts to simmer.

Whisk continuously for 1 - 1.5 minutes until the sauce thickens and the raw flavor of the cornstarch cooks out. Remove the pan from the heat.

Chop the scallions (both green and white parts) finely and set aside.

After 45 minutes, take the trays out of the oven and individually flip each wing over and cook an additional 10 minutes until wings are pull apart tender.

Place the wings from one tray into a large mixing bowl and toss with half the teriyaki sauce until well coated. Plate the wings and top with half the sesame seeds and chopped scallions.

Repeat with the rest of the wings, teriyaki sauce, sesame seeds and chopped scallions.
Notes and Accommodations
Ensure the chicken wings are in one single layer, using two sheet trays for four pounds of wings.
Do not cook the wings with the sauce as it will burn the sauce.
I find it easiest to make the cornstarch slurry by shaking it in a mason jar.
If you don't use all the teriyaki sauce, it freezes well or can be stored in the fridge for up to 2 weeks.
Originally posted on April 10, 2019. Republished on October 30, 2019 with updated tips and tricks.