Creamy pesto goat cheese pasta is a six ingredient vegetarian pasta that can be made in less than 20 minutes on the stovetop. This pasta uses a no cook sauce that uses no cream but is still rich and delicious. Paired with marinated artichokes and sundried tomatoes, this pasta feels fancy for date night but is simple enough for beginner cooks. Also great for the nights you're feeling low on energy but still need dinner.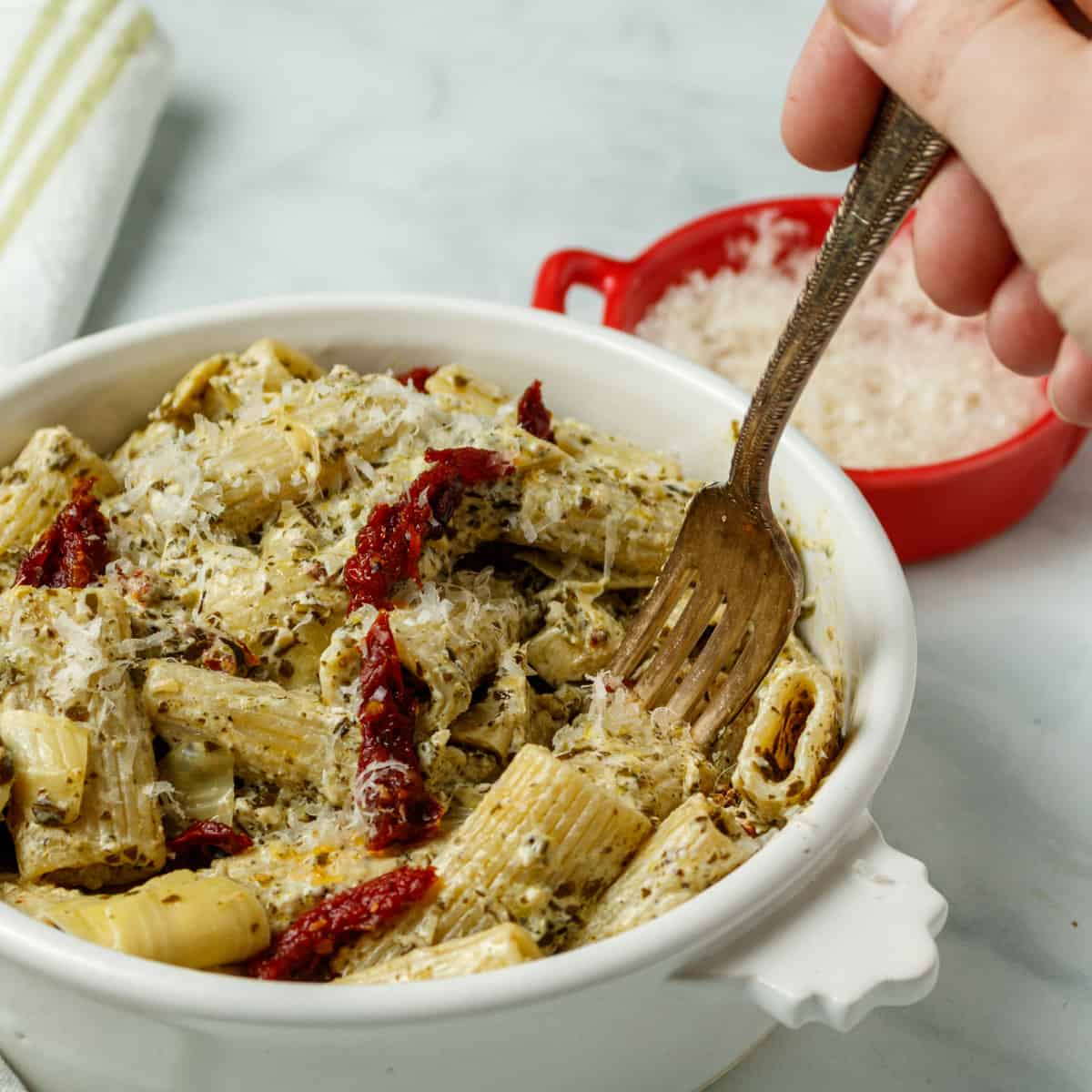 Jump to:
Tips and Tricks
What can you serve with this creamy pesto goat cheese pasta? Bread to soak up the sauce goes great with any pasta. If you're craving something fresh, a simple side salad is a great option. Another option is to serve this as a side dish to a roasted chicken or baked salmon or other large piece of meat.
How do you reheat this creamy goat cheese pasta? Reheat on the stovetop on medium low in a pan or in the microwave until warmed through.
How do you store leftovers? If you're planning on reheating this pasta, I'd add in a little more pesto or olive oil before storing it in the fridge. That way, when you reheat it, you can stir in the liquid and it won't be too dry. Store leftovers in an airtight container in the fridge for up to five days.
What are some other uses for goat cheese? I like to add goat cheese to sandwiches as a spread or onto salad. Another great option is to use it on pizza with pesto, eggplant and spinach.
Goat cheese is perfect in Asparagus and Goat Cheese Savory Galette as well, which can be served as an appetizer for brunch. Goat cheese goes great with jam on a cheeseboard or adult lunchable as well.
Ingredients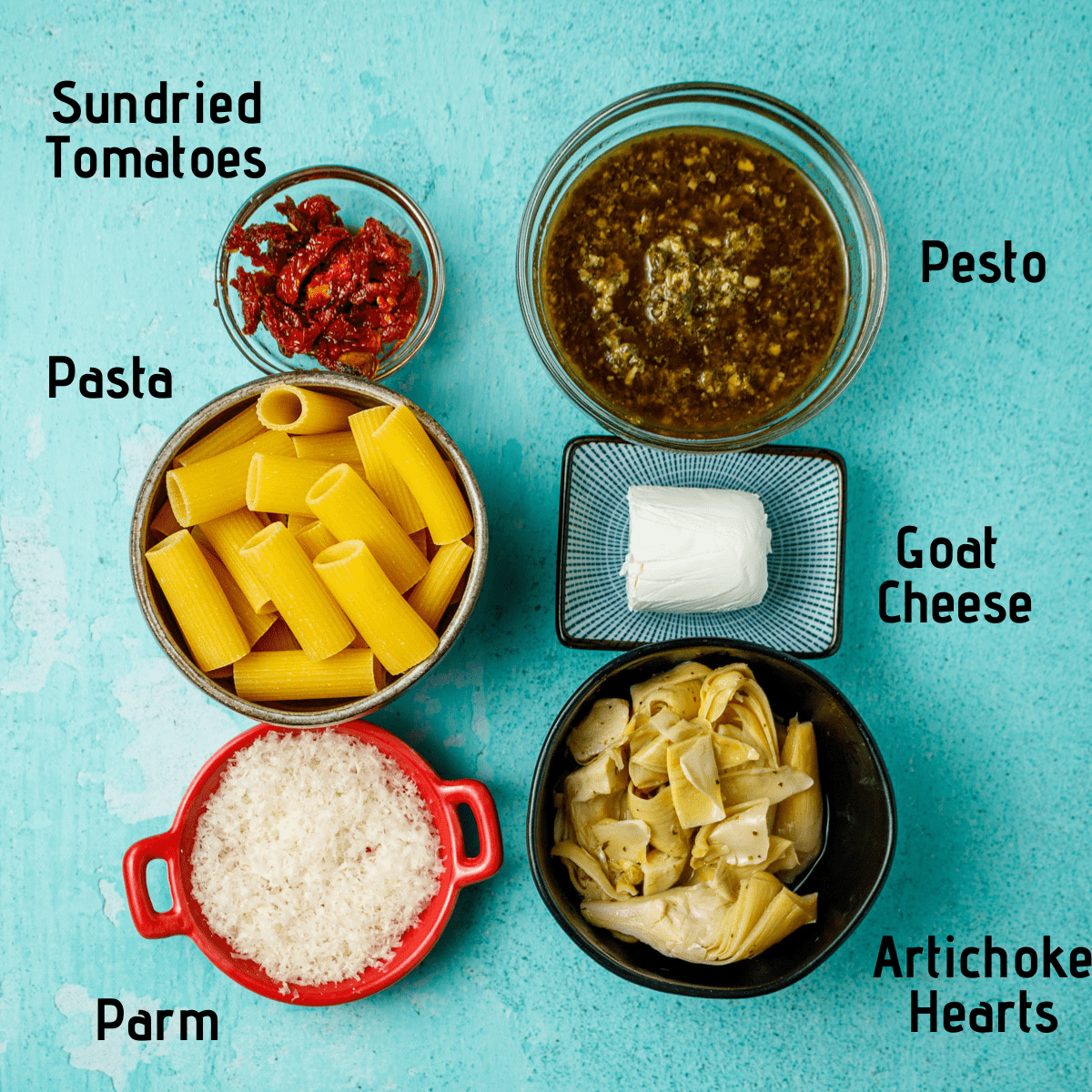 Dry pasta - use pasta that holds sauce really well like rigatoni (affiliate link), penne, rotini
Kosher salt - use to heavily salt and season pasta water
Fresh goat cheese (affiliate link) - use the chevre variety (fresh and soft)
Pesto (affiliate link) - your favorite jarred sauce or homemade variety, any variation of pesto works
Marinated artichokes - chopped into bite sized pieces
Sun dried tomatoes - chopped into bite sized pieces
Parmigiano reggiano (affiliate link) - any hard aged cheese will work including parmesan, grana padano, asiago or pecorino romano
See recipe card for specific quantities.
What's the best shape of pasta to use? This is a personal preference and I often use whatever is on hand. I want to be clear: the recipe will work with any type of pasta or even filled pasta like ravioli.
However, because the sauce is creamy and delicious, I use pasta that has a lot of surface area (like rotini) or is in a tube shape (like penne) so that you can get as much of the sauce as possible in each bite.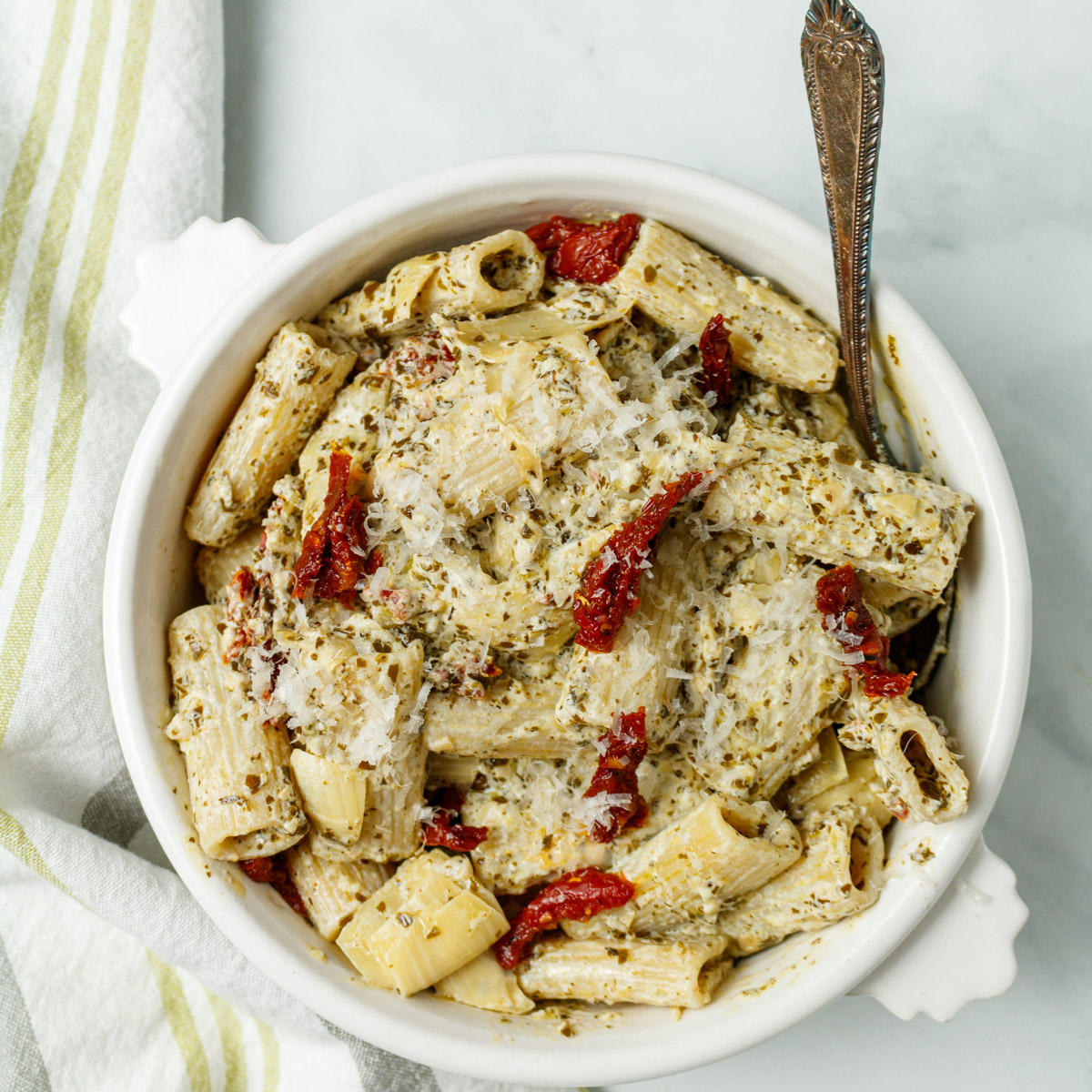 How do you store goat cheese? Fresh goat cheese or chevre is best stored in the fridge in an airtight container once opened. This is a semi soft fresh cheese so it will not last as long as parmigiano reggiano or other dry and aged cheeses.
What kind of pesto do you use? Use your favorite store bought sauce, it can typically be found in the same aisle as the tomato sauce. I prefer Classico traditional basil pesto (affiliate link) but you can also make your own if you have an abundance of basil. Any variation of pesto will work with this recipe, including ones made with arugula, kale or other greens.
What kind of goat cheese do you buy? Make sure that the goat cheese is soft and spreadable, otherwise it won't melt correctly. It may also be called "chevre" which is the French term.
It comes in a small log about four ounce in size and is in the specialty cheese area. I'm not partial to a particular brand, Wegmans store brand is great.
Method
How do you make creamy pesto and goat cheese pasta? Start by cooking the pasta in salted water according to the instructions. While the pasta is cooking, add goat cheese crumbles and pesto into a large mixing bowl.
Drain the sundried tomatoes and artichokes and chop into bite sized pieces. Set aside. Before the pasta is done, reserve at least ½ cup of the pasta water in a large measuring cup. Drain your pasta or use a spider to drain, scoop hot pasta out of the boiling water and put directly into the large mixing bowl.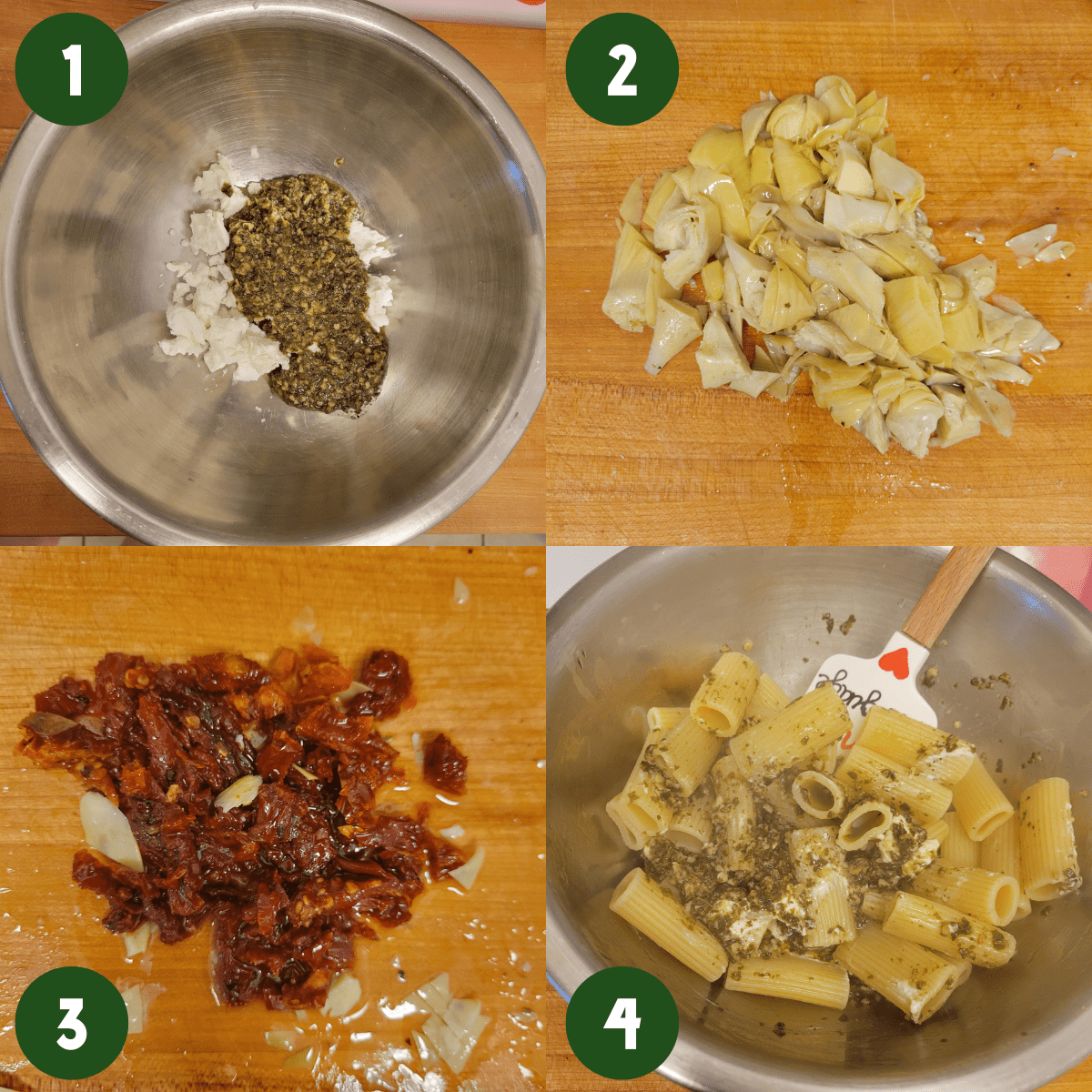 Stir immediately to melt goat cheese and mix with pesto. Add one to two tablespoons of pasta water and continue to stir. Next, add in sundried tomatoes and artichokes. Continue to stir until the sauce is creamy. If it is too dry, add one more tablespoon of pasta water and keep stirring. Portion out pasta and top with grated parmigiano reggiano.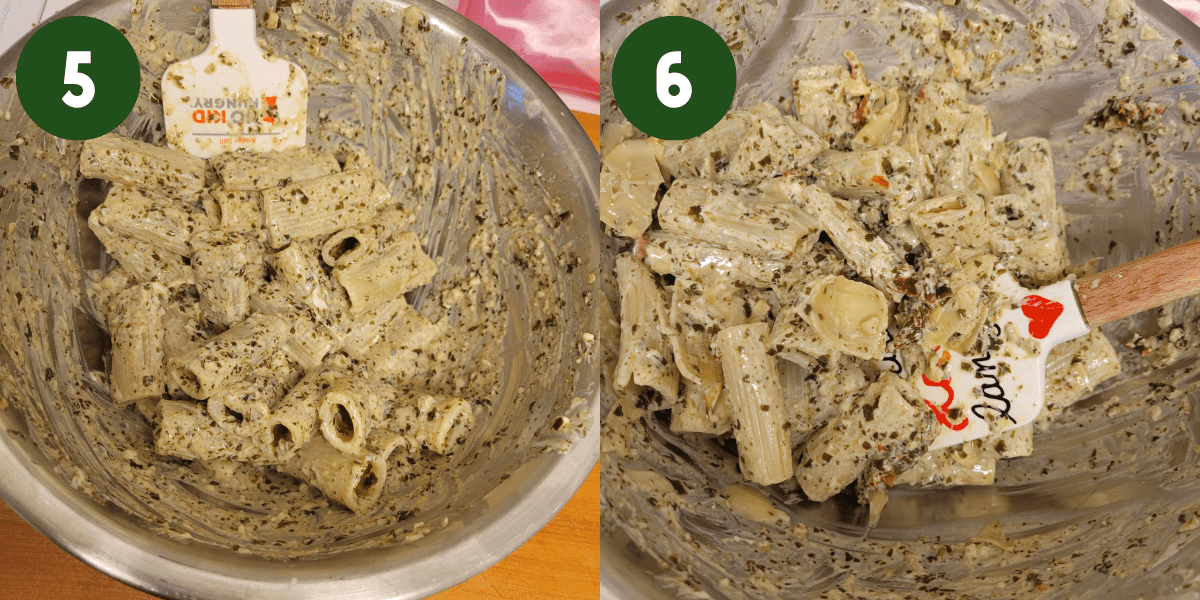 How do you cook pasta al dente? Cook pasta according to the package instructions since each brand and shape is different. Al dente pasta has a slight bite to it but not crunchy. It also shouldn't be mushy.
Why do you save pasta water? When you boil pasta, starch gets released into the water, resulting in a great way to make a thicker sauce. Pasta water is used to make the creamy sauce because it is a natural emulsifier that binds together the cheese and pesto to make the creamy sauce without adding any cream.
I use a heat proof measuring cup to scoop out ½ cup of pasta water right before the pasta is done cooking so I don't forget. Another option is to use a spider to scoop out the pasta, leaving the pasta water in the pot. I like this option since I'm not lifting heavy boiling pots of water.
How much pasta water do you add? This depends on how creamy you want your sauce. It is important to add pasta water slowly and only a little at a time so you don't make it too watery.
I start with one or two tablespoons and start mixing. Does the pasta looks too dry? Add a tablespoon and keep stirring. If the pasta is too watery, keep stirring, it will emulsify. If not, add more cheese.
Hint: Prep your sundried tomatoes, artichokes and put the goat cheese in the mixing bowl before the pasta is done cooking.
Substitutions
Can you substitute other cheeses in this dish? Fresh goat cheese has a specific flavor and texture so it's hard to find a substitute for it. Two substitutions I can think of are cream cheese or Boursin cheese. You want a cheese that is spreadable so it melts well into the sauce. I would not recommend using a mozzarella, cheddar or anything you'd normally grate.
Variations
Can you add chicken or other meat to this dish? Yes, but make sure it is cooked before you add it to the pasta. Chicken, shrimp or tofu would be great additions to this recipe.
Can you add other veggies into this? Yes, just make sure that any vegetables are already cooked. Broccoli, cauliflower, zucchini, onions, spinach, corn or mushrooms would all be delicious.
Top Tip
Save pasta water before you drain the cooked pasta so you don't forget! Or use a spider to move cooked pasta from water into the mixing bowl.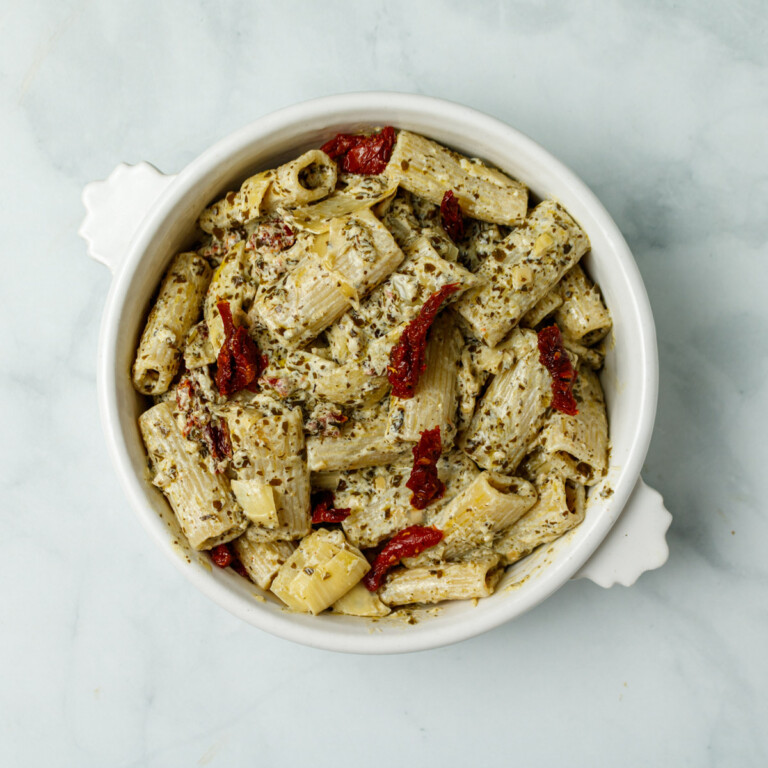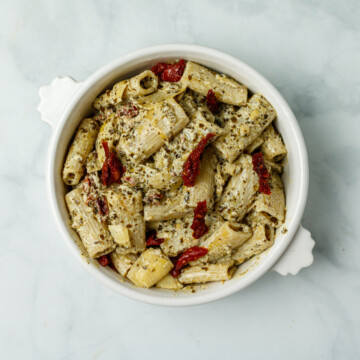 Creamy Pesto Goat Cheese Pasta
Creamy Pesto Goat Cheese Pasta is a quick vegetarian weeknight dinner recipe, done in less than 20 minutes from start to finish. This is an easy and quick pantry pasta dinner recipe that uses no cream to get a delicious creamy sauce.
Print
Pin
Save
Saved!
Ingredients
8

oz

dry pasta

Kosher salt

2

oz

goat cheese

chevre

½

cup

pesto

1

cup

marinated artichokes

chopped

½

cup

sun dried tomatoes

chopped

1-2

tablespoons

parmigiano reggiano

freshly grated
Instructions
Cook the pasta in salted water per instructions on the package to al dente.

While the pasta is cooking, add crumbled goat cheese and pesto to a large mixing bowl.

Drain and chop both the artichokes and the sun dried tomatoes. Set aside.

Before draining the pasta, reserve ½ cup of pasta water.

Once it has finished cooking, drain and add the hot pasta directly into the large mixing bowl with goat cheese and pesto. Immediately toss to coat, melting the goat cheese. Add 1-2 tablespoons of the reserved pasta water and continue to toss. If necessary, continue to add 1 tablespoon of pasta water until the desired consistency.

Toss in the artichokes and sun dried tomatoes and mix until combined. (This is also where you should add in any additional protein or cooked vegetables).

Divide into bowls and top with freshly grated parmigiano reggiano.
Notes and Accommodations
Be sure to reserve some pasta water to finish the sauce.
Already cooked protein or veggies can be added with the sun dried tomatoes and artichokes.
To reheat, add an extra spoonful of pesto before storing in the fridge. When you reheat, stir it together so it isn't dry.
Originally posted on May 29, 2019, updated on November 19, 2019. Republished with new tips, tricks and photos on August 1, 2022.
Food Safety
Cook to a minimum temperature of 165 °F (74 °C)
Do not use the same utensils on cooked food, that previously touched raw meat
Wash hands after touching raw meat
Don't leave food sitting out at room temperature for extended periods
Never leave cooking food unattended
Use oils with high smoking point to avoid harmful compounds
Always have good ventilation when using a gas stove